Easy Apple Crisp | Delicious Fall Dessert
I thought I'd share one of my favorite fall dessert recipes, Easy Apple Crisp. This recipe goes way back. An oldie, but a goodie. A friend of the family gave it to my Mom and it's been a fall staple ever since.
Man, that seems like forever ago, but we've been making (and enjoying) this recipe for years. It's another one of those recipes that take you on a walk down memory lane. Such "sweet" memories.
Be sure to sign up for my email to get
new recipes and creative ideas
sent right to your inbox!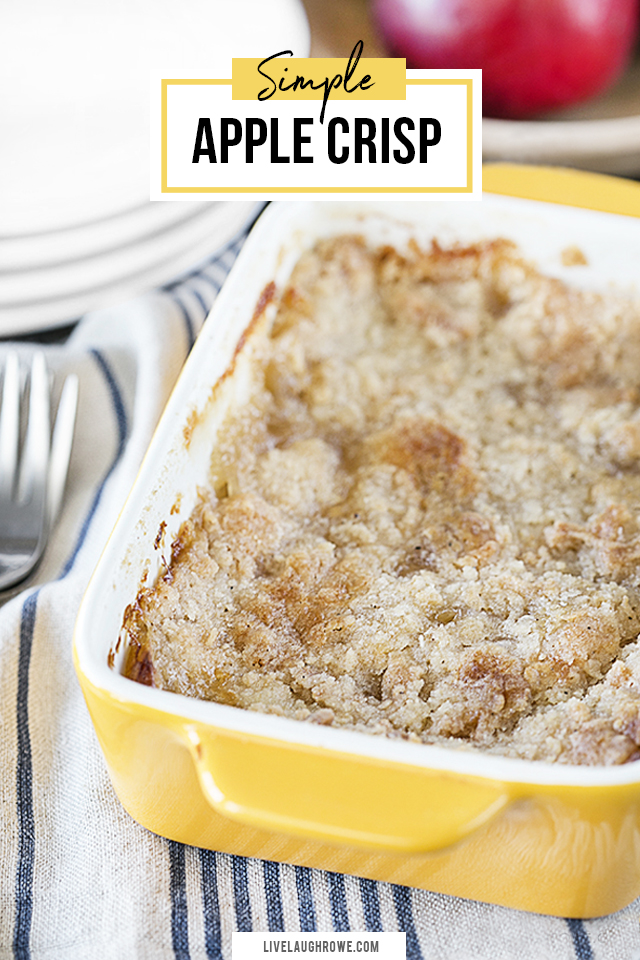 When in college, my sister and I were lucky enough to live off-campus, so we'd invite friends over and serve this yummy dessert. It certainly became a hit with the guys too (wink-wink). They would invite themselves over and request apple crisp. Haha.
Nevertheless, this is a super easy and delicious recipe. It will have you coming back for more. I think of this apple crisp as a fall comfort food. The crunchy goodness on the top of this melts in your mouth, and I can assure you that is NO exaggeration!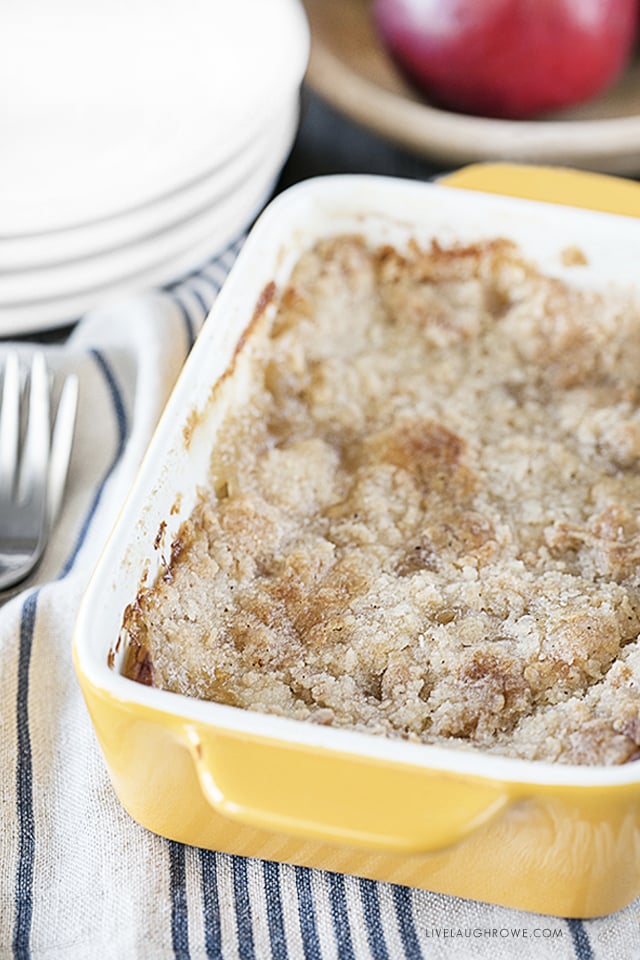 Other delicious and easy apple recipes:
Apple and Cheese Danish
Baked Apple Cider Donuts
Crockpot Apple Butter
Hot Caramel Apple Cider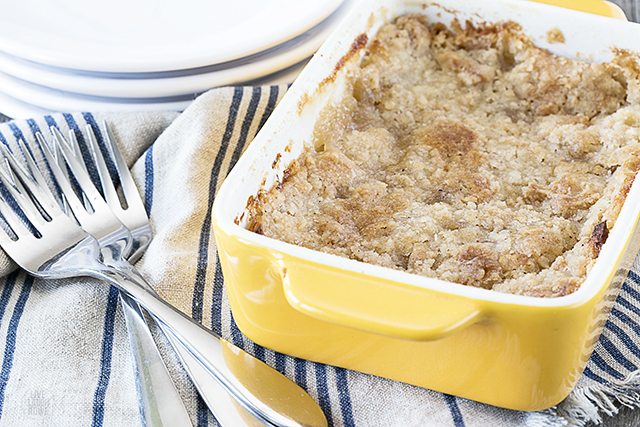 Keep in mind that if it's earlier in the season, you could always head to the apple groves and pick your own apples. That makes for some great family memories too. And who doesn't enjoy a fall family outing that ends with a delicious dessert?
Apples and fall go hand-in-hand. What is one of your favorite apple recipes? Let me know!
How to Make Easy Apple Crisp
Ingredients:
Sliced Apples
Flour
Nutmeg
Sugar
Cinnamon
Butter
Instructions:
Place the sliced and peeled apples into a 9×9 baking dish. Mix the remaining ingredients with your hands (or a pastry cutter) and sprinkle over the apples. Bake at 375º F for 45 minutes.
And that's it. Now to enjoy this deliciousness with vanilla ice cream or cool whip. for the recipe. Enjoy!
Easy Apple Crisp
Instructions
Place sliced apples in a 9x9 dish.

Mix the remainder of ingredients with a pastry cutter and sprinkle over apples.

Bake at 375 for 45 minutes.
Notes
Excellent apples to use are Cortland, Idared, Crispin', or Granny Smith.
Connect with Live Laugh Rowe!
Facebook | Instagram | Pinterest | Twitter
Hugs and Blessings!