Keto-Friendly Taco Chicken Bites
Using boneless, skinless chicken breasts you can make these delectable Taco Chicken Bites. Perfect for Cinco de Mayo, Taco Tuesday, or any day you're craving a tasty taco seasoned treat. Most importantly, with only three ingredients, you'll agree these are ridiculously easy — and delicious.
Be sure to sign up for my email to get new recipes
and creative ideas sent right to your inbox!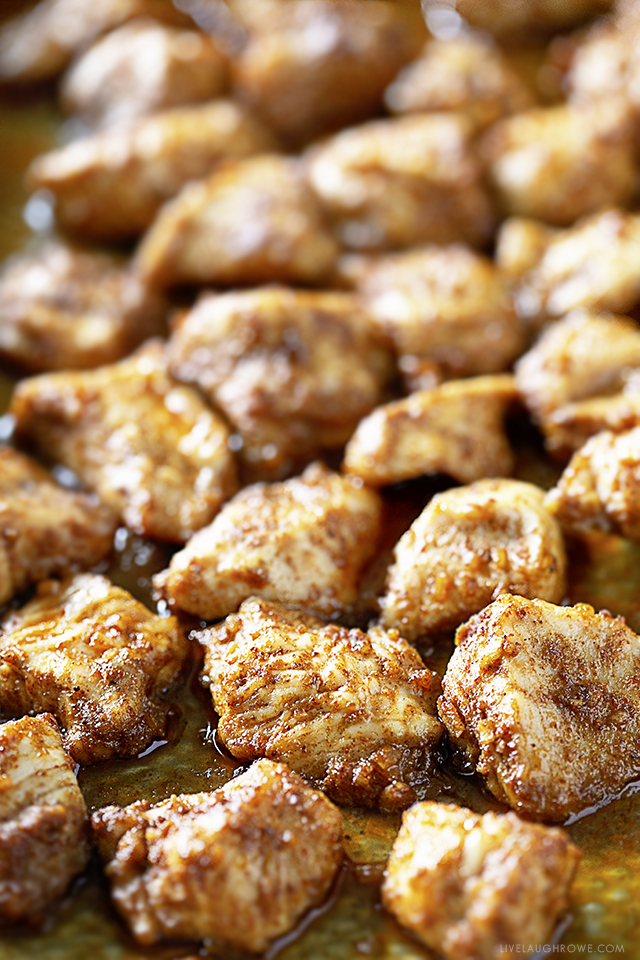 You know what they say, "Live every day like it's Taco Tuesday." Haha. You have to admit that sounds pretty darn delicious. Tacos and Chicken might just be one of my favorite combinations. From Shredded Chicken Tacos (using Salsa Chicken) to Taco Salads to Homemade Soft Tacos, you might see a theme around these parts.
Taco Chicken Bites are served
We've never really been a Taco Tuesday kind of family, because why not enjoy them whenever you can right? Nevertheless, I could enjoy a good taco or two just about every day. And don't get me started on tortilla chips. Yum.
My sister started doing Keto about 5 or 6 weeks ago and sent me a picture of some chicken bites she had made. As a result, she asked if I wanted to share the recipe with all of you — and sent me the recipe. I'm guessing she got it from the Keto Facebook group she's in.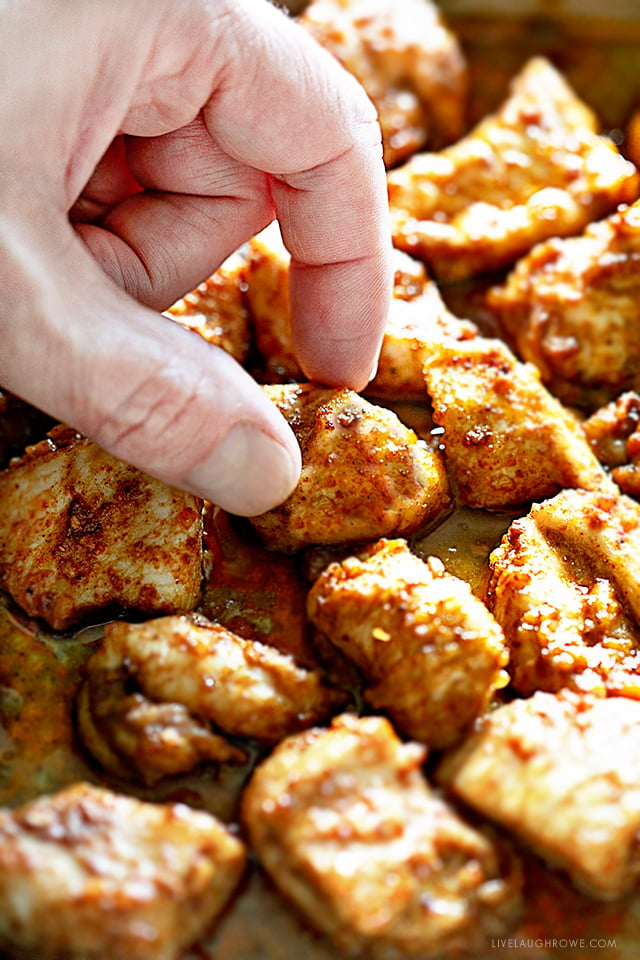 I'm always open to sharing a new recipe with you and when it's healthier and easy, well that's a win-win. Therefore, I'm excited to share these Taco Chicken Bites. My husband is always the taste tester and he just kept eating them and saying, "oh yeah, these are good." Consequently, they didn't last long either.
These Taco Chicken Bites would be great in tacos, over rice, in a lunch wrap, on a salad, and more. Versatility for the win, right? So if you're looking for an easy 3 ingredient chicken bite recipe, you've come to the right place.
How to make Taco Chicken Bites
Ingredients:
Diced boneless, skinless chicken breast
Taco seasoning
Olive oil
You'll start by cutting your chicken and setting aside. Mix olive oil and taco seasoning together in a bowl. Toss chicken into the seasoning. Place on baking sheet and place in oven.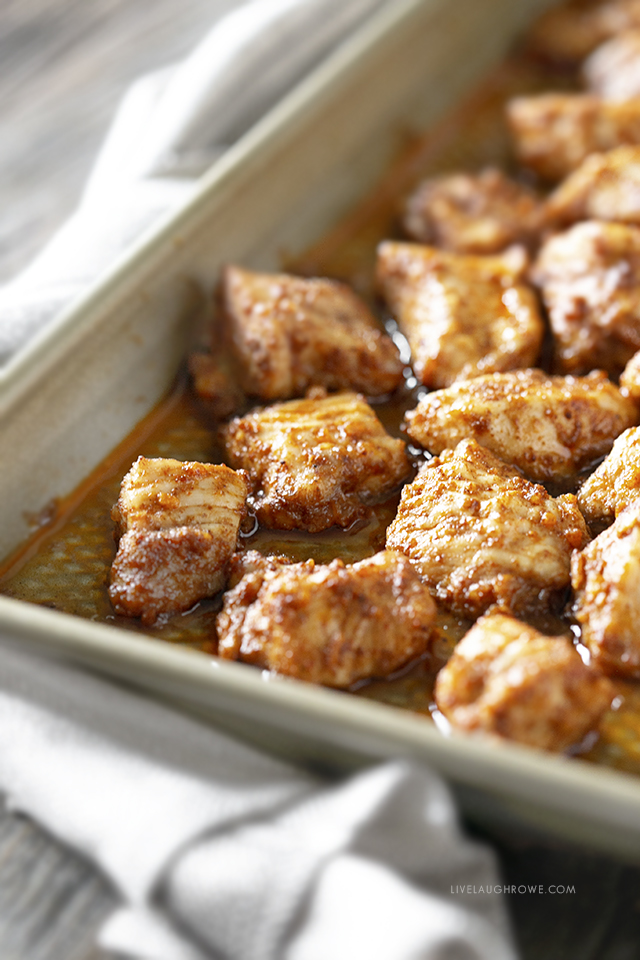 How long to bake chicken pieces at 350?
Baking chicken pieces at 350° F can take about 25-30 minutes. However, for this recipe, we shortened the time and increased the temperature to 375° F. Therefore, these baked for only 15-20 minutes.
Other Mexican inspired recipes to try:
Black Bean Salsa
Skillet Chicken Tacos
Taco Soup
Mexican Black Bean Salad Tostada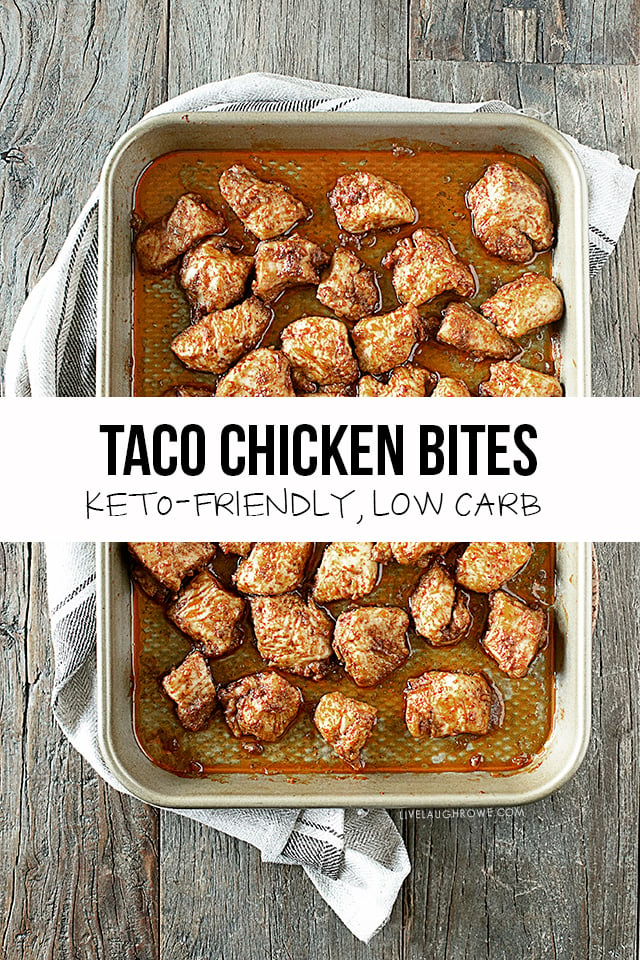 Taco Chicken BItes
Ridiculously easy Taco Chicken Bites. With only three ingredients and about 25 minutes, this deliciousness is ready to serve.
Ingredients
2

pounds

Boneless, Skinless Chicken Breats

cut into 1-inch pieces

1/4

cup

Extra Virgin Olive Oil

1

oz.

Package of Taco Seasoning

Salt and Pepper, optional
Instructions
Whisk oil and taco seasoning together in a large bowl.

Add chicken and toss to coat.

Transfer seasoned chicken to a rimmed baking sheet. Bake for 15 to 20 minutes.
Notes
To ensure chicken is thoroughly cooked through, use a meat thermometer to make sure the thickest chicken bite is at least 165º F.
Connect with Live Laugh Rowe!
Facebook | Instagram | Pinterest | Twitter
Hugs and Blessings!