Mexican lovers rejoice! This is delicous dish with a WW twist. A tostada recipe that features avocado, corn and lime juice — simply tossed together and piled high on top of a crunchy corn tortilla.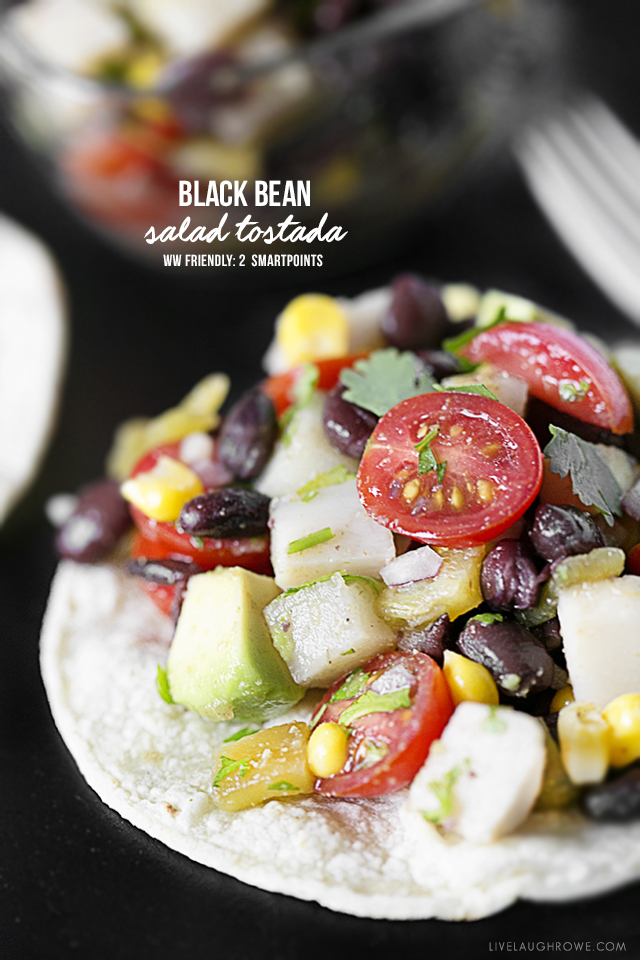 Mexican Black Bean Salad Tostada Recipe


Do you love Mexican food? Mmmmm, I do. Chips and salsa? Yes, please. Chicken Chimichanga? With extra sour cream, please. Tacos? I'll take three! And don't even get me started on my love for fajitas.
If you're a fan of Mexican, be sure to share one of your favorite dishes in the comments. I'd love to hear!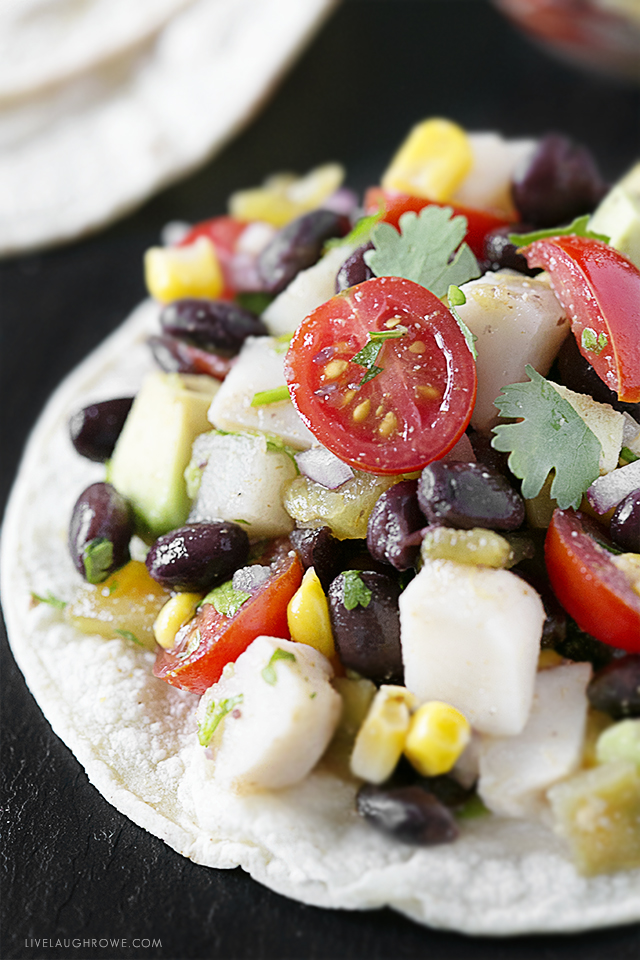 My husband and I ate a lot more Mexican when we lived in St. Louis. We haven't had a lot of it since we've moved, but it certainly hasn't changed our love for the food.
I love to make tacos at home, but wanted to try something a little different. I stumbled upon this WW Tostada Recipe and thought why not? It was quite tasty.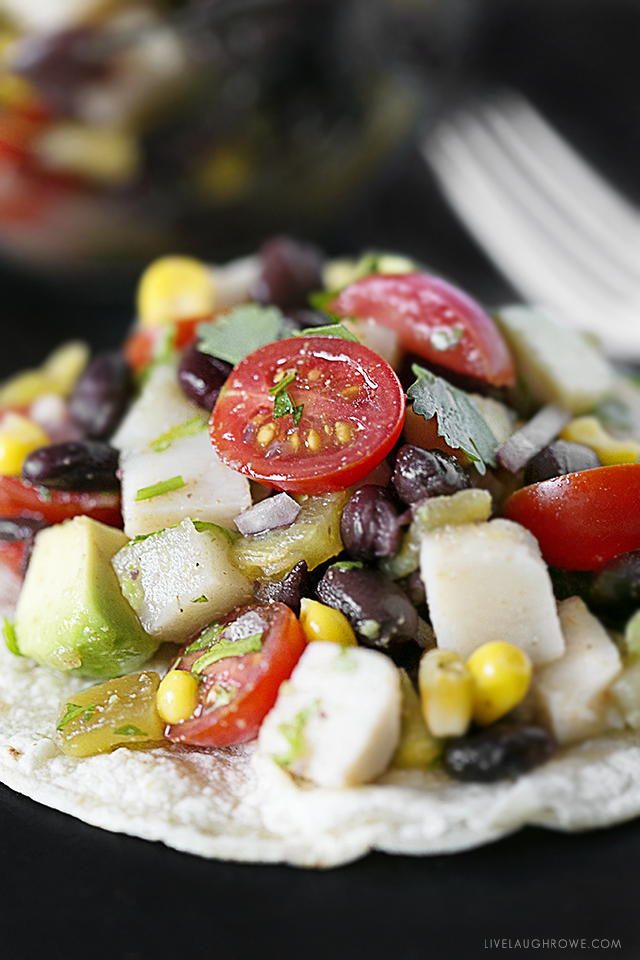 The original recipe calls for jicama, but I wasn't able to find any. So I did a little digging and found that water chestnuts were a good substitute — they wouldn't alter the taste, but would add a bit of crunch.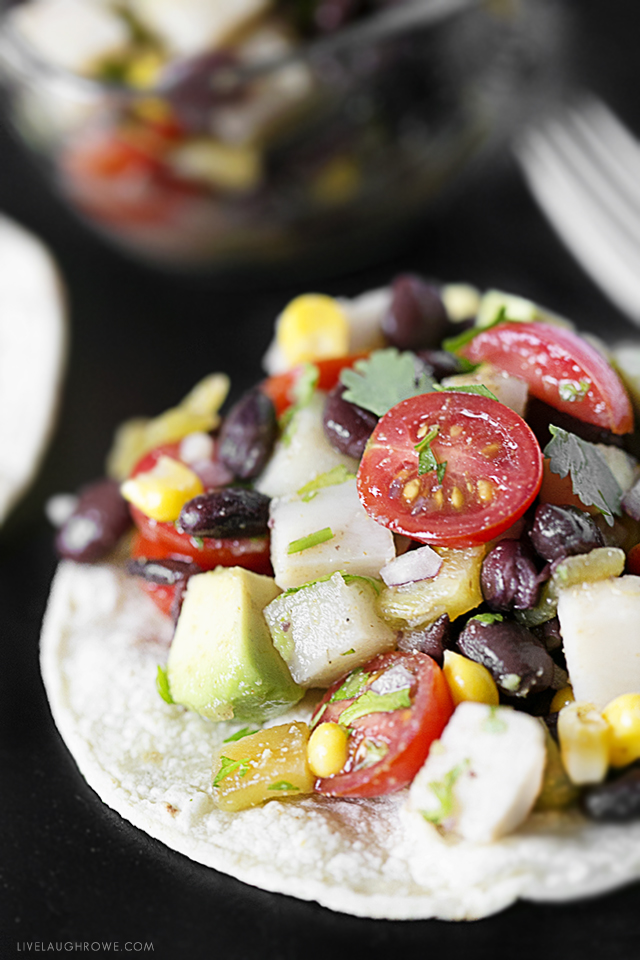 The hubs enjoyed them too, which is always a win-win. Black beans, corn, avocado and cilantro are some of my favorite ingredients. This is a perfectly flavorful dish that will be kind to your diet. Enjoy!
Mexican Black Bean Salad Tostada
Ingredients
1

cup

canned black beans, rinsed and drained

12

cherry tomatoes, halved

1/2

cup

water chestnuts, drained and diced

1/4

cup

frozen corn kernels, sweet and rinsed under hot water to defrost

1/4

cup

avocado, diced

1/4

cup

canned green chili peppers, diced

3

tbsp

lime juice

2

tbsp

cilantro, fresh and chopped

2

tbsp

minced, uncooked red onion

1

large garlic clove, minced

1

tsp

extra virgin olive oil

1

tsp

ground cumin

1

tsp

table salt

4

small

corn tortillas
Instructions
Combine all ingredients, except tortillas, in a large bowl. Mix to combine.

Toast tortillas and top each of the four tortillas with approximately 3/4 cup of black bean salad.
Notes
Yields 1 tostada per serving. Each serving is 2 SmartPoints on the FreeStyle program.
Note:  This recipe can easily be doubled for larger gatherings.
Here are few of my favorite Mexican inspired recipes:
Chicken Burrito Bowl
3-Ingredient Slow Cooker Salsa Chicken
Easy Shredded Chicken Tacos
Skillet Chicken Tacos

Be sure to visit with me here too:
Facebook | Instagram | Pinterest | Twitter | Google+