This post Swiffer and Pets, along with Buster's Adoption Story is brought to you by Swiffer.
Back in August of 2017, my sister lost her sweet dog to kidney failure. Recently she decided to start looking for another dog. We recently made trip to the Humane Society of Southwest Missouri. This trip had me take a walk down memory lane, when we adopted our sweet Buster (Brown) back in 2010. I thought it might be fun to share a little more about our adoption and allow some of the new readers to meet Buster. While we're at it, let's talk a little bit about Swiffer and pets too. They're a perfect pair!
At the time of the adoption, he was three years old — and not house trained. Now, let's talk about his mix, a Shih Zu and Pug mix. It's quite possibly the cutest mix breed there is (yes, I'm a little bias). His pre-adoption picture does him and my husband no justice (see below). They're both so much more handsome today! Wink.
Buster and Steve (circa 2010)
At that time, my sister and her dog (Sydney) had lived with us and we figured Parker would like to have a buddy around the house when they moved out.
One of my sister's co-workers volunteered at a local pet shelter, so she mentioned visiting the website to see what dogs they had available for adoption. Originally, we were thinking about getting another Maltese; however, after a visit to shelter, we found the available Maltese dogs were a little too timid and skittish.
Buster was one that I had pointed out to my husband on-line, but he didn't seem too interested. So, I let it go and thought I would trust the process. It's funny how things work out.
After realizing the Maltese was a no-go, we took Buster on a walk and realized his energy was infectious. The hubby said, "Buster's the one." Of course we had to bring Parker out for a visit too, but we were certain he was the one.
Buster Brown (circa February 2017)
The only pitfall? He wasn't potty trained. GULP! As you can imagine, we were a little overwhelmed with having to start over in potty training a dog. Buster was removed from a home that had him on a leash outside with no shelter for who knows how long. He had an intense amount of energy, much more than Parker and Sydney put together. At the time we laughed and laughed as he ran himself silly around the house, panting like crazy. We call our living room in St. Louis 'the track', as the dogs would sometimes run around the sofa and coffee table like it was a track. Ha!
Buster has since made MANY appearances here on the blog, and we finally potty trained him after many tears and frustrations. The bell did not work with Buster; however, he's adjusted very well and we can't imagine life without him.
While both of my dogs are hypo-allergenic, there are a number of reasons why Swiffer is such a lifesaver for pet owners. Whether your dog sheds, drags in lots of dirt, grass, and more from the backyard or you simply want to keep your floors cleaner, Swiffer to the rescue. Let's take a look at what a great partnership Swiffer and pets have!
What products are great for tackling pet messes?
Swiffer offers easy-to-use sweeping, mopping and dusting cleaning tools for virtually every household surface, including, but not limited to:
Swiffer Sweeper: A 2-in-1 hard surface sweeping and mopping tool. The dry cloth has deep ridges and grooves that conform to the surface of your floor to trap and lock dirt, dust and hair, while the wet cloth dissolves dirt and grime and traps it away giving you an amazing clean. (p.s. Did you know they have a Swiffer Sweeper XL? I think I died and went to Swiffer heaven when I got my hands on one of these)!
Parker and the Swiffer Sweeper
Swiffer Duster: With Dust Lock Adhesive™ and 50% more fibers than regular dusters, this amazing all-around design cleans deep into grooves to trap and lock up to 3X more dust than a feather duster.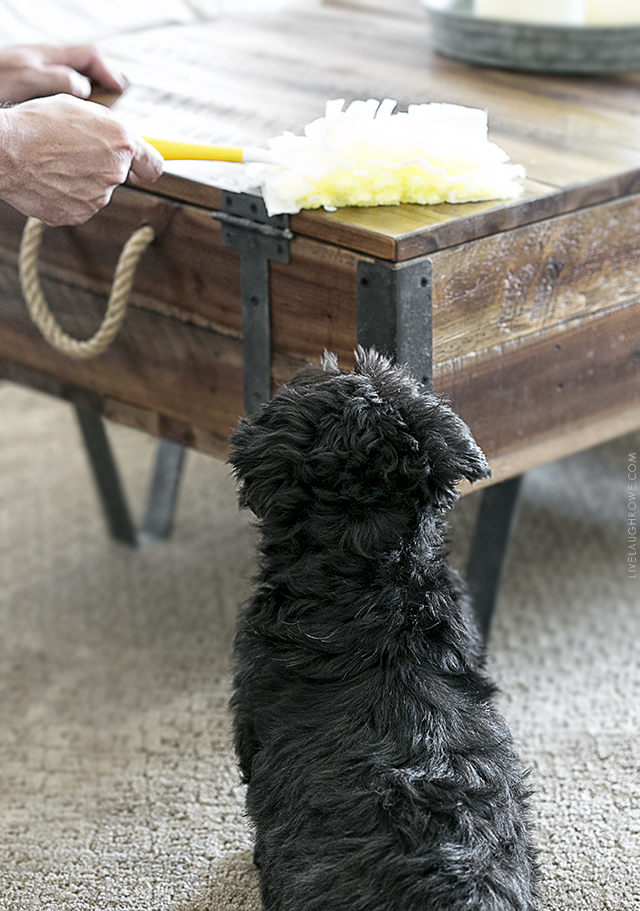 Buster Brown curious about the Swiffer Duster


Swiffer Wet Jet: All-in-one system that cleans floors thoroughly using cleaning solutions specially formulated to break up and dissolve tough messes.
I'm sure many of you are wondering if Swiffer products are safe to use in homes with pets? The answer is, YES!! Swiffer products have been extensively evaluated for safety and Swiffer products have been safely used in millions of homes (many with pets). Isn't that exciting?
Swiffer and pets go hand in hand… and make keeping thing clean a breeze! Do you have a favorite product? I'm a HUGE fan of all their products, but I love the Swiffer Sweeper and Swiffer Duster. You can see them stored in my hall closet in this New Home Necessities post.

Be sure to visit with me here too:
Facebook | Instagram | Pinterest | Twitter |Google+