This printable New Home Necessities Checklist is brought to you in collaboration with Swiffer.
As many of you know, we recently made a BIG move (read more about it here: Out with the Old, In with the New)! Downsizing from a 2500 sq. foot home in St. Louis into a 1600 sq. foot home here in Rogersville, MO. When downsizing (and moving), you do a lot of purging — and that is exactly what we did. We probably tossed things we could've kept, but towards the end of the chaos, you just want it to be over. Can I get a witness?
However, this list of new home must-haves came in handy as we settled into our new home.
Printable New Home Necessities Checklist


This checklist is GREAT for first-time home buyers and when you move into your first apartment. Trust me, I wish I had this when my sister and I moved into our very first apartment. We probably made a couple of dozen trips to the store due to constantly thinking of things we needed. Hee-hee.
Lists are my jam — I use them for everything, so having a checklist is a lifesaver! I'm not alone here, right? From clocks to plungers to trash cans, they're all necessities. Unless, of course, hanging a Walmart bag from the bathroom doorknob is your thing. Wink!
When you first move in, there's always a lot of cleaning to do — and being the Swiffer fanatic that I am, those are a must-have. Why? Well, Swiffer products are easy-to-use sweeping, mopping, and dusting tools for virtually any surface of your home!
Using the Swiffer Sweeper and Swiffer Duster, I am able to trap and lock dirt, dust, and hair. I have a Swiffer Wet Jet too; however, I use the sweepers and dusters the most. My all-time favorite Swiffer product is the Swiffer Sweep and Cordless Vac.
And now that we're settling in — I keep the sweeper and dusters conveniently located in a central location… and they're used regularly.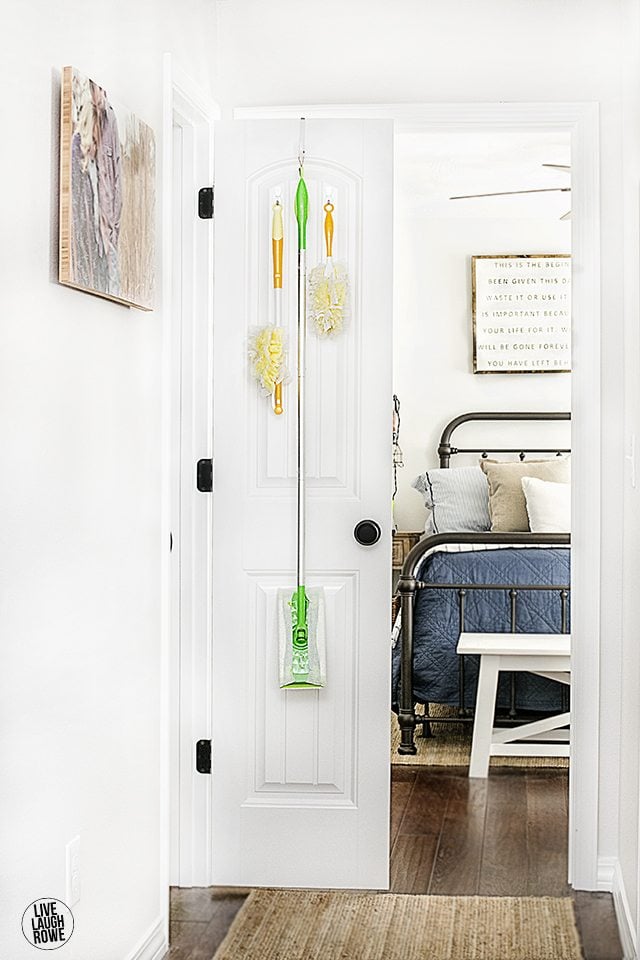 Now that we have (engineered) hardwood throughout our home, regular sweeping is a must! Bonus Tip: Using 3M hooks inside closet doors is such a hassle-free (and damage-free) way to keep these types of items organized too! I'm not a fan of keeping my cleaning supplies in my garage, so this is the next best option.
Let's take a look at this checklist, shall we? When picking up some things at a local home store, my husband noticed a tear-off necessity list that they offered to their customers and asked if I had seen it.
Me: "Umm, that's brilliant. Let me take one of those." (printable idea brewing)
So, I pulled this handy New Home Necessities printable checklist together for those moving into a new house or apartment. It's broken down into specific categories and I added a few miscellaneous lines for those items that might not be applicable to everyone else.
I hope you're able to put this to good use at some point — and be sure to share it with your friends and family who might be moving too! It really is a great resource.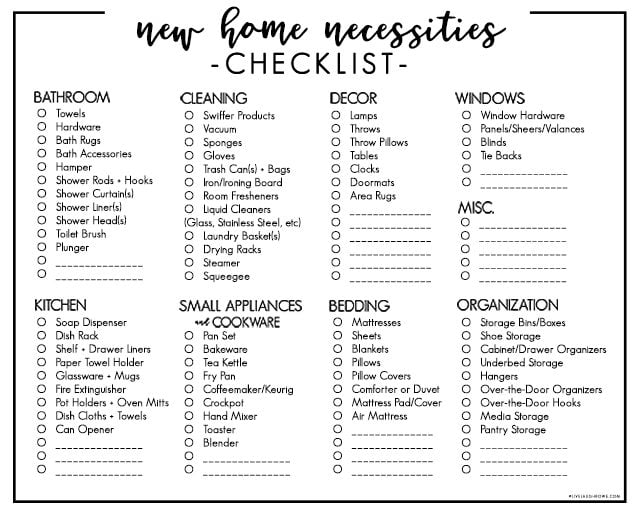 *Please Note: All printables and downloads designed by Live Laugh Rowe are for PERSONAL USE ONLY. Please do not alter the file or claim it as your own. This file is not intended for resale, nor are the printed versions of this file.
I'm excited to start sharing some pics of our new home with you soon… with the holidays and other priorities, it's still a work in progress. Living in a ranch is awesome sauce, that's for sure!
Hugs + Blessings,