I'm sharing the results of my Swiffer Challenge in collaboration with Swiffer.
I love Swiffer and have fallen more in love with them over the years. Last year, I even got to spend some time with the folks at Swiffer (yes, that's how much I love them) in Cincinnati, OH and learned a lot about the technology behind the products. I've never really been a fan of store brands, in general, but let me tell you friends — Swiffer showed me/us why we shouldn't be buying them.
So, I accepted the Swiffer Challenge and will be sharing the results with you today. Ready to take a closer look (at my dirty floors, hee-hee)?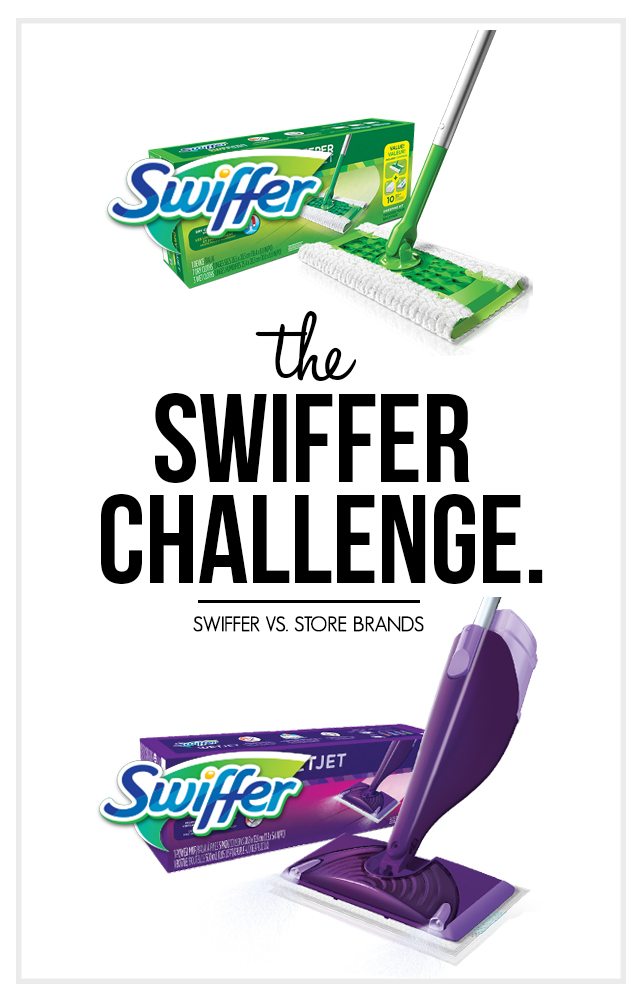 I thought we'd take a look at the Swiffer Sweeper Dry Sheets and the WetJet Pads vs. the Store Brand. Now, first let me say that pictures don't really do this 'challenge' a whole lot of justice, but you will be able to see the difference. When using the products, I cut each sheet/pad and cut them in half so you could see the side by side comparison.
Let's start with the Swiffer Sweeper Dry Sheets. First, here is a shot of SIX of the dry sheets. Look at the difference! If you were able to hold each of these brands in your hand, you would be able to feel (and see) how deep the textured ridges are on each.
I learned that my floors weren't as dirty as I thought (haha). However, you can see that Swiffer did pick up more dirt on the sheet as a whole, where I found the store brand just seemed to push the dirt around versus pick it up.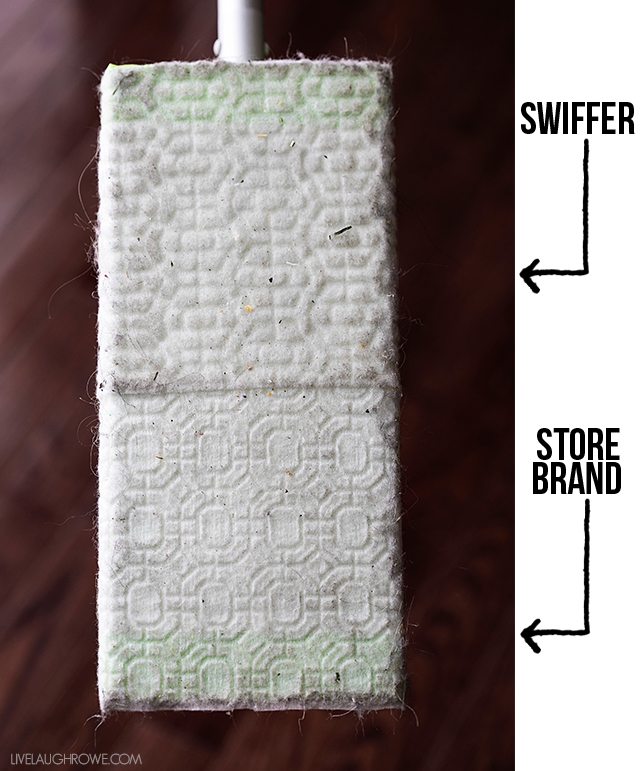 Swiffer Sweeper Dry Sheets trap and lock up to 4X more dirt, dust and hair (*vs the leading store brand dry cloths over total life of cloth). Why? The Sweeper dry sheets have much deeper textured ridges for grabbing and holding the dirt, dust and hair.
Next up, let's compare the Swiffer WetJet Pads with the store brand…. I'm going to be honest in saying that I was a little grossed out by the store brand. They felt like plastic and were very drippy. Eww!
WetJet Pads absorb up to 2X more (*vs the leading store brand mopping pads). This is because Swiffers pads have a more absorbent core, so the pad lasts longer and absorbs more.
Below you can see that Swiffer WetJet Pads picked up more dirt than the store brands, once again.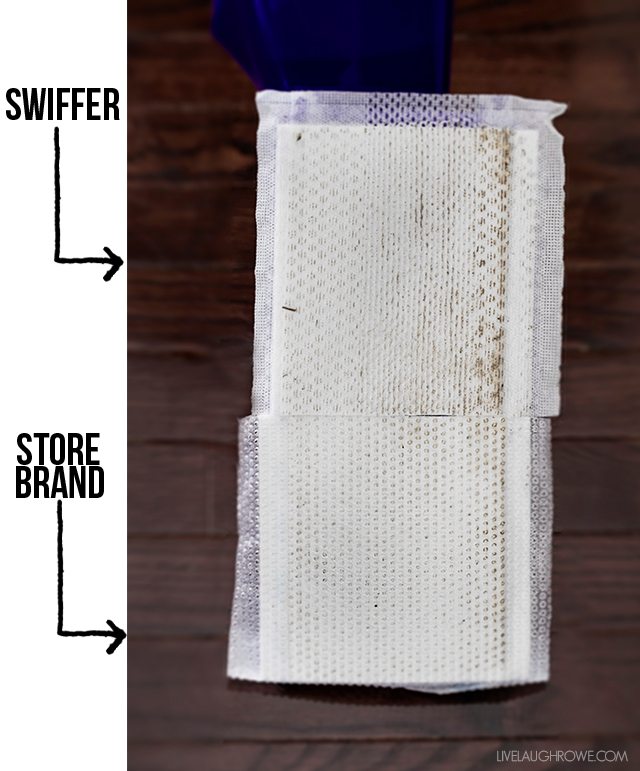 If you were to pour a cup of coffee or water on both of the wet pads, then wring them out — you would be SHOCKED as to how much came from the store brand in comparison to the meager amount that came from the WetJet Pads. As a Swiffer user, I was surprised. I don't know about you, but I want my dirt to be cleaned up and absorbed — definitely not being pushed around and dripping back on the floor.
Here is my plea to you — take the challenge! Swiffer has proven to be the best choice for me and I think you'll agree. I'd love to hear your thoughts about the Swiffer Challenge.

Be sure to visit with me here too:
Facebook | Instagram | Pinterest | Twitter |Google+
Linking up to Between Naps on the Porc