If you've never made fajitas using a cast iron pan, today is your lucky day! I'm sharing how to make chicken fajitas in a cast iron skillet. Within about 30-40 minutes (including prep time), you'll be enjoying a delicious Tex-Mex inspired meal.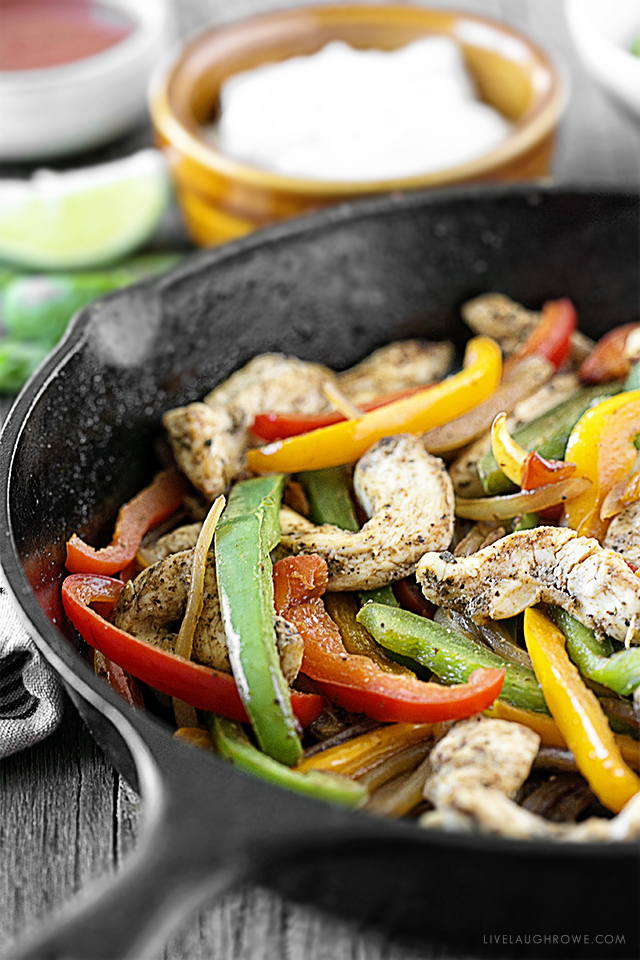 How to Make Chicken Fajitas in a Cast Iron Skillet


Chicken fajitas are my jam! I could eat them on a regular basis. All of the delicious toppings that create a perfect medley of flavors. Mmmm. When we dine-out at Chili's every now and again, I'm predictable in that I always order Chicken Fajitas. And they always serve there's in a small sizzling hot cast iron skillet..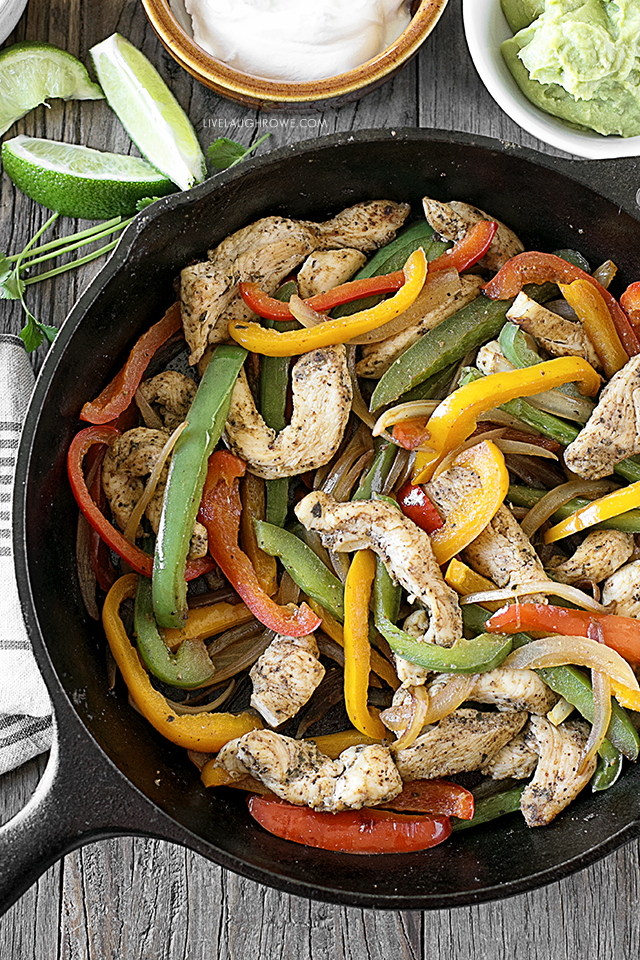 However, sometimes it's less expensive and even better when they're made at home! Over the years, I think I've made a form of chicken fajitas maybe once or twice.
And as you may or may not know, one of my New Years Resolutions was to put my cast iron skillets to more use. So, I pulled out my 10-inch cast iron skillet and learned how to make chicken fajitas. Guess what? They were AMAZING!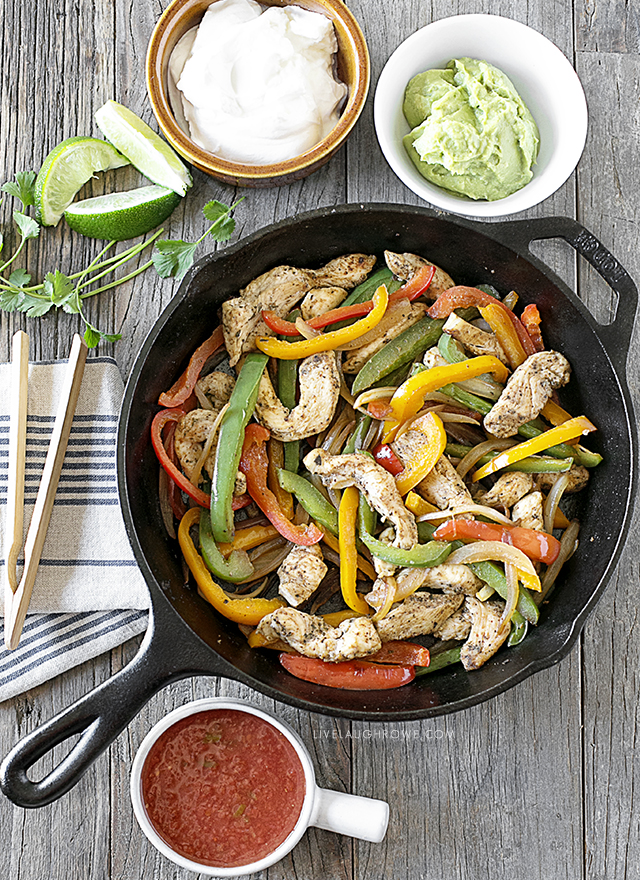 What is it about fajita ingredients that makes them so flavorful. For me, it's the combination of onions, colorful peppers, cheese, guacamole and sour cream. Oh, and we can't forget the cilantro! What about you?
Now that my stomach is growling, I better go ahead and share the recipe. Wishing I could devour a few of these right about now. Ha! Well, I hope you enjoy this easy fajita recipe as much as we did.
p.s. Most of my cast iron skillets are Lodge. I love them and all of the available accessories!
Easy Chicken Fajitas in Cast Iron Skillet
Ingredients
2

tbsp

chicken taco seasoning

1

tsp

garlic powder

1/8

tsp

salt

1/8

tsp

black pepper

1

lb

skinless, boneless chicken breast halves, cut into thin strips

2

tsp

tsp extra virgin olive oil, divided

2

cups

green, yellow and/or red sweet pepper strips

1

cup

onion, thinly sliced

8

- 6-inch 100% whole wheat flour tortillas, warmed

1/2

cup

salsa

1/4

cup

cup snipped fresh cilantro

1/4

cup

guacamole, optional

1

lime, cut into 4 wedges
Instructions
In a resealable plastic bag, combine chicken taco seasoning, garlic powder, salt, and black pepper. Add chicken strips, several at a time, shaking to coat.

In 10-inch or 12-inch cast iron skillet, heat 1 tsp of oil over medium heat. Add chicken; cook 3 to 4 minutes or until there is no more pink, stirring frequently. Remove meat.

In the same skillet, heat remaining 1 tsp of the oil over medium heat. Add sweet peppers and onion; cook 8 minutes or until tender and golden, stirring frequently. Stir in mean and heat through.

Serve mixture in warm tortillas with remaining ingredients or additional toppings of choice.
Notes
Recipe serves 4, allotting two fajitas person.
Nutrition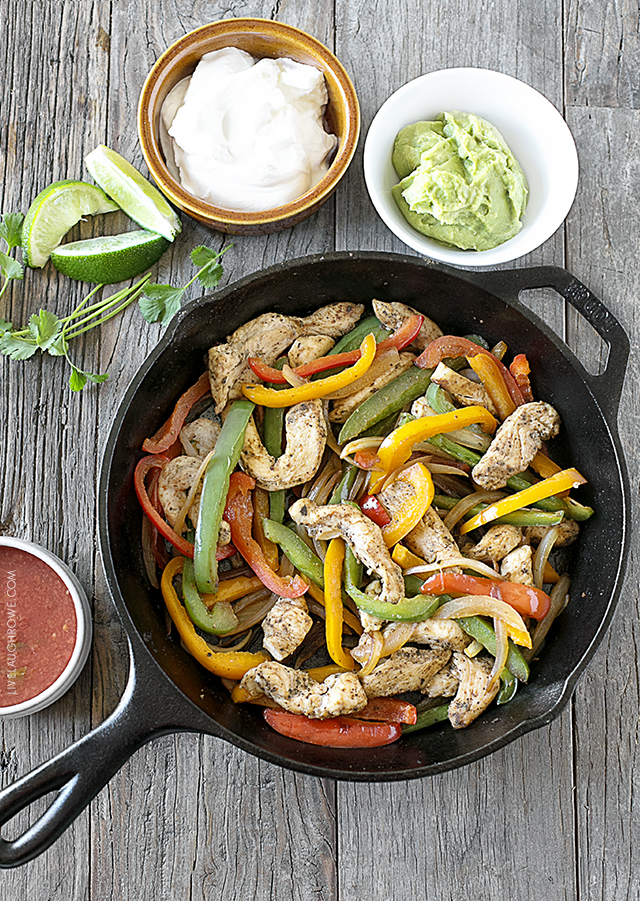 Other cast iron skillet recipes that might interest you:
Perfect Cast Iron Skillet BBQ Drumsticks and Thighs
Skillet Chicken Tacos
Bacon-Wrapped Filet Mignon

Be sure to visit with me here too:
Facebook | Instagram | Pinterest | Twitter | Google+