HAPPY FRIDAY!! Let's do a happy dance, shall we? I kind of laugh at how much I love Fridays when I tend to work quite a bit on the weekends too… I guess it's psychological. I love having my hubby home and getting to hang with my sister, those are both super duper weekend perks! Aaaaand I get to cheat on my diet a little bit on Fridays! What??? Yep. Friday Night is my cheat night and let me tell you friends, it is something I look forward to all. week. long! (giggle) However, until Friday arrives, I have to watch everything I'm eating… that's where these Chocolate Chip Meringue Cookies come into the picture. I mean we all like a little dessert every now and again, right?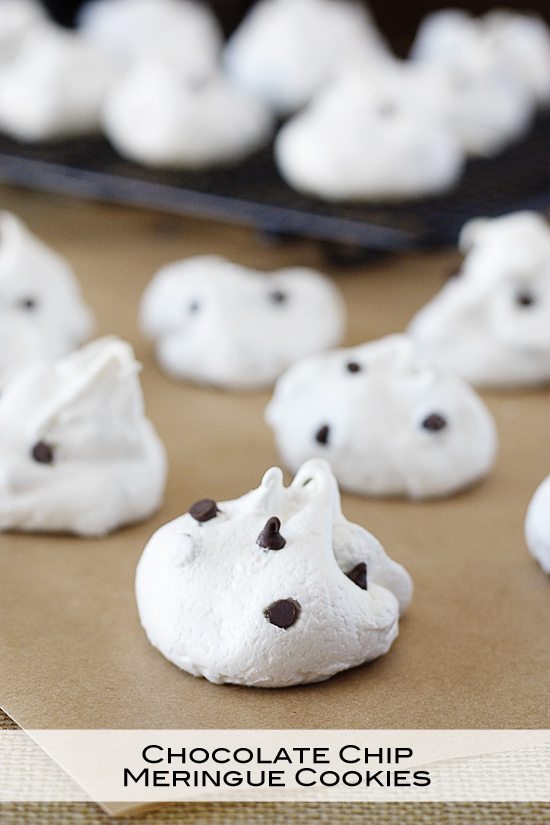 Okay, so let me start with this. Have you ever NOT made something because of the terrifying thought that it was just too complicated? Yeah? Phew, met too! I have never made meringue cookies. Gulp. I kinda thought they were some fancy pants complicated cookie. WRONG! They were pretty darn easy, friends. Better yet, not one of mine cracked. Booyah! So, this was a huge success.
If you have a sweet tooth, then these cookies are a perfect combination of vanilla and chocolate. For those on Weight Watchers, they're only 2 points each (3 points for two). So, this recipe is just for you!
Chocolate Chip Meringue Cookies
Ingredients
Cooking Spray

1

tsp

all-purpose flour

4

large egg whites

1

cup

sugar

1/2

cup

mini chocolate chips

semi-sweet

1/2

tsp

vanilla extract
Instructions
Preheat oven to 200

Coat two baking sheets with cooking spray and a light dusting of flour. Shake off excess.

In a large mixing bowl, beat egg whites with an electric mixer until soft peak form. Gradually add sugar and beat until stiff, glossy peaks form. Gently fold in chocolate chips (setting a few aside to sprinkle onto cookies) and vanilla extract.

Drop mixture by heaping tablespoons onto prepared baking sheets about 1 inch apart, making 24 cookies (12 cookies per baking sheet). Sprinkle chocolate chips onto cookies before placing in the oven, optional.

Bake until lightly golden and no longer sticky on the surface, about 1 hour. Turn oven off and let cookies sit in oven for 1 hour. Transfer cookies to a wire rack to cool completely.
Notes
PointsPlus Value: 2 per cookie.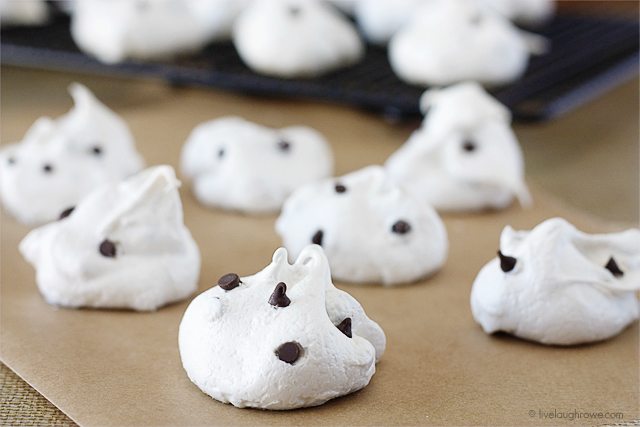 Curious how they look on the inside?
They're filled with chocolatey goodness.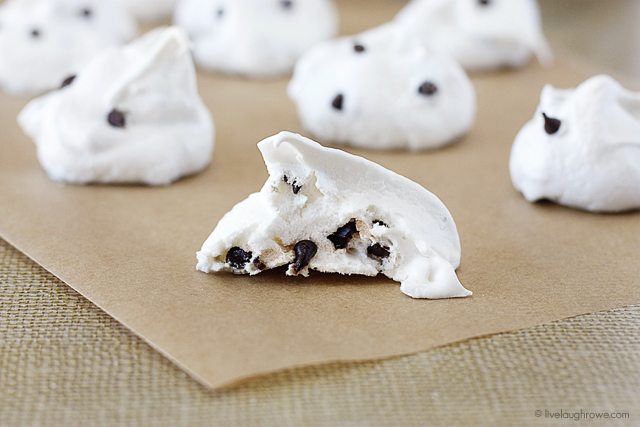 Now, here's a confession. If you're anything like me, and find some things to be a little too sweet, these would fall into that category. I could never indulge in more than one of these in a sitting as they are very sweet — but tasty nonetheless. Enjoy!
Care to stay in the loop? I'd love to have you!
Catch me snapping + sharing pictures over on Instagram.
Subscribe to Updates | Like on Facebook | Follow on Pinterest
https://betweennapsontheporch