If you asked my husband, he would tell you that I change decor too often. And I would say that's a lie. Ha. The last time our master bedroom got a makeover was back in 2017. So, in my humble opinion, it's time for a bedroom refresh, and I decided to start planning with a mood board. Yay! I thought I'd share it with you to get some feedback too.
Whether you're back for another visit or a newbie, I'd love to keep in touch! Be sure to sign up for e-mail updates! Click on that SUBSCRIBE button in the upper right-hand corner, or use the subscription box in the sidebar. As a result, you'll get some happy mail in your Inbox.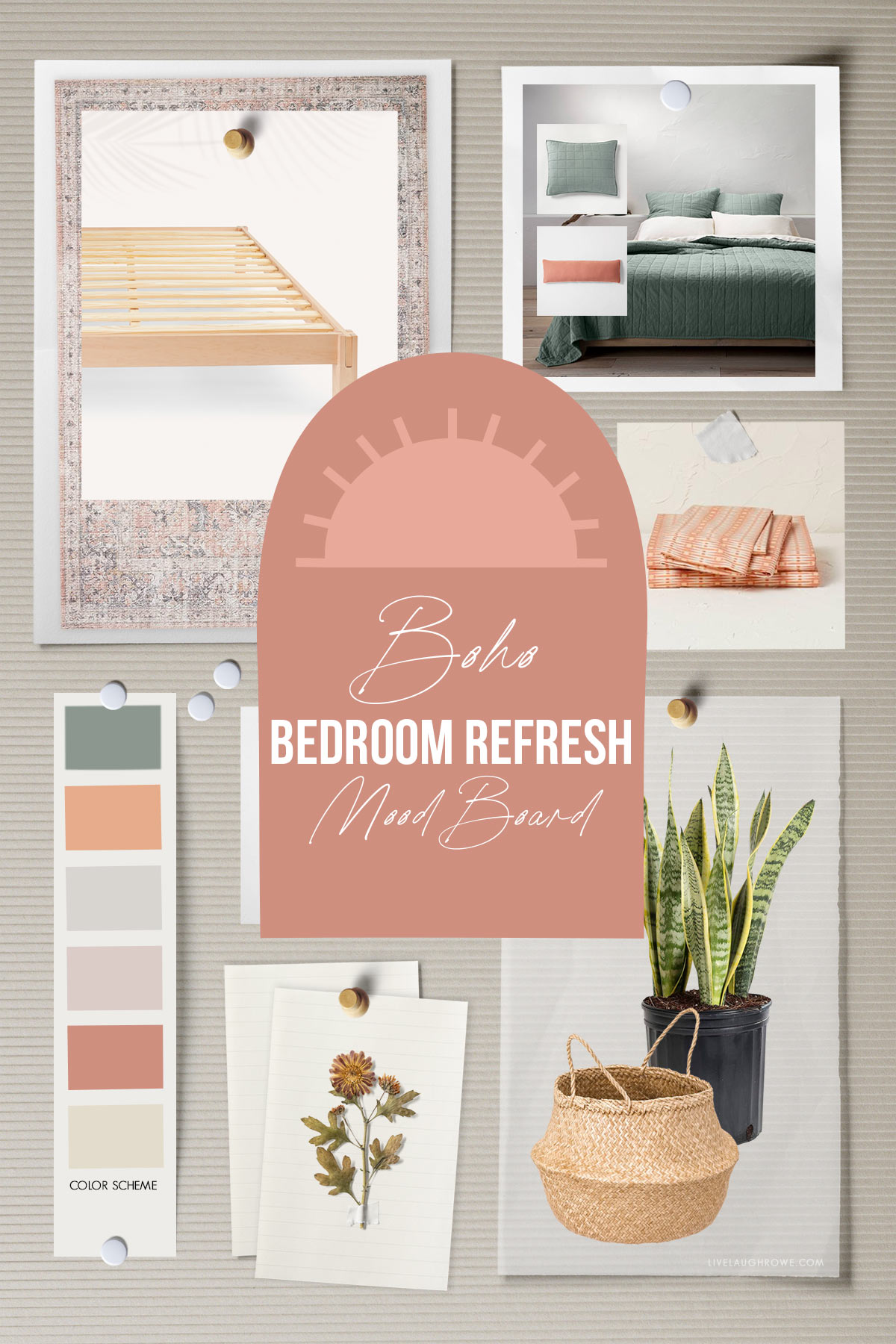 When we moved here, I was still loving the Farmhouse vibe, but I've been embracing more of the minimalistic, boho vibe over the past couple of years. The central part of our home has more of the boho decor, but it hasn't made its way into the master bedroom.
Your home should tell the story of who you are,
and be a Collection of what you love."

Nate Berkus
Guess what? It's time. Haha. I decided that it was time to at least start pulling a visual concept together (and running it by the hubs).
Before sharing the official operation Bedroom Refresh, here is a glimpse into what our bedroom looks like now (these pics were from our St. Louis home).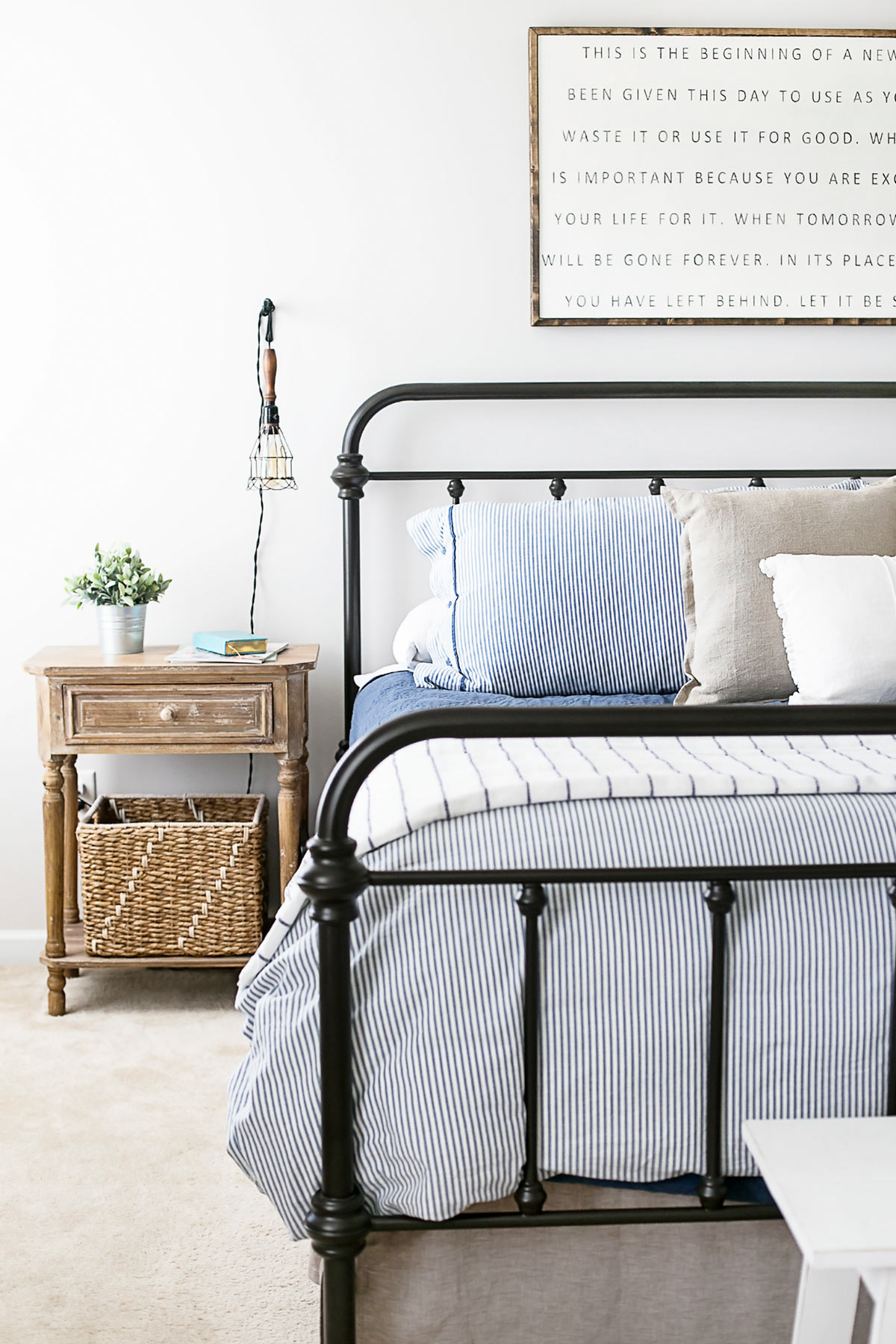 Our bedroom is much smaller here than in St. Louis, so we decided to downsize to a queen bed. Thankfully, the Airbnb we stayed in before closing on our house had a queen-size bed, and we agreed that it worked.
For the longest time, I thought I would want the primary color to be terracotta. However, I've since decided that I want the colors to be lighter. We currently have a blue quilt, and I'd like the room to feel lighter and brighter.
Nevertheless, I'm excited to say goodbye to the bed frame, bedspread, hanging lights, and nightstands. Woot-woot.
Bedroom Refresh Mood Board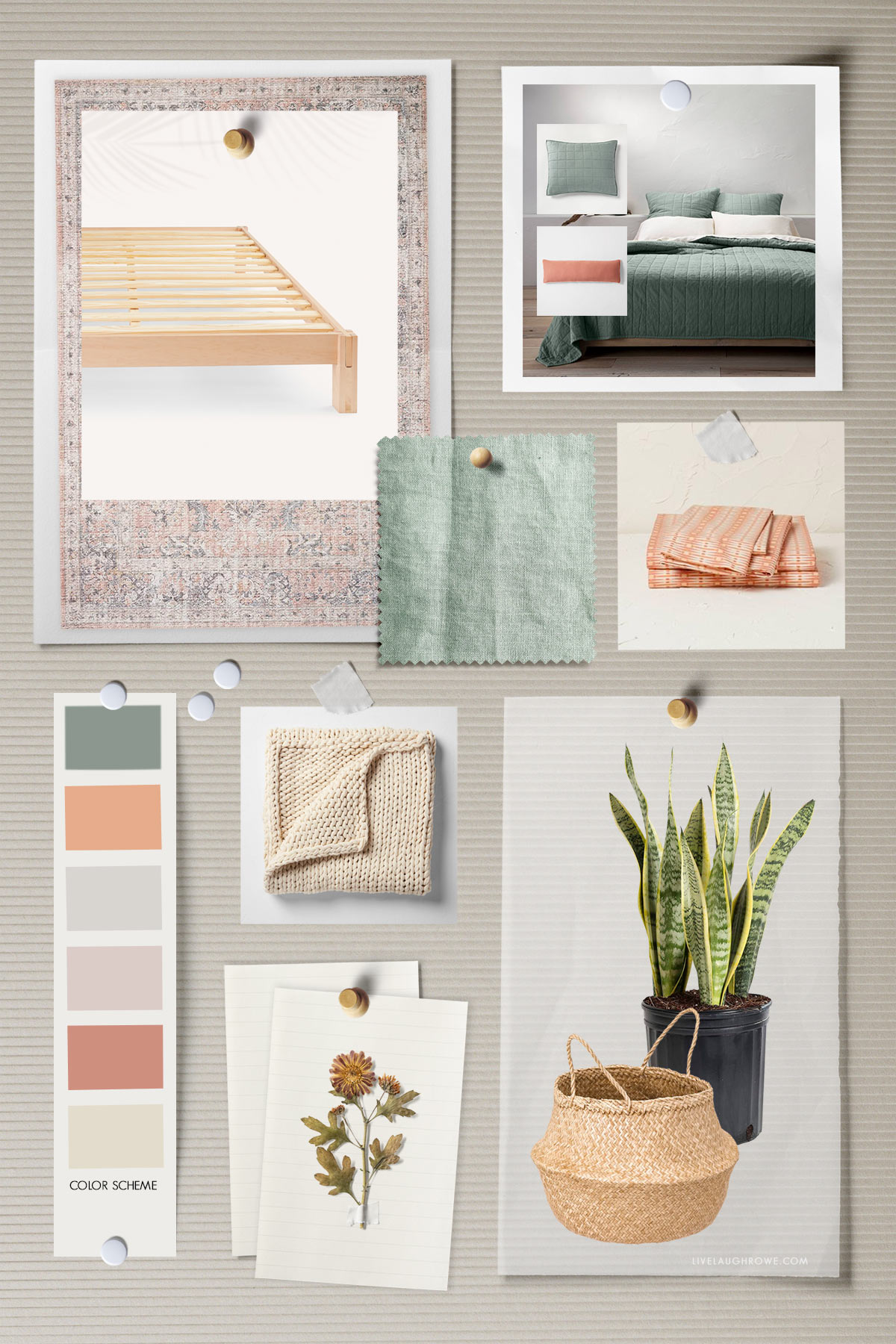 I've decided to go with sage green as the primary color with terra cotta and other light accent colors. Linen will be the primary texture.
Bedding
Initially, I was going to purchase our bedding from West Elm. Regardless of how much I loved it, I didn't want to spend $300+ on just the bedspread. Therefore, I did more research and found the Casaluna line at Target.
I've already bought the quilt, pillow shams, and blanket. The sheets I scored from a local pallet group for (I think $10), all from Target. Gosh, I love that store!
Throw pillows will most likely be white using IKEA feather pillows and white linen covers.
The long, lumbar pillow is on my waitlist — I'd like the terra cotta color, but it's currently out of stock.
Honestly, this mood board gets me pretty darn excited. Have you ever done one? I'm such a visual planner. Mood boards certainly help to conceptualize.
Area Rug
We don't have carpet in our home now, so we'll be adding an area rug to the space. My friend has this rug, and I love the pattern and colors. Seeing it in person sealed the deal. I'm anxious to have a carpet under my toes when I wake up.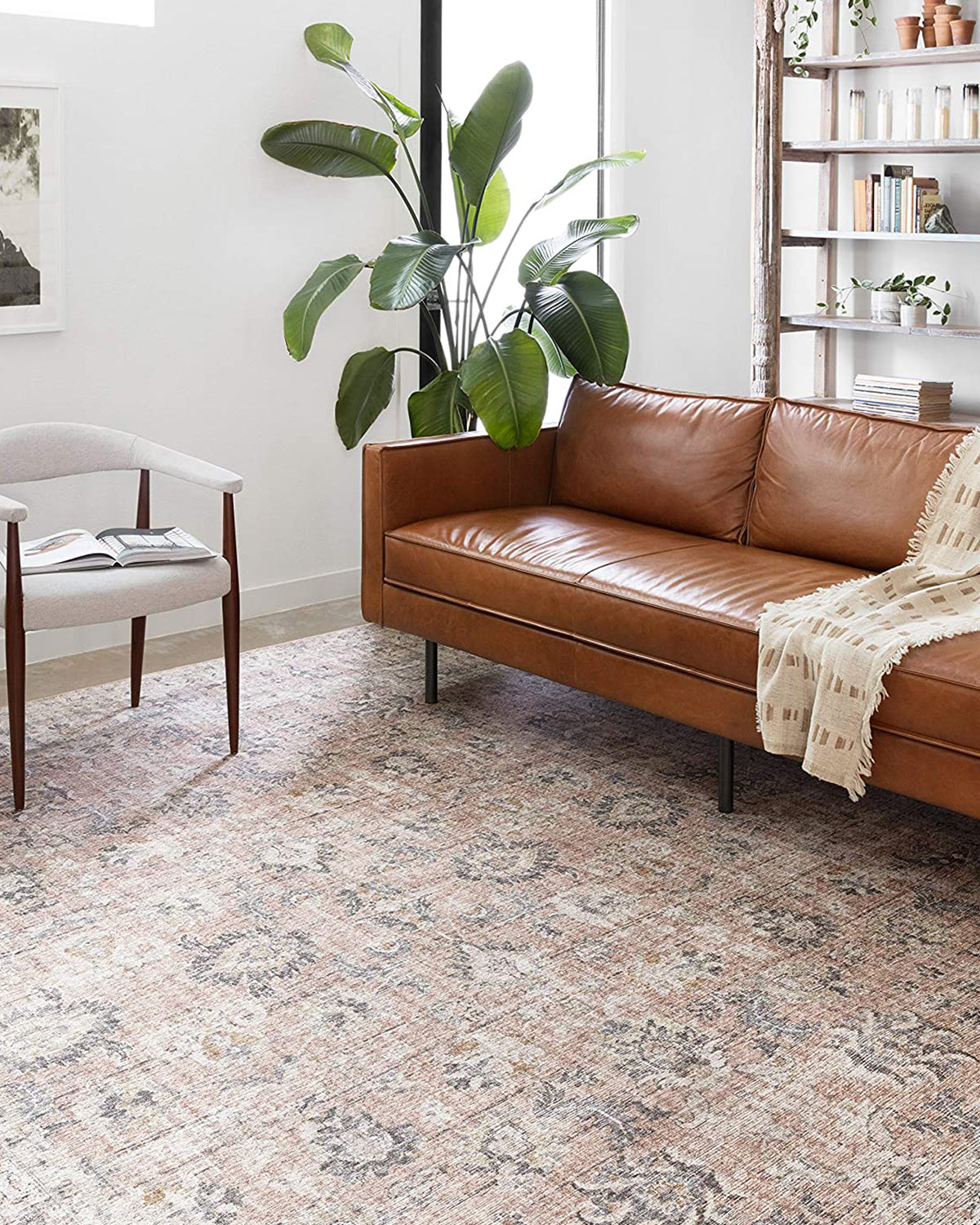 Isn't she a beauty? 🥰 (picture courtesy of Amazon)
Furniture for Bedroom Refresh
The most significant piece that we'll be replacing is the bed frame. I've been researching natural colored platform beds for a few months. It's certainly been interesting, as many of them are over $1k, and, well, I'm not sure I want to spend that on a bed frame. However, I did stumble upon this article reviewing some platform beds, and I believe I've found THE ONE. It's by Birch and they're made in the USA too. 🇺🇸
Not having a headboard will give us creative liberties, like this Modern Hanging Rattan Headboard or a gallery wall of baskets
Unfortunately, the dressers will stay — they're white (from IKEA). Nevertheless, I think they'll work. Shopping for dressers stresses me out a bit, so there is no urgency. Hee-hee.
The last significant change will be the nightstands. I rounded up a few that fit the visual concept I'm going for. Of course, we have to measure to ensure they won't be too tall or too short.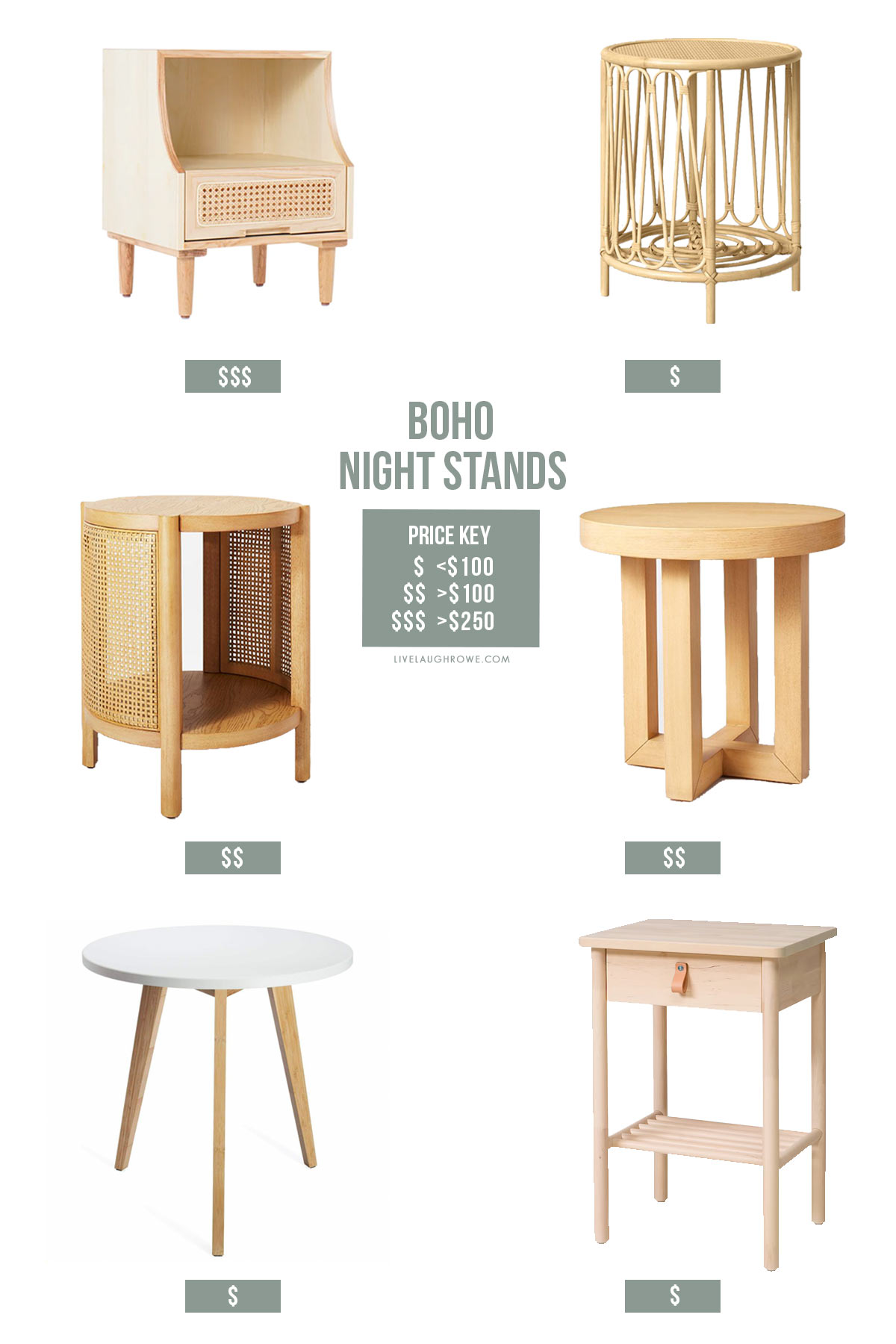 Which one do you like most? My husband favors the second one down on the right side.
The End
And there you have it, the beginning stages of our bedroom refresh. Can you visualize it? Stay tuned… I'll share the transformation when it's official.
Resources:
Birch Bedframe
Area Rug
Casaluna Quilt
Pillow Shams
Sheets (Kaylo Global)
Casaluna Throw Blanket
Seagrass Belly Basket
Snake Plant
Nightstands:
Natural Drawer Rattan Woven Bedside Table
Rattan Bedside Table by Pillowfort™
Woven Accent Table (Studio McGee)
Round Wood End Table (Studio McGee)
Bamboo End Tables
Birch Night Stands