Let's see, back in August I shared a little bit about this rooms makeover. Today, I'm super excited to share the FINAL REVEAL, our Multi-Purpose Room Makeover. Woo-Hoo! Remember I said that it's technically called the 'living room' by the builder — it really serves as more of a multi-purpose room and we couldn't be happier with how it came together! Let's take a look…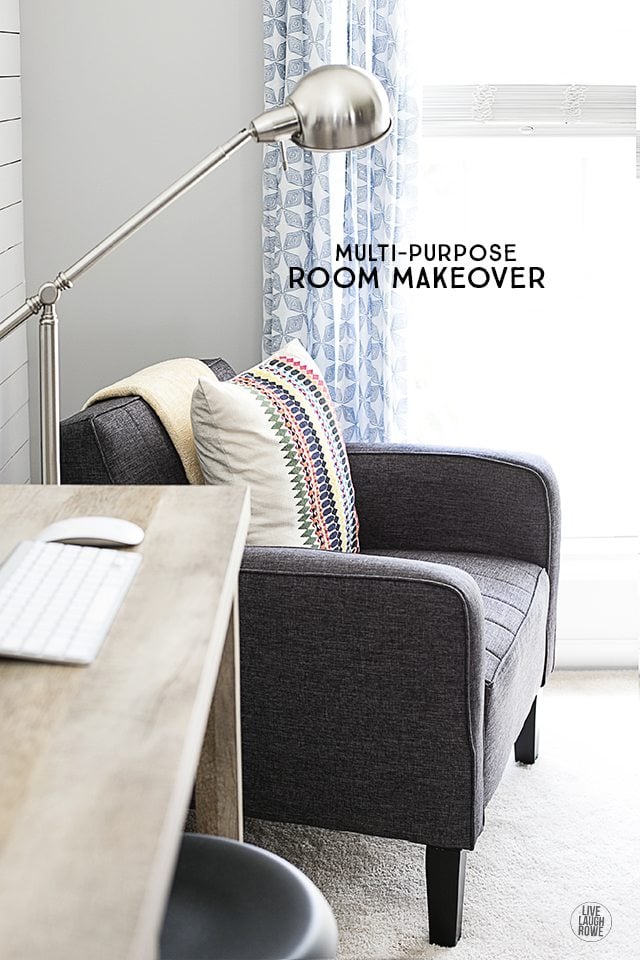 As I mentioned before, this room really had little to no purpose. It was a bit dreadful and had little functionality. Sigh. It's funny how our styles change. Once upon a time, I am fairly certain that I thought I had "nailed it" in this room. HA!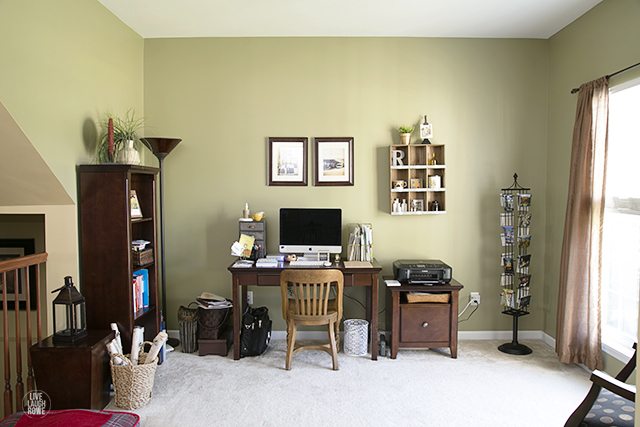 A few months ago, Sauder reached out to offer me a few pieces of furniture to spruce up a room of choice — and, well, that's when my vision started to come together!
I've always wanted a plank wall and, let's be honest, it will make a great back drop for some photographs along the way. So, it all started with this awesome sauce plank wall.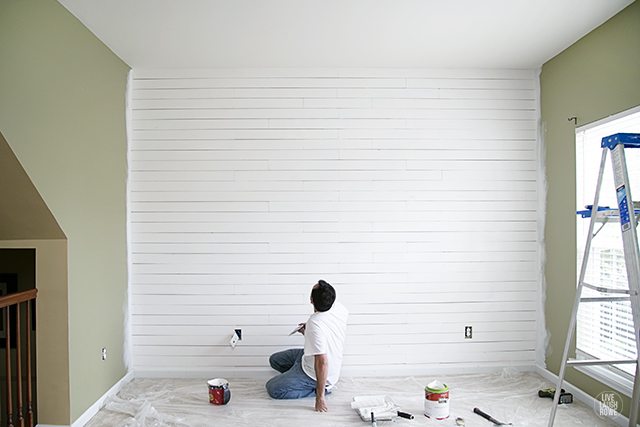 I knew the pieces I picked from Sauder would compliment the space perfectly. I love a mix of rustic, industrial, eclectic styles.
With the plank wall came a new wall color. We've since decided to lighten the color of our entire main floor and have been busy painting it to match the multi-space room too. We fell in love with a light gray. It is CRAZY how a paint color can make a room feel so much brighter and airier!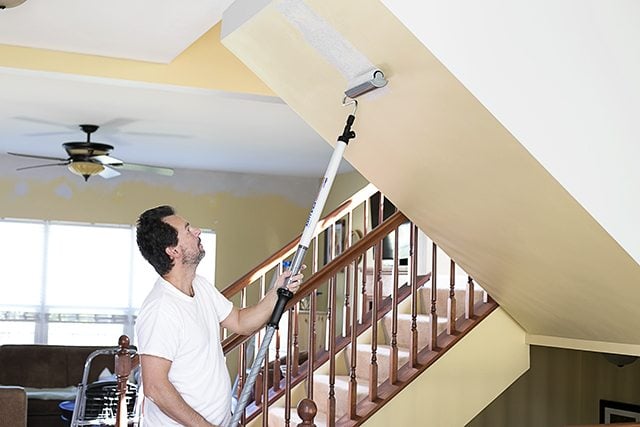 It was a matter of time before this room didn't even look like the same room!
Most of the other accessories were shopped out from the previous room, my basement or other spots in the house. I'll be sure to share the details at the bottom of the post.
However, one of my favorite pieces that I've had for YEARS is this photo carousel. It houses post cards from YEARS of travel — I have postcards on here that I purchased when I was in high school. I'm still a paper and pen girl, so sending postcards and buying an extra one for my carousel is a tradition that I've stayed true to over the years.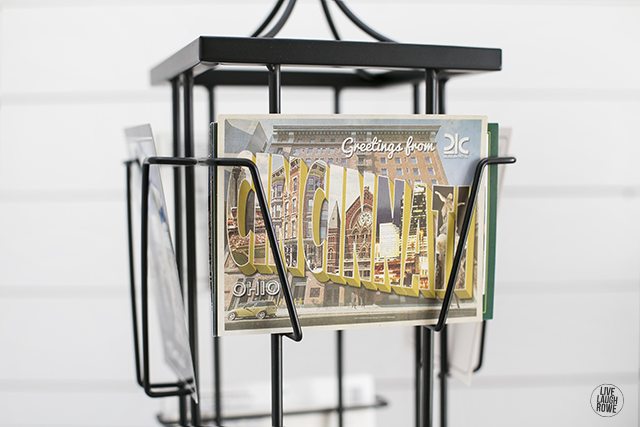 The work table and counter height stool became the focal points, taking center stage. Here is where I do some work, print shipping labels for shop orders and more!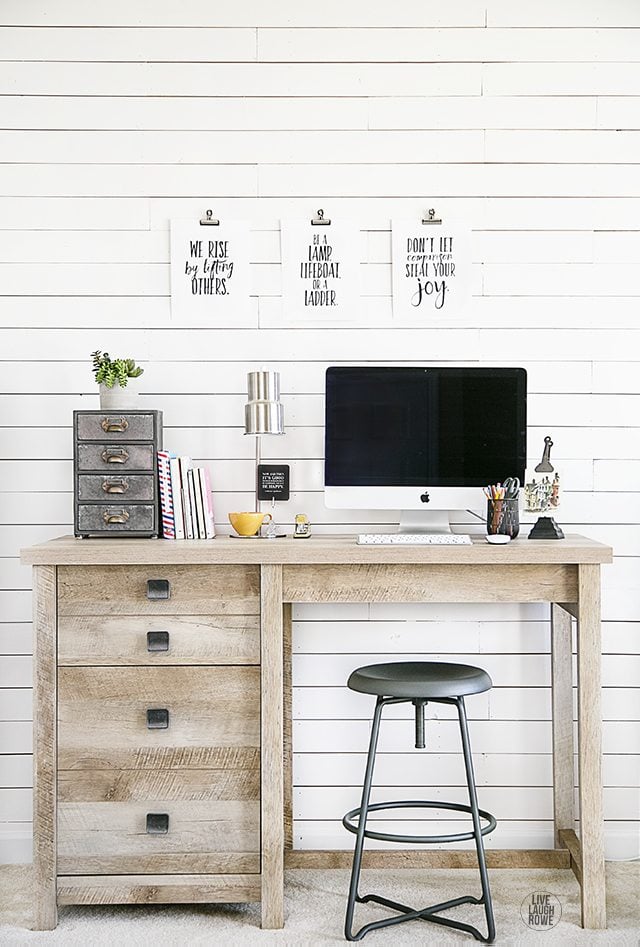 Having a chair by the window is almost a necessity around here. Our Parker loves sitting here and keeping an eye out on the neighborhood. However, this little nook has become a favorite spot of mine for reading, magazine browsing and more.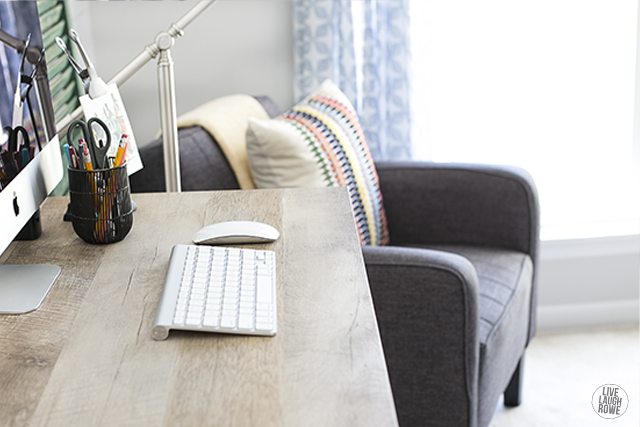 The Ellis Accent chair seemed to fit the bill with function, color and comfort!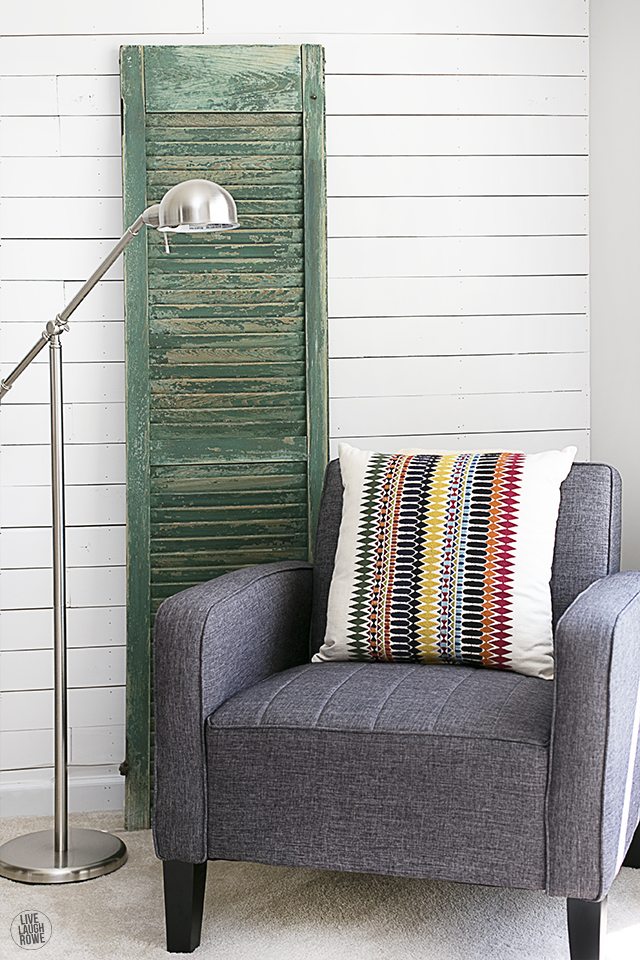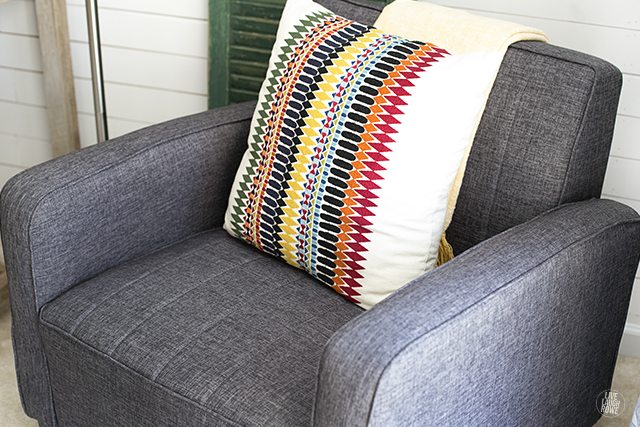 As a whole — it's a perfectly funcitonal space now. I even LOVE photographing some of my projects out here too, now that's brighter. It really did come together and I couldn't be happier. What do you think?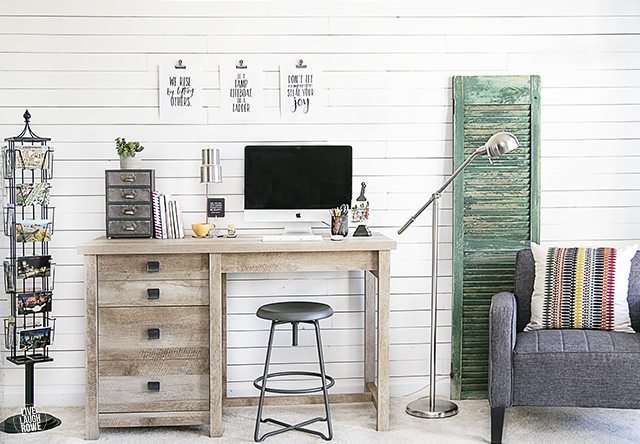 Other Accessories: Photo Carousel, Pillow, Lamp, Green Shutter, Curtains, Basket with Chalkboard Tag (holding my vinyl backdrops).
And that's a wrap! I hope you're feeling inspired. Be sure to check out all of the awesome pieces in the Sauder Put Together Lookbook!
p.s. Swing back tomorrow, as I'll be sharing the printables with inspirational messages that I have hanging up!

Be sure to visit with me here too:
Facebook | Instagram | Pinterest | Twitter |Google+
Linking up to Between Naps on the Porch
This is a sponsored conversation written by me on behalf of Sauder. The opinions and text are all mine.