This post is sponsored by The Home Depot.*
For those of you who are pet owners, you can relate to having pet friendly furniture and decor. They're just like the kiddos — they jump on things, get sick on the furniture, eat things they shouldn't and so on.
Since I don't have kids, my dogs are my kiddos and I love sharing posts that include them. I recently shared about some pretty fabulous carpet that is great for pets too. Be sure to check it out!
However, today we're going to take a look at a pet friendly space I created for Parker and Buster.
Pet Friendly Furniture and Decor


I'm super excited to share some fabulous pieces I found on homedepot.com. A pet friendly area was created just for my fur babies (Parker and Buster). My sister's dog, Sydney (the mini schnauzer) was a great model for me as well. I photographed these pictures back in July (yes, blogging deadlines work very differently). A lot has happened since July and as a result of that change, editing these pics kind of made me miss this space. Sniff sniff.
Since that time, we lost Sydney to kidney failure. It is with great sadness that I'm having to share these pictures after the fact — but it is a beautiful reminder of the sweet dog she was. I miss you every day, Sydney Lou.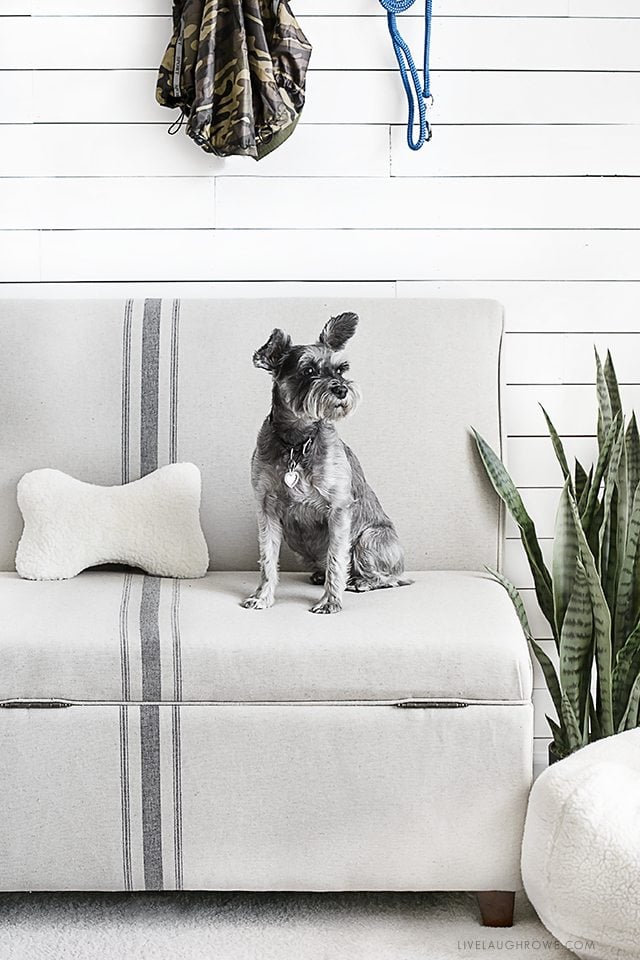 The dogs are always exhausted after a photo shoot, so Sydney didn't hesitate to put the bone pillow to use. I placed it by her and sure enough she rested her head right on it. My heart melted.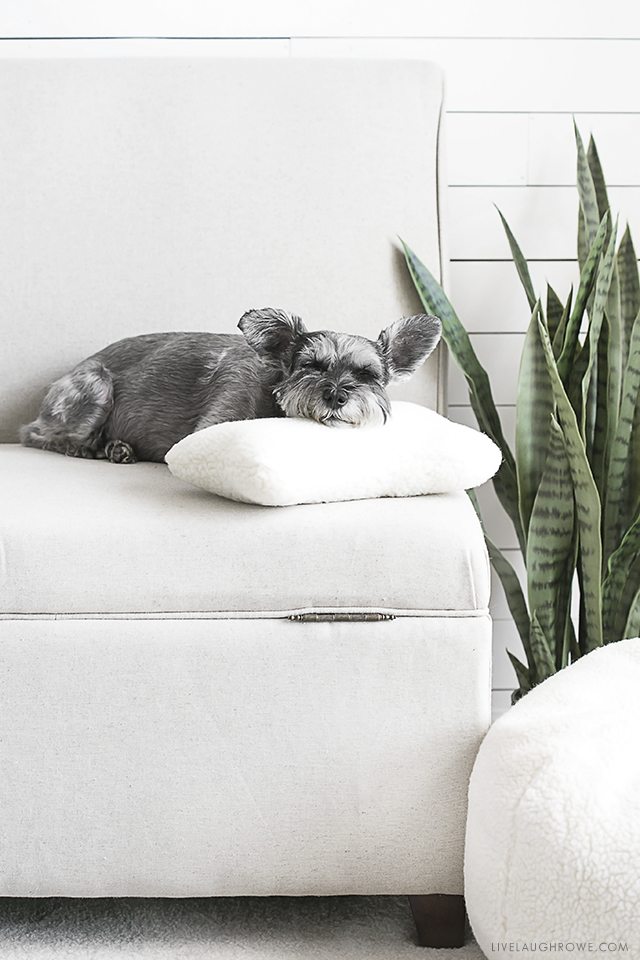 Seriously, can it get any cuter? Sleeping dogs are so stinking cute! Be still my heart.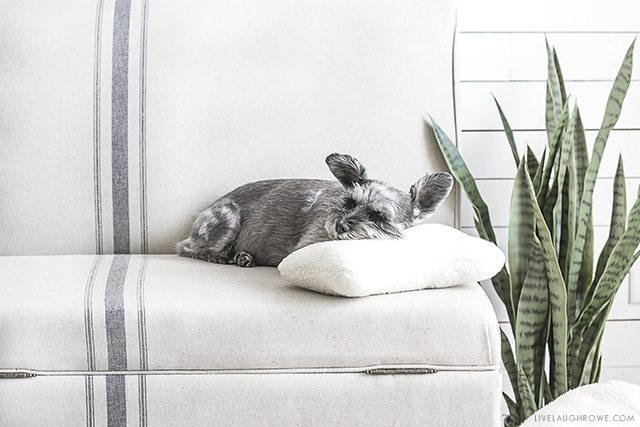 Sigh. Anywho, let me share a bit as to why I chose these pieces. My boys love to look out the windows, so this armless storage bench allowed them to lay down and look out the window without the arms blocking their view.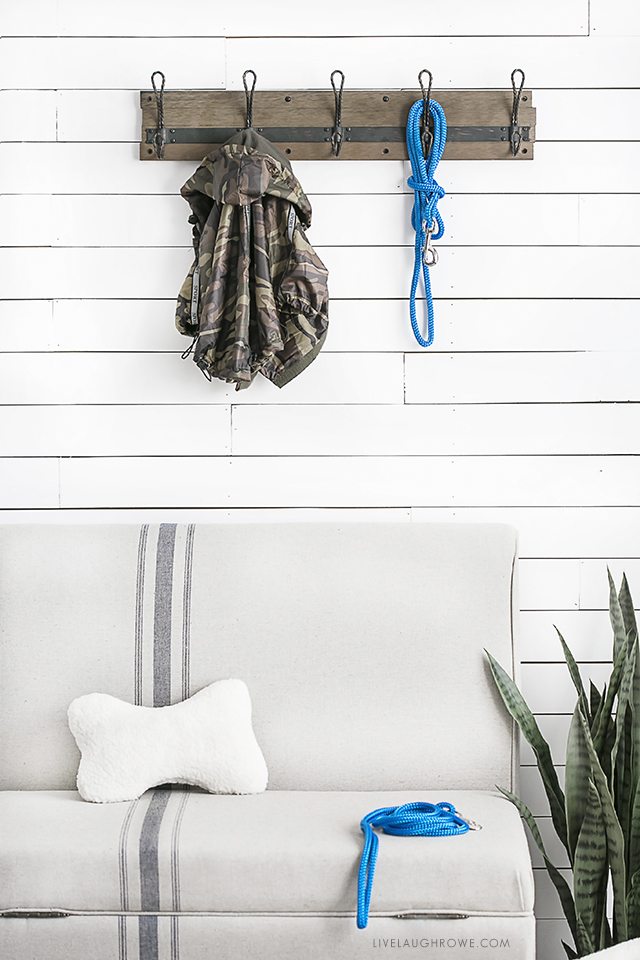 The storage was a bonus! Keeping toys, clothes and treats inside is a win-win.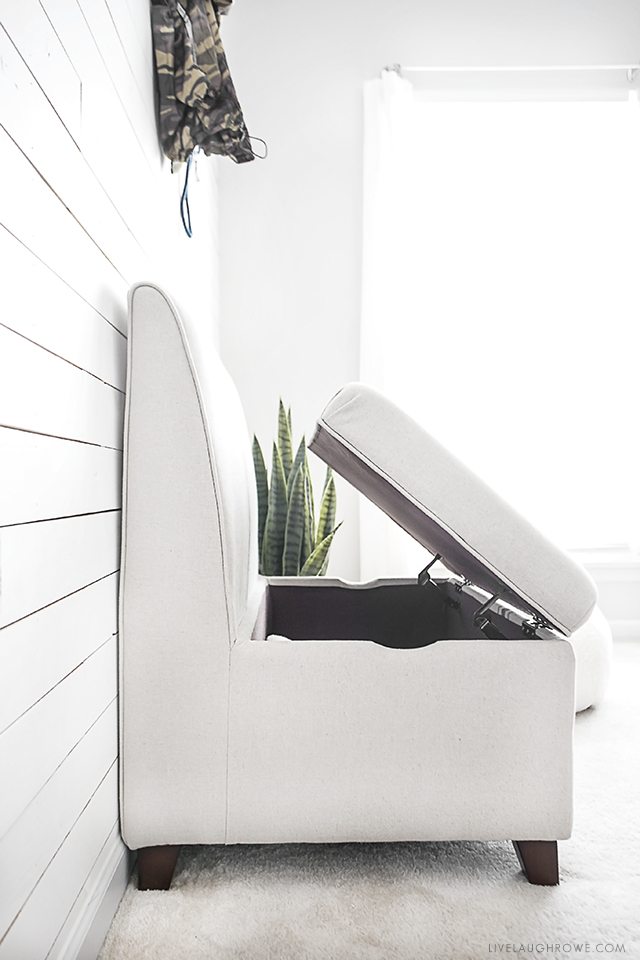 The sherpa puff ball has been one of the best dog bed choices I've ever made! I actually had to order another one… Parker lived in the bed at first, then Buster gave it a try (rut row). It became a game of musical chairs dog beds. If one dog got up, the other would sneak right up and crawl into the sherpa bed. I didn't want any brawls, so I got a second one so they can each be content and warm. Who knew?!?!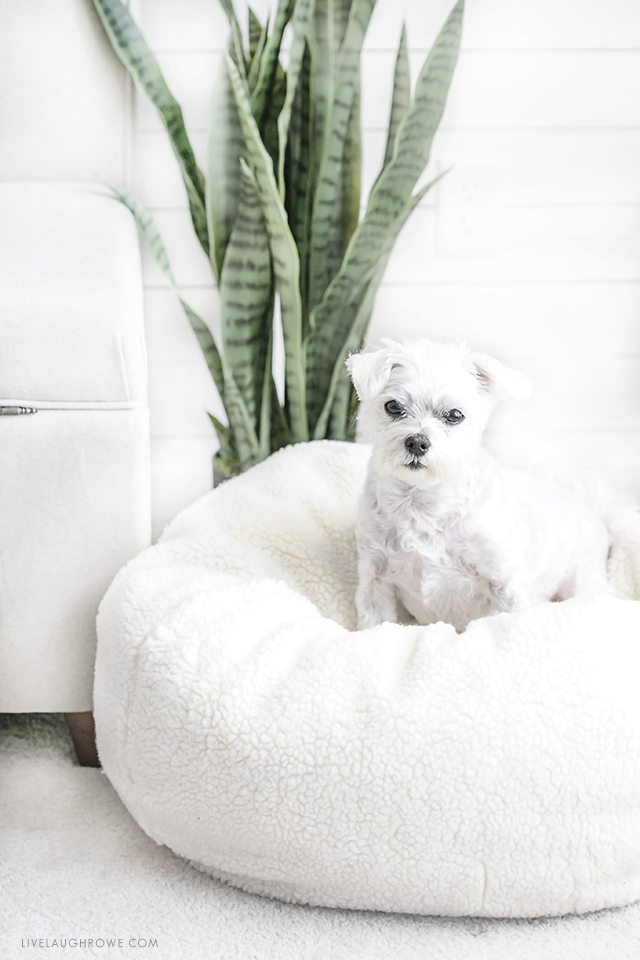 So, it's no surprise to say that this is by far Parker's favorite spot — from sitting to sleeping, 99% of the time that's where you'll find him. Sometimes it's hard to see him (ha ha).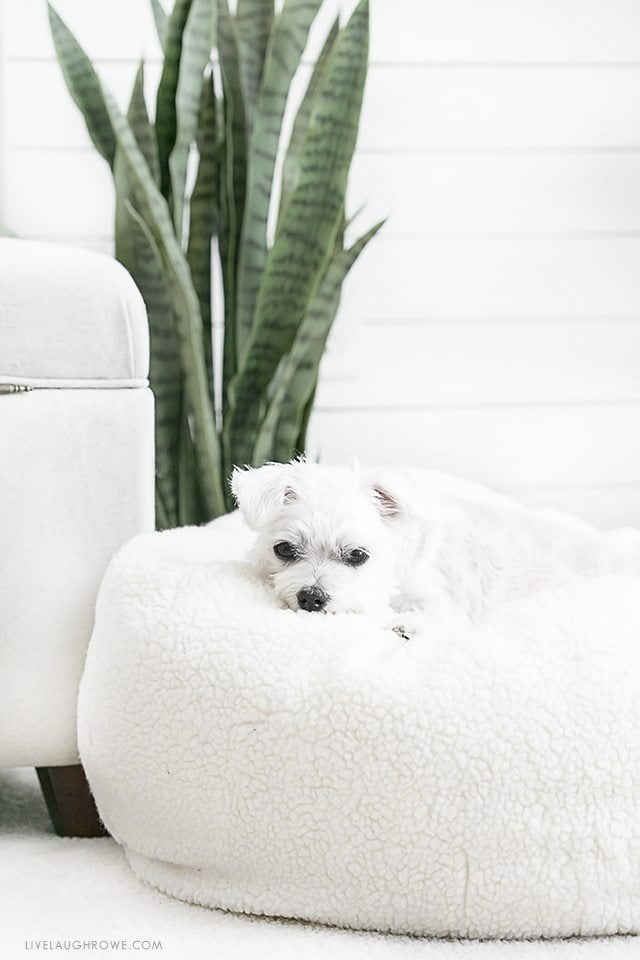 Another selling point about this sherpa puff is that the cover is removable and washable.
And what about that beautiful Sansevieria plant too? Faux plants can be a great alternative if you have curious pets — and if the plant might be poisonous to your pet. I love plants, and this one was great for the space. It added a bit of class, don't you think?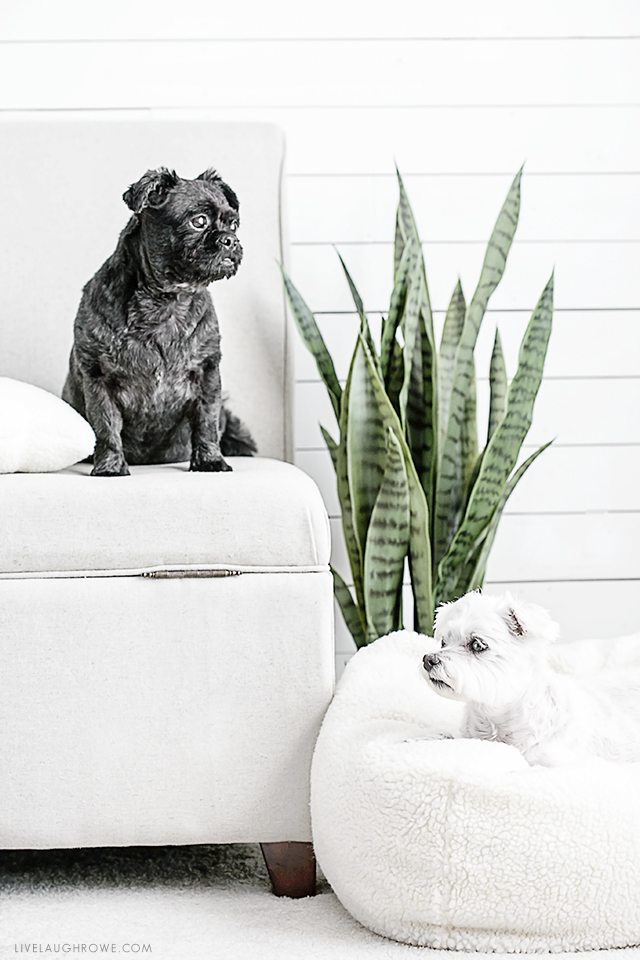 The boys look like their posing for Vogue, right? I adore that picture… these two make my heart so happy!
Until August of this past year, these three were the Three Amigos. They all got along so well and after lots of bribing with treats, they posed like pros for the camera. This picture reminds me that "Photography is a way of feeling, of touching, of loving." A memory was made on this day that will forever stay in my heart.
Maybe you're feeling inspired to add a some pet friendly pieces to your home! Add your suggestions in the comments below.
Resource List:
Adalyn French Market Stripe Short Storage Bench* (Similar, Adalyn Grey Storage Bench)
Large Camouflage – Reflecta-Sport Rainbreaker
Nearly Natural Sansevieria with Black Planter
Blue Crown Bolt Small to Medium Dog Leash
Home Decorators Collection 5 Hook Key Rail in Antique Brass
Medium Sherpa Puff Ball
Small Bone Pillow Toy
*unfortunately, this product has been discontinued.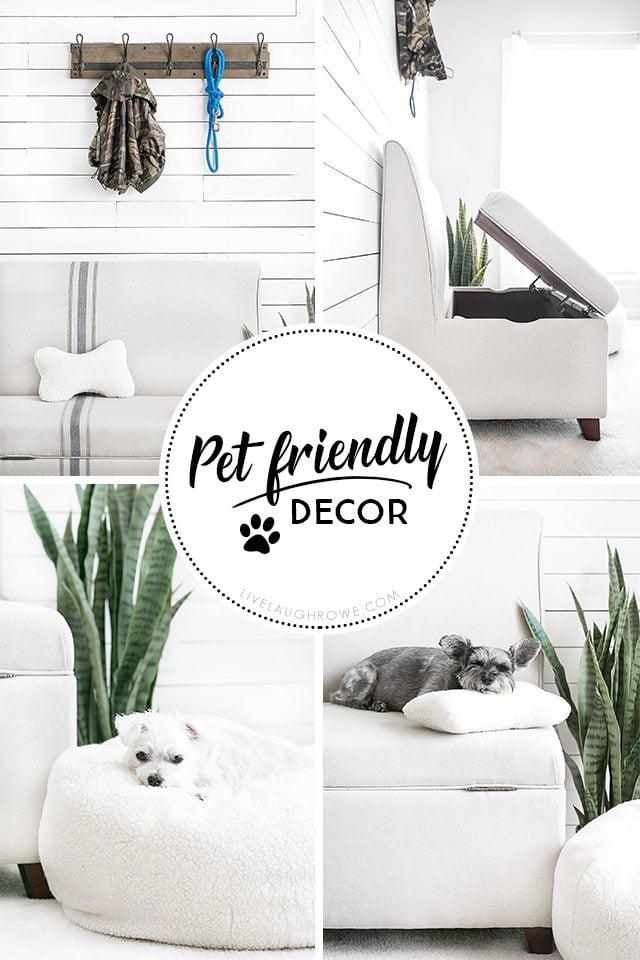 Be sure to visit with me here too:
Facebook | Instagram | Pinterest | Twitter | Google+
The Home Depot provided me with product and compensation. The opinions I have shared about the products are my own.