Healthy Homemade Granola Recipe
A good granola recipe has versatility. And if you enjoy granola (you do right?), this Healthy Homemade Granola can be sprinkled over fresh fruit or enjoyed with plain yogurt for breakfast. And did I mention it makes a great afternoon snack?
Have you tried the Cranberry and White Chocolate granola I shared? I've since learned that I don't prefer chocolate in my homemade granola. I'm not sure why, but I'd rather stick with the chocolate in a granola bar (wink).
I guess you could say I'm on a granola roll around here, because I recently shared this homemade granola recipe with cranberries on another blog and boy oh boy, I've enjoyed several bowls of it with milk. Oh my goodness, it is sooooo good. Give it a try as well, it's a yummy recipe with or without the cranberries too.
Be sure to sign up for my email to get new recipes
and creative ideas sent right to your inbox!

Simple and Healthy Homemade Granola
I don't recall having a lot of granola growing up, plus my mom really didn't make it homemade. We were more of a popcorn family (hee-hee).
Regardless, I've grown to really love granola. In fact, I've made parfaits with homemade granola for a couple of brunches.
A unique addition to this recipe, for me anyway, was the sunflower seeds. It added the nutty flavor but was delicious nonetheless.
What can you add to granola?
Granola is something that can certainly be customized to your likings and/or preferences. Ingredients such as nuts, dried fruits, seeds, wheat germ, and honey are among the few. So if you favor nuts over fruits, you can add or omit them as necessary.
Consider using natural sweeteners such as pure maple syrup and/or honey over sugars to keep the calories down too.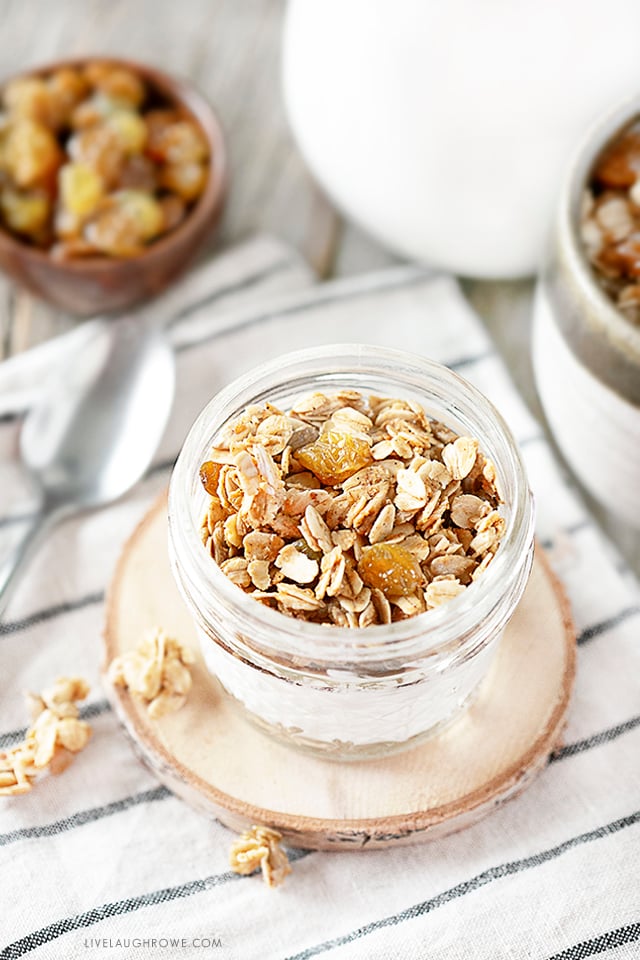 Healthy Homemade Granola Recipe
Ingredients:
old-fashioned rolled oats
sunflower seeds
wheat germ
cinnamon
honey
maple syrup
Preheat the oven to 300º F. Spray baking sheet with nonstick spray or line with parchment paper.
Combine old-fashioned oats, sunflower seeds, wheat germ, and cinnamon together in a large bowl. Add honey and maple syrup, stirring well.
Place granola on a baking sheet in a single layer and bake for 30-35 minutes. Stir occasionally and be sure you don't burn the granola. Hint: If it tastes like burnt popcorn, you burned it.
Cool and add golden raisins to the granola mixture. Store in an airtight container for up to one month.
p.s. This healthy homemade granola is WW friendly too! Yay.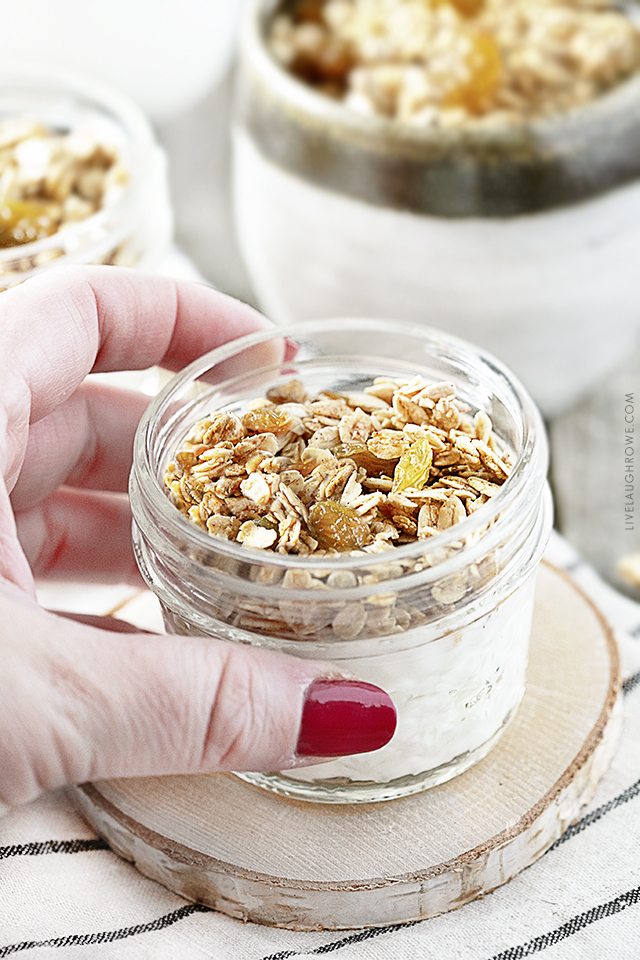 Should you refrigerate granola?
Refrigeration is not recommended for homemade granola; however, it can be frozen. Just be sure it's sealed tightly, whether that's in plastic wrap or freezer-friendly storage bags.
Check out these delicious snack options too:
Homemade Caramel Popcorn
Roasted Garlic Parmesan Chickpeas
Dilly Oyster Crackers
Simple Homemade Trail Mix
Cinnamon Roasted Almonds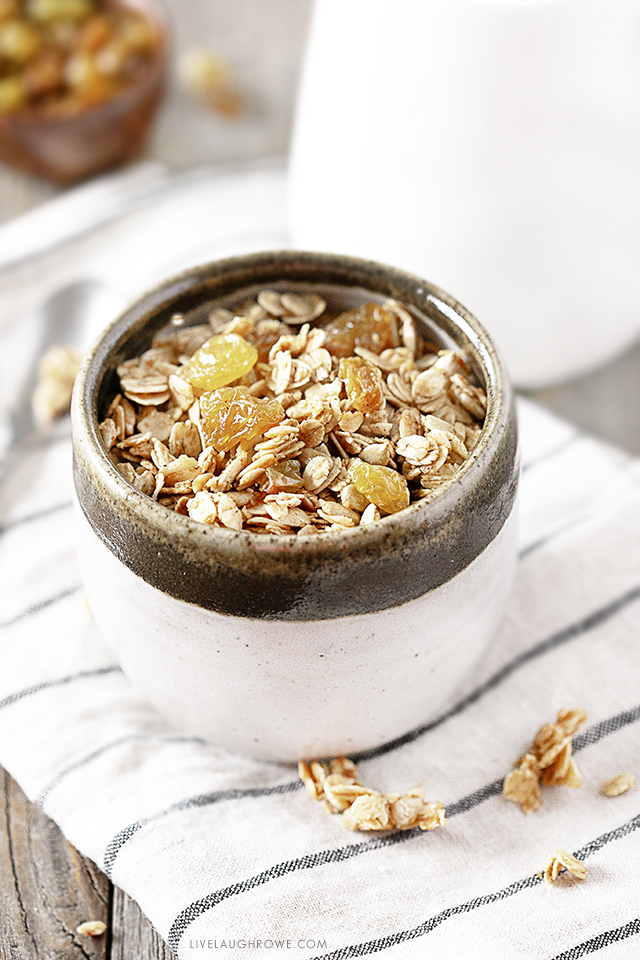 Healthy Homemade Granola Recipe
Ditch the store-bought granola. Sprinkle this Healthy Homemade Granola over fresh fruit or enjoy it with plain yogurt for breakfast or as a snack.
Ingredients
3

cups

old-fashioned rolled oats

1/3

cup

raw sunflower seeds

3

tablespoons

wheat germ

1/2

teaspoon

cinnamon

1/4

cup

honey

1/4

cup

pure maple syrup

3/4

cup

golden raisins
Instructions
Preheat oven to 300º F. Spray the rimmed baking sheet (the ideal size is 10x15-inch) with nonstick spray.

Stir oats, sunflower seeds, wheat germ, and cinnamon together in a large bowl.

Add honey and maple syrup and stir to coat. Spoon mixture onto a baking sheet and spread evenly into a single layer.

Bake, stirring occasionally, until oats and sunflower seeds are golden brown, about 30-35 minutes.

Cool completely and stir in golden raisins.
Notes
Store granola in an airtight container for up to 1 month.
WW PointsPlus value:  7
Connect with Live Laugh Rowe!
Facebook | Instagram | Pinterest | Twitter
Hugs and Blessings!