If you're a snacker, this Dilly Oyster Cracker recipe will not disappoint. With five simple ingredients, you can whip up this recipe in about 10 minutes.
Dilly Oyster Cracker Recipe

Since I'm always on the hunt for new recipes, I asked my mom if she had any to share with me (for personal cooking and/or the blog). She mentioned having an oyster cracker recipe that she got from my sister-n-law a few years ago, and asked if that would interest me.
However, my mom also warned me as to how good they were. I asked if she'd send me a copy, but I honestly didn't know what to expect. Yep, I was a good ole' skeptic.
Doesn't that just look (and sound) amazing?
Everything smelled delicious as I mixed the ingredients together. So, I couldn't resist taste-testing them. Holy macaroni, friends — they were AMAZING. I used salted oyster crackers and the medley of flavors was perfection.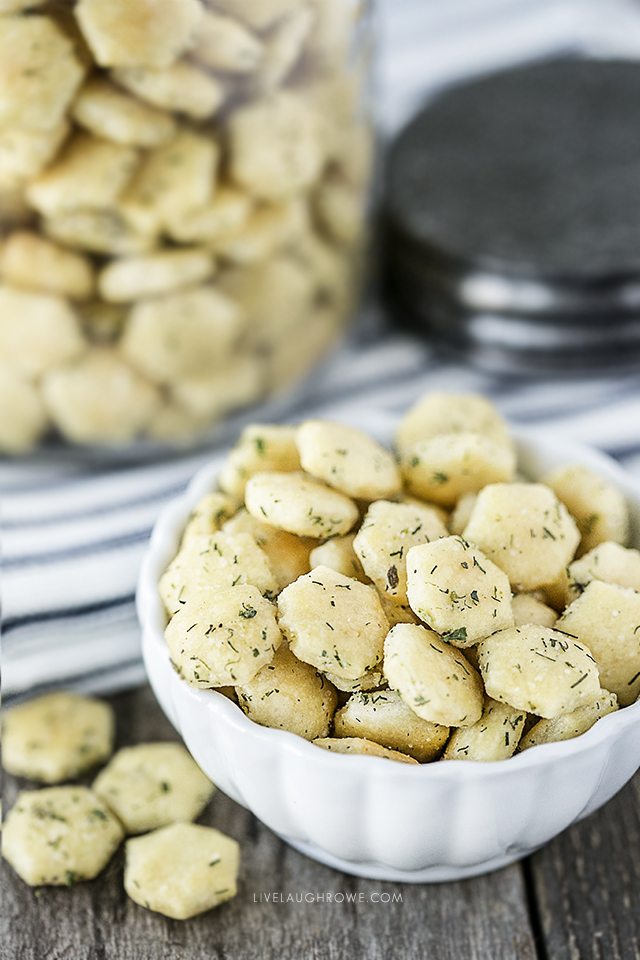 For a snacker like me, these will come in handy for an afternoon snack, road trip munchies and more! A perfect snack for ANYTIME!
However, I have to warn you, they won't last long! My husband tasted one and asked if he could have a "bowl or two" to take up to his in-home office. Of course I obliged (wink).
Dilly Oyster Cracker Recipe
Ingredients
1

1 oz packet ranch-style salad dressing mix

1/2

teaspoon

garlic powder

1

tablespoon

dill weed

2

9 oz bags oyster crackers

1

cup

vegetable oil
Instructions
In a large bowl, combine dressing mix, dill week and garlic powder.

Add crackers and blend thoroughly.

Pour oil over mixture and stir thoroughly; allow crackers to absorb oil and seasoning.

Store in airtight container.
Looking for a great gift idea? Fill an air tight container and add a gift tag! How about an appetizer that will be the talk of the party? This recipe has you covered.
From snacking to gifting?
You can't beat that. Enjoy!

Be sure to visit with me here too:
Facebook | Instagram | Pinterest | Twitter | Google+