Biting Your Nails? How I Stopped Biting Mine.
Today's post is a little different from the usual. In short, there's no recipe or decor. It's actually about a recent victory of mine. For over forty years, I bit my nails. Ewwww, I know. It was a terrible habit. Very unladylike and painful amongst other things. So if you're biting your nails as an adult and want to stop, I hope to inspire you today.
Remember when I shared How to Treat Cracked Heels… for Good? I still swear by all of those tips. Maybe today you'll be encouraged to give your hands and nails a little extra TLC too.
Be sure to sign up for my email to get new recipes
and creative ideas sent right to your inbox!
How I Stopped Biting My Nails
I'm not sure what the psychology behind nail-biting is; however, I do know that for me it was out of nervousness, boredom and even some insecurities. My attempts to quit biting my nails over the years was to no avail.
While in college and several years thereafter I wore acrylic nails. They did some damage of their own. Imagine how many times I would take them off and think I could (or would) conquer the nail-biting. Too many to count… and every single time I was wrong. Consequently, I failed over and over again.
Nail Biting at it's finest…
Ironically, I was very insecure about my hands and fingernails. Soooo, it took me forever to find a pic or two where my short (and sadly embarrassing) nails were visible.
In July of 2019, I got a powder dipped manicure, and (honestly) I didn't love it. They looked unnatural, thick and I was incredibly disappointed considering how much they cost. Nevertheless, we were going away, so I chose to deal with them. Sigh.
Upon our return home, I couldn't wait to get them off. Surprisingly they pretty much popped right off too. There was a minuscule amount of growth. However, that little bit of growth seemed promising to me.
I felt like there was a shift in my mindset and there was no turning back. It's hard to explain, but it was as though I turned a light switch off — and I refused to turn it back on.
August 3, 2019
I've always been a bit of a germaphobic, yet I chose to bite my nails. Such a crazy contradiction, right? Well, in August, I couldn't get past the number of germs and bacteria I was probably putting in my mouth due to the biting. Between that, the cost of getting my nails done, the damage I had done to my teeth from all the biting, and other things — I knew it all had to end. It was time for a change.
So, I bought a couple of products to promote health, strength, and growth. The products I used were Maximum Growth by Sally Hansen and Hard as Nails by Sally Hansen. And often I would put a light pink color over the strengtheners, Hi Maintenance by Essie.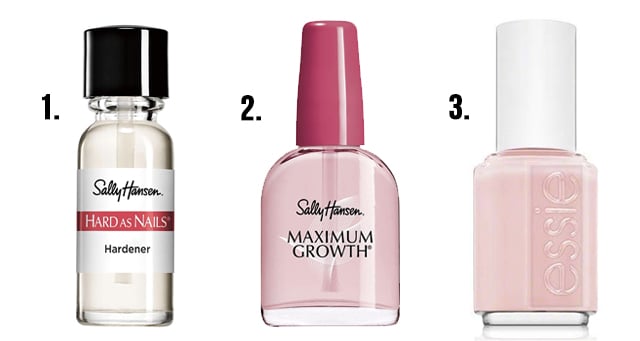 My only concern was that after 40+ years of nail-biting I may have ruined my nail beds. I remained hopeful. There was no way I was going to allow those negative thoughts to sway me from pressing on. When I felt the urge to bite, I would pick at the nail polish or chew gum.
By September I wanted to try something else to keep me from biting further — so I tried these nail wraps I saw on Etsy. They seemed to be pretty awesome. On the other hand, they were made of vinyl and had to be heat activated using a hairdryer. It was a lot of work and my dogs are trained to come for treats when they hear the hairdryer (insert facepalm). So let's imagine how that application went. Hmmm…
September 12, 2019
Heat. Apply. Heat. (treat the dogs) and repeat for all ten fingers. Yep.
Anywho, they had rough edges that drove me crazy. No matter how much I filed them, the edges just didn't smooth out. They were cute though and I didn't bite my nails. #winning
Over time I continued to clip them (like we trim our hair) to promote growth. Of course, you hate doing this when you want them to grow, but I knew it was par for the course.
As you can see below, I was faithful to my routine and just kept plugging away (pardon my dry cuticles). Surprisingly, my nails seemed to be growing in well and my nail beds were normal. PTL!
October 4, 2019
Then I got invited to a Color Street nail party on Facebook… 100% nail polish, no dry time, no tools required and it's removable with nail polish remover. Therefore, as you can imagine, these strips were game-changers for me.
October 15, 2019
October 25, 2019
My nails are doing better than ever, with no relapse. Woo hoo!
Consequently, I've started using these two lotions on a regular basis as well. Vaseline Healthy Hands, Stronger Nails is for your hands and nails, while Hard as Hoof is for your cuticles and nail beds. Both are amazing products – and, no, I'm not being paid to say that.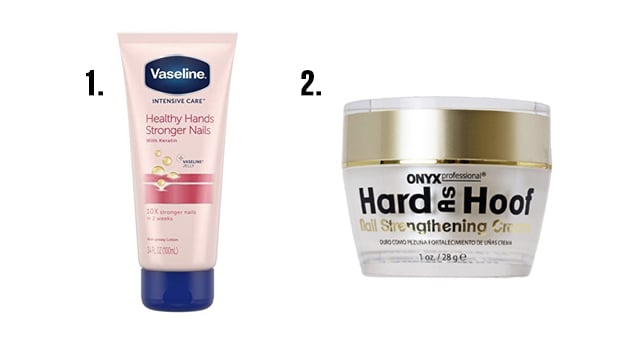 Now I just love having nails and keeping them manicured. You know what they say, "life is too short for naked nails." Haha.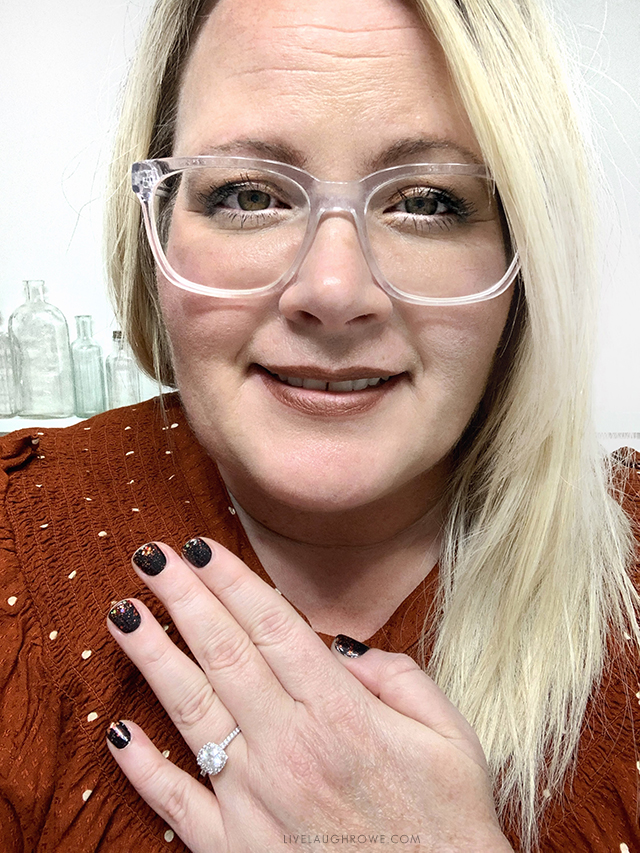 Are you ready to stop biting your nails? Feeling inspired to give your nails and hands a little TLC? Send updates… I'd love to hear from you.
p.s. This post was a little outside of my comfort zone. I didn't initially plan to share all of this (not knowing if the outcome would be a positive one or not), so I really didn't have quality pictures, etc. However, I know that authenticity is important to me and I am proud of this accomplishment. If I can do it — anyone can.
Connect with Live Laugh Rowe!
Facebook | Instagram | Pinterest | Twitter
Hugs and Blessings!