Did somebody say peanut butter? If peanut butter was a love language, I'm certain that it would be one of mine. And, well, these keto Peanut Butter No-Bake Cookies would be on the list of delicious low-carb snacks.

Delicious Keto Peanut Butter No-Bake Cookies


This low carb keto recipe is not only easy to make, but has a simple ingredient list to boot! When the temps are scorching hot, the oven is NOT your BFF. So, instead of depriving ourselves, we turn to no-bake recipes. And the ones with peanut butter have priority, of course (wink-wink).
We just got back from a trip to St. John's, Newfoundland. We took a quick trip to Elliston, the Root Cellar capital of the world — and they also have a great Puffin sighting spot too.
Are you familiar with what a root cellar is? I was reminded of the root cellars today while typing up this recipe. Why? Because these Peanut Butter No-Bake Cookies have to be refrigerated. Ever wonder what existed before refrigerators? It was root cellars.
Root Cellar in Elliston, NL
"These traditional food storage systems – used mainly for root vegetables like potatoes and carrots – are built right into the ground, mainly into small hills and banks. The natural humidity and moisture keeps things cool in the summer and prevents freezing in the winter." (source: Newfoundland Labrador Website)
The root cellars are scattered throughout the rolling hills and look like they're a natural part of the landscape. It's quite fascinating. We took a peek inside one. Since it was a considerably warm day — it felt amazing. It reminded me of the walk-in refrigerators we used at Arby's when I worked there in high school (haha, good times).
I told Steve they reminded me of the hobbit homes on Lord of the Rings. It made me smile and my imagination ran wild.
However, before refrigerators, I guess you'd have stored these Peanut Butter No-Bake Cookies in the root cellar. Who knew?

Low- Carb Peanut Butter No-Bake Cookies
Thankfully we now have refrigerators and electric appliances, like a food processor to speed up the process of making these cookies.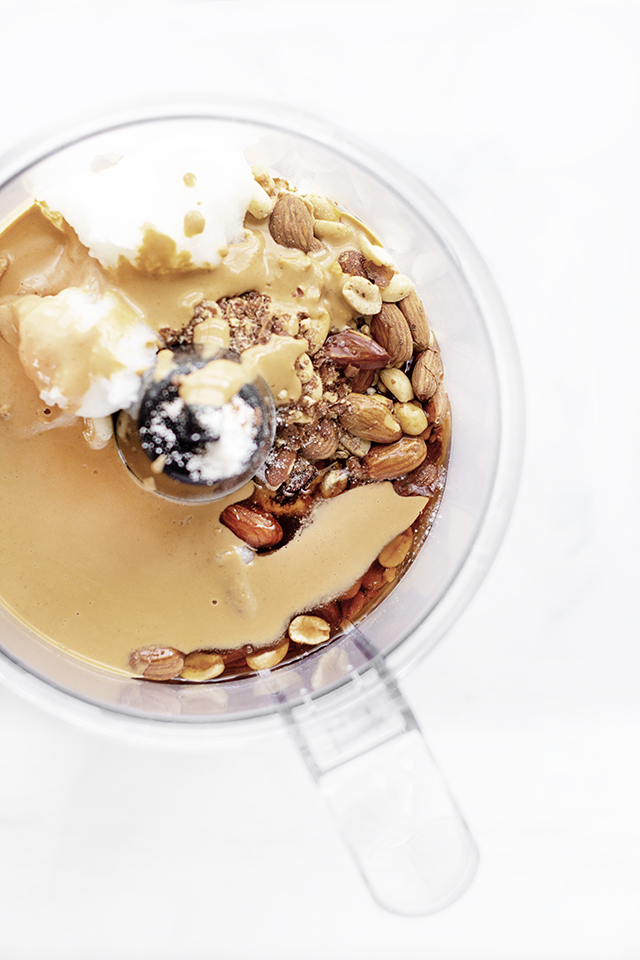 With the use of one bowl, a food processor and a couple of measuring spoons and/or cups, the clean up is at a minimum too! That's a win-win in my book. So what are you waiting for? Let's whip up a batch. Enjoy!
Peanut Butter No-Bake Cookies
Ingredients
1/3

cup

room temperature filtered water

1/2

cup

peanut butter powder or creamy regular peanut butter

1

cup

coconut flour

2

teaspoons

Stevia extract powder

1 1/3

cup

mixed nuts (almonds, walnut, peanuts and pecans)

3

tablespoons

coconut oil

1/4

cup

sugar-free syrup

Pinch of salt
Instructions
In a bowl, combine peanut butter and water until creamy and set aside. Add water if necessary or if dough is too dry. *If you use the creamy peanut butter, start with little to no water and add as necessary.

In a food processor add the coconut flour, Stevia, mixed nuts, coconut oil, syrup and peanut butter mixture. Pulse until you reach a doughy consistency.

Scoop out dough using a tablespoon (or cookie scoop) and roll into a ball.

Place on cookie sheet lined with parchment paper and flatten into a cookie.

Store cookies in an airtight container in refrigerator.
Notes
Please note:  The nutrition information provided below is calculated using creamy peanut butter.  The nutritional values would change if you used the powdered peanut butter.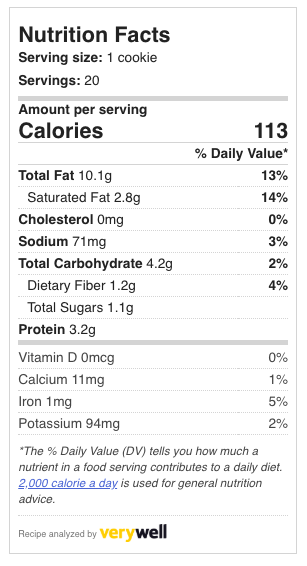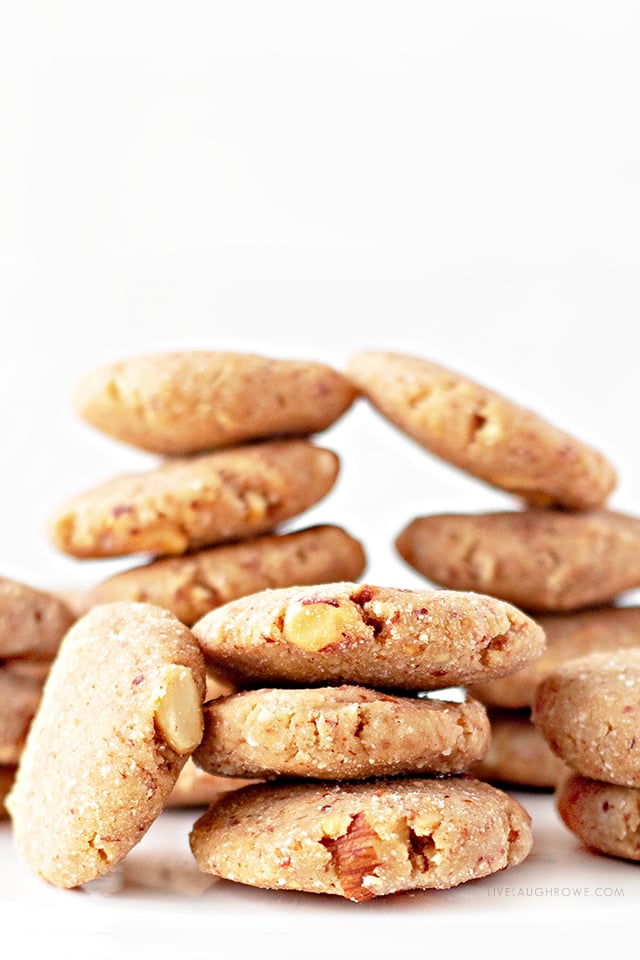 Additional skinny/healthier recipes to try:
Skinny Banana Ice Cream
Skinny Pumpkin Whip (my fave!)
Mini Lemon Cheesecake Tarts
31 Incredible Frozen Yogurt Recipes

Be sure to visit with me here too:
Facebook | Instagram | Pinterest | Twitter | Google+