Is anyone else getting an itch to do some traveling? Whether it's via car, plane, or train — I think we're all ready to get out of the house and do a little exploring. Well, if you're anything like me, a list or checklist keeps me sane. So I'm sharing this free printable packing list in hopes that you'll be in tip-top shape for your next trip.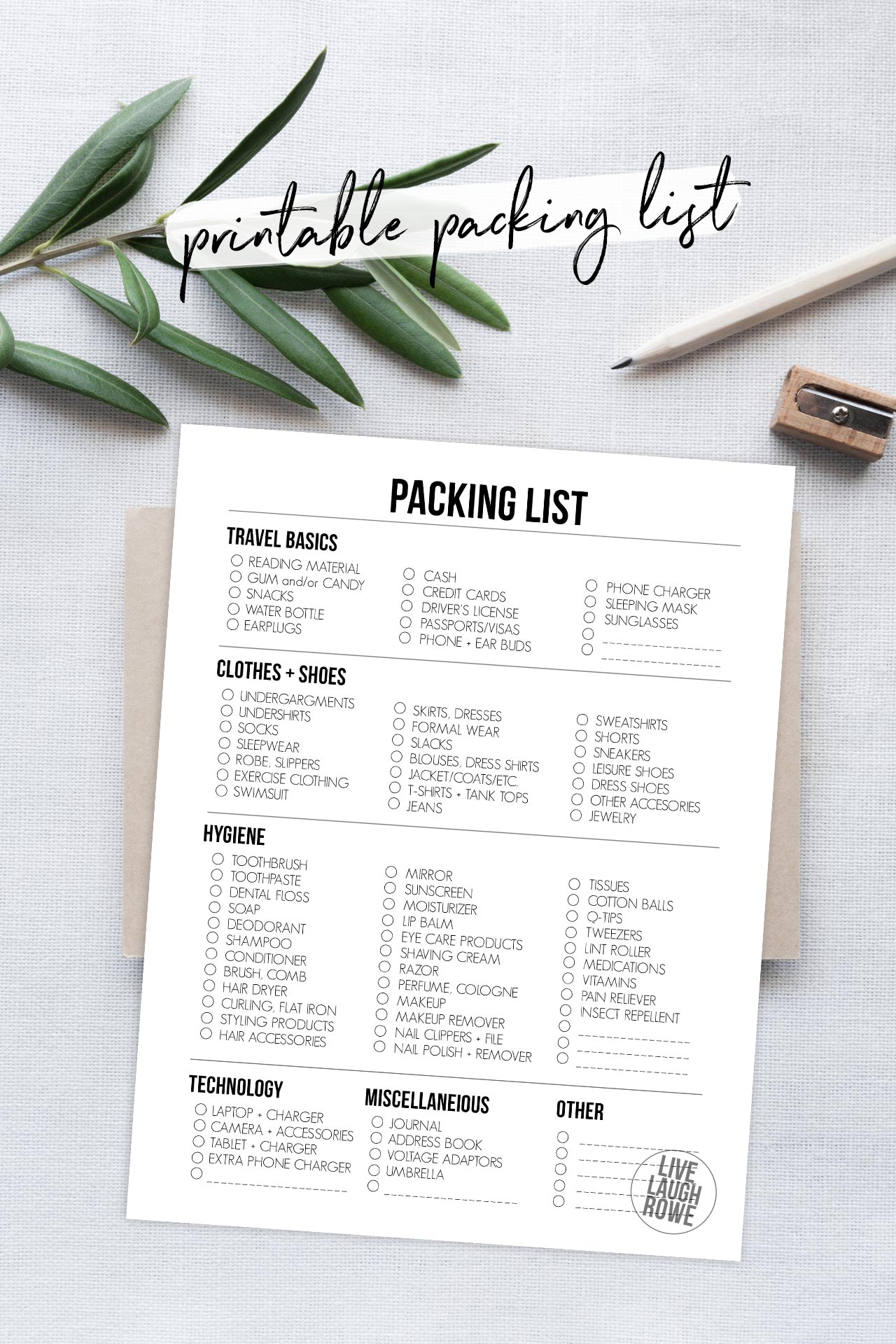 What is the first word that comes to mind when you have to pack? For me, it's stress. Yep. That is to say that packing tends to stress me out.
And let me tell you, I used to be the world's greatest over-packer. When we went to Italy and visited three different cities, it was no bueno.
My husband hated how much I packed. And if his defense, it was a bit much. But I'm happy to report that I've come a long way in the art of packing. After challenging myself to take just a carry-on with me on a couple of work trips, I'm now a necessity packer.
But I always have a list or checklist close by, like this free packing printable.
How about you? List maker? Appreciate a good packing checklist?
I enjoy the preparatory
element of travel: packing
my bags and choosing my
outfits, but my favorite part
is getting there.
(Dominic Monaghan)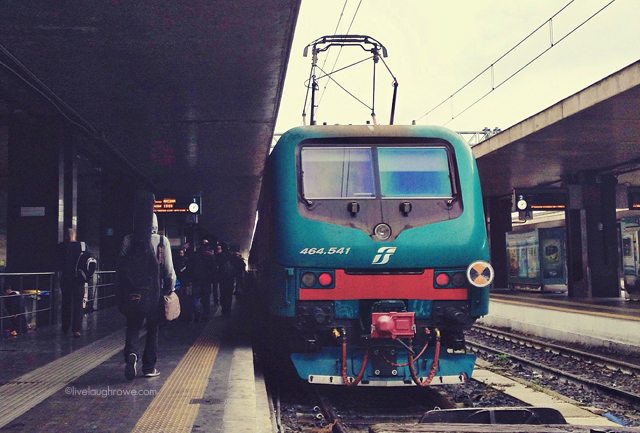 Ironically, sometimes even the most prepared packer and planner can still experience a hiccup or two. For example, when Steve and I went on our honeymoon to Prague.
Yep. The honeymoon. So, we had voltage adaptors, but my flat iron crapped out on me. Consequently, we spent probably half a day or more walking around trying to communicate what we were looking for.
It was ridiculously stressful and I have naturally wavy (and somewhat frizzy) hair, so a flat iron was a necessity. I promise I wasn't being high maintenance. Haha.
And to this day, I still have a flat iron with a European plug (I believe it's the Type C) in one of our bathroom cabinets. Insert facepalm. Obviously, we can't pack two of everything, so we do the best we can, right?
Travel Inspiration:
Newfoundland and Labrador, Canada
Travel to St. Maarten
Florence, Italy
Missouri Wineries
St. Louis Goodness Guide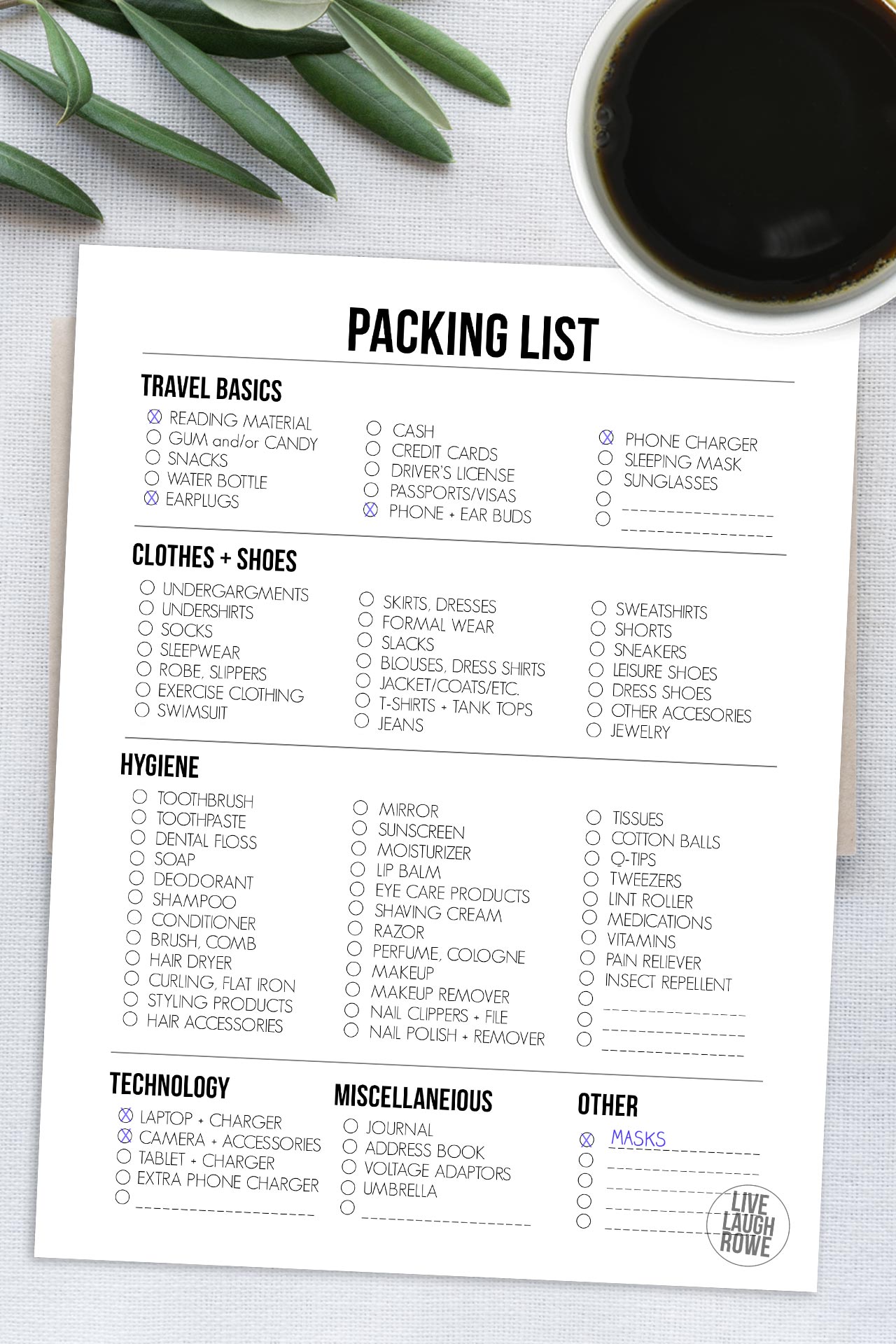 Free Packing Printable
I designed the free printable packing list with the following categories:
Travel Basics
Clothes and Shoes
Hygiene
Technology
Miscellaneous
Other
I'm not sure what the absolute necessity categories should be, but this seems to work well for me. Adding the "Other" category offers five spots for additional items. Nevertheless, I'm hoping you'll be able to put it to good use.
This free printable packing list is sized to fit a standard sheet of paper. No cutting necessary. In short, you'll simply print and put it to good use. Enjoy!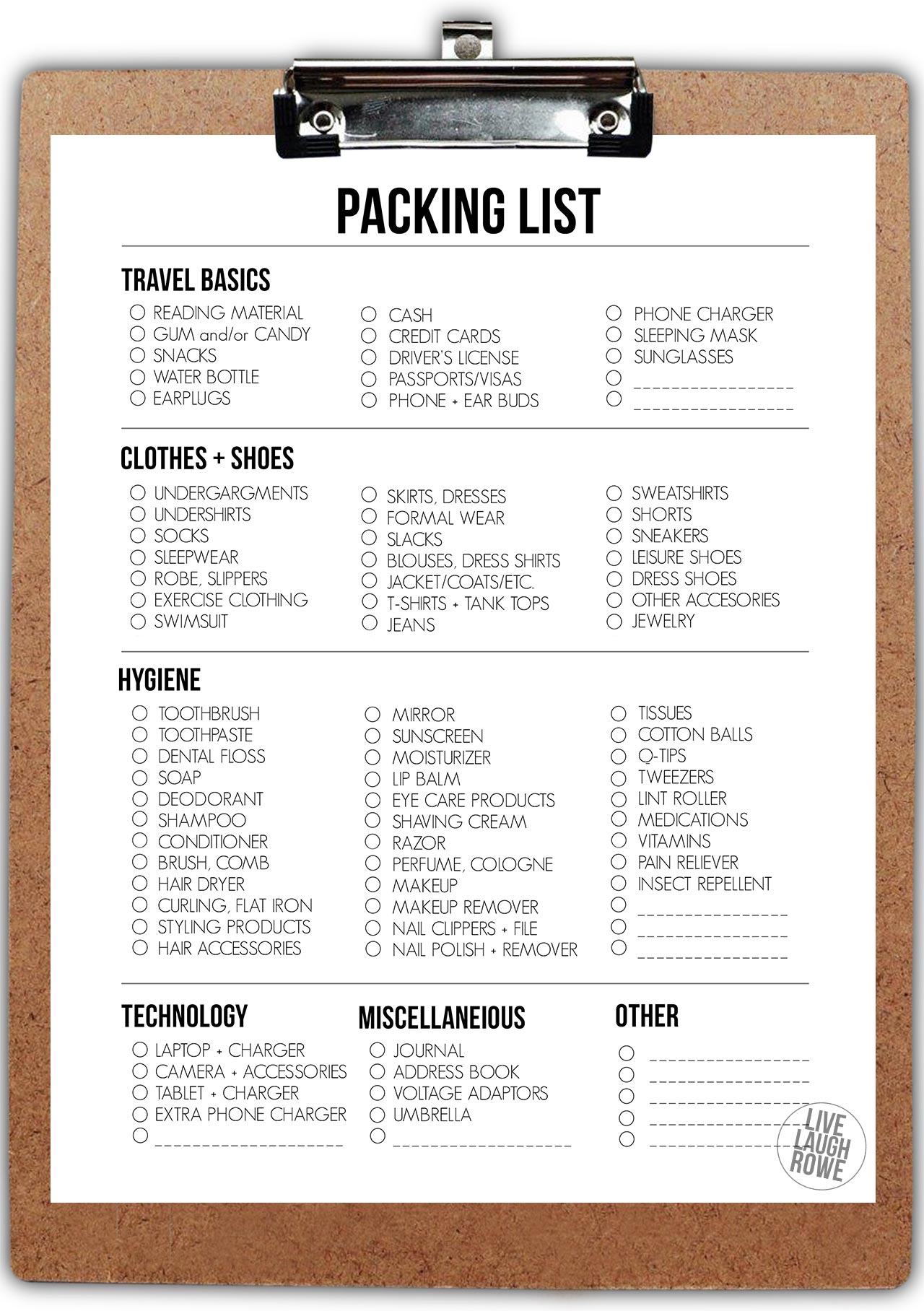 Please Note. Printables and downloads designed by Live Laugh Rowe are for PERSONAL USE ONLY. So, please do not alter the file or claim it as your own. Not intended for resale. Nor are the printed versions of this file.
Connect with Live Laugh Rowe!
Facebook | Instagram | Pinterest | Twitter
Hugs and Blessings!