Awhile back, my parents were telling us about this Safari Condo camper they saw on the highway. While it peaked all of our interests, it really stuck with me. So, I had an idea — a crazy idea… which inspired these adventure printables and some exciting future road trips (Lord willing).

Adventure Awaits — Free Printables


Many times I come up with some harebrained ideas. They come and go, we discuss them and they somehow fall off our radar. A few of the ideas that seem to dissipate are often stored in my 'idea vault' and I remain hopeful (hee-hee).
Getting an RV and taking our jobs on the road every now and again was THE ONE idea that has stuck around and is looking pretty promising. After visiting several RV stores, this is the one we want (the color is TBD). Squeal!
Winnebago Minnie 2500FL
Since being married, 99% of our travel (vacation travel) has been out of the country (Europe, Canada and the Caribbean). My husband is a bit of a world traveler. At one point in his life, he quit his job and traveled the world for thirteen months. Yep, many people can only dream of doing something like that.
However, whenever we discussed travel, I would remind him that the United States has so many beautiful spots that I would love to see too. A total of 58 National Parks exist in the United States and I would love to see them all. So much to see, so little time!
As a result of a last minute trip to Las Vegas back in February, we revisited the RV conversation again. We decided to take a couple of road trips while there, to the Grand Canyon and Zion National Park. (Hmmmm, I still need to share those adventures and pictures with you. Face Palm). We had a blast and were in awe of God's handiwork.
That trip seemed to be a game changer on stateside travel for the hubs. And the RV conversation continued….
"If we were meant to stay in one place,
we'd have roots instead of feet."
(Rachel Wolchin)
The BIG PICTURE is that we sell our current home and move to Springfield, MO. We want to downsize and move into a ranch. And every now and again, we'll hit the road and do a little traveling. Since my husband got a new job earlier this year, we both work from home and if there's internet, we're good to go (wink).
Working from a National Park? Yes, please. Visiting some of my blogger friends in Utah and Texas? Heck, yeah!
Here are a couple of travel and adventure printables for you to enjoy! I'm thinking one or both will be added to our travel-themed gallery wall.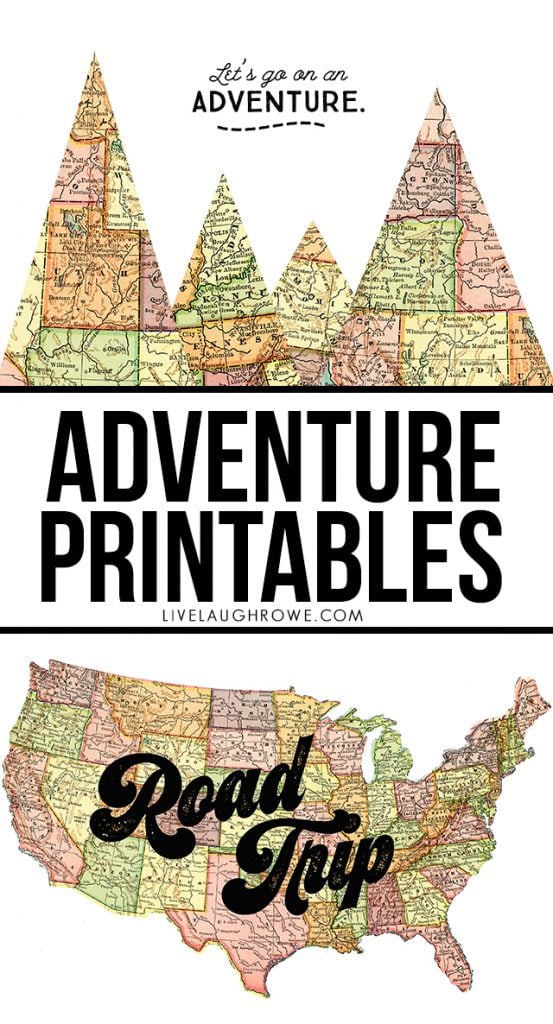 Please Note: All printables and downloads designed by Live Laugh Rowe are for PERSONAL USE ONLY. Please do not alter the file or claim it as your own. This file and the printed version of this file are not intended for resale. Digital Map purchased from Antique Digital Print.
Maybe this will inspire some of you to do a little extra adventuring! Maybe it's to the Oregon Coast, Upstate New York, San Francisco, New York City, etc. Plan a road trip! Over and over I'm reminded how short life is…. and adventure awaits!