It's hard to believe that it was seven years ago since I last visited Newfoundland and Labrador, Canada. I didn't write much then, but I did share some pictures here: The Beautiful Province of Newfoundland. Well, Steve and I visited for a week or so the end of July, and we tasked ourselves with visiting some new spots!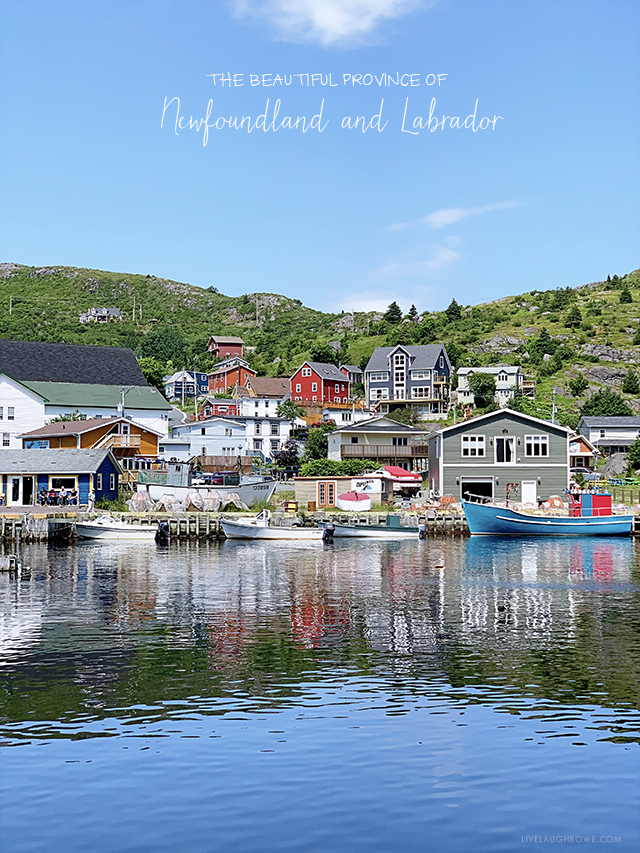 From a picnic at a lighthouse to a Puffin and Whale Watch — this trip was amazing!! Of course NL (Newfoundland and Labrador) had three of its hottest days while we were there (sigh). I had hoped to escape the heat… and ended up with some terrible sunburn. However, the sunshine did make for some beautiful pictures.
Ferryland
Upon booking our trip to Newfoundland, Steve planned a surprise for his mom in Ferryland. He remembered his Mom mentioning the nice drive to Ferryland and wanting to enjoy the Lighthouse Picnic. Ferryland is a small town of about 400 people just a short drive south from St. John's. It was here Lord Baltimore founded the Colony of Avalon, and shortly afterwards went on to found the colony of Maryland.
It was rainy and cold when we arrived. Cancelling was out of the question because we were only there for a week. And, unfortunately, the place was booked up for the season. Thankfully there was a gentlemen offering rides to the lighthouse in a side by side for a small fee. However, if you look closely in the picture below, you'll notice people on the path. Several people walked the long trail in the rain.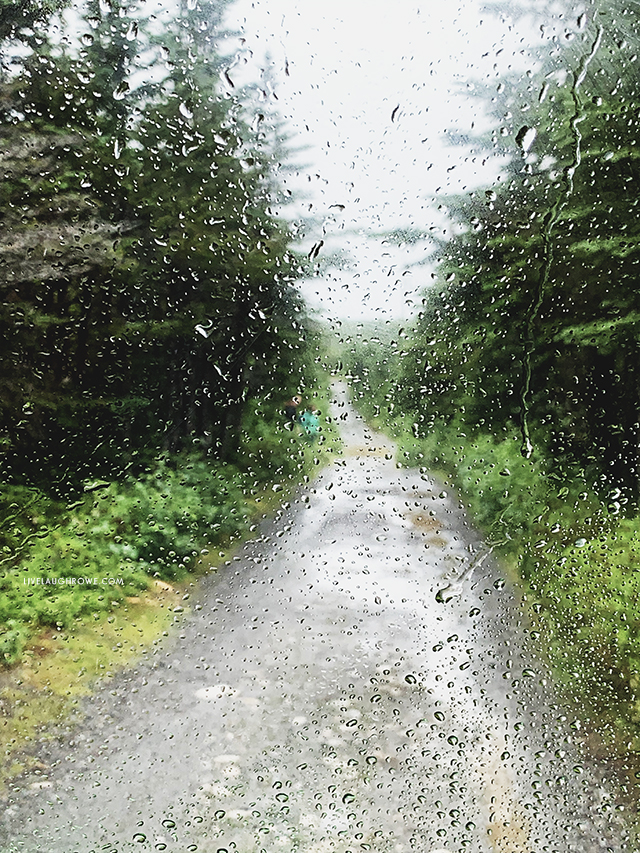 While we didn't get to sit outside and enjoy the unobstructed view of the Atlantic, we did get to eat inside the lighthouse which honestly was just as enjoyable. There was a small, rustic room upstairs with only a few tables and chairs. It was quaint and charming, which made it its own experience. The food was delicious and we still got to enjoy the ocean view from the two small windows.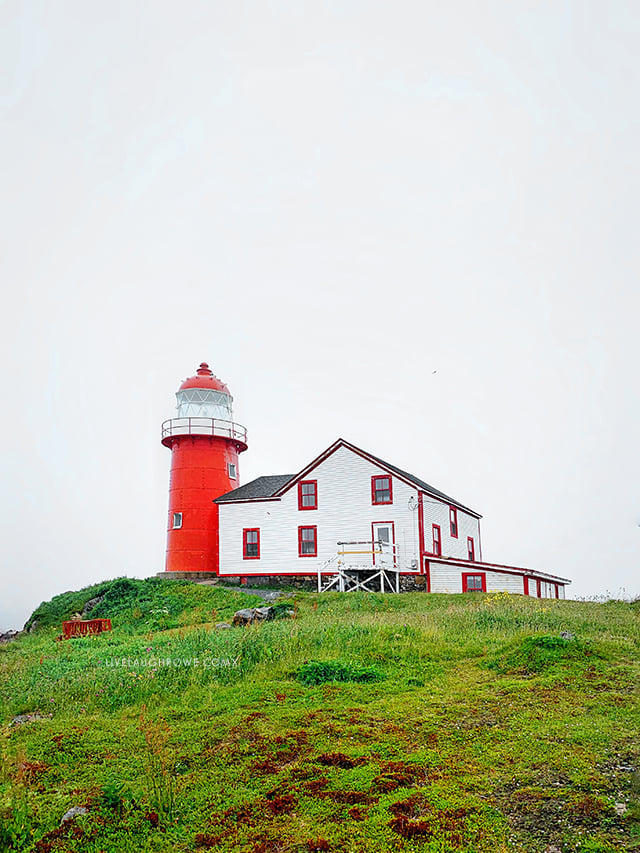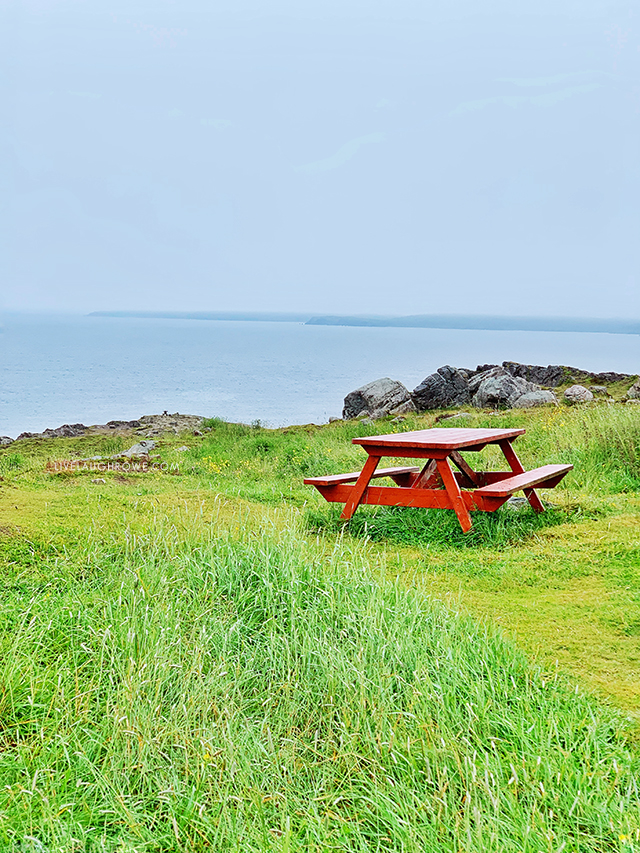 Each of us enjoyed the Curried Chicken Picnic, which included an amazing warm pasta salad, Curried Chicken Salad Sandwich on homemade Oatmeal Bread, Fresh Lemonade — and dessert! I got the rhubarb cake and it was to die for.
Afterwards, while waiting for our ride back to our car, we stood and watched a lone whale in the distance swim past.
Gatherall's Puffin and Whale Watch | Bay Bulls, Newfoundland and Labrador
We took a puffin and whale watching tour from Gatherall's. We departed the harbor in Bay Bulls and headed out to Gull Island (one of many Gull Islands in Newfoundland).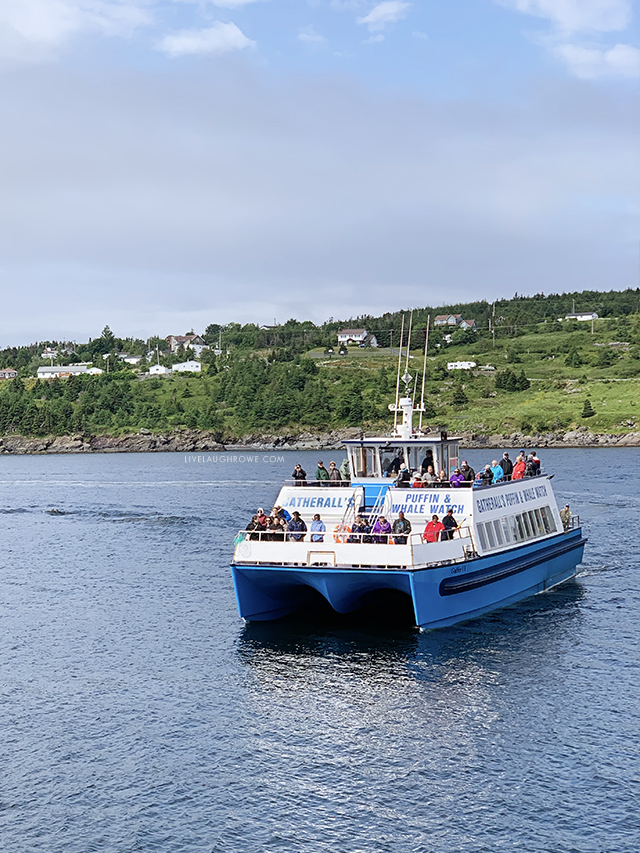 Here we got to see the puffins, turrs, and a host of other species, including the infamous seagull.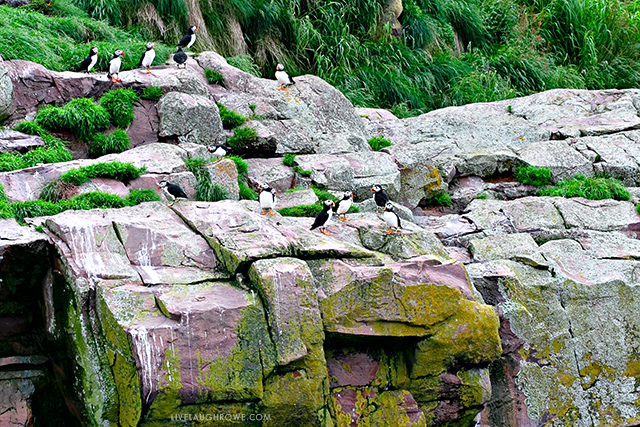 Further out we got to see several whales swimming near the boat. If you ever experience silently resting on the water and have the deep breath of a whale interrupt the sound of waves hitting your boat, you'll never applaud the unnatural act of a whale acting on command for a scrap of food.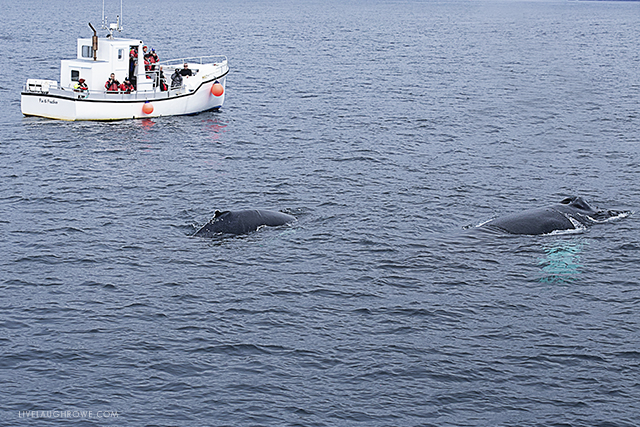 Trinity, Elliston, and Bonavista
On this trip we decided to rent a car and do some exploring along the coast of Newfoundland and Labrador. One of the places we wanted to visit was Bonavista. Along the way, we planned to stop in Trinity and Elliston too.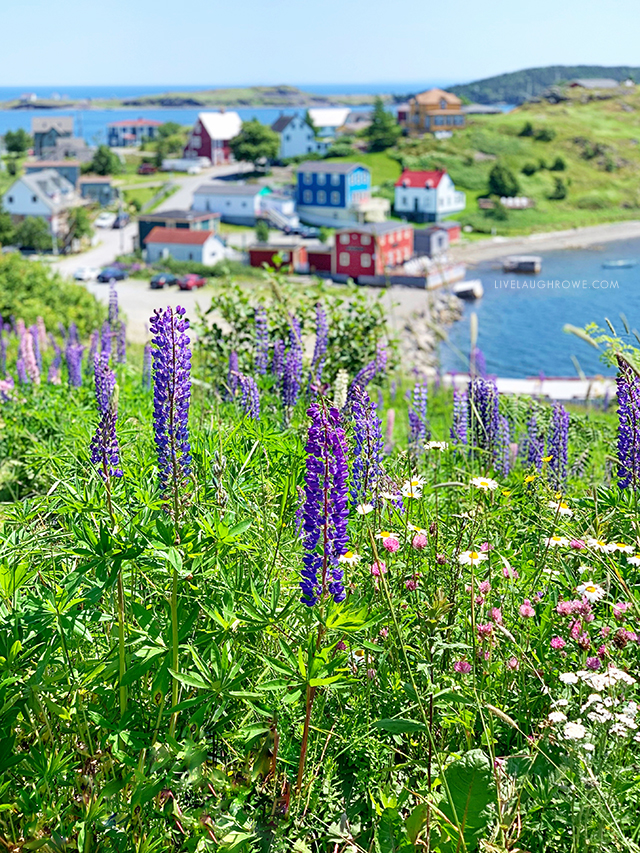 Trinity, Newfoundland and Labrador
I begged Steve to pull off the road to snap the picture above. The lupins, pictured in the in foreground, are a native flower of Newfoundland. They were everywhere and so beautiful!
Like most places along the coast of Newfoundland, Trinity is a small community with only a handful of people, well, about 160. The main attraction for us there was the St. Paul's Anglican Church — and the views, of course.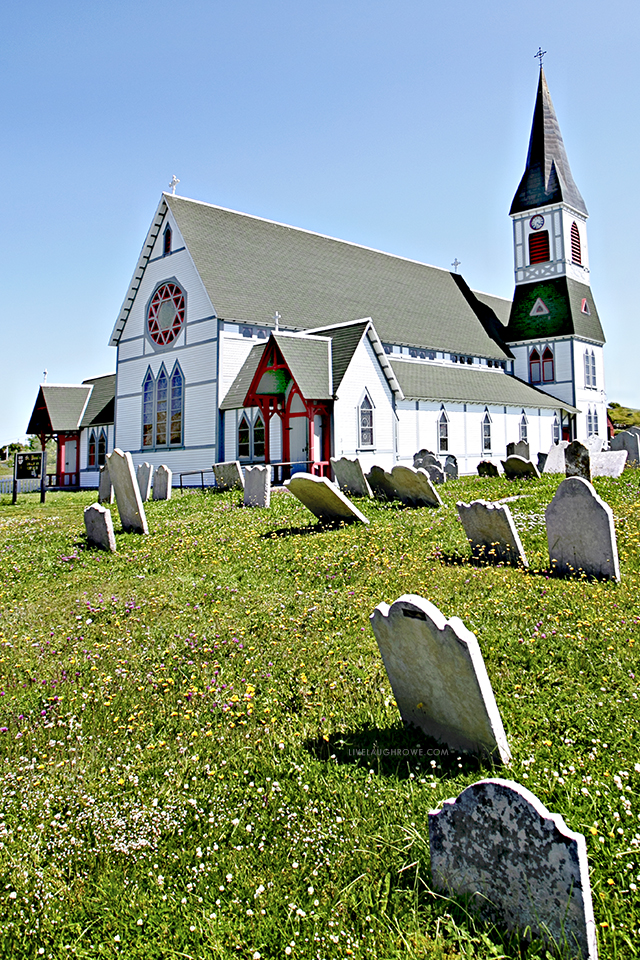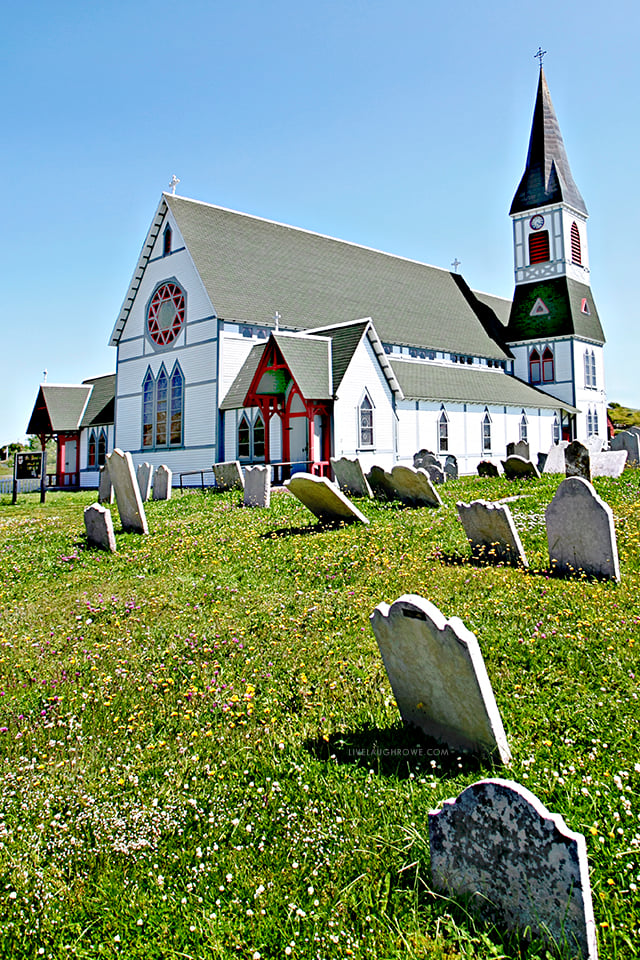 It is a beautiful old-fashioned wooden pew church that lies in stark contrast to the seminar-looking churches of today. We stopped in for a brief moment to take a few pictures of the architecture and stroll through the weathered tombstones of the adjacent cemetery.
We would've liked to stay longer, but we had so much more of the Bonavista Peninsula to pack into our day. However, Trinity would be a beautiful place to visit for a few days. I could sit by the ocean for hours sipping on a coffee and daydreaming.
Next stop was a short drive up Highway 230 to Elliston. My husbands step-sister told him that this was a great place to watch the puffins. And it did not disappoint… a moderate walk along a worn path to the rocky cliffs and voila!
Puffin Viewing Site | Elliston, NL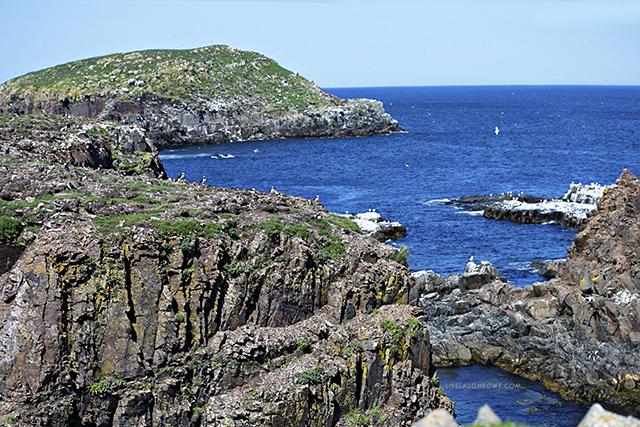 We were close enough to see them glide from the cliffs into the ocean and return with a mouthful of caplin, but too far away for our camera lens to get capture it clearly. Note to self – ask for a 600mm or 800mm lens for Christmas! (wink-wink)
A few kilometers north is the town of Bonavista. Having spent a fair chunk of the day in walking around Trinity and watching the puffins in Elliston, it was getting a little late in the afternoon by the time we got to Bonavista. I was excited to stop by East Coast Glow, a darling shop with handmade soaps and more.
We then grabbed some fish and chips with a Quidi Vidi Iceberg beer at Ragged Rocks before heading along Cape Shore Road to the Bonavista Lighthouse. Passing all of the boondocked campers who were enjoying a spectacular ocean view had us talking about returning with our camper next year!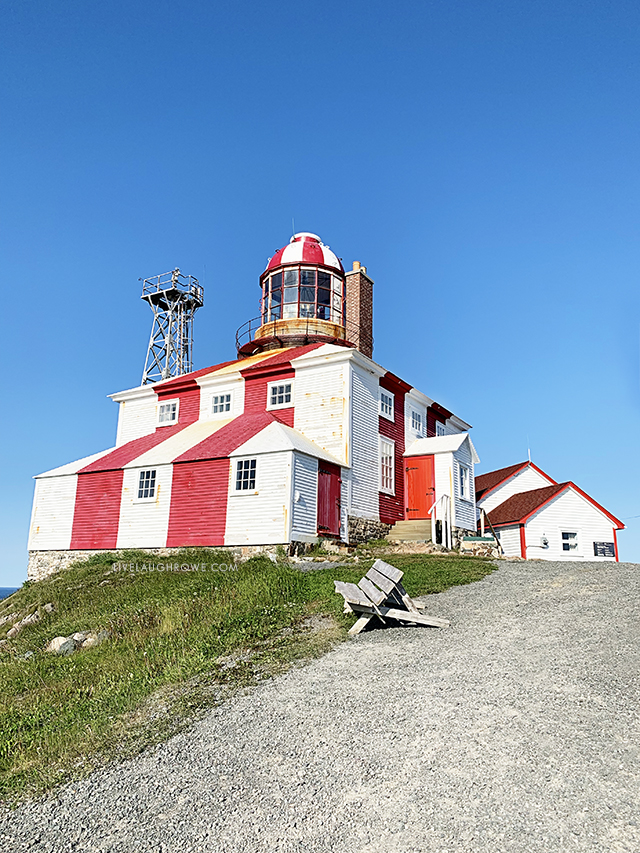 From the cliffs by the lighthouse we watched more whales swimming by and even caught a couple of them slap their tales!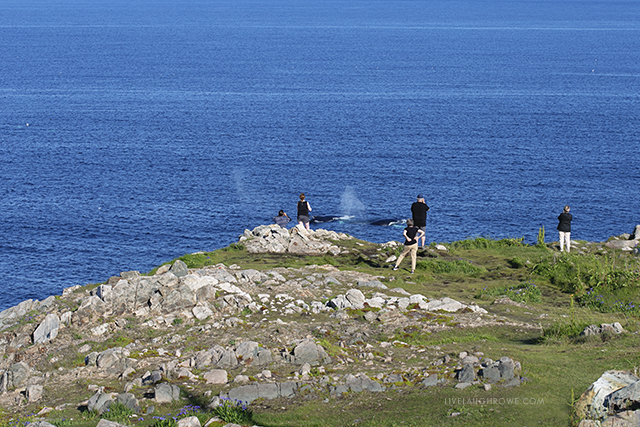 The day was getting long so we called it a day and headed back to St. John's.
Later that week, we also went on the St. John's Haunted Hike. There was a large group of friends and family that met up, but over a hundred people participated. The poor guide was a little frazzled, stating the turn out was much larger than usual. I think a couple of cruise ships were at port, so that may have contributed to the larger crowd. Anywho, the stories were quite fascinating… and the history incredibly interesting!
It was a busy week , but some incredible views were taken in and memories were made. Be sure to add this beautiful province to your bucket list, you won't regret it!

Be sure to visit with me here too:
Facebook | Instagram | Pinterest | Twitter | Google+