Happy Hellos, friend! I survived a week that seemed to have many restless and sleep-deprived nights. Having a couple of furry friends here that didn't enjoy the thunder and lightning kept me on my toes. Haha. However, the weekend is here, and I didn't have to set the alarm this morning. Holla!
I hope you had a great week! Anything fun and/or exciting to report?
Psst! Let's keep in touch! You know you want to. Be sure to sign up for e-mail updates! Click on that SUBSCRIBE button in the upper right-hand corner, or use the subscription box in the sidebar. As a result, you'll get some happy mail in your Inbox.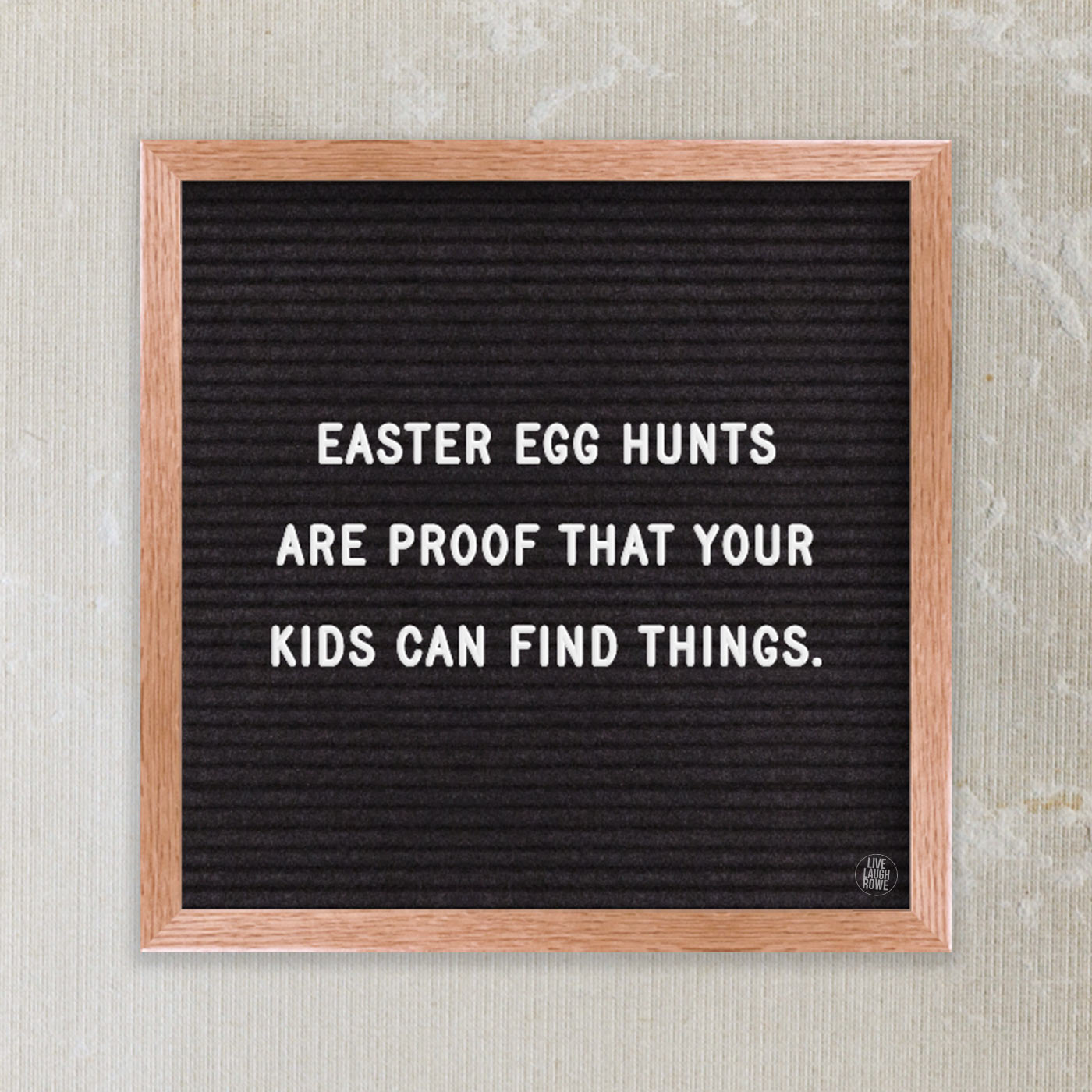 How many of you mommas can agree with this letter board? It cracks me up because I'm 99% sure it's accurate and I don't even have kids. Between you and me, if there were Easter Egg Hunts for men — this would be even more accurate and funny. 😂
Am I right or am I right? 😂😂
Miscellany:
1. Happy Easter weekend. I'm super excited about this being a part of the weekend. I've always enjoyed Easter Sunday. Church and dinner with the family are something I cherish. I'm looking forward to Ham, mashed potatoes, rolls, coleslaw, etc. YUM! I'm telling you that if food were a love language, it would be one of mine. Hahaha.
Yes, I'm still on WW (Weight Watchers) and plugging along. I'm soooo close to the 40-pound mark.
I hope YOU have a blessed Easter! He is Risen.
2. Paperclip Jewelry is trending in all different shapes and sizes. And I love it!! From necklaces and bracelets to earrings and more.
I have this paperclip necklace, and I'm wearing it in my new headshot in the sidebar. Once I realized how popular the trend was, I saw this jewelry EVERYWHERE. Haha.
Here's a layered set of necklaces from Banana Republic Factory in silver or gold (only $14.99). And this Bracelet set from Target. Amazon has a large variety as well.
If you should buy a piece, snap a selfie and send it my way. I'd love to see it!
3. Stamps. I love them — both vintage stamps and new ones! This past week, I was awake during a storm and was scrolling through Facebook. I saw that Shel Silverstein had stamps released inspired by his book The Giving Tree. It's one of my favorite stories, and I love Shel Silverstein. At 2:30 a.m., I ordered a set of stamps and I was pretty darn giddy about it.
The Giving Tree is a favorite of my whole family. I couldn't wait to tell them about the stamps and watch their faces light up. They were as excited as I was.
4. Forsythia. It's another bright and beautiful sign of spring for me. Seeing the yellow shrubs always makes me smile. I told Steve that I wanted to get one in our backyard.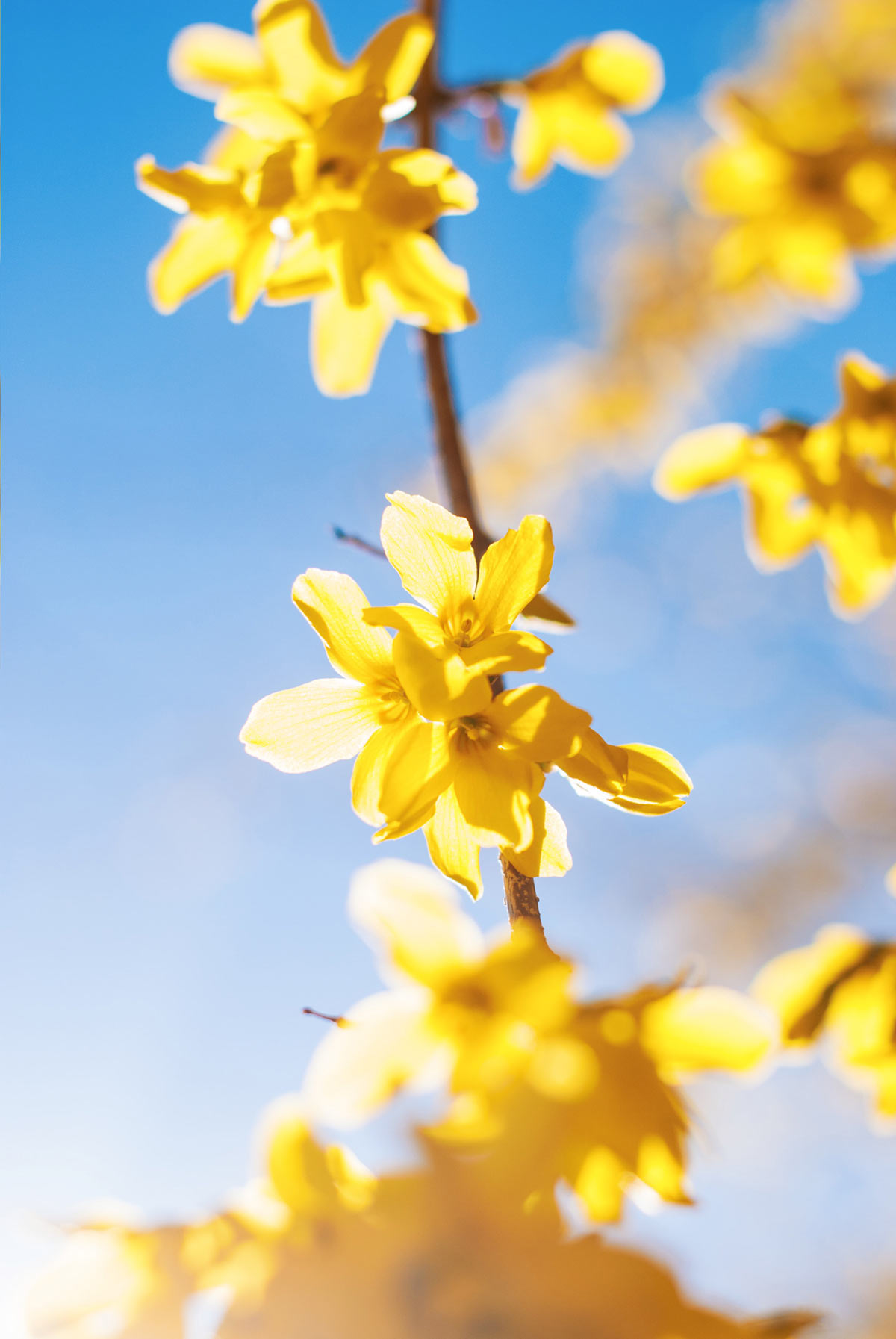 5. Do you like tie-dye apparel? I have a couple of shirts and picked up this coral-colored tie-dyed raglan sweatshirt this past week at Walmart. It says Pink Camelia on the website, but it doesn't look pink to me in person. Plus, I'm not a big fan of wearing pink. The color on the website doesn't do it any justice (IMHO).
6. Any Bridgerton fans? I love period dramas, like Downton Abbey, Little Women, Bridgerton, etc. While watching Bridgerton (Season 2) this week, it reminded me how much I love the English accents, properness, and classical music. Oh, the dancing is so beautiful and elegant too. It's sometimes hard to imagine times like those.
p.s. I quite enjoy Lady Whistledowns newsletter. She keeps things real and entertaining.
7. Due to my short stature (I'm 5'3″), sometimes finding jeans that fit correctly can be challenging. However, last year I found a couple of pairs of jeans at JCPenney's that I really like and can usually get a pair for less than $25 when they're on sale, and I can pair that savings with a coupon. These a.n.a Women's Midrise Ripped Jeggings (in Medium Majesty) and these a.n.a Women's Midrise Skinny Jeggings (in True Indigo or Ink Wash) are my new faves. They're certainly comfortable and fashionable.
I think it's fabulous that they have misses, petite and petite short? I love them and highly recommend them!
Around the Web:
This Old Fashioned Lemonade Printable.
This Fabric (Paper Mache) Bowls.
These Painted Mason Jars.
This Paper Mache Clay.
This Summer Bucket List.
These Ridiculously Easy Lemon Raspberry Scones.
This Pink Lady Punch Recipe.
These Honey and Brie Crostinis.
This Salt and Vinegar Broiled Fingerling Potatoes.
One Last Hoorah:
If you're looking for a last-minute game or add-on to a gift basket, this Easter Word Search would be fun! Print it on paper, roll it up and tie it with a ribbon. Yay!