Easter Word Search Printable Game
While many of us are currently having to stay home due to the crisis the entire world is enduring, there is a very happy holiday that is quickly approaching, Easter. I love Easter and everything that it embraces — from church to ham dinners to little chicks and Easter bunnies. And did I mention the Reese's Peanut Butter Eggs? Mmmm, yes, please. In short, I thought this sweet and colorful Easter Word Search might add a little sunshine to your festivities.
Be sure to sign up for my email to get new
recipes and creative ideas sent right to your inbox!
Printable Easter Word Search
In addition to the printable, here are a few ideas for you to put it to good use.
Roll it up and tie with ribbon to add to your kiddos Easter basket.
Place one on each plate with a pen or pencil at breakfast, lunch or dinner.
Gather the family for an afternoon recess/break. See who can find all the words the fastest. Better yet, have the adults compete and then have the kids compete.
Fold one up and place in a plastic egg in their Easter basket.
Lots of fun things to consider — but most importantly, have fun and make a memory. Embracing happy moments are so important right now.
Game Time!
While it's sad that we might not be able to do all the fun Easter activities at our church or school, attend an Easter service or have a big dinner with the family — keep in mind that these are temporary times. Do what you can virtually and maybe this Easter Word Search can add some new fun to the mix.
Regardless, I know that I'm willing to miss out on one Easter for the health of the good. And I hope you can say the same.
However, if you don't have a home church and want to participate in a virtual service, be sure to reach out to friends and family for recommendations. I've been blessed that our church (Hope Church) goes LIVE every Sunday morning at 8:30 a.m. (CST) on Facebook. Feel free to join us or watch replays. I always feel encouraged after our virtual time together.
Other Easter Printables you might enjoy:
Printable Easter Place Cards
Easter Journaling Cards
Printable Easter Gift Card Holders
Vintage Inspired Easter Gift Tags
Ready to print your Easter Word Search? Each sheet contains two separate word searches, sized at approximately 4-1/2″ x 4-1/2″. Grab some paper or cardstock, print, and cut. Enjoy!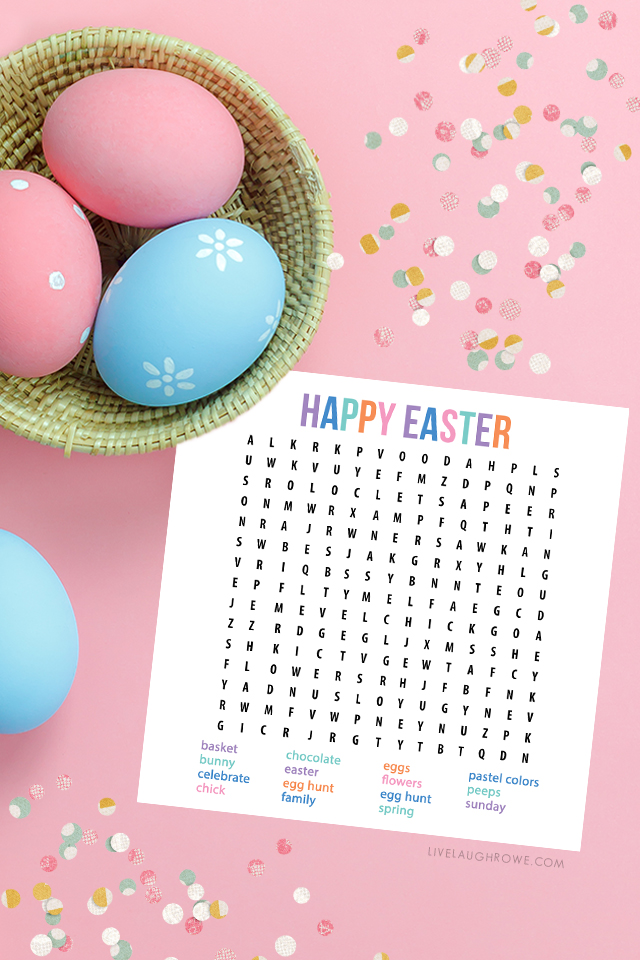 *Please Note: All printables and downloads designed by Live Laugh Rowe are for PERSONAL USE ONLY. Please do not alter the file or claim it as your own. In addition, this quote printable is not intended for resale, nor are the printed versions of this file.
*Some readers expressed they were having trouble printing the PDF version. I believe it's a browser issue; however, please try this WORD DOCUMENT if you are having difficulties.
Connect with Live Laugh Rowe!
Facebook | Instagram | Pinterest | Twitter
Hugs and Blessings!