Vintage Inspired Painted Mason Jars
I have a fabulous project to share with you today! These sweet vintage inspired Painted Mason Jars. I saw some of them being sold on Etsy and had to give them a try. They are super easy and a fabulous handmade piece that you could easily gift to your mom on Mother's Day.
Be sure to sign up for my email to get new
recipes and creative ideas sent right to your inbox!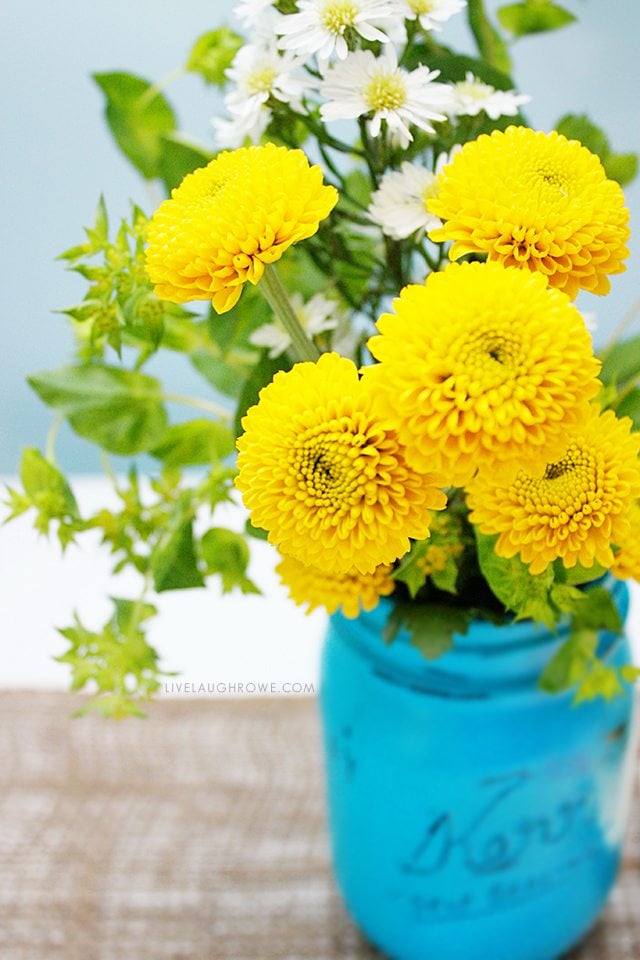 There aren't any step by step pictures, as it really is a very simple project. Wouldn't it be fun to invite some friends over and make these for gifts or to display a lovely bouquet for guests?
Supplies for Painted Mason Jars:
Mason Jars
Acrylic Paint
Paint Brushes
Nail Files, Sealer
Bouquet of flowers (of course).

Painted Mason Jars Tutorial:
Step One:
Grab your supplies and be sure that your jars are clean and ready for painting.
Step Two:
Paint two coats of paint on the outside of your jar. Allow appropriate time to dry.
Step Three:
Sand the raised letters and spots around the jar for an aged/vintage look with a nail file.
Step Four:
Seal. Paint one or two coats of sealer on your jar.
Step Five:
Arrange flowers for display or gifting.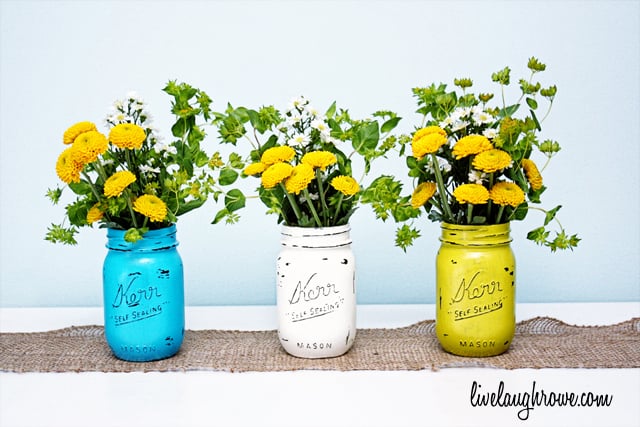 Additional details: The colors I used for the painted mason jars were Citron, Turquoise and Vanilla by craft smart (purchased at Michael's).
I used pint-sized jars (however, any shape and size would work). The sealer allows you to be able to wipe the jars with a damp wet cloth for cleaning purposes; however, you cannot submerge or soak these in water.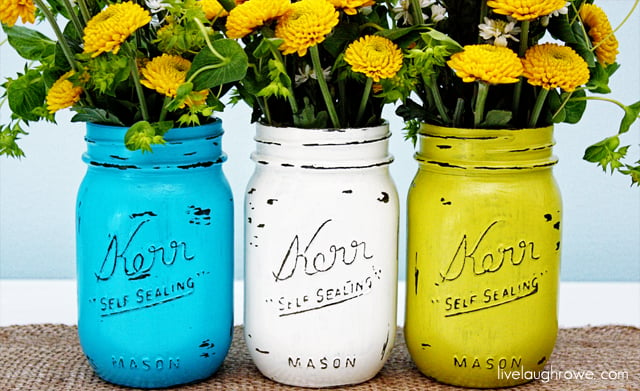 In the picture below I used a vintage action for fun. I'm madly in love with these jars! I may even add a few to my shop, for those who don't want to hassle with the DIY part. If your mom likes flowers, why not make a fun mason jar vase to pair with them? I'm willing to bet you'll make a few for yourself too.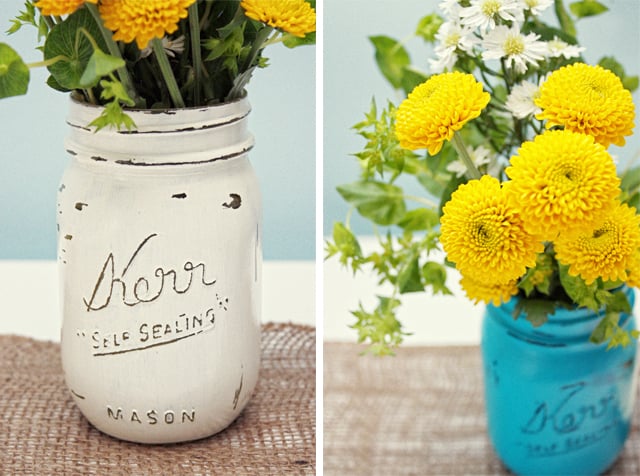 Running short on time and unable to do the painting? Check out this tip on the easiest way to tint mason jars blue. Crazy easy!
Soooo, happy crafting! What are you waiting for? Let's get making some painted mason jars!

Be sure to visit with me here too:
Facebook | Instagram | Pinterest | Twitter |Google+