Happy hellos from a steamy Missouri. The humidity this week was intense. Wow! Every summer I'm reminded of my dislike for heat. Give me fall-like temperatures year-round and I'm a happy camper.
Is anyone with me?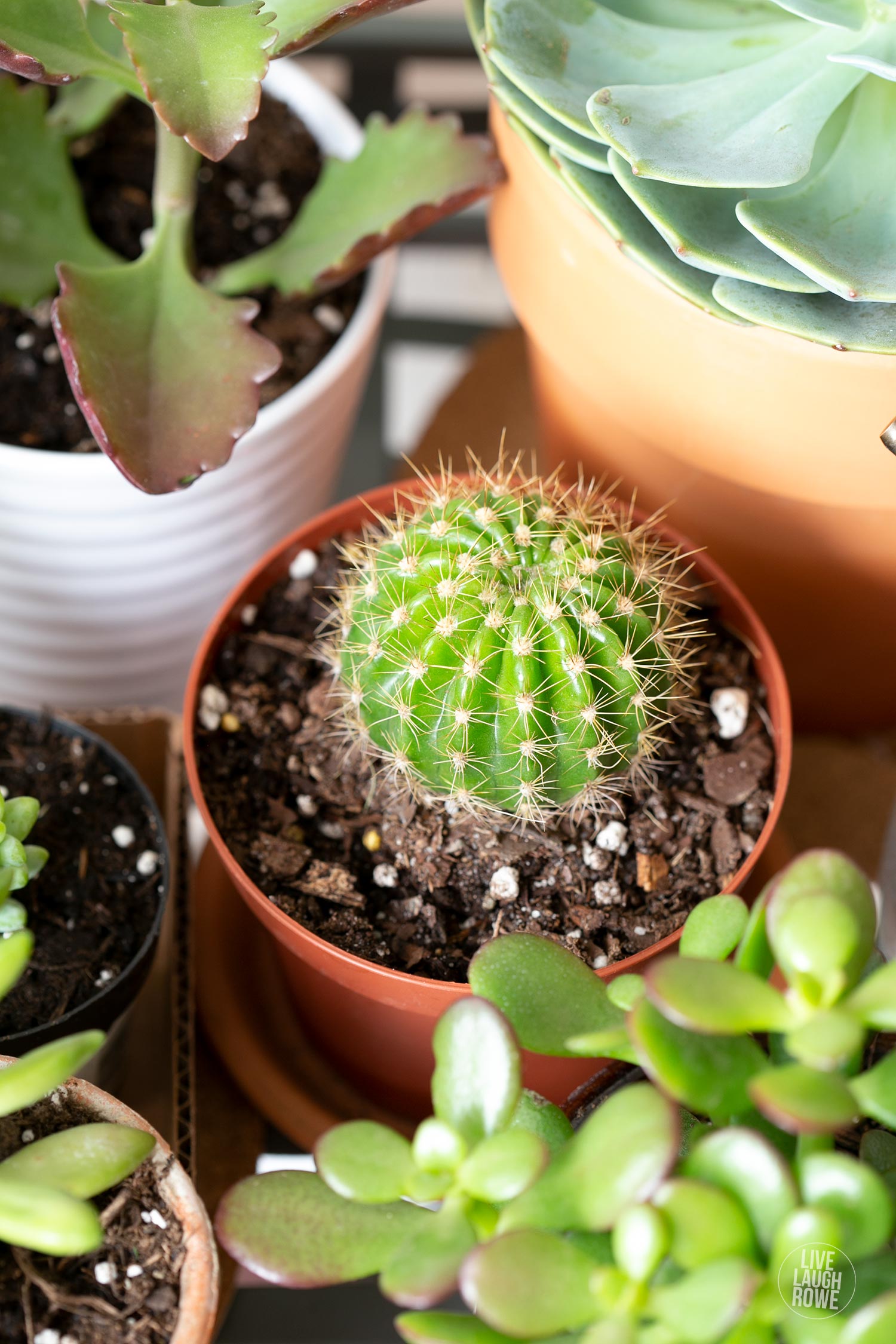 I've always loved this pic. I had a gazillion succulents when we lived in St. Louis. ❤️
Miscellany:
1. I had a dermatologist appointment this week. A few years ago I had smaller-sized (non-melanoma) cancer spot removed from my leg, so now I have to report once a year for an annual full body exam.
Here's the thing… I like to tan through the summer months. I usually don't start until after these appointments, but quarantine last year put a bit of a wrench into that strategy.
So, I was terrified to show up with my tan skin. However, the Doctor was kind, but I left feeling guilty.
Especially after reading a sign that said, "Blondes have more fun. Also more skin cancer." 🤦🏼‍♀️
Lovely. I know it's not healthy and I get a lot lectures about it, but…
2. Guess what? I'm happy to report that Steve was officially able to help with the lawns this past week. Ya-to-the-freaking-hoo.
Yep, we split the lawns — I did the backyard and he did the front.
I'm hoping the next mow will be all his again. Please, Lord.
3. I'm getting ready to tackle our master closet. It's a mess, friends… actually, it's embarrassing.
Nevertheless, I ordered this cube organizer (in weathered gray) and these baskets (in white) to kick start the purge and organization. I wanted these wicker baskets, but $20 each for closet organization seemed a little over the top.
We currently have the good ole' wire shelving, but I'll be replacing a dresser with this cube organizer.
My sister and I are planning on another garage sale in July at my parents, so I need to go through my clothes. They sell well for us.
Anywho, wish me luck!
4. Did you know dogs can have vertigo? My poor Parker has random bouts of it… and I noticed his ear was bothering him, so I put a few ear drops in his one ear (from the vet). It's so weird how he literally walks in circles when this medicine is put in his ear(s).
I'll have to call the vet on Monday, I hate seeing him like this. Surely there's another medicine he can take.
5. Have you seen the technique of painting your countertops to look like marble? It's pretty amazing. I'm 99% sure that I'd never do it, but it's fascinating nonetheless.
6. I shared a post this week about the area I live near — Springfield, MO. We live about 20 minutes outside Springfield. This city guide was not only fun to put together, but a great walk down memory lane. Be sure to check it out.
Around the Web:
This Hand Dyed Cotton Ribbon. 🥰
These DIY Wood Lanterns.
These Free Mini Envelope Templates.
This Amazing Rattan Beach Chair (I secretly want one).
These Travel and Adventure Printables.
Dip Dye Crepe Paper Streamers.
These Easy Summer Dinner Recipes.
Father's Day Fun:
This Word Search (Family Activity).
For the Dad who Loves Ice Cream.
These Father's Day Card Printables.