Adorable summer coloring pages for the kiddos! A great activity to have on-hand at your next cookout.

Summer Coloring Pages


Summer is almost (officially) here!!! Can you believe it? What do you think of when you think of summer? Swimming? Cookouts? Vacations? Ice Cream?
I have to be honest with you, friends… as an adult, summers are VERY different. Haha! Unless you're a teacher there are no summer breaks and the heat is not my friend.
So, I tend to stay indoors and hibernate. Thank you Lord for air conditioning. I'm having a good chuckle over here.
I'm fairly certain that if I had kids, it would be very different. However, I don't… so the great indoors is where I prefer to be on really hot days. (wink-wink)
Did I ever tell you that I passed out in St. Maarten one year? We were at dinner and it was sooooo hot. A lot of the restaurants are outdoors, but there was no airflow where we were sitting. I told Steve that I didn't feel well and fell over. If you've ever experienced something like this or had heat exhaustion — it's incredibly scary! So as a result, I can only do heat in small doses and I obsess over staying hydrated.
Anywho, that's that. As I digress…HA!
Printable Coloring Sheets for the Kids!
Cookouts are a HUGE part of summer and having activities for the kids is a necessity. Whether it's bubbles, a kiddie pool, a trampoline or coloring sheets — keeping them busy is always a good idea. Therefore, making these free summer coloring pages available to you seemed like a pretty ingenious plan! Maybe?!?!
Have a bucket of crayons on hand and have a coloring competition!
That reminds me — growing up I remember the local K-Mart had a little restaurant in it. They always hosted coloring contests and hung all of the entries around the restaurant. That's a kids dream.
With that being said, I hope you can put these sweet coloring pages to good use! No cookouts in the near future? They make a great rainy day activity — and why not join the fun, mom?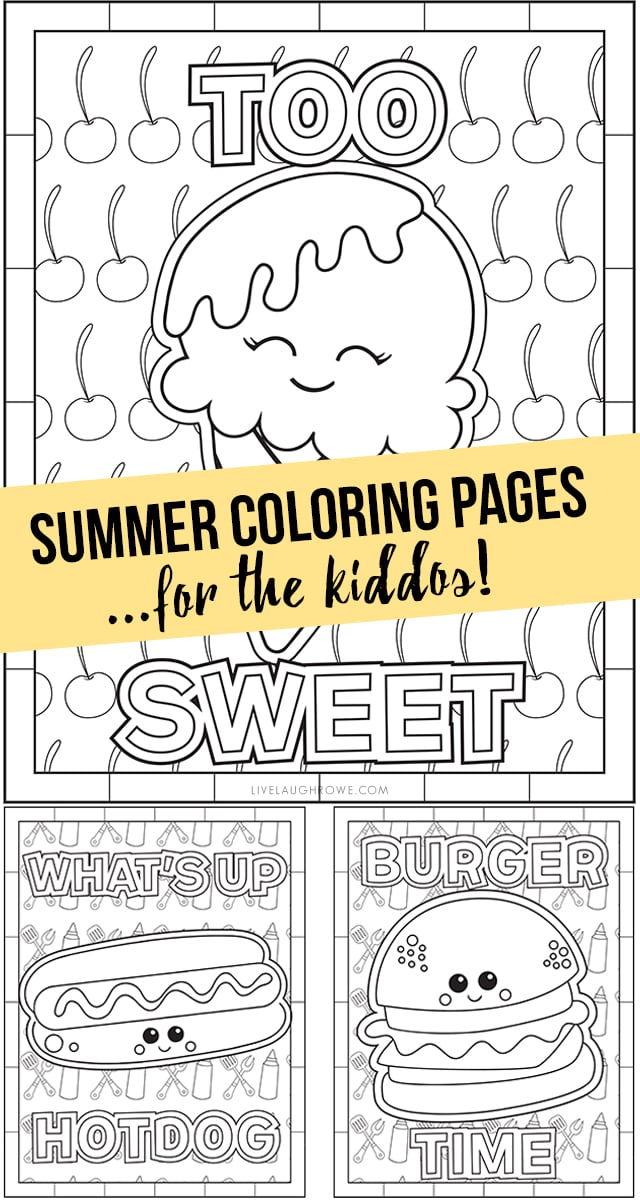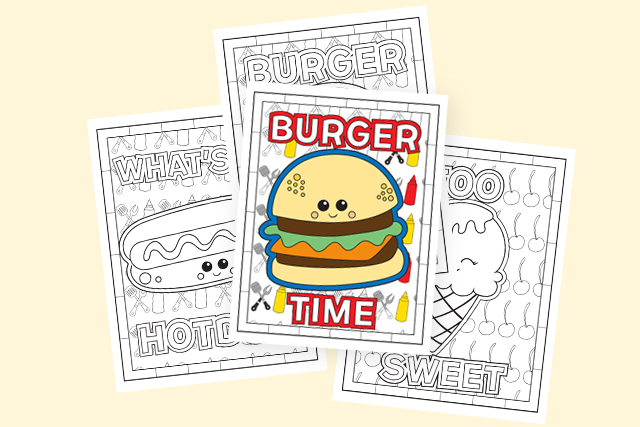 *Please Note. Printables and downloads designed by Live Laugh Rowe are for PERSONAL USE ONLY. Please do not alter the file or claim it as your own. This file is not intended for resale, nor are the printed versions of this file.
Other kid-friendly printables and activities:
Memory Matching Game
Summer Vacation I Spy Printable
Feather Topped Pencils

Be sure to visit with me here too:
Facebook | Instagram | Pinterest | Twitter | Google+