Coloring Pages with Scripture
These simple, yet meaningful coloring pages with scripture are multi-purpose. You can color and relax while enjoying a cup of tea, coffee, or wine. And on the other hand, you could share with a friend and encourage them with the scripture found on the coloring sheet.
Be sure to sign up for my email to get new recipes
and creative ideas sent right to your inbox!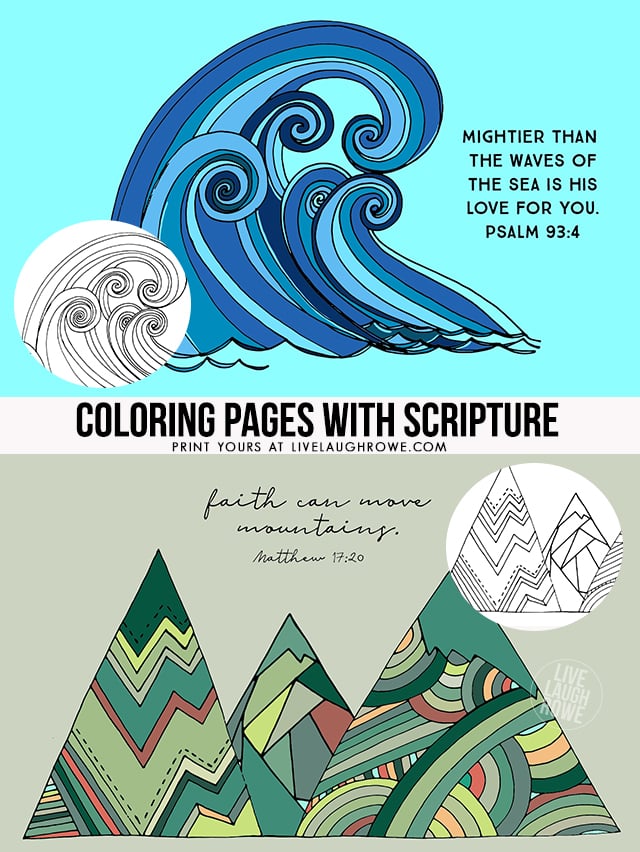 Recently I saw some greeting cards that you could color. As a result, they got my wheels turning and I thought I would create some coloring pages with scripture. In short, these 4×6 printables were created.
How many of you love to color? I know that I do. It's quite relaxing. A year or so ago, I got the iPad Pro and have enjoyed coloring on that as well. Guess what? You can use these Coloring Pages with Scripture on there too. To clarify, you will have to convert the file to a JPG first (using Adobe Acrobat or Smallpdf , then import it into ProCreate (that's the app I use for coloring). I colored all of the colorful images in this post on my iPad Pro.
As technology changes, our options seem to become endless. Consequently, there are pros and cons to the options too (haha). However, I drew this Floral Bouquet Coloring Sheet on my iPad Pro.
Floral Coloring Page with Ecclesiastes 3:11
In addition to my love for coloring, I thought these coloring pages with scripture were appropriate considering the current times. It's easy to become overwhelmed about the state of our country, the pandemic, rioting, etc. But these reminded me of God's faithfulness, how we can find beauty in the smallest things (flowers, sunshine, etc). And, above all, love is powerful.
I hope that you're blessed not only by the free printables but that you're encouraged by the scriptures as well. My faith has been an anchor for me through the past several months.
2020 is proving to be a year of sickness and hate. Nevertheless, we must pray for health, love, and peace. Amen? Amen.
Other Coloring Sheets to check out:
Floral Bouquet
Plant Lovers
Dream Create Inspire
Summer Fun for the Kids
Printable Coloring Pages with Scripture
Below you'll find two downloadable documents. Each has two of the coloring pages (with scripture) on them. Consequently, the coloring prints are each sized at 4×6 (with a border to assist in cutting them). If you're going to send one (or two) to a friend, consider printing them on cardstock and sending them in an A4 envelope. Enjoy.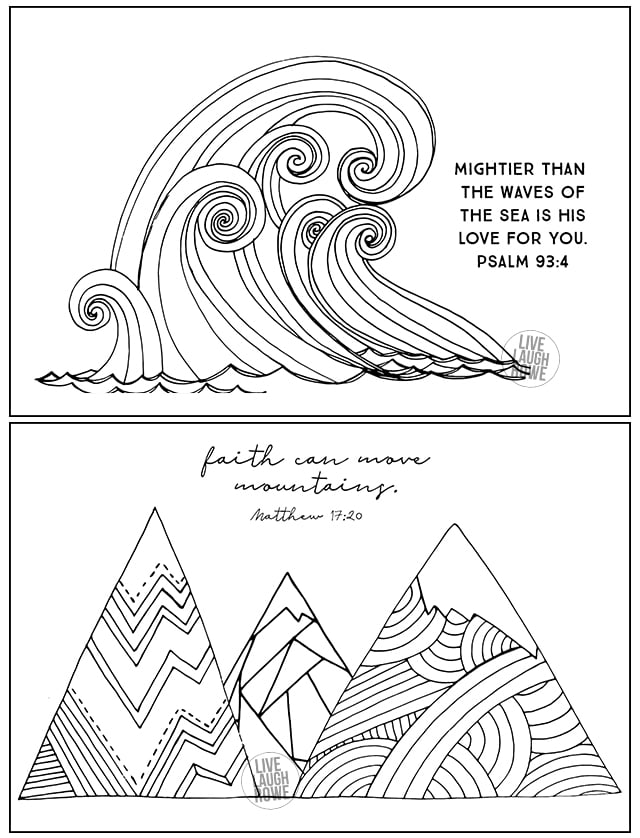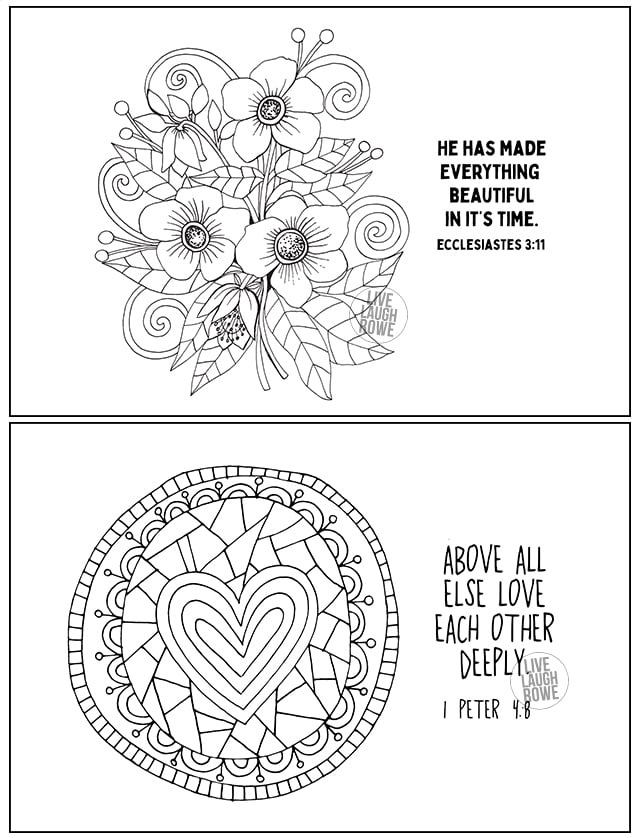 Please Note: Printables and downloads designed by Live Laugh Rowe are for PERSONAL USE ONLY. Please do not alter the file or claim it as your own. Subsequently, these Coloring Pages with Scripture are not intended for resale, nor are the printed versions of this file.
*Some readers expressed they were having trouble printing the PDF version. I believe it's a browser issue; however, please try this WORD DOCUMENT if you are having difficulties.
Connect with Live Laugh Rowe:
Facebook | Instagram | Pinterest | Twitter
Hugs and Blessings,