A few months ago my husband bought me the iPad pro. One of the very first things I drew was this floral bouquet using ProCreate. And I did it so that I could to offer it all of you as a free printable coloring page! Yay!!
For some reason, I kept forgetting about it. However, since I'm officially in surgery today — a bouquet of flowers seemed appropriate. As you can tell, I'm trying to keep happy things on my mind. Haha.
Floral Bouquet Free Printable Coloring Page


I have always loved to doodle and draw. If I had all of my notebooks from my school days, I'm sure we'd find lots of flowers, hearts, dogs and boys names that I was crushing on. In sixth grade I even won a drawing contest to be on the cover of our yearbook. As you can imagine, that was a very proud moment.
A few years ago I tried using the Wacom Intuos (pen and tablet touch technology), but it was soooo hard to look at a compute screen while drawing on a pad. As a result, I gave up trying. Then the iPad pro came into the picture and HALLELUJAH for an option that felt like pen and paper! I thought it would be a great tool to have on the road -AND- be able to potentially create some of my own clipart or coloring sheets (instead of buying them).
"I sometimes think there is nothing
so delightful as drawing." Vincent van Gogh
I'm so in love with my iPad pro. Squeezing in time to play on it can be tricky, and I still have a lot to learn. Nevertheless, it's a dream come true.
Sharing this free printable coloring page is pretty exciting. It's nothing fancy or elaborate, but it's something I created and I think that makes it a little more special.
BONUS: If you have an iPad Pro, you can use this as as coloring sheet on your device!! A great resource on how to use coloring sheets on your iPad pro can be found over at The Sweeter Side of Mommyhood.
I colored mine in on the iPad Pro after drawing it. It really turned out cute and colorful with a bit of whimsy to it.
My completed coloring sheet!

Below you'll find floral bouquet coloring sheet for download, sized at an 8×10. Even if you're not one to enjoy coloring, share it with someone who does — and have the kids color a bouquet for grandma, the neighbor, etc.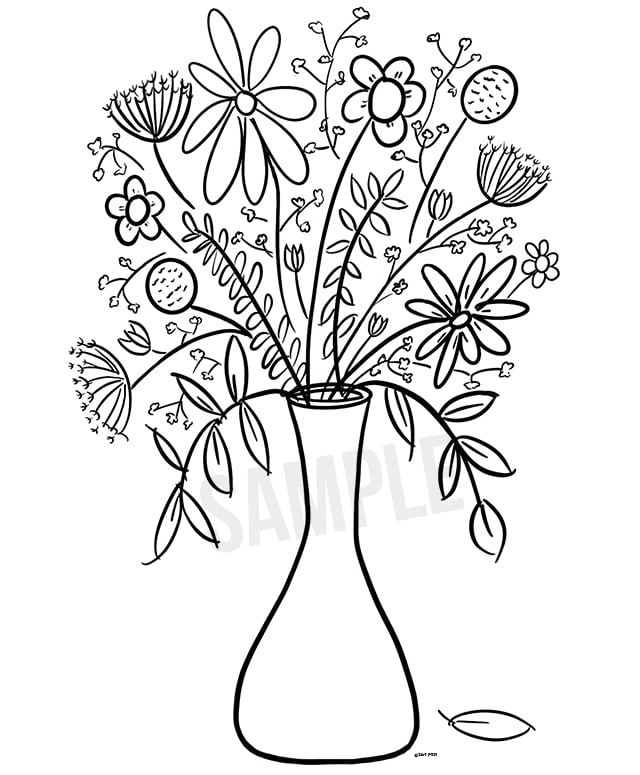 *Please Note. Printables and downloads designed by Live Laugh Rowe are for PERSONAL USE ONLY. Please do not alter the file or claim it as your own. This file is not intended for resale, nor are the printed versions of this file.

Be sure to visit with me here too:
Facebook | Instagram | Pinterest | Twitter | Google+