Halloween Wreath Made from Book Pages
This neutral color wreath is made from book pages. It's not only beautiful, but it's versatile too. Add a crow or spiders for Halloween or keep it simple and use for your everyday neutral decor. A craft with options is always a great idea.
Simple Neutral Halloween Wreath


It's been a minute since I've done something crafty around here. Pulling out the glue gun was a bit of a nostalgic moment for me… haha.
Halloween really isn't a favorite holiday of mine, so I peruse Pinterest for holiday ideas and inspiration. It's fun to find ideas, but put your own spin on them. Ya know? Like this wreath.
The book page wreath has been around FOREVER, but it's usually made with the pages rolled into a cone shape (often referred to as the Dahlia wreath). While those are quite beautiful, I wanted to try something different. I love how this wreath turned out and how it's not too halloweeny.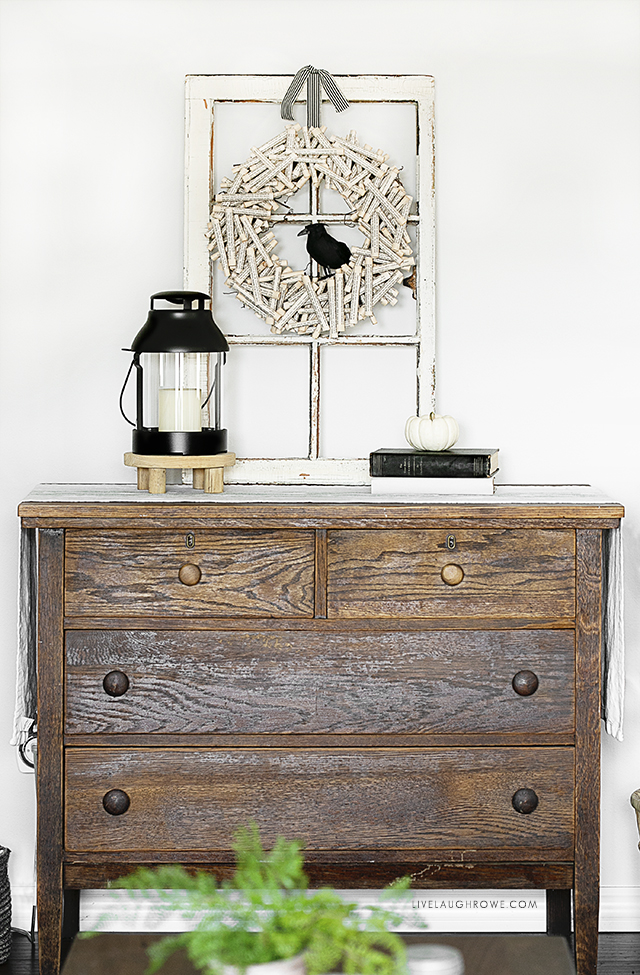 The vignette really came together beautifully with the ivory and black. And using a vintage window is a go-to for me when hanging wreaths in my home. What do you think?
Here is a side view, so you can see the grapevine wreath a little more clearly.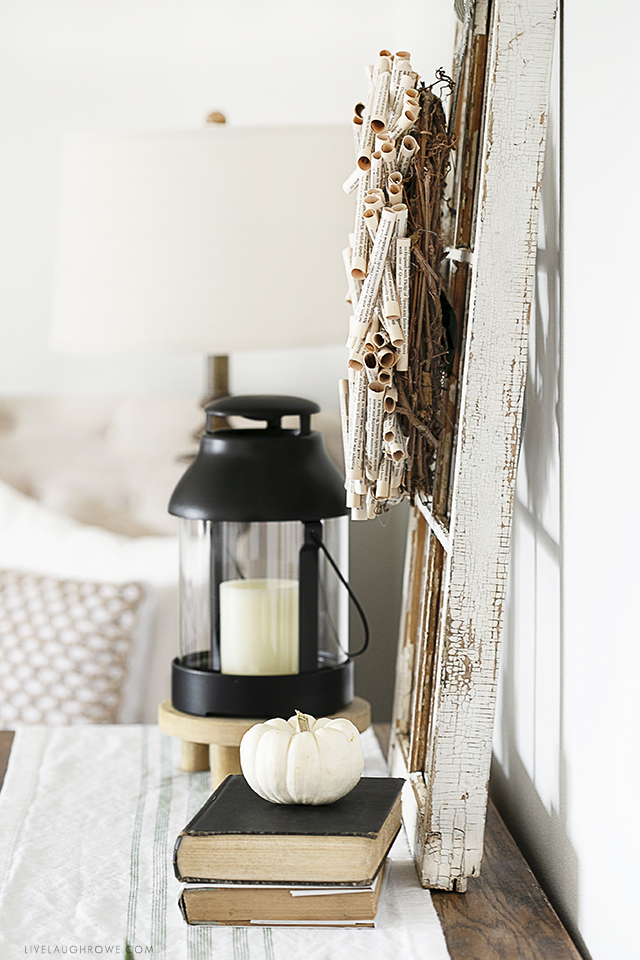 How to make a paper wreath from book pages.
Supplies:
Old paper back book
14″ Grapevine Wreath
Tape
Glue Gun
Step One: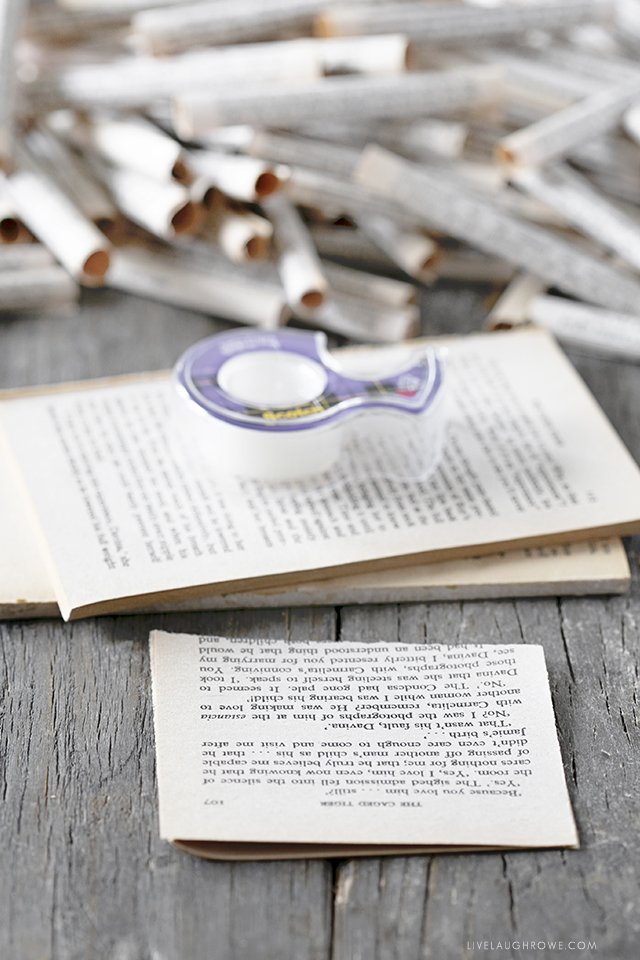 I used a smaller paper back book and decided to rip the pages in half before rolling them. If you decide to use a larger wreath form, you might use the whole book page. Adjusting the instructions to make your wreath to your own preferences is perfectly acceptable.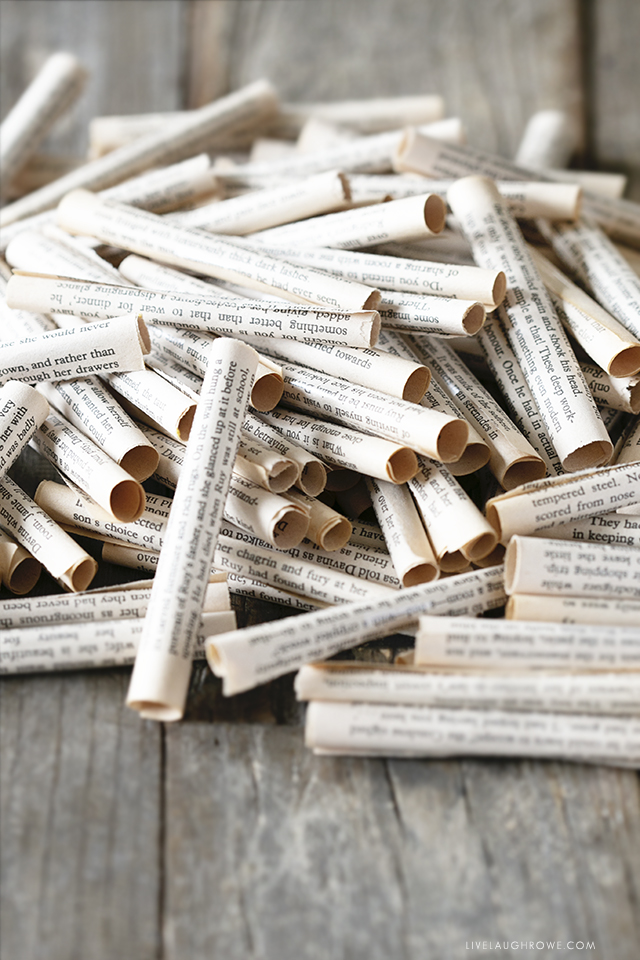 After rolling each of the half pages, I used a small piece of tape to keep it's shape. I rolled a bunch of the half sheets before moving on to step two. You can always roll more as necessary.
Step Two: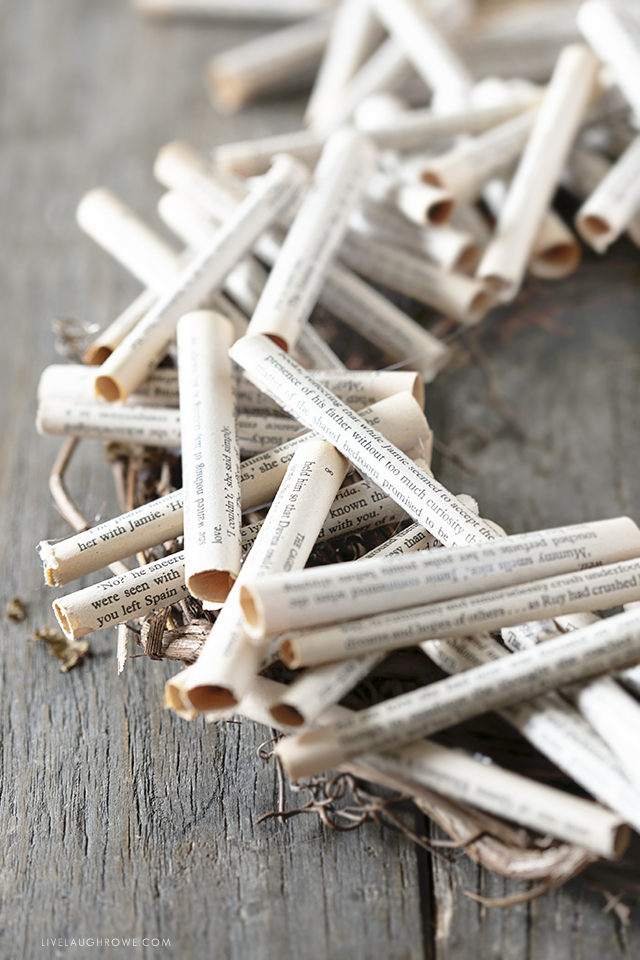 Attach the the rolled book pages to the grapevine wreath using your glue gun. I just started gluing them in different spots and in different directions.
As I neared completion, I cut a couple of the rolled pages in half and used them to fill in any noticeable gaps.
Voilà! The wreath itself is done.
Add a ribbon for hanging and a crow. My little black crow had wire extending from his feet, making it easy to attach him to the wreath for Halloween.
And it's nice that I can easily remove the crow and use the wreath for my fall decor too. Below I styled it without the crow and kept it to neutral fall colors. Insert all the heart eyes….
Is this an indoor/outdoor wreath?
I would not recommend hanging this outdoors. The book pages will most likely not hold up to the elements. You could try coating the pages with Mod Podge or a spray paint sealer, but I can't recommend that without trying it myself. Hope that helps.
Other great Halloween posts to check out:
Black and White Halloween Tablescape
Halloween Journal Cards or Place Cards
Halloween Party Favors (using peat pots)
Printable Countdown to Halloween

Be sure to visit with me here too:
Facebook | Instagram | Pinterest | Twitter | Google+