This post is sponsored by The Home Depot. See full disclosure below regarding DIH Workshop.*
Oh Christmas, how I love thee! I am soooo super duper excited about this month's DIH Workshop Project! This Rustic Wooden Stocking has made my heart go pitter patter on several occasions since its completion. It's perfectly me and I hope you'll consider putting your unique spin on one of these wooden stockings as well!
Ladies, have you signed up to see an in-person demonstration at your local Home Depot store for this Thursday, November 19th? Grab a girlfriend or two and sign up today!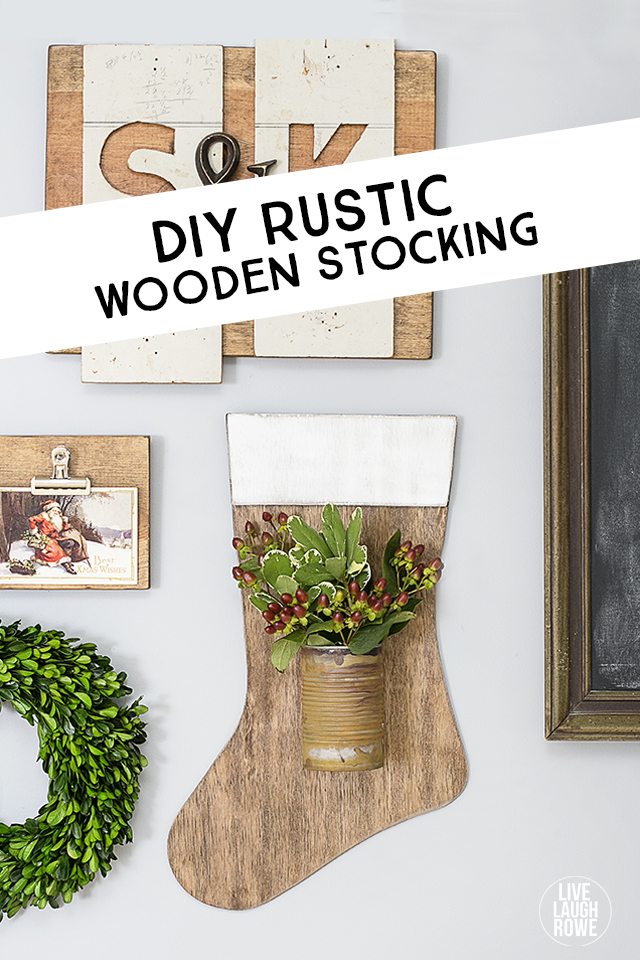 Who's ready to get this project started?
Tools
Jig Saw
Measuring Tape
Pencil
Laytex Gloves
Sanding Block
Staining Rags
Paint Brush
Safety Goggles
Materials
1 piece 24″x48″ piece of Sanded Plywood
Wood Glue
Rusty Tin Can
Nut and Bolt
Minwax Stain (Provincial)
White Paint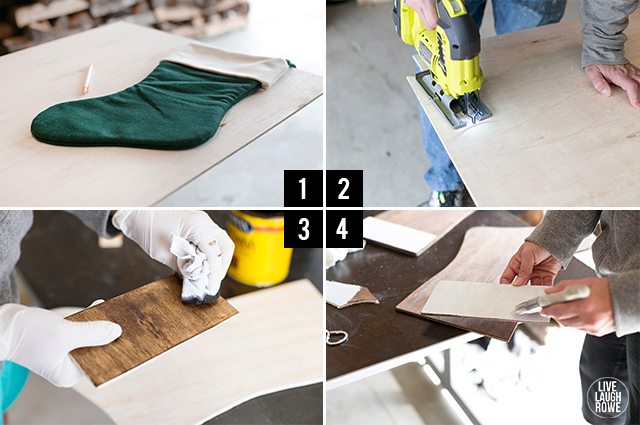 Step One:
Use a pencil to sketch out your stocking. If you like to be technical, use a pencil and tape measure (or yardstick to mark a grid of 2″ squares on the sanded plywood.Use the grid as a guide and draw two stocking shapes. Draw one upside down and the other one right side up, so they will fit best.
As you can see, I cheated a bit and searched down one of our stockings to use as a guide. Genius, right?(hee-hee).
I decided to trace out an additional piece of the plywood to make a trim for the top of the stocking.
Step Two:
Use your jig saw to cut out the stocking shapes from sanded plywood.
Step Three:
Stain your entire stocking and the extra piece. I like to stain with a rag, just be sure to wear gloves. Allow to dry, following instructions on packaging.
Step Four:
Paint trim piece of wood with white paint. Allow to dry and sand, allowing some of the stain to peak through.
Apply a bead of wood glue to the trim and attach to the stocking. Apply weight to the piece (or use small clamps on edges) and allow to dry.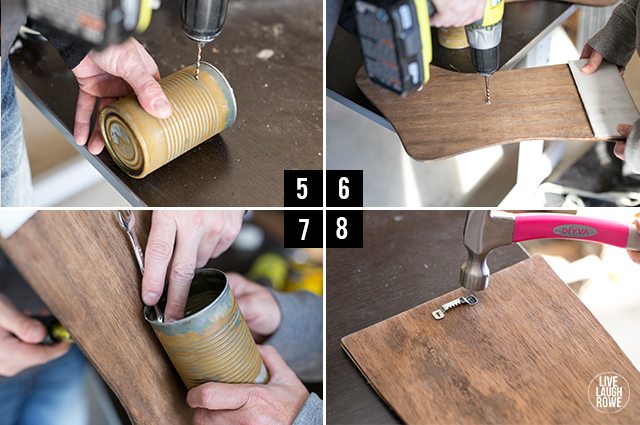 Step Five and Six:
Decide where you'll be placing your tin on the stocking. Drill hole in rusty tin and stocking.
Step Seven:
Attach can to stocking with nut and bolt. I honestly just found one that would work in our 'stash.'
Step Eight (aka the last step):
Place a sawtooth hook on the back for hanging.
Technically, there is one additional step — add mixed florals!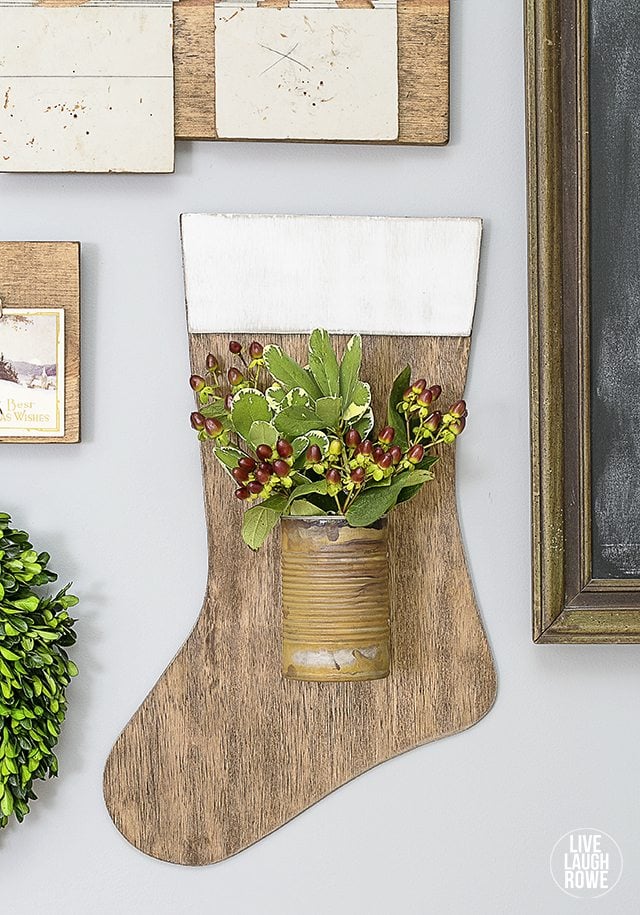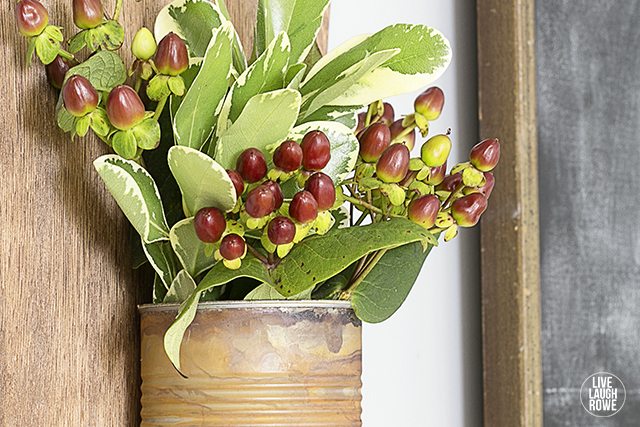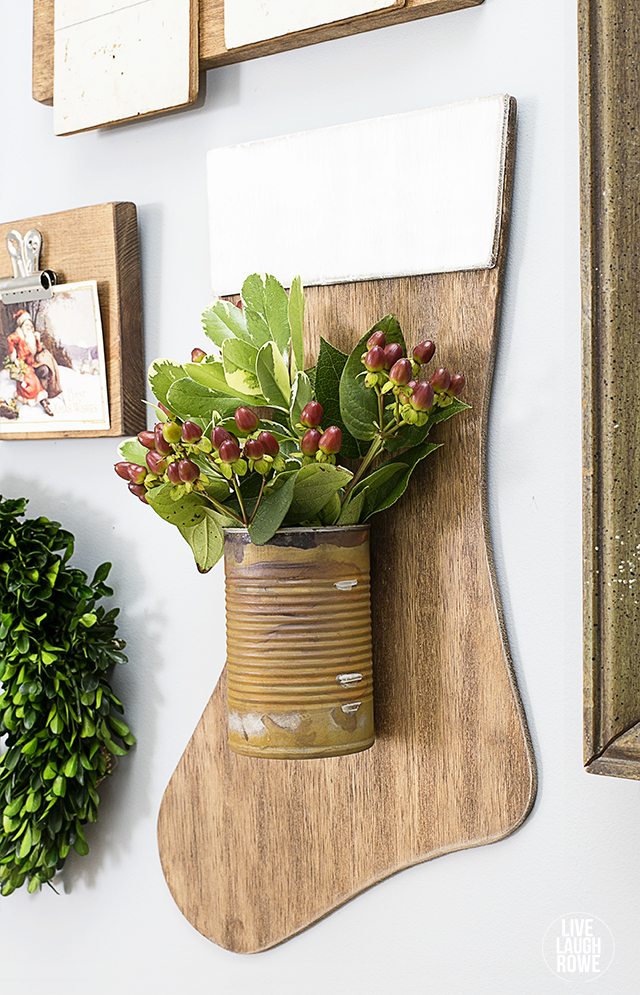 I think it's perfect! Ready to get your Christmas DIY on? I'm so excited to get all my decor up…. I've had to do it a little earlier than usual this year, but that just means I get to enjoy it a few additional weeks, right?
Register today and don't forget that I'll be in Springfield, IL (Store #8430)!

Be sure to visit with me here too:
Facebook | Instagram | Pinterest | Twitter |Google+
Linking up to Between Naps on the Porch
*The Home Depot partners with bloggers such as me for DIH Workshop program. As part of this program, I received compensation for my time. They did not tell me what to purchase or what to say about any product mentioned in these posts. The Home Depot believes that consumers and bloggers are to form their own opinions and share them in their own words. The Home Depot's policies align with WOMMA Ethics Code, FTC guidelines and social media engagement recommendations.