This post is sponsored by The Home Depot. See full disclosure below regarding DIH Workshop.*
It's time for the BIG reveal (hee-hee). I'm sharing my version of the November Do-It-Herself (DIH) Workshops project, an ornament display. Of course I stayed true to my style and kept it simple and rustic. However, I couldn't be more thrilled as to how my Shiplap Ornament Display turned out.
Shiplap Ornament Display


Let's be honest here — at first I didn't know what I was going to do. As I walked through the aisles of Home Depot, I knew that all of the glittered ornaments were out of the question. See, glitter gives me EXTREME anxiety. So, I had to think a little outside the box. Let's take a look!
Supplies for Shiplap Ornament Display:
1 – 1x6x8 Wood Barn Grey Shiplap Siding
1 – Yardstick
Wood Glue
Staple Gun
1″ Flat Head Nails
2 boxes, Metal Silver Bell Christmas Ornaments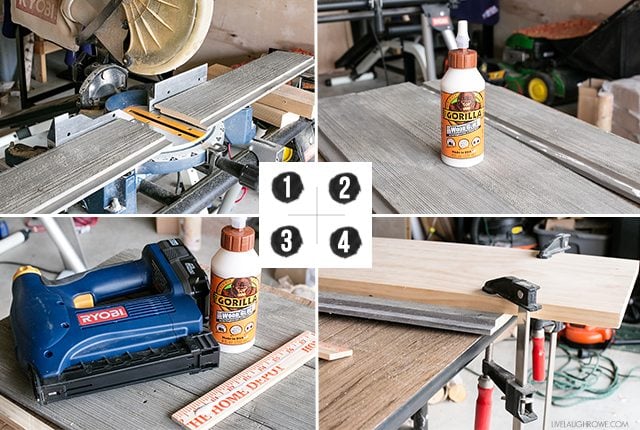 Step One:
Cut shiplap into three 2′ long pieces.
Step Two:
Place boards face down and run a bead of wood glue along tongue of board to connect. Wood glue is for additional bonding.
Step Three:
Secure with braces. I cut two 9″ pieces to place along the three boards to secure them together. Again, apply a bead of wood glue, place down on boards and use your staple gun to complete attaching the braces.
Step Four: (optional)
The boards were a wee-bit uneven, so while drying I placed a piece of scrap wood on top of the shiplap boards and used clamps to tighten it down and even out a bit more. Being this is a rustic piece, that is completely optional and at your discretion.
Step Five:
Lay out your ornaments to get an idea of how you'll be placing them.
Step Six:
Measure accordingly to ensure that your ornaments will be centered and straight. We use a t-square to and a piece of wood to measure the top and bottom rows.
Steps Seven and Eight:
Attach nails — and ornaments!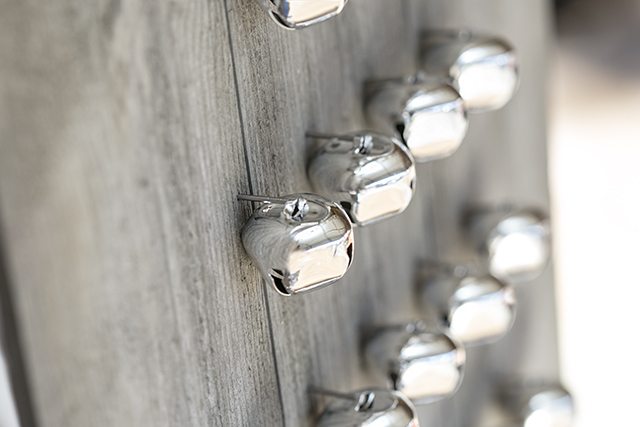 And that's it. Some might think this is ridiculously easy, and you're right! There's no painting or staining. The hardest part is getting all of the ornaments spaced out and measured correctly.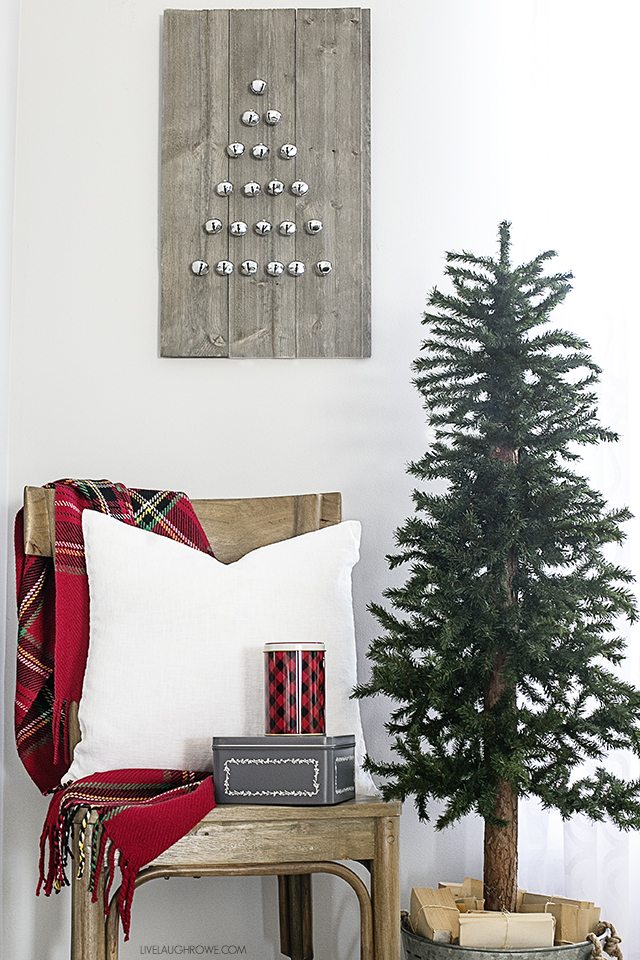 What I absolutely LOVE about my version is that in using the nails, you can change out the ornaments! Wait, whaaaa? Yep, you can change out the ornaments. Of course, you'll still need to use a smaller ball, but it does provide versatility, and that is always a win-win in any DIY project.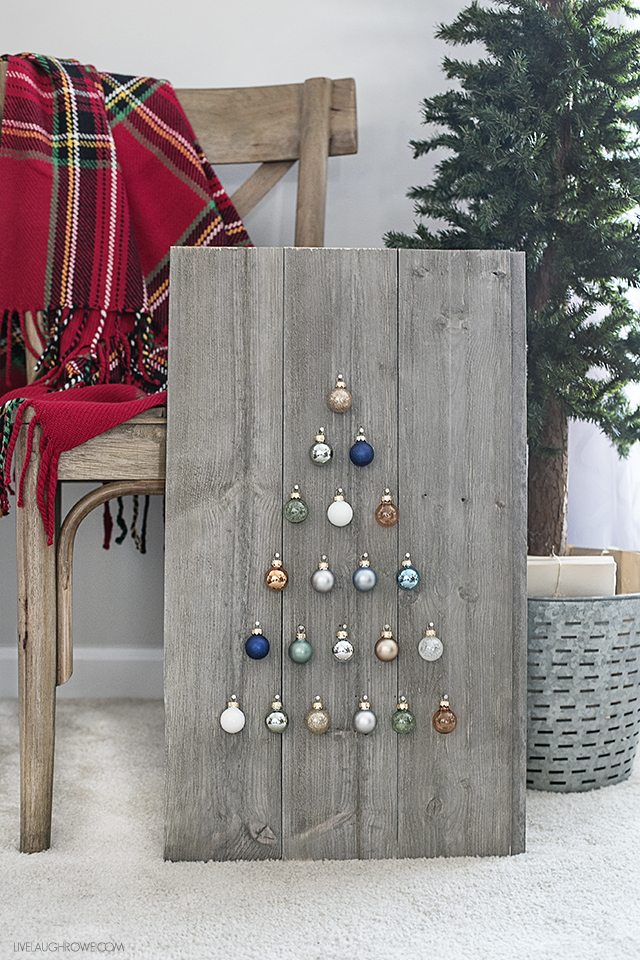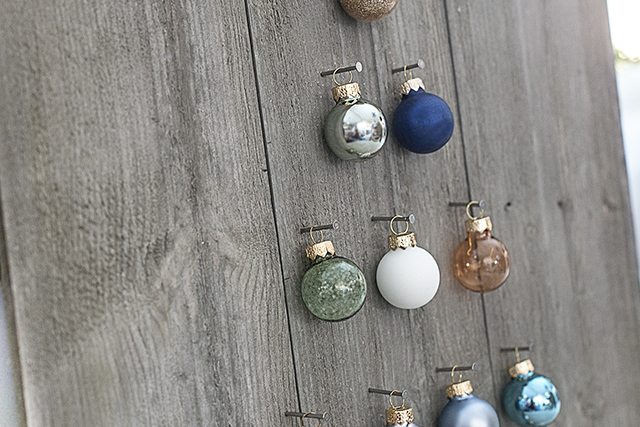 I've been dog-sitting my parents' dog for the past couple of weeks — Bella decided to photo-bomb my picture. Isn't she the cutest? She's as sweet as can be!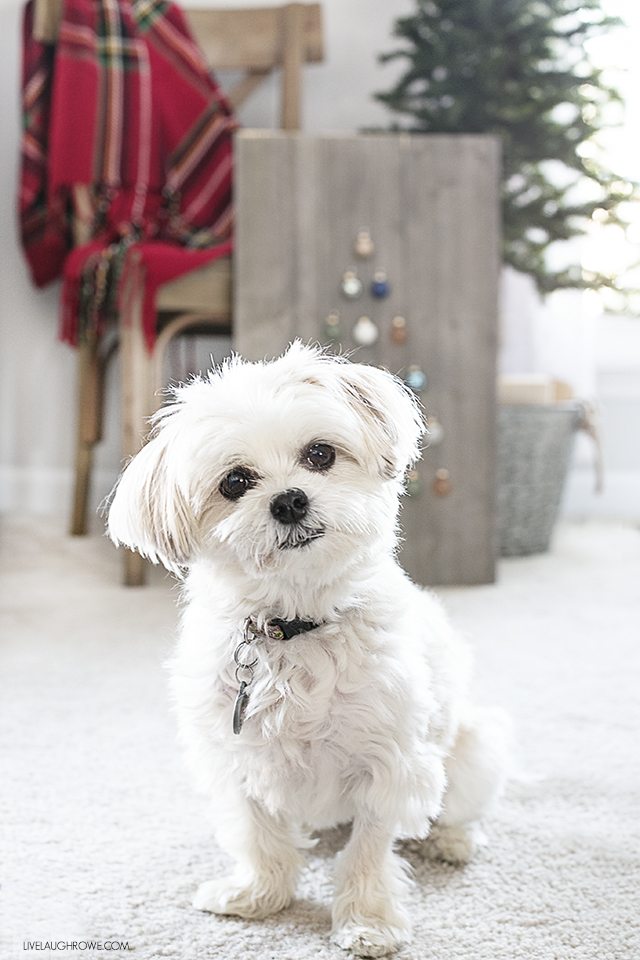 Since this is a virtual par-tay, each of the DIH Bloggers asked four friends to join the fun! Here is what my team put together (and a BIG thanks to Debbie, Karianne, Beth, and Marie for joining me):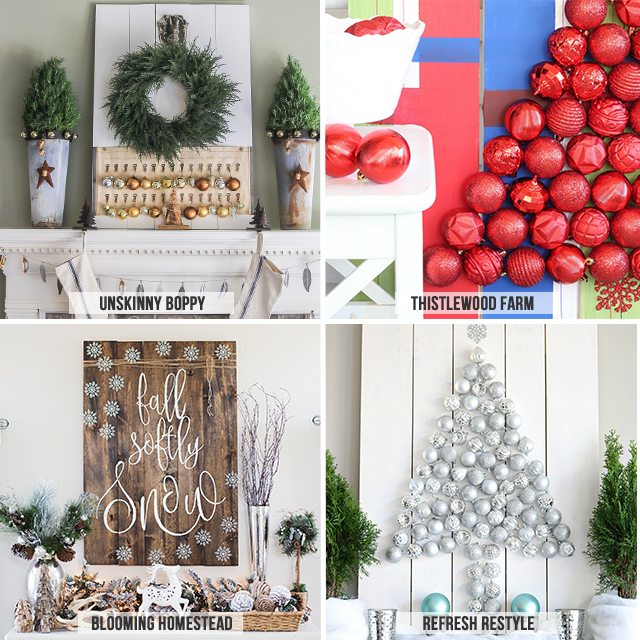 Unskinny Boppy | Thistlewood Farms
Blooming Homestead | Refresh Restyle
Here's a reminder of the original project, a fun and colorful Ornament Display Holder.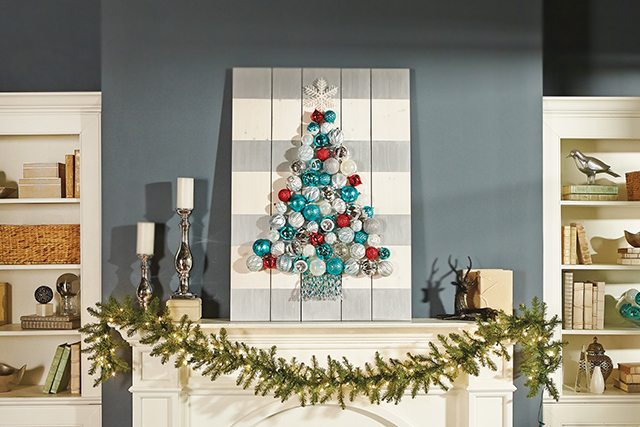 I bet y'all are feeling super inspired to make your own Shiplap Ornament Display (or any of the above). If you do make one, please be sure to tag me or e-mail me. I'd love to see your version!
Just a quick reminder, The Home Depot's Workshops are designed to provide a mix of associate-led instruction, demonstration, and some hands-on learning. The workshops are also for do-it-yourselfers of all ages and experience levels! Materials can be purchased to make your own project too. For more information, contact your local Home Depot store.

Be sure to visit with me here too:
Facebook | Instagram | Pinterest | Twitter | Google+
*The Home Depot partners with bloggers such as me for the DIH Workshop program. As part of this program, I received compensation for my time. They did not tell me what to purchase or what to say about any product mentioned in these posts. The Home Depot believes that consumers and bloggers are to form their own opinions and share them in their own words. The Home Depot's policies align with WOMMA Ethics Code, FTC guidelines, and social media engagement recommendations.