New Year's Word Search Printable
A new year approaches, and with it comes possibility. Can you see it? As you ring in another year, add this New Year's Word search to the fun. However, you don't want to forget to create a resolution or two.
It's been a crazy year, and consequently, New Year's might look different for many of us this year. There won't be thousands of people gathered in New York City, fewer parties will be hosted, and so many of you are anxiously awaiting the new year. Am I right?
Be sure to sign up for my email to get
new recipes and creative ideas
sent right to your inbox!
Are you a word game fanatic? I love them. As a result, I always put my word searches to good use. I'm hoping you might do the same.
Enjoy one over breakfast with your coffee or tea. You could certainly share the fun with your kiddos or grand kiddos too. In short, use when and where is appropriate in your home. Have a senior neighbor? Print one-off and share with them.
This New Year's Word Search could be used for the party on New Year's Eve or festivities on New Year's Day.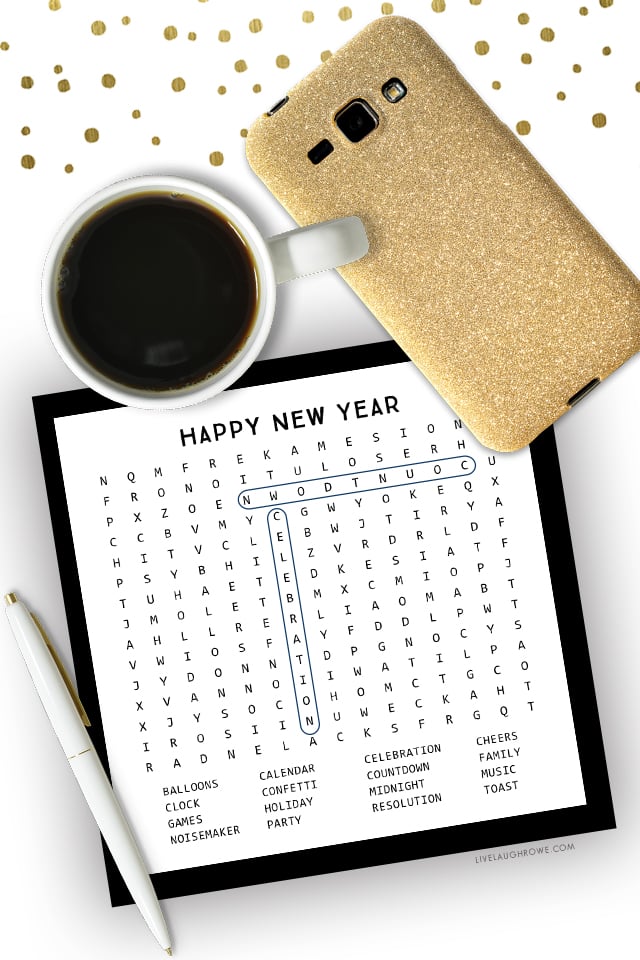 Hallmark and Goodbyes
I'm sure you're wondering where I'm going with this. Ha. However, stick with me… I promise it will make sense.
During the Hallmark Countdown to Christmas, I loved the movie Love, Lights, Hanukkah! Seeing Ben Savage in it took me on a walk down memory lane to TGIF tv shows. Does anyone remember Boy Meets World?
So, in the Hallmark movie, his name was David and his role was as loveable as Cory on Boy Meets World. For example, there was one scene where he was saying goodbye to his co-star Christina (played by Mia Kirshner).
In short, it was seriously the cutest scene. He started rambling off different ways of saying goodbye and, therefore, stated he could say it in 40+ different languages. It made me smile.
All that to say, whose ready to say goodbye to 2020? I know I am. I should've used the word goodbye in the New Year's Word Search (hee-hee).
Celebrate endings, for they precede
new beginnings. (Jonathan Huie)
Goodbye, adios, arrivederci, ciao, sayonara, bon voyage, and more to 2020. From stay-at-home orders to mask mandates and missing church (corporate worship), it's certainly been an odd year, to say the least.
I was just messaging a friend of mine and mentioned how much I miss normalcy. In addition to working from home, I've honestly become quite a homebody over the years.
However, my anxiety doesn't allow me the privilege of wearing a mask without becoming anxious so most shopping is done on-line and when we decide to eat out — we get it to go.
Shall we move onto the New Year's Word Search?
NEW YEAR'S WORD SEARCH PRINTABLE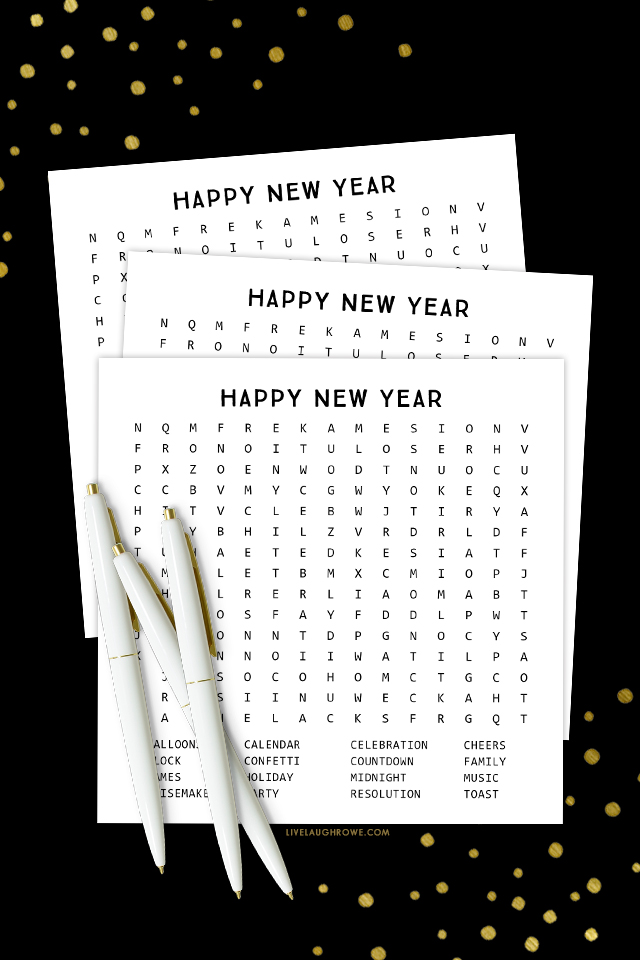 Other New Year's Printables:
Gold Foil Happy New Year
This Year…
Celebrating the Year
New Years Resolutions Printable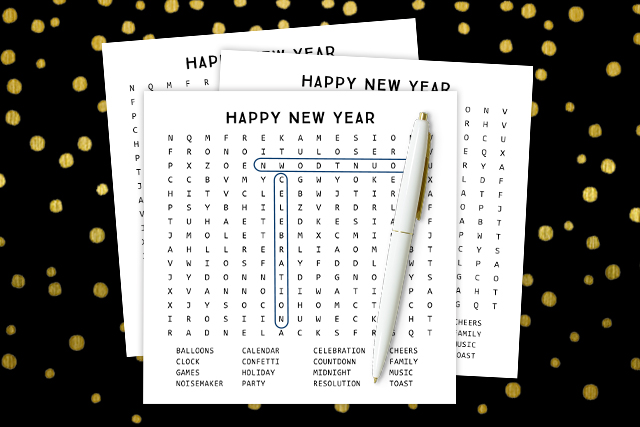 If you've been around the blog this past year, you might have seen all of the word searches I've shared. And noticed they're all square-shaped. Consequently, they're great for use at parties, dinner guests, or even cards.
So if it's a party for one or more — print and use these as a part of the fun. Simply print and cut. That's it. Easy peasy.
Please Note. Printables and downloads designed by Live Laugh Rowe are for PERSONAL USE ONLY. Therefore, please do not alter the file or claim it as your own. This file is not intended for resale, nor are the printed versions of this file.
Some readers expressed they were having trouble printing the PDF version. I believe it's a browser issue; however, please try this New Year's Word Search WORD DOCUMENT if you are having difficulties. With this option, you will need to Download, then Print.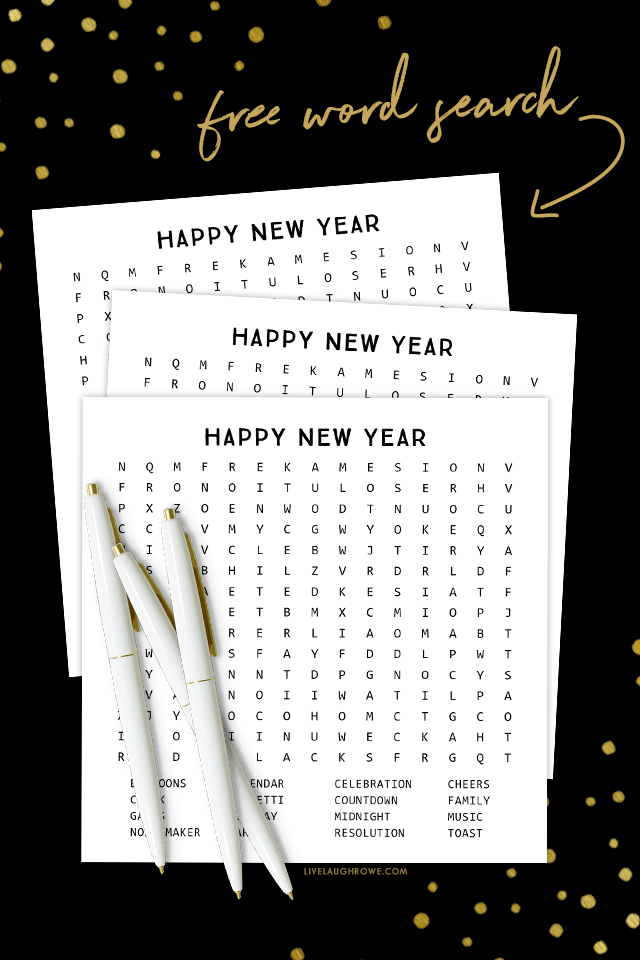 Connect with Live Laugh Rowe!
Facebook | Instagram | Pinterest | Twitter
Hugs and Blessings!