Design Your Own Canvas Artwork
I'm excited to share some fabulous artwork I created and turned into canvas artwork. Partnering with CanvasDiscount.com was timely. The canvases were so beautiful that I've ordered a couple more of my furbabies since our sweet Buster Brown recently passed. Nevertheless, my goal is to inspire you to design your own canvas artwork too — and add your personal touch to your decor.
Psst. Stick around, because I have a special code for you to use and save on your upcoming canvas order.
Be sure to sign up for my email to get new recipes
and creative ideas sent right to your inbox!
Over the years, I've had a canvas made here and there with photographs. However, I've never really designed my own artwork for a canvas. What if the dimensions were wrong or the resolution was too low? In short, I hated the idea of spending money on something that might be an epic fail.
Well, I decided 2020 was the year that I was kicking any doubt to the curb. Inspired by some split artwork I had seen on-line with a butterfly, I went on the hunt for some vintage butterfly artwork. Of course, I was a little nervous about it being large enough for printing purposes. However, I found the perfect butterfly at thegraphicsfairy.com.
Let's take a look at my process in designing my canvas artwork…
Split Butterfly Artwork
Using Photoshop, I created two canvases sized at 12″x 16″. I then split the butterfly between the two canvases, splitting the abdomen between the antennas. Perfection wasn't necessary to me because I like things to be perfectly imperfect sometimes.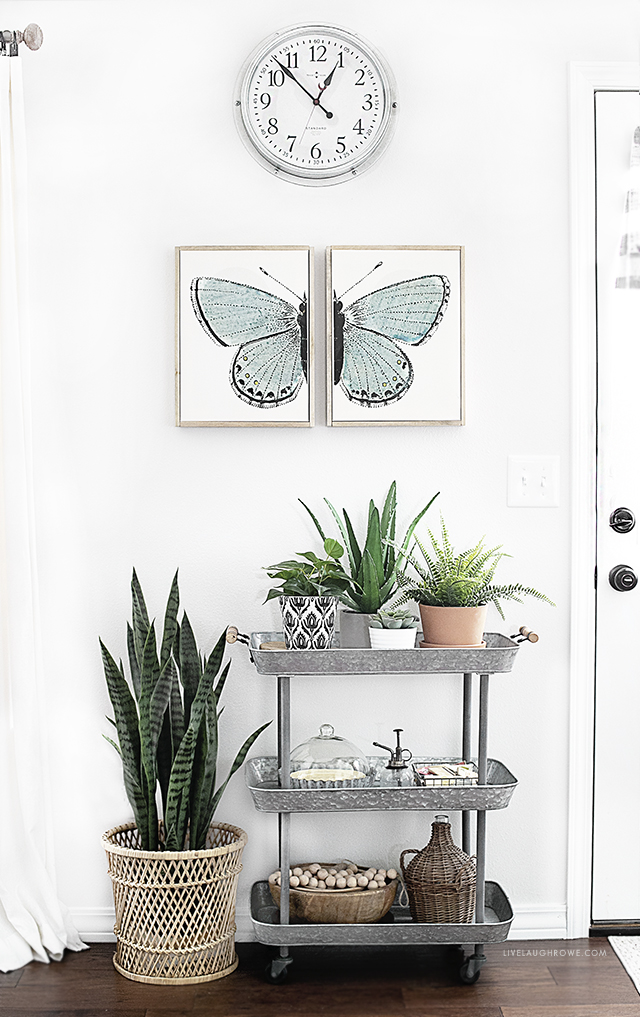 After digitally laying the artwork out between the canvases, I added a few of my own personal touches to the butterfly graphic to make it unique to my project. I was excited to see how it would turn out.
Framing the Split Butterfly
To be honest, I was unsure about framing these pieces. So I ordered these with white borders and 1.5″ thickness.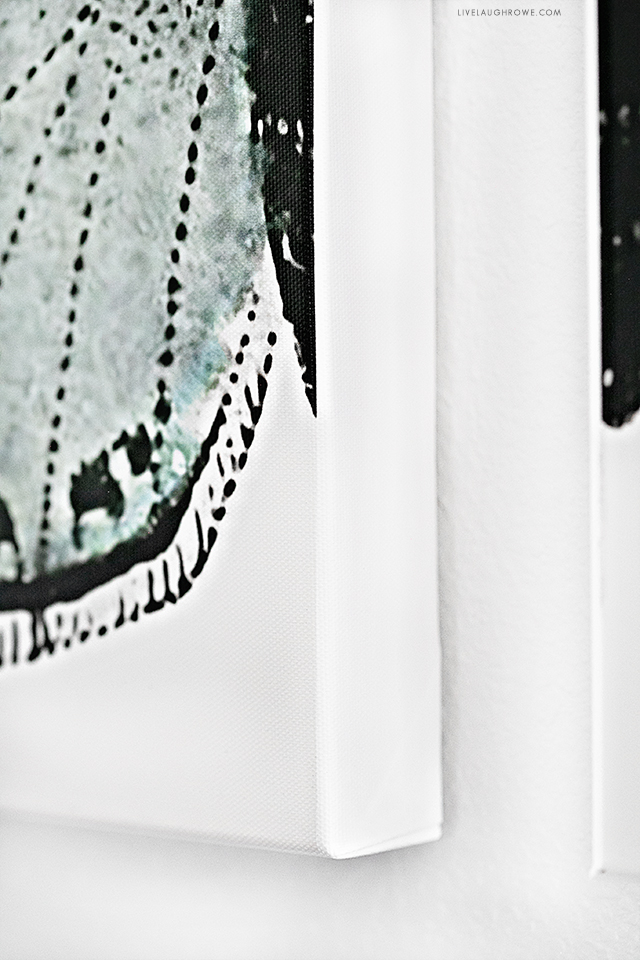 And we used the hardware we received from CanvasDiscount.com for these prints. You can see the construction of the canvases a little up close and personal too.
To make sure that the hardware was even on both of the canvases, we measured twice (haha). We then used a laser leveler to make sure they were lining up with one another. It worked perfectly. Woo-hoo.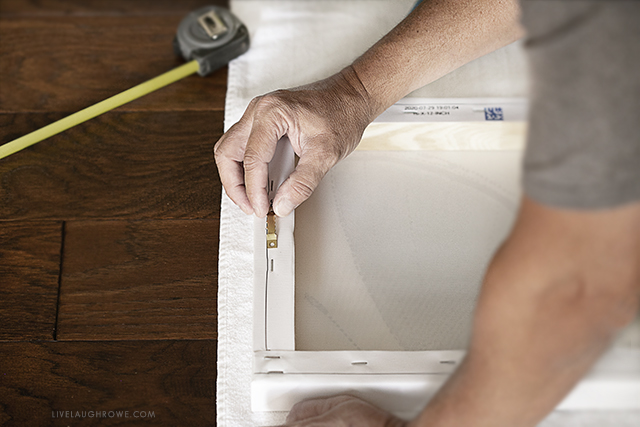 Whether we would keep the frames on or not was a decision we would make after the fact. We used poplar wood (1 x 8 x 4) and ripped it to about 1/2″ thick and 1-1/2″ wide. We then cut all the pieces to the appropriate lengths that fit the canvas. Using wood glue and clamps to assemble. They slip on and off — hello to a fabulous idea, a canvas accessory. Haha.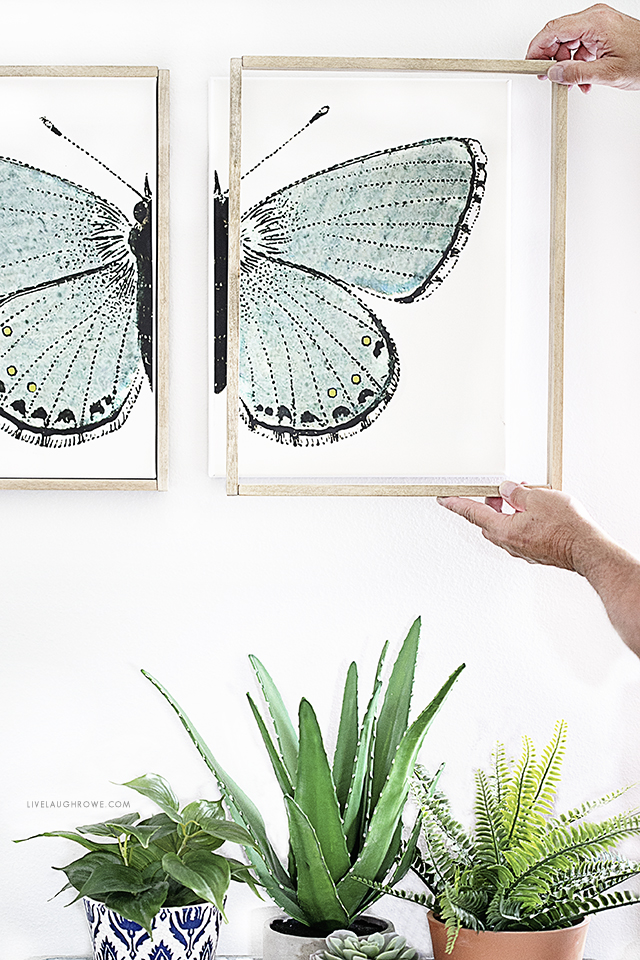 I've since decided that I love them framed. I used Weathered Oak as the stain. And since my style seems to be shifting to more of a boho feel, these were a great addition to our dining area.
What do you think? Framed or Not Framed?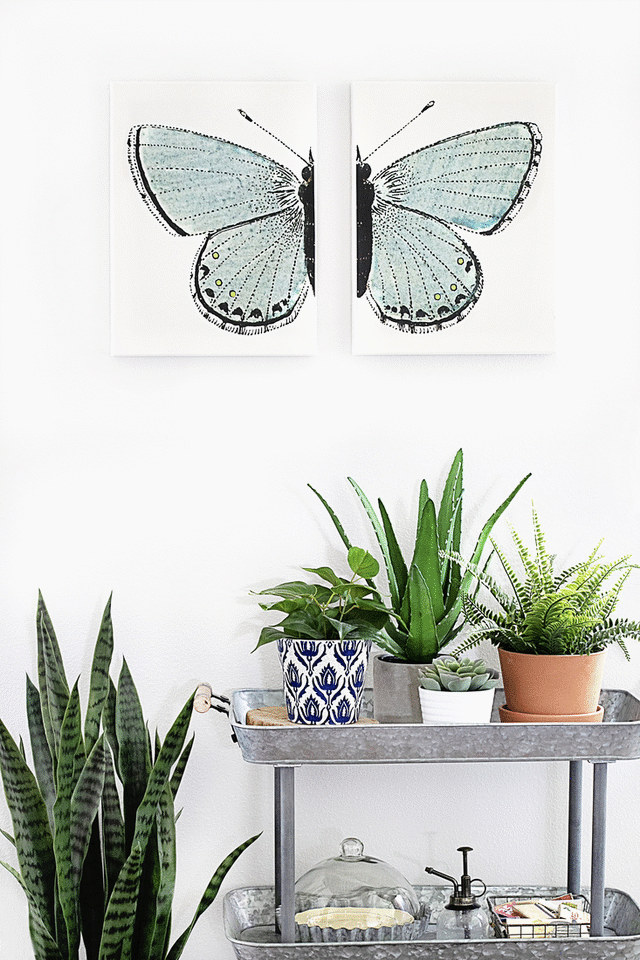 Quote Artwork
I am obsessed with this quote: This the place where everything is better and everything is safe. I'm not sure who said it, but my sister introduced it to me.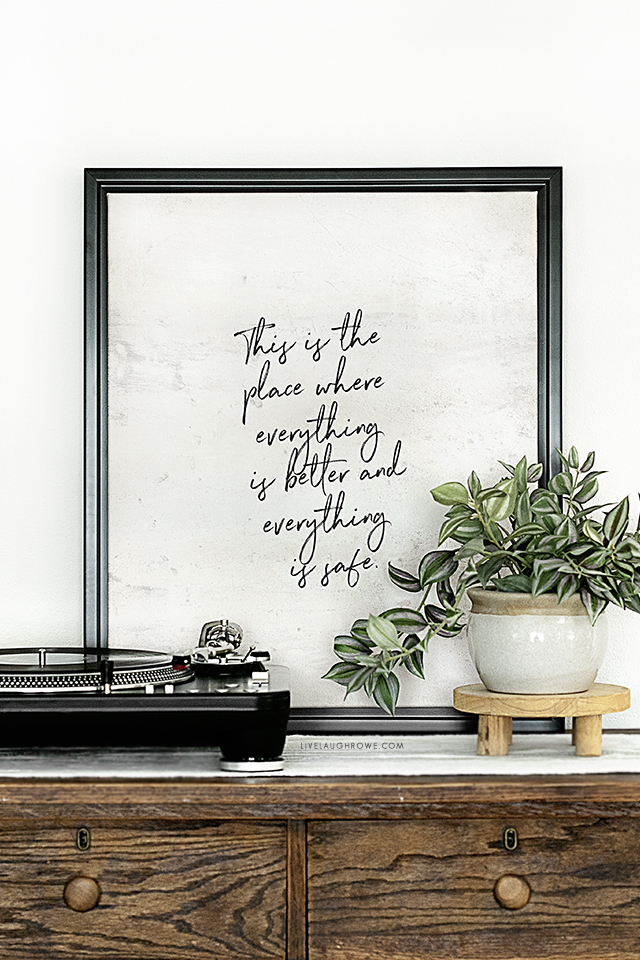 I designed this canvas artwork to be a 20″x 24″ used a background graphic I had, but the colors were a little louder than I wanted. So, I added a white overlay and adjusted the opacity to where I would be happy. I then added the quote with my new favorite font: Northwell.
This canvas design I chose to have framed with a black matte and I love it. The border is stretched around with .75″ thickness. This piece is pure perfection and makes me smile.
Since I've become quite a homebody over the years. Honestly, I love this place I call home, so it seemed appropriate to place in our living room. I propped this framed canvas on an old dresser we have in our living room. Therefore, no tools or hanging accessories were needed. Winning.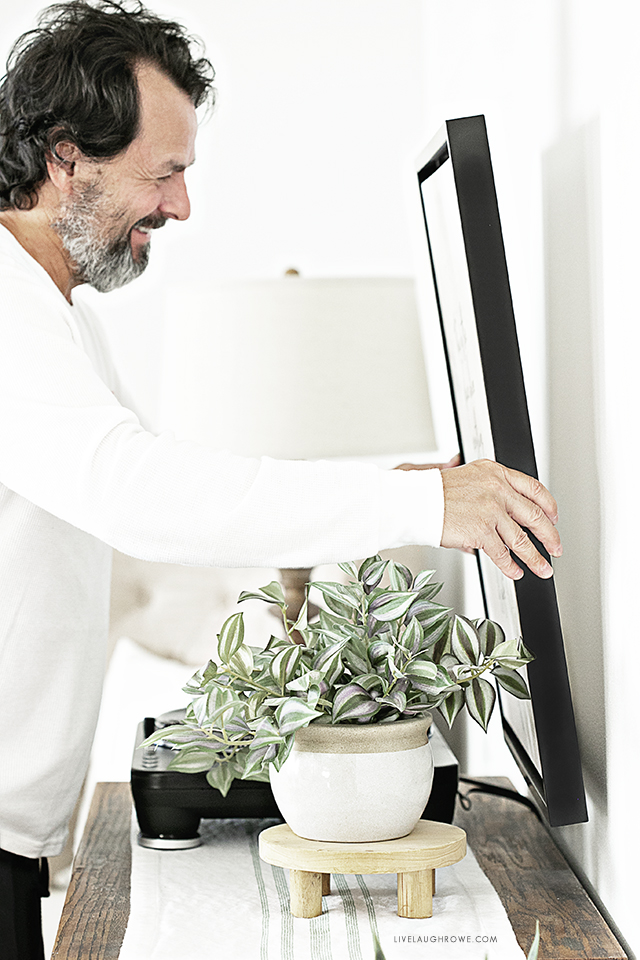 What do you think? They're all beautiful, right? I couldn't be happier with the artwork I designed and the quality of the canvas prints. CanvasDiscount.com also offers custom face masks. I'm super excited to share that I have a discount to share with you too. Use the code LIVE15 and you'll be able to save an additional 15 % off your canvas order. Whether you design your own canvas artwork or upload a photo, you won't be disappointed.
Other DIY Home Decor:
Galvanized Tray
Farmhouse Frames
DIY Storage Ottoman
DIY Window Treatment
Connect with Live Laugh Rowe!
Facebook | Instagram | Pinterest | Twitter
Hugs and Blessings!