How to Keep Your House Clean with Dogs is brought to you by Swiffer and Febreze. As long-time pet owners, I'm excited to share these tips with you so you Don't Sweat Your Pet. All opinions are my own.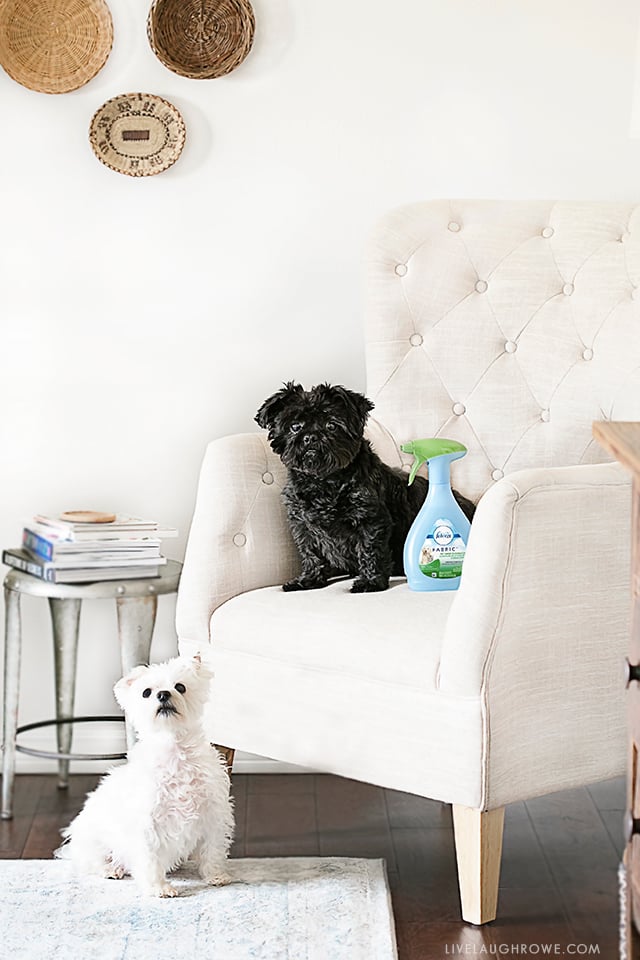 It's no surprise that some associate pets with never-ending messes and odors, which can take the joy out of pet ownership and prevent potential owners from adopting a furry friend. However, no matter how BIG or small the pet-related mess, Swiffer and Febreze are a pet owner's best friend.
Maybe you're thinking about adopting a dog or you've recently took the plunge into pet ownership. Perhaps you're in the loving stage — where, like us, you've had a pet but are looking for way to make clean-up easier?
Well, I have some good news for you! Swiffer and Febreze can alleviate any concerns and show even the savviest pet owners that there's no need to sweat any messes. So, let's take a look at a few quick tips and tricks…
How to Keep Your House Clean with Dogs:
Clean Doggies.
Keep them groomed and bathed as necessary helps in the big picture. Less licking, scratching and smells!
We've noticed that Buster rolls around on his back a lot more when he's in need of a bath. However, he likes to roll in the grass and has a thicker coat, so the buildup starts to make him itchy. Keeping him clean helps to keep everything else a bit cleaner too.
This isn't a problem with Parker, but regular grooming is a must to keep his coat shorter and clean. Parker is my snuggler and cuddler — and no one wants to cuddle a stinky dog. Right?
Dust.
Keeping furniture, base boards, window sills and even their crates dusted is essential. Swiffer 360 Dusters are an amazing all-around design that cleans deep into grooves to trap and lock up to 3x more dust than a feather duster.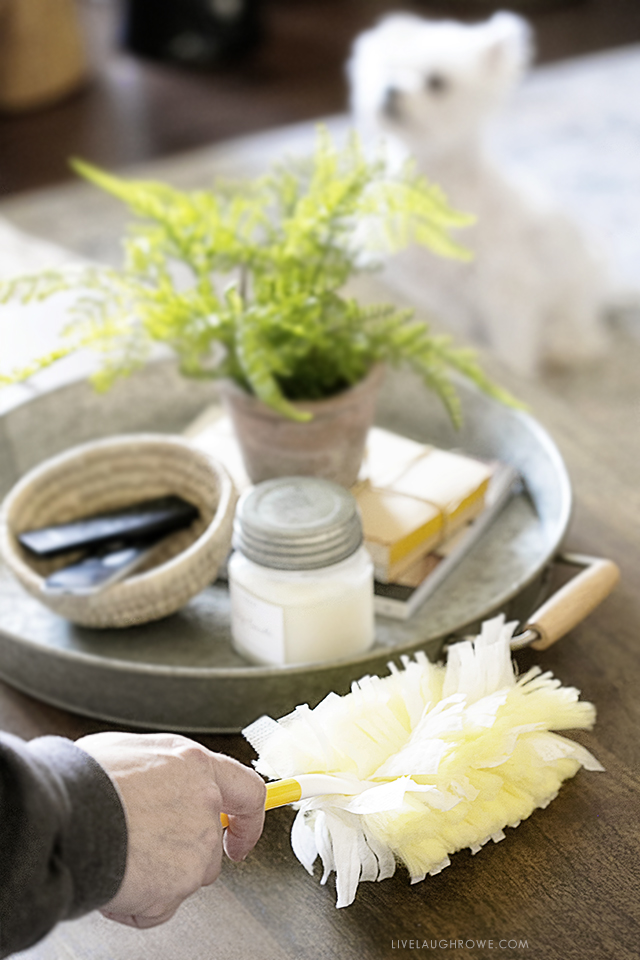 It's so easy to grab my Swiffer Duster and do quick dusting on all the furniture, sills, etc.
Clean Floors.
Hard Surfaces. Muddy, wet paw prints are my biggest challenge (especially during the winter and wet weather). We try to minimize the paw prints by keeping a towel by the back door to wipe their paws, along with a rug to catch some of the dirt.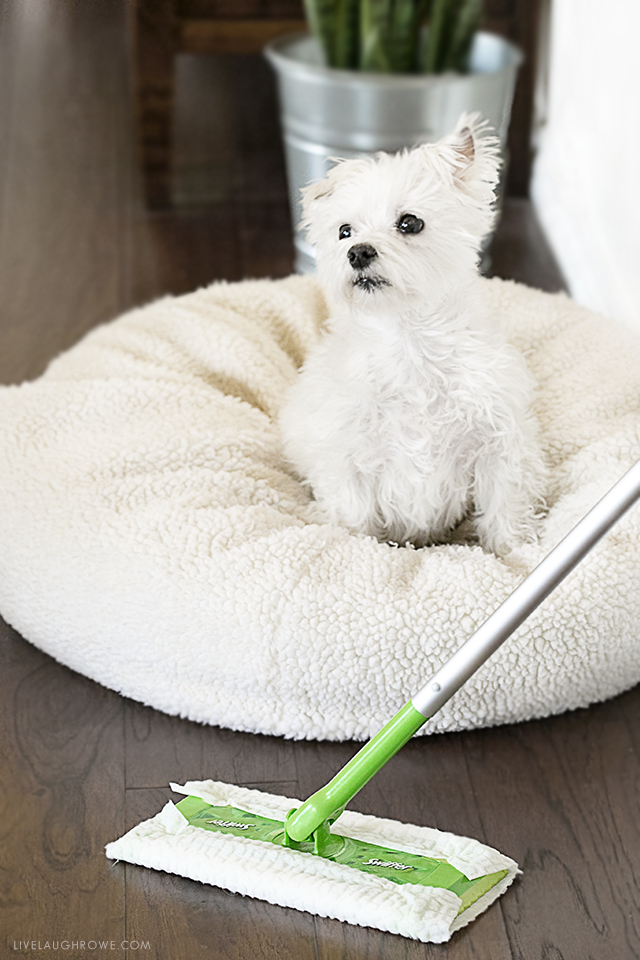 Of course, that never alleviates all the paw prints, so having my Swiffer Sweeper on-hand is a lifesaver. From crumbs to paw prints, the dry cloths trap and lock dirt, dust and hair — and the wet cloths dissolve dirt and grim! And all of that gives me an amazing clean floor!
Carpets. Vacuum carpets often, as they are a trap for all kinds of grime.
Fresh Smelling Home and Fabrics.
Fabrics. Keep fabrics clean and smelling fresh. How? Regularly wash pillows, toys, bedding that might need to be regularly washed.
If you have slipcovers, wash them on a regular basis. We have a light colored couch, so I keep a sheet over the bottom cushions — and wash that regularly.
In between washes, Febreze Fabric Pet Odor Eliminator is paw-fect for hard-to-wash fabrics such as upholstery, carpets, blankets and more! A little spritz can go a long way — and the odor removal works once slightly damp.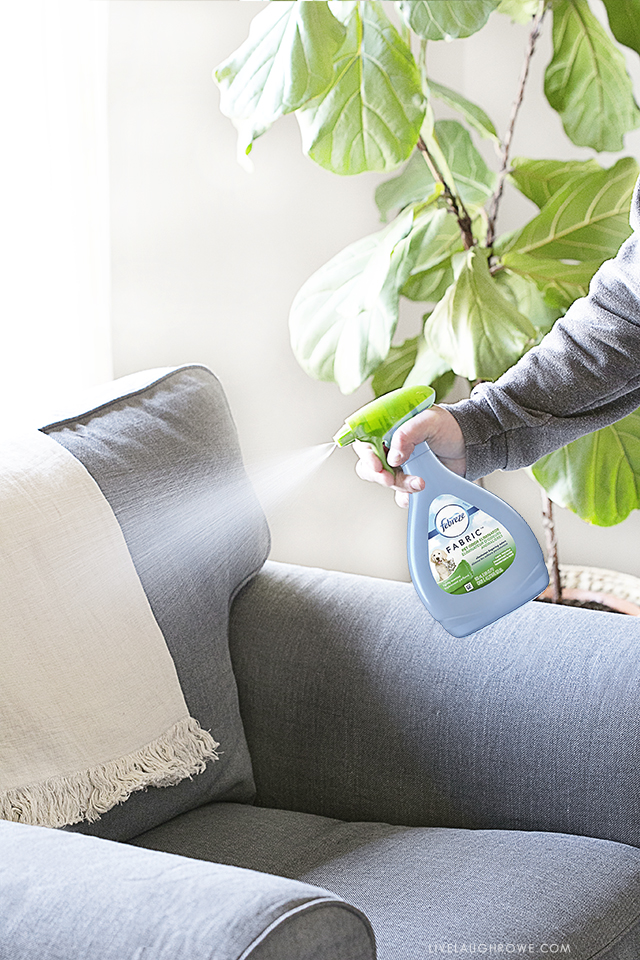 Buster Brown has some ear problems and rubs his ears on the carpet, furniture, etc. Sometimes it gets a little smelly, so having Febreze on-hand is a lifesaver.
Home. If there is one thing that I despise, it's the smell of a wet dog. Thankfully Febreze AIR Heavy Duty Pet Odor Eliminator has 2x more odor eliminating power. This spray can be used throughout the entire house to combat odors from everyday pet smells (particularly the wet ones for me, haha).
Swiffer has become such an integral part of our home and I hope that you can see how it contributes to our clean home and frees up time to love on our (adorable) furry friends. Sniff sniff. Do you smell that? Yeah? All that Febreze© freshness? Oh yeah! Pick yours up at Target today!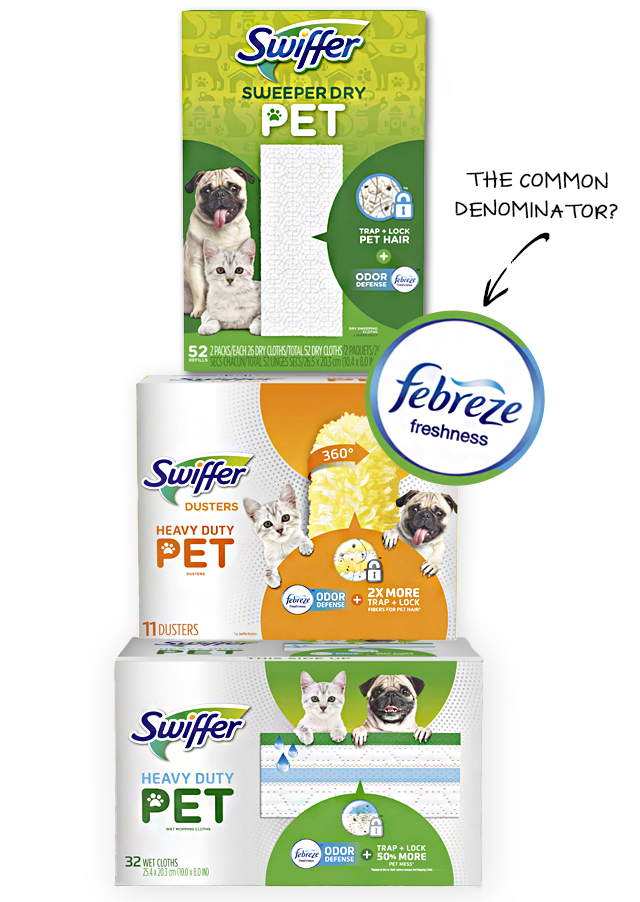 What tips would you recommend? I loved some of the ideas my gal pals shared on How to Keep Your House from Smelling Like a Dog too.

Be sure to visit with me here too:
Facebook | Instagram | Pinterest | Twitter | Google+