Raspberries and Cream Popsicles for the win! With the warmer hot weather rolling in, keeping some frozen treats on-hand is a must-have in our home! We all know what that means – POPSICLES! Who doesn't love a sweet treat that is not only delicious, but can cool you off on a hot summer day? Well, I know I do! With that being said, let's give these Raspberries and Cream Popsicles a try!
Before sharing the recipe, let's talk about my favorite popsicle maker, mmmkay? I use and love the Prepworks Freezer Pop Maker. My mother-n-law was in town recently and I had some popsicles in the freezer. Guess what she said? "Oh wow, those look like real popsicles. Booyah! That's why I like this mold. The popsciles turn out beautifully every. single. time.
If you have a fabulous popsicle maker, don't you think a popsicle recipe book would come in handy? Enter People's Pops, a recipe book with over 5o Recipes for Ice Pops, Shave Ice, and Boozy Pops from Brooklyn's Coolest Pop Shop! Yes, please. Be sure to pick up a copy and stock up that freezer!
Now, let's make some yummy popsicles!
Raspberries and Cream Popsicles
Ingredients
1

pound

4 cups frozen raspberries

2/3

cup

simple syrup

1/2

cup

heavy cream
Instructions
Purée raspberries in food processor and transfer to a bowl or measuring pitcher with pouring spout.

Add simple syrup to raspberries and mix well.

Add cream and stir, minimally.

Pour mixture into popsicle molds, leaving a little extra room at the top for the mixture to expand.

Insert sticks and place in freezer for 4-5 hours. Unmold and enjoy!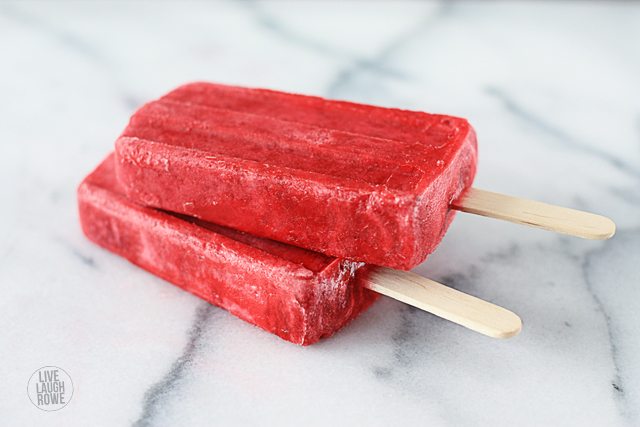 And now it's your turn! Popsicles, here we come…
Pssst! If you like frozen treats, you might give these a try too!
Creamsicle Pie
Skinny Banana Ice Cream
Caramel Macchiato Popsicles
Strawberry Banana Frozen Yogurt Bars

Be sure to visit with me here too:
Facebook | Instagram | Pinterest | Twitter | Google+