How to Make Raspberry Puree
Raspberry Puree is a delicious addition to so many dishes — from ice cream to brownies and more. This would be a great sauce on the mini cheesecakes I shared earlier this week too. So, if you'd like to add a little extra tart with a berry twist to a snack or dessert, this recipe is for you. I'm super excited to share this simple recipe on how to make raspberry puree — and take your dessert to the next level.
Be sure to sign up for my email to get new recipes
and creative ideas sent right to your inbox!

Delicious and Versatile Berry Sauce
It's funny how a recipe or food can take you on a stroll down memory lane. While living in St. Louis, I remembered making brownies for dessert for some company we were having over for dinner.
I didn't want to serve the standard vanilla ice cream with it, so I thought I would try what I thought was a raspberry puree. I threw some frozen raspberries in the blender, add a little sugar, and called it good (with the addition of whip cream, of course)
In short, it was delicious. However, the seeds were an unwelcome addition. At the time I didn't think too much about it. Fast forward about 6 or 7 years…
Check Out My Video
For Father's Day this year, my dad asked for a moist (very moist to precise) chocolate cake. I volunteered. And as a result, I made mini chocolate bundt cakes with my new
mini bundt cake pan
that I got from Pampered Chef.
I even added chocolate chips to elevated the chocolate flavor. Oh my goodness, so good.
Next up to figure out was what we'd put on the chocolate bundt cake?!? My mom and I decided that a fudge syrup would be good with some cool whip.
But, I wanted to take something else. I thought about that raspberry sauce I made in St. Louis but decided I need to do a little more investigating on how to make raspberry puree accurately.
I'm happy to report that the puree turned out amazing and was a big hit. Therefore, everyone wanted to take the extra bundt cakes and puree home. Winning.
In other news, did you know that this recipe is also called Raspberry Coulis? I had no idea. On the other hand, you know what they say, "you learn something new every day," right?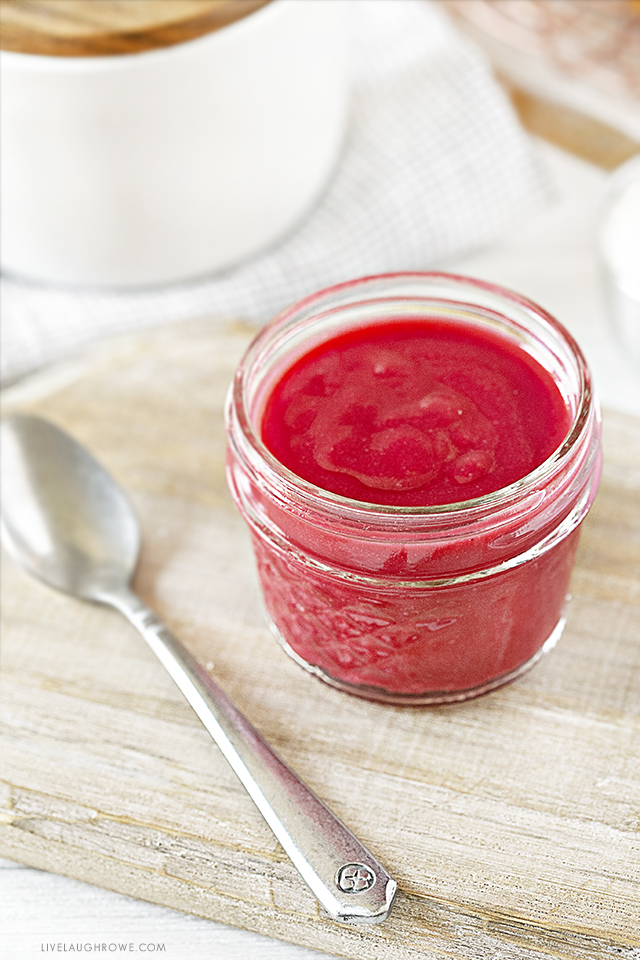 How to Make Raspberry Coulis
Ingredients:
(Unsweetened) Raspberries
White Granulated Sugar
Lemon Juice
Instructions:
Start by thawing the unsweetened raspberries. Once thawed I placed them in my Ninja Blender. A handheld immersion blender will work too.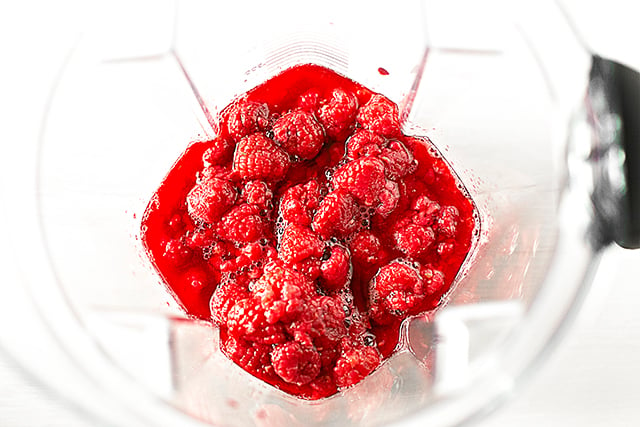 Secondly, let the berries puree.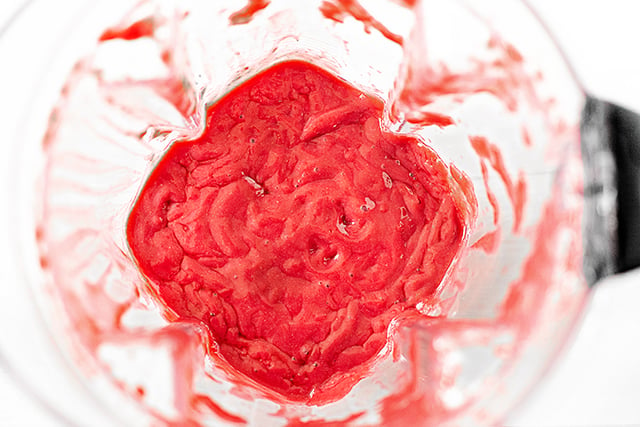 Now it's time to strain the puree and separate the seeds from the juice.
How do you strain raspberries puree?
Place a mesh strainer over a bowl. Next, you'll transfer the raspberry puree into the mesh strainer.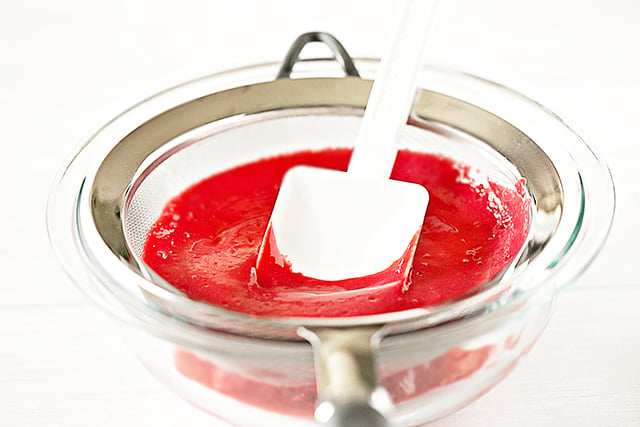 Using the back of a spoon or a spatula, continue to gently press the puree through the strainer. This can be a little tedious, but it's certainly worth it in the end.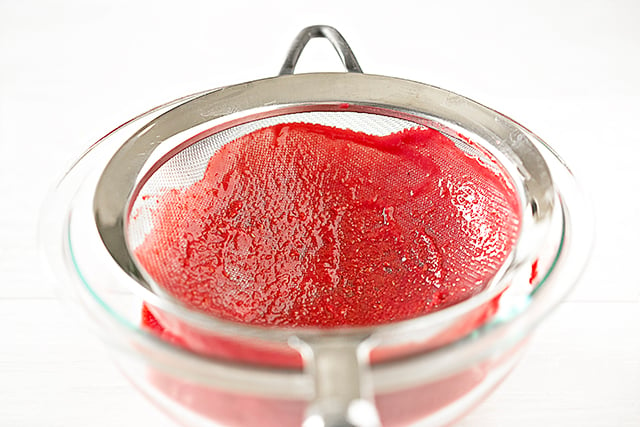 Once the raspberry puree is in the bowl, all that you should have left in the strainer are the seeds. After that, discard the seeds and set the strainer aside.
Add sugar…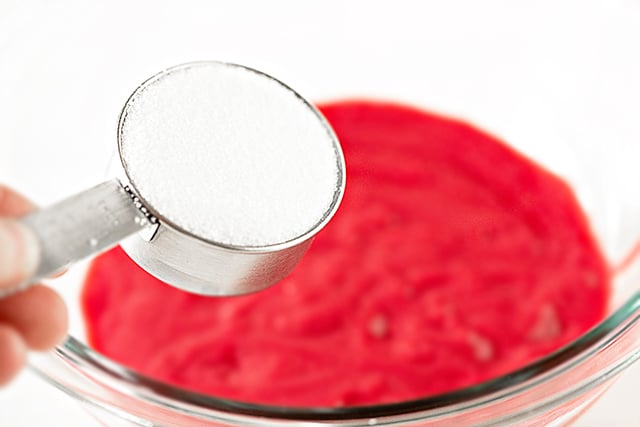 And lemon juice…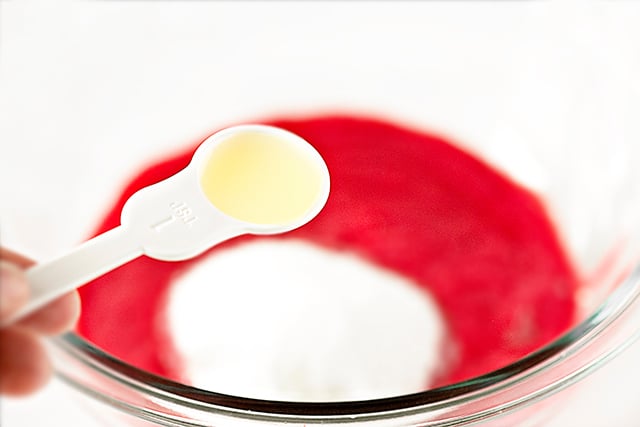 Stir well until the sugar is completely dissolved. Cover store in the fridge for up to a week (or so).
I like to put mine in a small jelly jar. Double it and you can share with a friend or two (wink-wink).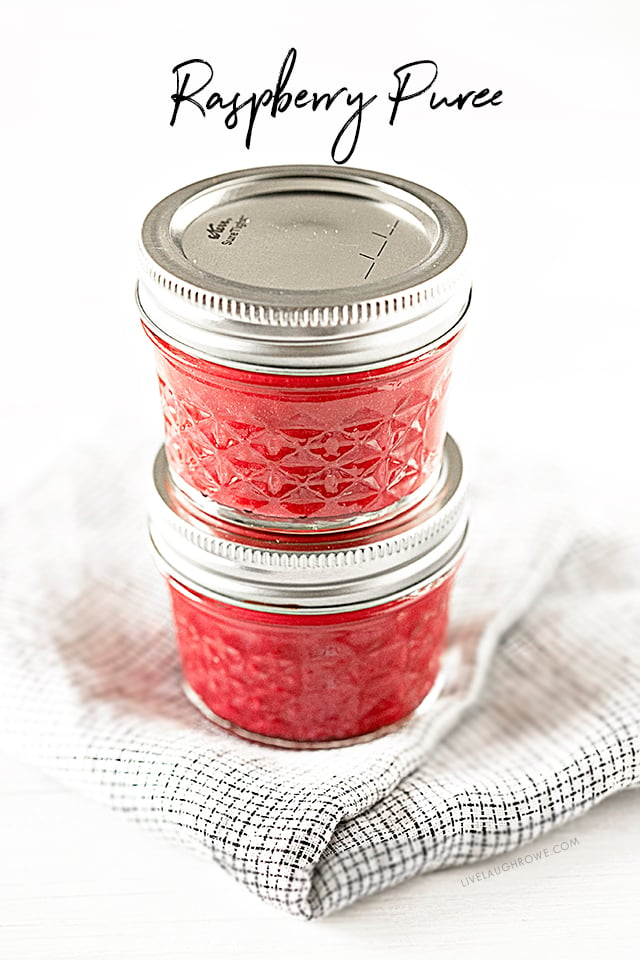 Other berry desserts to try:
Strawberry Pie
Strawberry Galettes
Blueberry Muffins
Cranberry Scones
Let me know what you think about this delicious raspberry puree. It's so versatile too — makes a great topping on ice cream, mini cheesecakes, brownies, cake, yogurt, and more. Yum. Enjoy.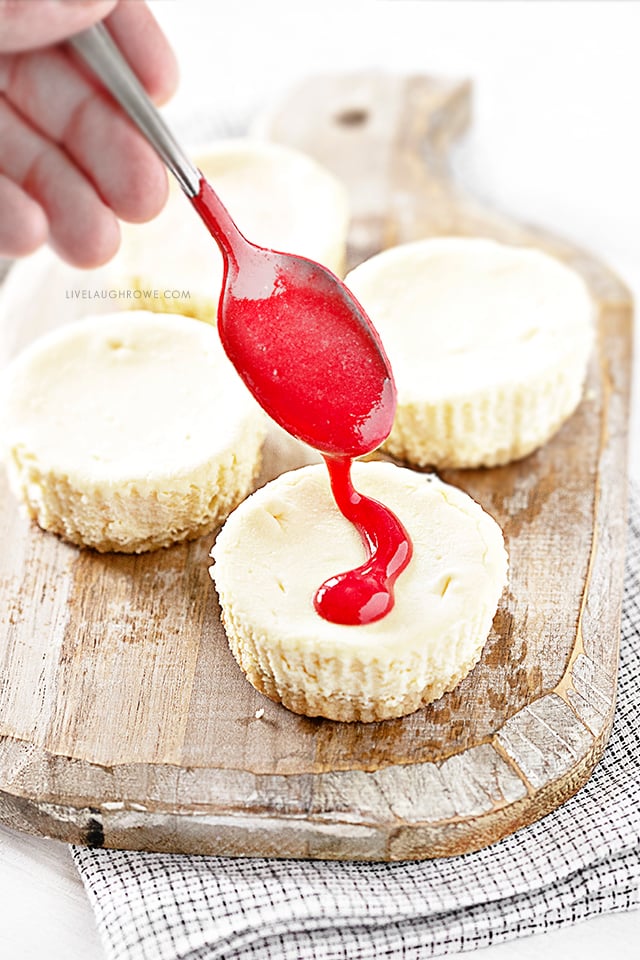 Raspberry Puree
Ever wondered how to make raspberry puree? You're in luck! Enjoy this sweet and tart puree on ice cream, brownies, cakes, yogurt, and more.
Ingredients
24

oz

Unsweetened Frozen Raspberries

1/4 to 1/2

cup

white sugar (or to taste)

1

tsp

lemon juice
Instructions
Place a mesh strainer over a medium-sized bowl and pour raspberry purr into the strainer.

Using the back of a spoon or spatula, press the puree through the mesh strainers. Once the seedless puree is in the bowl, discard of the seeds and set strainer aside.

Add sugar and lemon juice to the bowl with puree and stir well.

Store in a covered container in the refrigerator for up to one week or freeze up to one year.
Notes
Yield approximately 3/4 cup.
Connect with Live Laugh Rowe!
Facebook | Instagram | Pinterest | Twitter
Hugs and Blessings!