These bite-sized Pecan Pie Bars are great for a church or work social event! With a flaky crust and all the delicious flavor of a pecan pie, this is sure to be a real crowd pleaser!

Bite-Sized Pecan Pie Bars


Dessert is my jam. I love it and I've always had a bit of a sweet tooth. How about you? Do you love dessert?
Last year I discovered a local pie place called Prairie Pie. Soon thereafter, I re-discovered my love for Pecan Pie. They make large and mini pies. You can find the mini pies in a number of local grocery stores and other small retailers.
And let me tell you, they are amaze balls! The crust is flaky to perfection and, well, my mouth is watering just thinking about it.
One time I tried a Bourbon Pecan Pie — Dear Lord… Of course, when you're trying to lose weight, you share. Right? With these pies, it's almost impossible to share. HA! I mean, they're mini pies, so sometimes it's okay to splurge and eat the whole thing.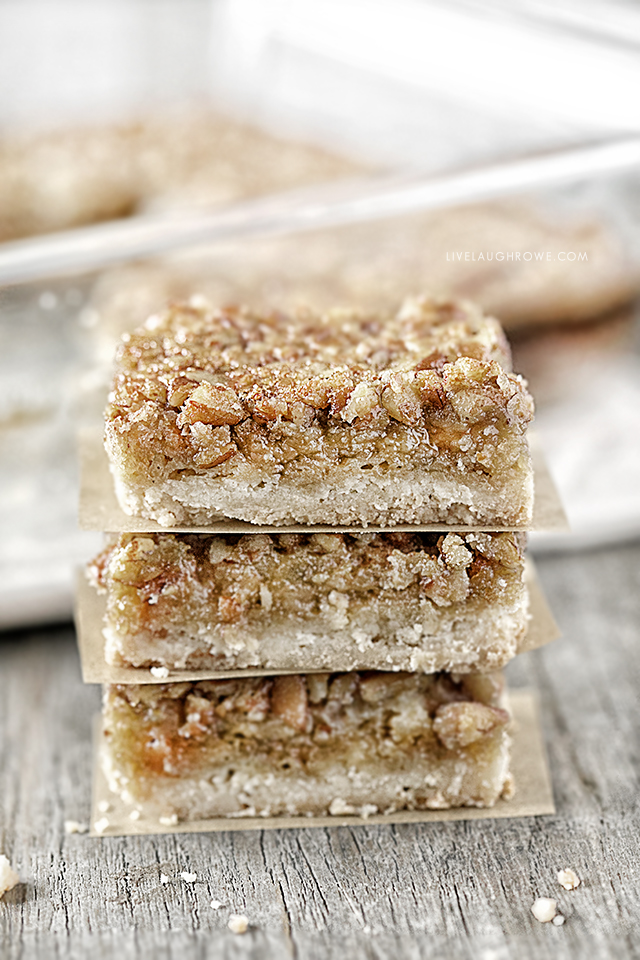 As you can imagine, when I found a Pecan Pie Bar recipe in my recipe box, I was pretty darn ecstatic. My sister joined me in the kitchen for this baking day and our first attempt was a big fat FAIL. The crust was thin and burnt. Womp womp womp!
It's at these moments where I have to decide whether we made a mistake — or make a new batch with some revisions. I also have to take into consideration how the photographs will turn out. Insert face palm.
Well, I decided to tweak the crust recipe and made a second batch. Best decision ever! Crust was spot on and tastier than ever. These Pecan Pie Bars nail the pecan pie flavor and if you like a shortbread crust, you're in for a real treat!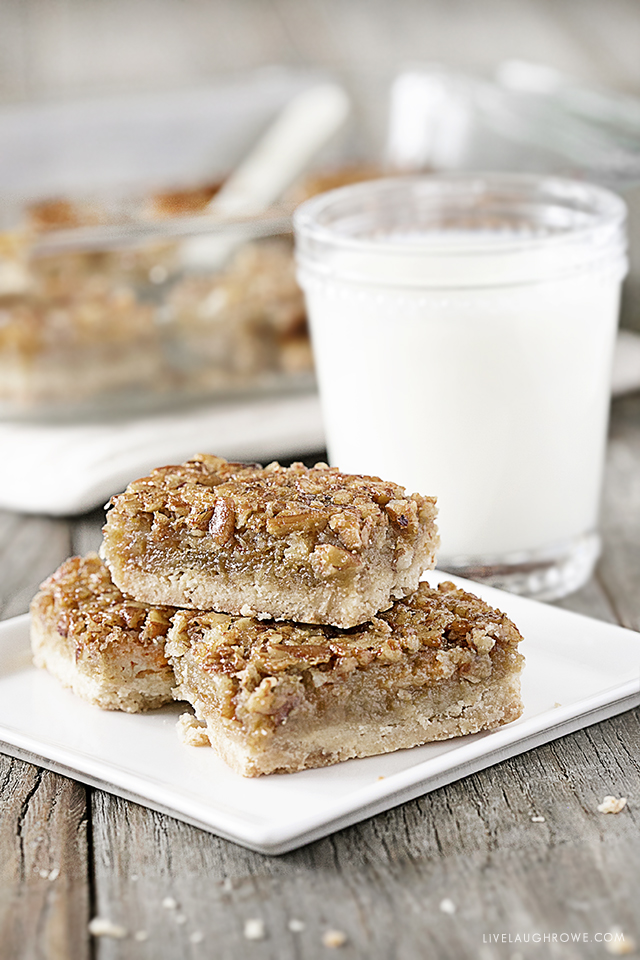 So when the next pot luck or social event pops up on your calendar, plan to whip up a batch of these bars. They will not disappoint. Enjoy!
Pecan Pie Bars
Ingredients
Crust
1/2

cup

butter, softened

1/3

cup

brown sugar, firmly packed

1 1/4

cup

all-purpose flour
Filling
2

eggs

1/2

cup

brown sugar, firmly packed

2

tbsp

butter, melted

1/2

cup

light corn syrup

1

tsp

vanilla extract

1/2

cup

chopped pecans
Instructions
Preheat oven to 350 degrees. Grease 8x8 pan.
For Crust
Add flour; beat until well blended.

Press into bottom of 8x8 pan.
For Pecan Pie Filling
While crust is baking, beat eggs in a large bowl and add brown sugar, melted butter, corn syrup and vanilla.

Blend in pecan and pour mixture over hot crust.

Bake for 20-25 minutes or until set. Cool and cut into bars
More amazing dessert inspiration:
Easy No-Bake Cheesecake Mousse
Chocolate Whoopie Pie with Salty Peanut Butter Frosting
Sopapilla Cheesecake Recipe
Lemon Bars (on the Skinny Side)
Oreo Cupcakes with Cookies and Cream Frosting

Be sure to visit with me here too:
Facebook | Instagram | Pinterest | Twitter | Google+