Have a sweet tooth? Love Oreos and chocolate? Then these Oreo Cupcakes with Cookies and Cream Frosting will not disappoint. While these cupcakes are great for sharing, this chocolatey goodness might be something worth keeping for yourself!
Have you tried these Amazing Oreo Cupcakes?


Have you ever heard the saying, "I want to have a good body, but not as much as I want dessert?" Haha. Can anyone else relate to that? I hate that I struggle with my weight so much, but it's only because I love food — and dessert! I have such an awful sweet tooth.
So, as you can imagine, these Oreo Cupcakes make the struggle REAL! Chocolate goodness with a creamy frosting — one cupcake just won't be enough. Another reason you'll want to try these is seen on the inside…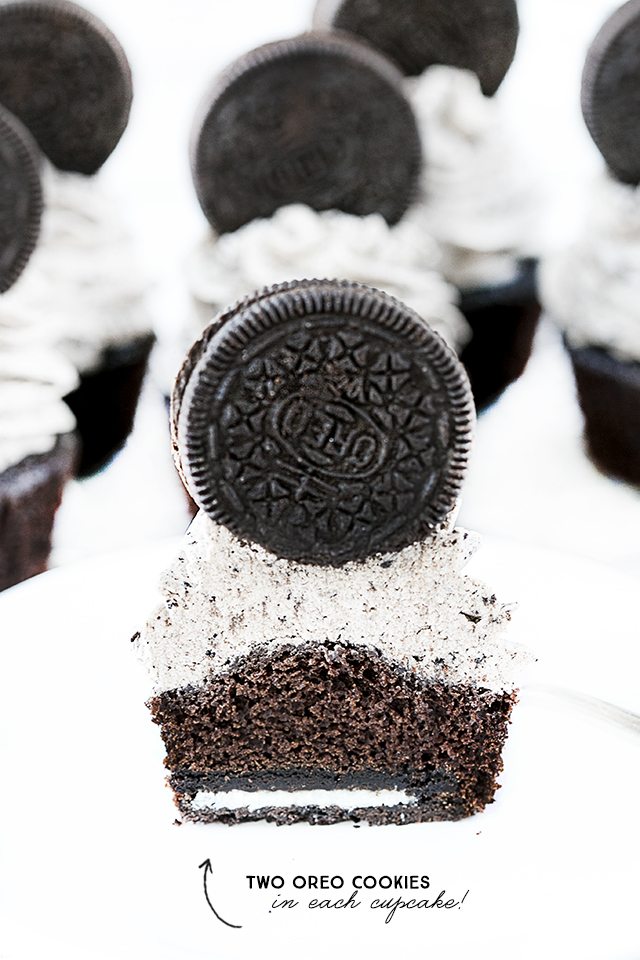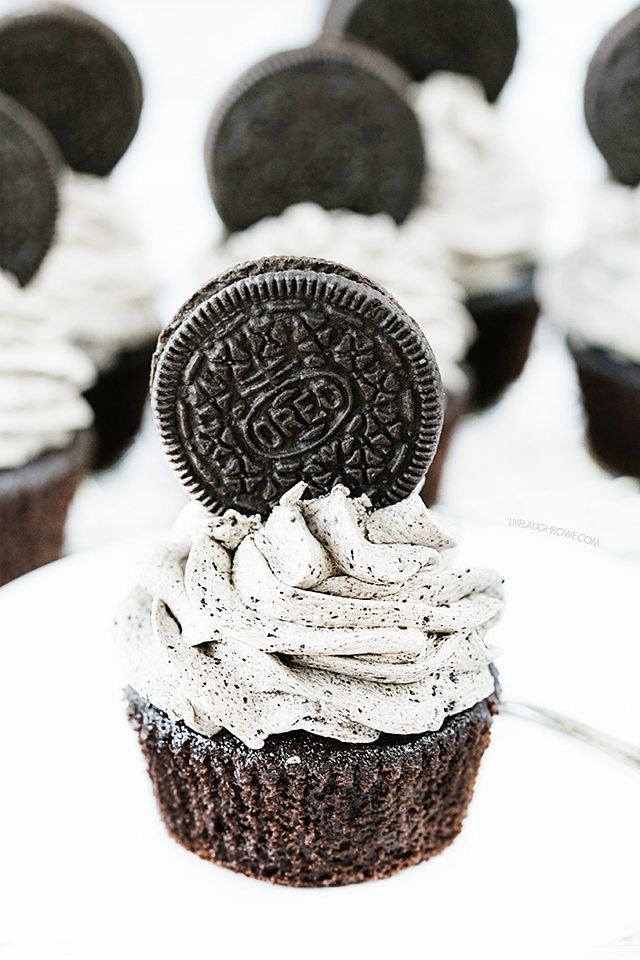 Tag, you're it! Go forth and make delicious cupcakes. Enjoy
Oreo Cupcakes with Cookies and Cream Frosting
Ingredients
Cupcake Ingredients
3

oz.

bittersweet chocolate

finely chopped

1/3

cup

unsweetened cocoa powder

3/4

cup

hot water

3/4

cup

bread flour

can use all-purpose but cupcakes will be more dense

3/4

cup

sugar

1/2

tsp

salt

1/2

tsp

baking soda

6

tbsp

vegetable oil

2

eggs

2

tsp

vanilla extract

2

tsp

white vinegar

2

Oreo cookies per cupcake

36
Frosting Ingredients
5

tbsp

all-purpose flour

1

cup

milk

1 1/2

tsp

vanilla extract

1

cup

softened butter

1

cup

granulated sugar

1

cup

crushed Oreos
Instructions
Pre-heat oven to 350 degrees

In a large bowl, combined chopped bittersweet chocolate, cocoa powder and 3/4 cup hot water. Whisk until smooth and all chocolate is melted. Place in the fridge to chill for about 30 minutes

In another large bowl, combine flour, sugar, salt and baking soda

When the chocolate mixture is cooled, whisk in 6 tbsp vegetable oil, 2 eggs, 2 tsp vinegar and 2 tsp vanilla extract

Combine the dry ingredients with the wet and whisk until all of the ingredients are incorporated together

Line cupcake pans with paper liners and place 1 oreo in the bottom of each liner

Pour batter over each cookie and fill each liner 3/4 full. You should get about 18 cupcakes

Bake for 15 minutes or until toothpick comes out clean

Cool on a wire rack

While the cupcakes are baking, prepare the frosting. In a small sauce pan combine 5 tbsp all-purpose flour and 1 cup milk. Whisk constantly over medium-low heat until it becomes REALLY thick. Place in refrigerator or freezer until it is cooled completely

When the milk mixture has cooled, cream together butter, sugar and vanilla until creamy. Add in the milk mixture and mix on low for about 30 seconds. Then mix on high for about 3 minutes or until it becomes whipped cream like. Add in crushed Oreos and mix for about 30 seconds

Pipe frosting onto each cupcake and top with an additional cookie for garnish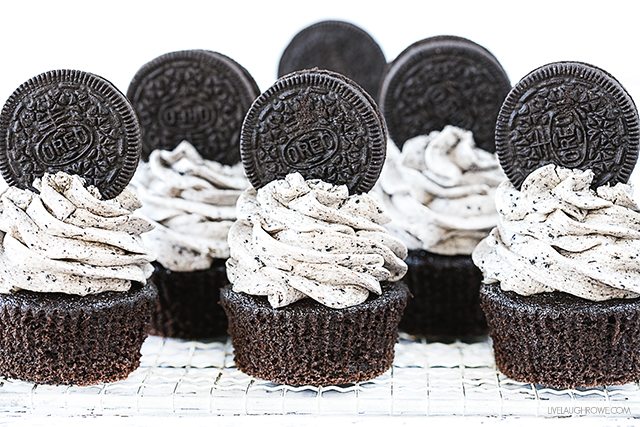 It's been said that you can't be sad when holding a cupcake — so, what are you waiting for?

Be sure to visit with me here too:
Facebook | Instagram | Pinterest | Twitter | Google+