Sharing some fabulous thrift store finds that were re-homed in my living room and on my dining room table! It's amazing what simple decor updates can be made — and on a budget!
When I lived in St. Louis, there was a Goodwill about 5 miles from my house. It's safe to say that I made a lot of trips (or stops) there. Sometimes I had no purpose at all and other times I was a on a mission.
Since moving to the Springfield-Rogersville area, I haven't made too many trips to thrift stores. As a result, this was a fun challenge for me. Finding some great pieces and sharing them with you (styled in my home). I was also able to put my Thrift Store Shopping Tips into action too.
As many of you know, I really love the farmhouse style. However, since getting a couple of new pieces of furniture over the holidays, I've been adding some bohemian vibes to my living room.
Simple Decor Updates using Thrift Store Finds


With that decision, I thought I would add a boho basket wall vignette to one of the walls. We've been in our house over a year and I haven't hung a lot of stuff. Fear of commitment, maybe? Haha. My mom and sister have been giving me a hard time about that. So, I was pretty proud of myself for committing to this idea!
Anywho, I scrounged up a couple of baskets I had on-hand and then visited a couple local thrift stores/vintage markets to complete the vignette. I laid all of them out on the floor to get a visual — snapping a picture with my iPhone.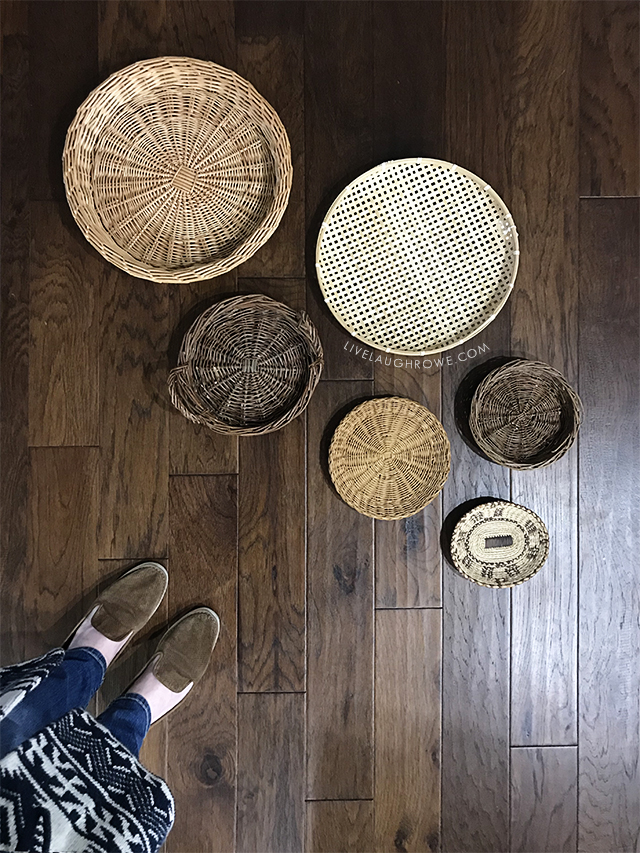 Sometimes you have to think outside the box when you're not finding what your looking for too! As you can see below, I used a plate charger and wicker paper plate holder in my vignette.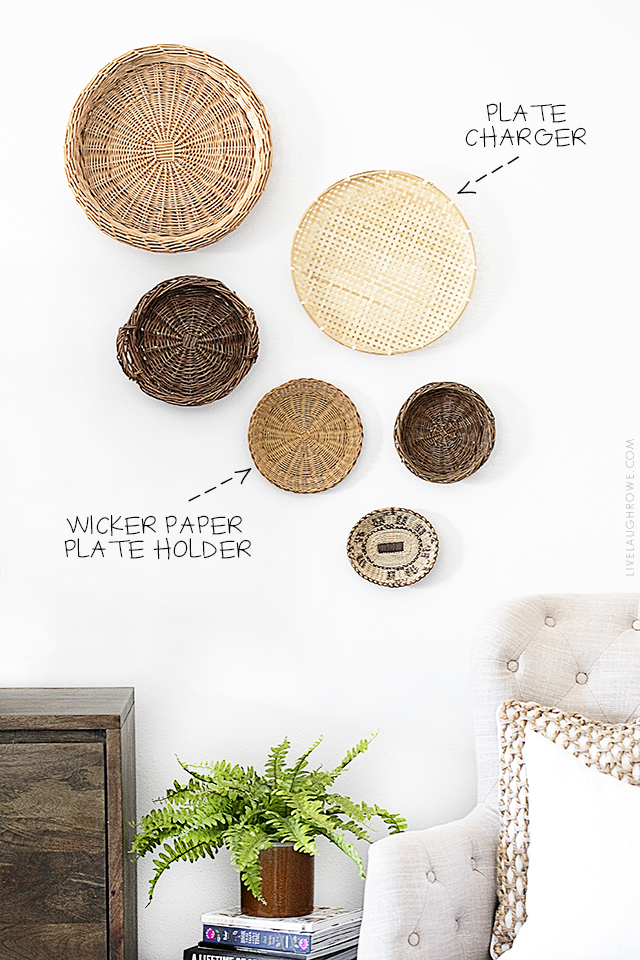 I think they vignette might evolve over time, but I did fall in love with this display. It's simple, yet makes a statement at the same time. And better yet — it was super inexpensive to pull together.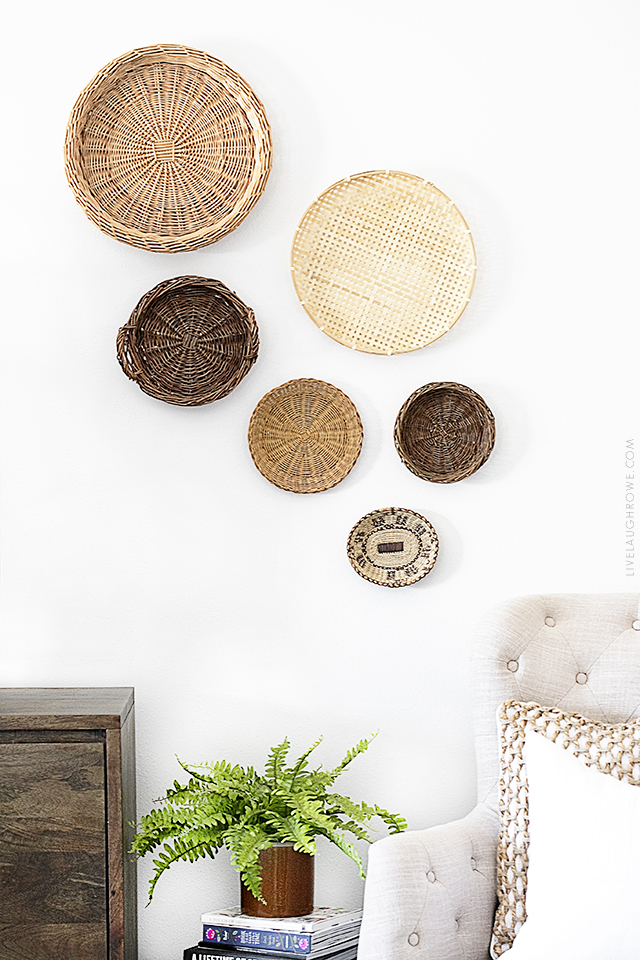 A second item among my thrift store finds was this awesome sauce basket. It could be used for a trash can or (in my case) a plant holder.
Boho Plant Holder
This cost me $6.99. Funny enough I had my eye on a wicker plant stand from IKEA earlier this year, but upon seeing it in the store, I decided against it. And then I scored this beauty!
A happy dance may have taken place in the thrift store… and I had no shame (wink). My sweet Parker wanted to get in on one of the pictures too.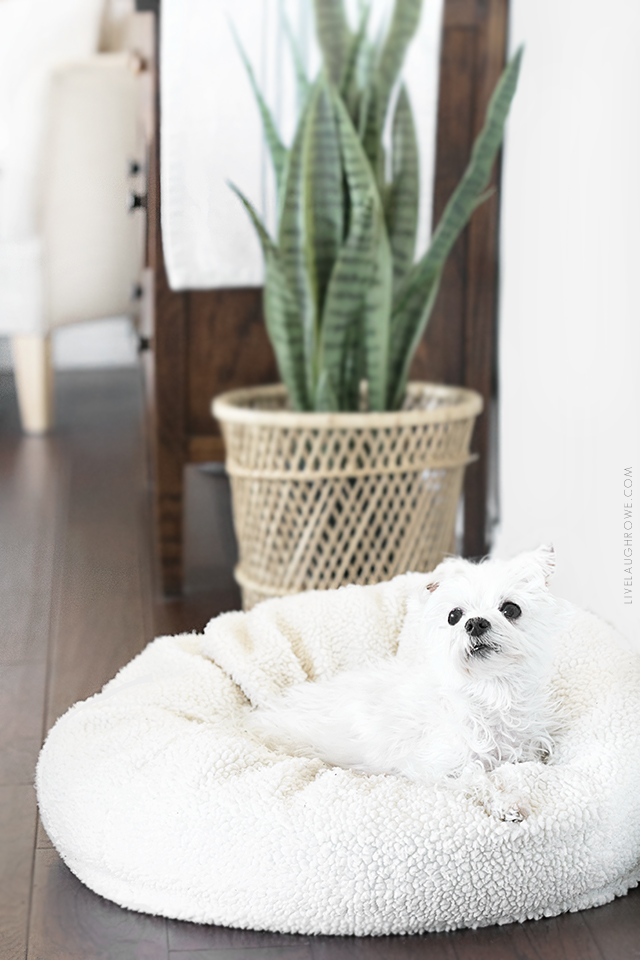 And last but not least, I saw this sweet vintage flower vase. I loved that it was a neutral color with green accents, making it perfect for a spring arrangement.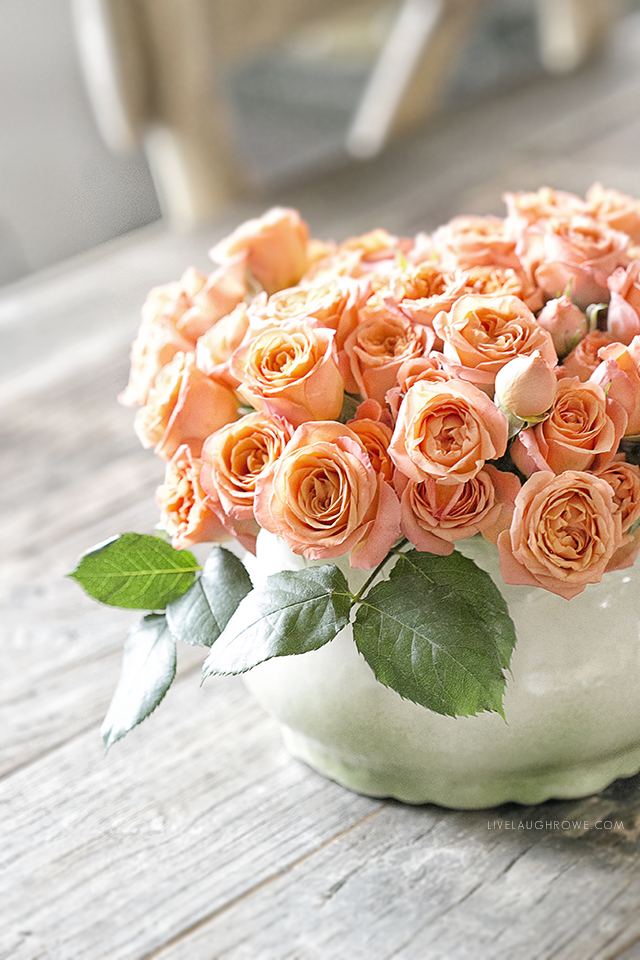 The coral rose color really brought it all together and made a beautiful centerpiece on our dining table. Fresh flowers are always welcome in my home!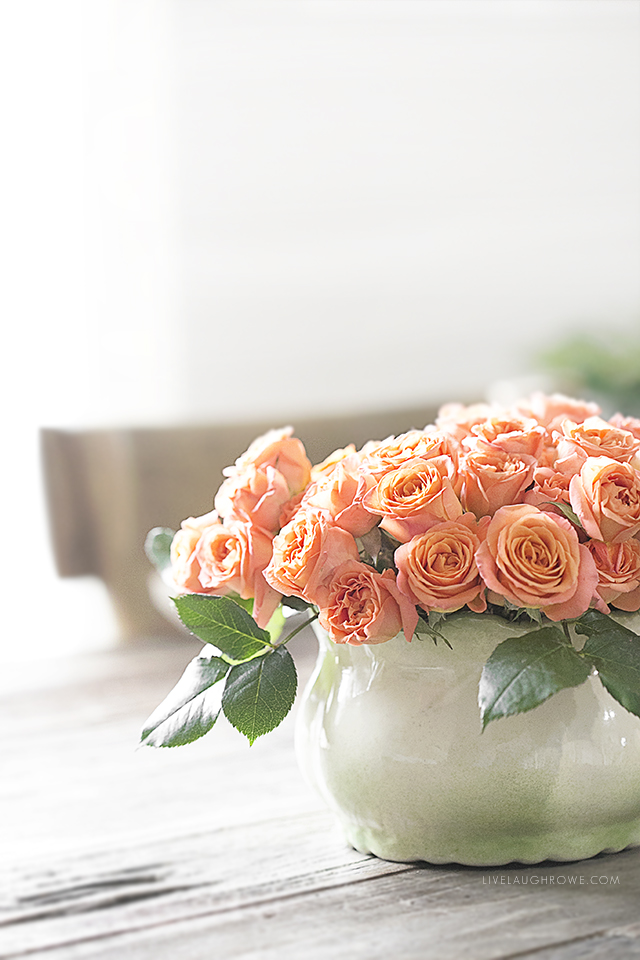 So, what do you think? Pretty great finds, right? These pieces were a welcome addition to my home!
What are some of your favorite thrift store finds from over the years?
I mentioned earlier that this was a collaboration with some of my blogging gal pals. Well, last year I was lucky enough to serve on a Fashion Panel with a retail store — and some of these lovely ladies were on that panel with me. We thought it would be fun to share each others thrift store finds, from fashion to home decor. I hope you're inspired… aaaaand I think you might make a few new on-line friends too! Enjoy.
7 Bloggers Share their Thrift Store Finds, Tips and More!
The Dark Plum
9 thrift store shopping tips featuring thrifted outfits from all 4 seasons.
Everyday Mrs
Boho Home Finds and High End Designer Wear.
Sugar, Spice and Style Thats Nice
Bar Cart Styling and Colorful Kitchen Vintage Finds.
Live Laugh Rowe – ME!!
Boho Baskets and Beautiful Vintage Vase via Live Laugh Rowe
The Glamour Pursuit
Thrifted Work Outfits
Curlybyrdie Chirps
Revamping My Spring Style on a Budget
Everyday Teacher Style
Perk Up Your Home Decor on a Budget with Thrifted Finds

Be sure to visit with me here too:
Facebook | Instagram | Pinterest | Twitter | Google+