Oven Beef Stew | One-Pot Recipe
Stay warm this winter with a bowl of the is Oven Beef Stew. A bowl of comfort that is packed with meat, vegetables, and potatoes. A hearty stew recipe to keep on hand during the cold winter months.
From homemade chicken noodle soup to three-bean chili, one of my favorite things about the cooler months is the soup, chili, and stew. In addition, if you add some bread or cheese and crackers — you truly have a perfect winter meal (in my humble opinion).
Be sure to sign up for my email to get
new recipes and creative ideas
sent right to your inbox!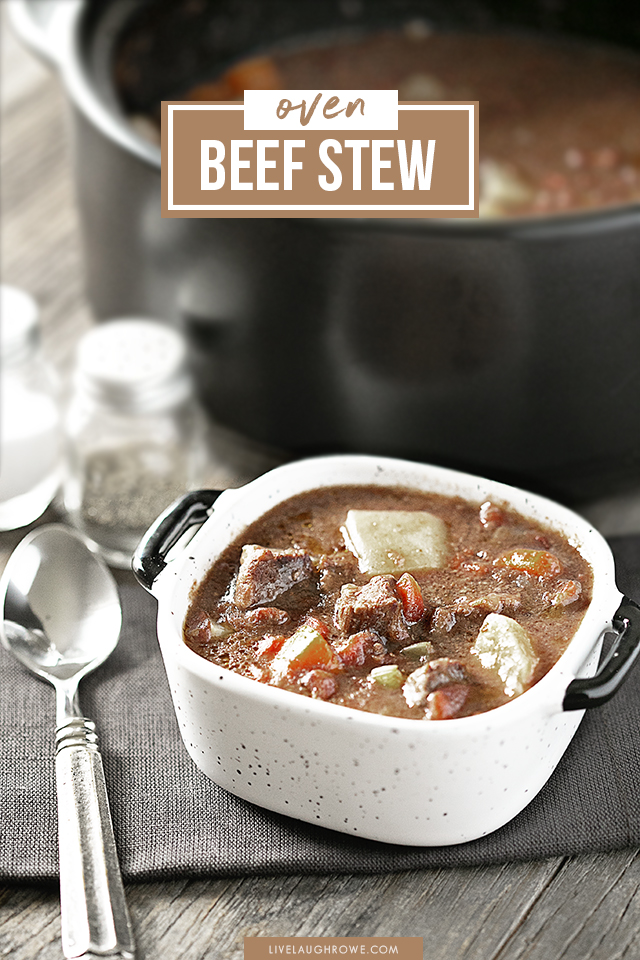 Are you on Facebook? I know its' one of those mediums that you can take it or leave it. I personally have a love-hate relationship with it, especially when controversial or political issues are on the rise. Goodness, gracious.
So, I have to keep scrolling or avoid the personal side of it altogether. However, when you blog, social media is of importance, so it's almost impossible not to be on Facebook.
Nevertheless, there is one thing that I do enjoy about the infamous Facebook. Yep, can you believe it? Hee-hee.
I've been inspired by endless quotes, laughed at hysterical memes, and introduced to several new and delicious recipes. Consequently, this Oven Beef Stew happens to be one of them.
An easy classic homemade comfort food
packed with veggies and tender meat.
My former pastors' wife (Judi H.) shared this Oven Beef Stew recipe over on Facebook. As a result, my mom made it a couple of times and exclaimed how hearty and filling it was. She also attested to how easy it was to make.
Therefore, it was time to give it a try myself. And, to clarify, it did not disappoint.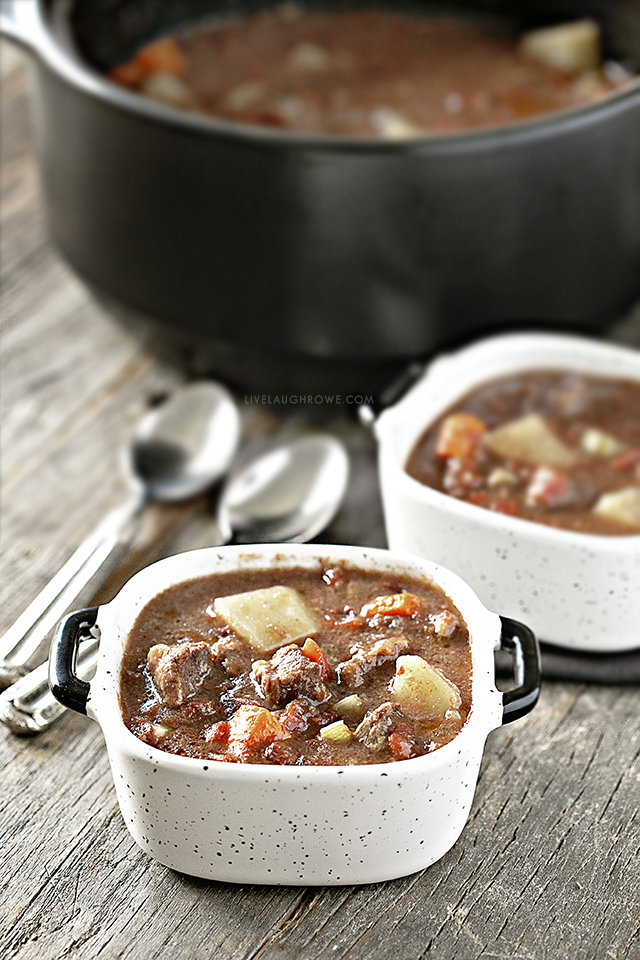 How do I cook stew in the oven?
For this recipe, you'll cover the stew and bake in the oven at 325º F for approximately 3-1/2 hours. Subsequently, this will produce tender meat and perfectly cooked vegetables.
How to Make Oven Beef Stew:
Ingredients:
Stew Meat
Diced Tomatoes
Sugar
Carrots, cut into chunks
Potatoes, peeled and quartered
Celery, sliced
Onion, diced
Seasoned Salt
Tapioca
Slice of Bread
Water
Directions for Oven Beef Stew:
Combine all of the ingredients in a 4-quart dutch oven. Mix well. After that, bake in the oven at 325º F for 3-1/2 hours.
…serve and enjoy!
Funny Story.
Here's a funny side note. When this beef stew recipe called for tapioca, I was completely lost. Like, seriously lost. Ha.
At first, I thought the recipe called for a tapioca pudding or pudding mix (insert facepalm). So, I ended up having to call my mom. She said it was hard to explain and sent me a picture of the box she had. I stopped at several stores trying to locate this ingredient and had very little luck — but a lot of frustration.
As a result, I had to ask my mom to "borrow" the three tablespoons of tapioca. However, I'm still a bit baffled at this ingredient. I don't think of myself as an expert in the kitchen, but I'm not a novice either.
Are you familiar with this ingredient/product? Nevertheless, I'm sitting here hoping I'm not alone.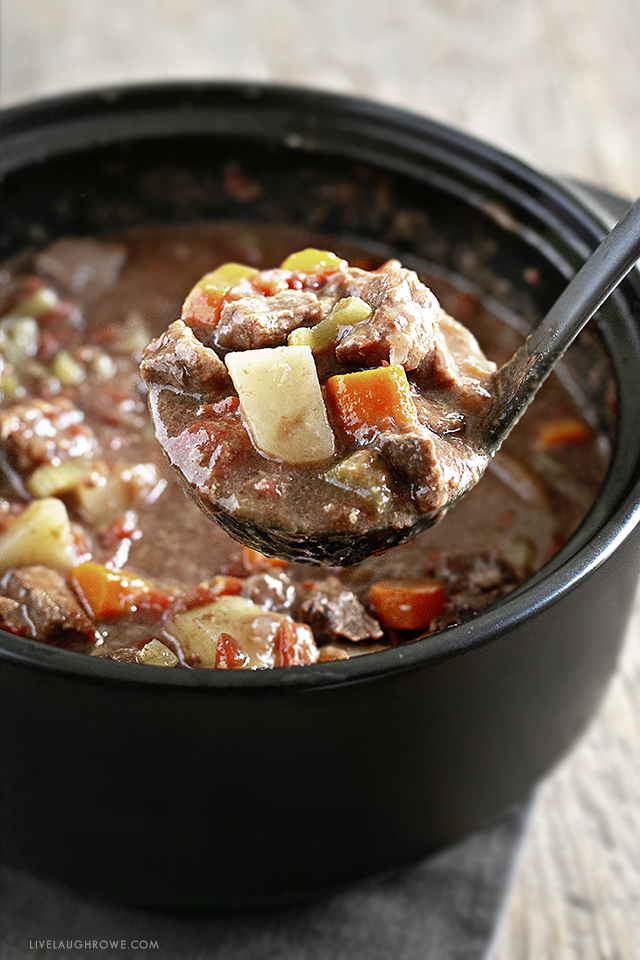 Other delicious soups and chilis:
French Onion Soup with Bread Bowls
Crockpot Chicken Noodle Soup
Easy Homemade Tomato Soup
White Chicken Chili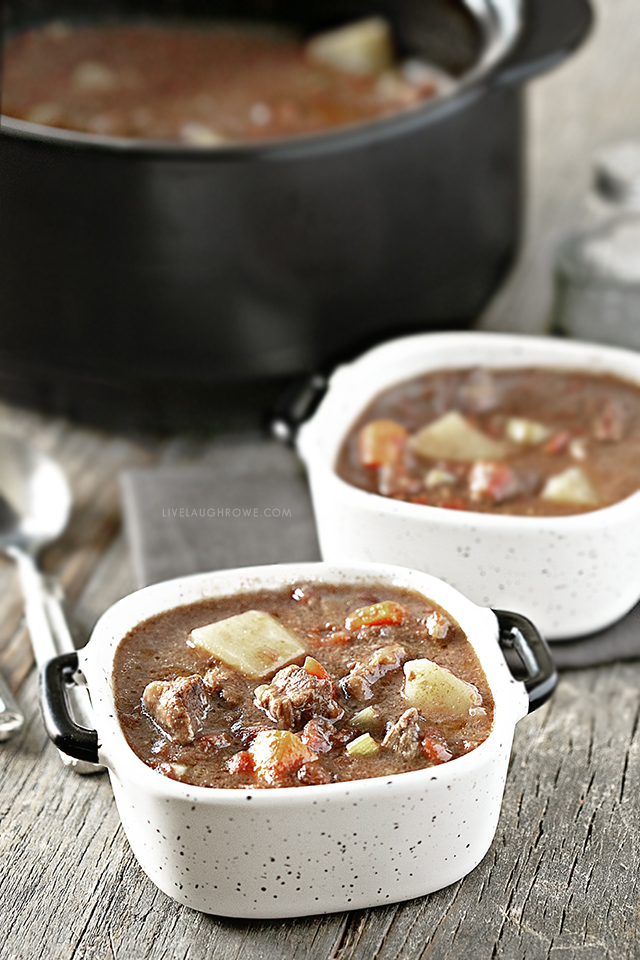 In short, I hope you'll give this Oven Beef Stew recipe a try and it becomes a new favorite. Cozy, hearty, and delicious? Sounds like perfection. Enjoy.
Oven Beef Stew
Ingredients
2

lb

stew meat

1

can

diced tomatoes, 14.5 oz.

1

tbsp

sugar

6

small

carrots, cut in 2" chunks

3

medium

potatoes, peeled and quartered

1/2

cup

diced celery

1

medium

onion, diced

1-1/2

tsp

seasoned salt

3

tbsp

tapioca

1

slice

bread, broken into bits

1

cup

water
Instructions
Mix all ingredients together in the dutch oven.

Bake at 325º F for 3-1/2 hours.
Notes
This recipe is one that can easily be altered.  Add an extra can of tomatoes and/or feel free to add more vegetables. 
To shorten cooking time, increase the oven temperature.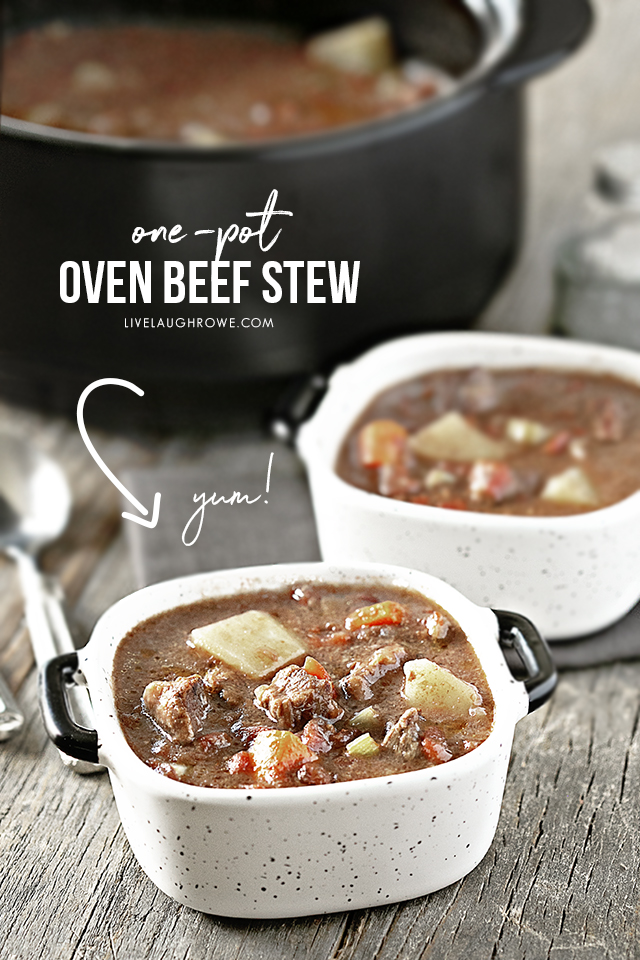 Connect with Live Laugh Rowe!
Facebook | Instagram | Pinterest | Twitter
Hugs and Blessings!