Fall Porch Decor | Featuring My Sisters Front Porch
Decorating your porch does not have to be over the top complicated or expensive. For example, this beautiful fall porch decor captures the colors of the season perfectly — and has a wonderful, inviting vibe.
Be sure to sign up for my email to get
new recipes and creative ideas
sent right to your inbox!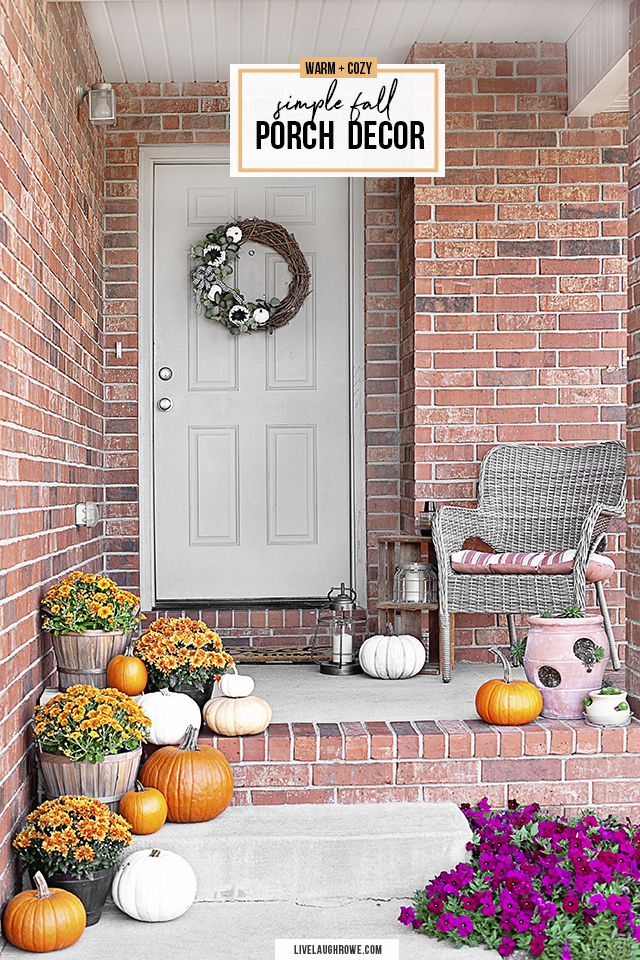 Happy Fall, friends! Yesterday was the first official day of fall. And while it was a little cloudy and dreary here, the temperatures were a little cooler. That alone makes my heart sing.
Well, today I'm doing something a little different and featuring my sisters (Kristine) fall porch decor. Kristine currently rents a duplex in Ozark, MO. She has proven to have a real talent for not only making the inside of her home warm and cozy, but her porch has always reflected that too.
Sometimes her enthusiasm for decorating far exceeds mine and I'm the lifestyle blogger. Haha. When she sent me a picture of her lovely porch, I asked if I could feature her on the blog. Guess what? She agreed. Yay.
I've always had storm doors on my front door, so photographing it makes it a little more difficult. Therefore, I usually don't do much and if I do it's hard to photograph without a glaring selfie. Hee-hee. It's a shame, but true.
Regardless, I loved the simplicity of Kristine's porch. It gives off the perfect autumn vibes and her fall porch decor offers beautiful curb appeal. Between you and me, my sister gets lots of compliments on her lawn and porch. Two words: Go, girl.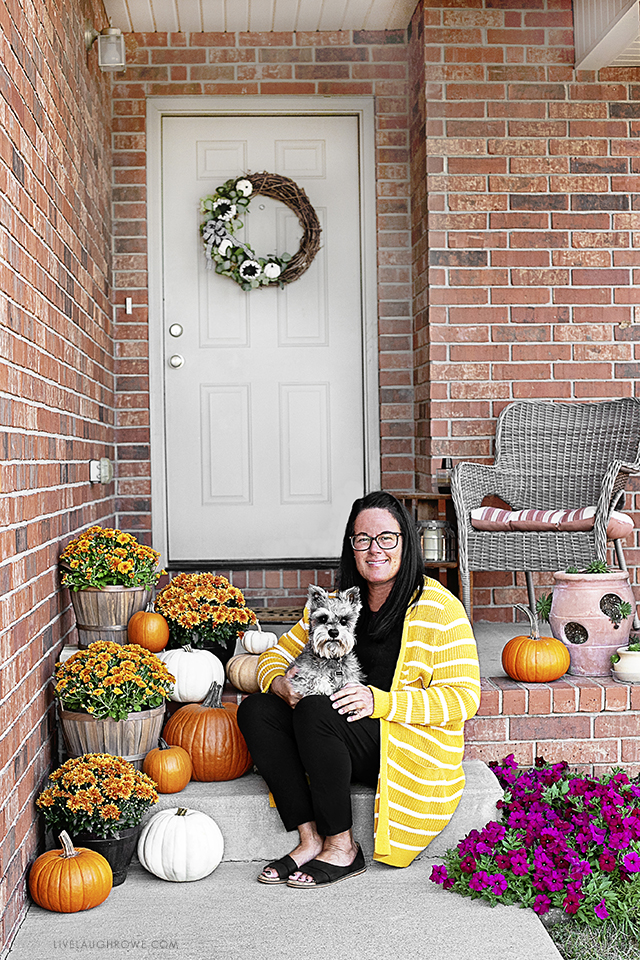 Meet Kristine
I'm happy to introduce you to my identical twin sister Kristine and her mini schnauzer, Max. They are an inseparable duo that takes a lot of fun adventures together — from the dog park to kayaking, there is never a dull moment.
Max is only a couple of years old and has an enormous amount of energy. He is quite a cuddle bug, loves chasing the rabbits off in my backyard, and makes a great guard dog (he has a very health bark).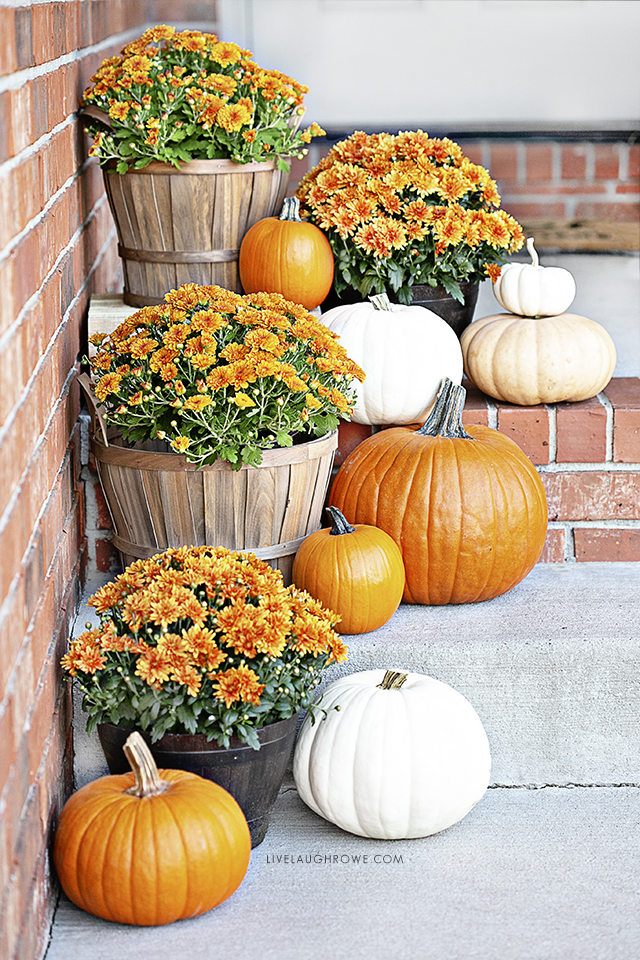 Honestly, I wish I had a couple of steps on my front porch. They are perfect for height variance and layers. Right?
How do I decorate my porch for fall?
Decorating your porch for fall shouldn't be stressful. Traditional and classic fall porch decor will never really go out of style, so start there. Use pumpkins in different shapes and sizes, a colorful wreath, mums, lanterns, corn husks, etc. Sometimes shopping your own home will reveal some great pieces to use for your autumn porch decor too.
Here is what Kristine shared with me about her fall front porch:
I spent a lot of time on Pinterest just searching small porches. Pinterest is full of ideas and inspiration for fall porch decor. I set out originally wanting white mums and classic pumpkins because the white would pop more from the road. But when I saw the gold mums, I decided to go with them because I loved their warm color.
In making that decision, I knew I would need some white pumpkins to offset all the gold. After visiting several places, I finally found the pumpkins and sizes I believed would work. I had no idea how it would all come together. However, I knew I had a car full of mums and pumpkins and was hopeful I made the right purchases.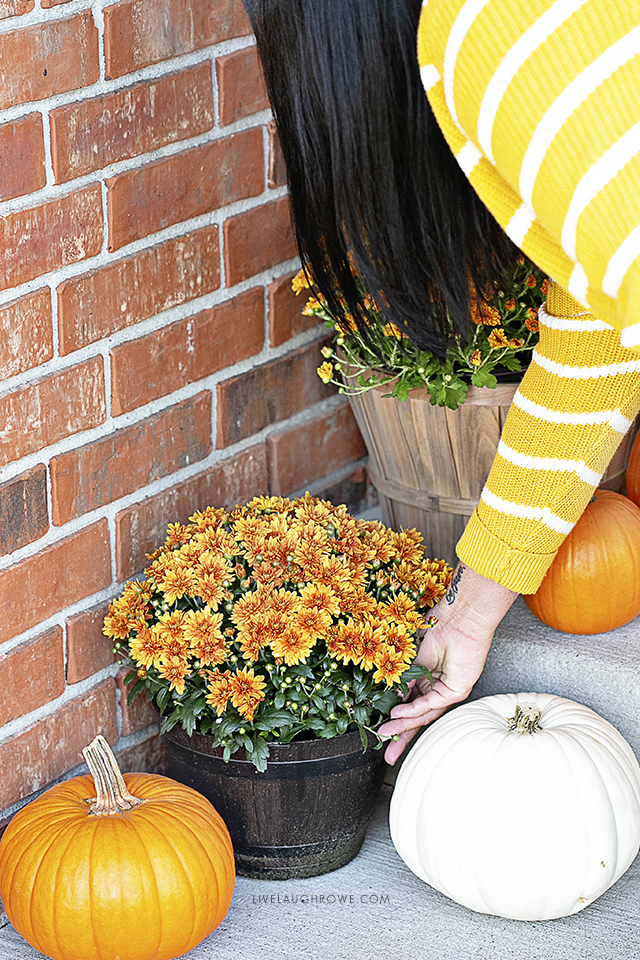 So, I put a couple of the mums in apple baskets that I had picked up and started arranging to see what I liked and what I didn't. I used a half crate to prop the smaller mum up on the top of the front porch and then started placing the other mums and pumpkins – staggering them down the steps and walkway but wanting to be sure that there was a nice flow.
"It was important that it be
warm, cozy, and inviting.
Even if it was just for me."
In short, after arranging and rearranging, I was pretty excited with how the porch came together.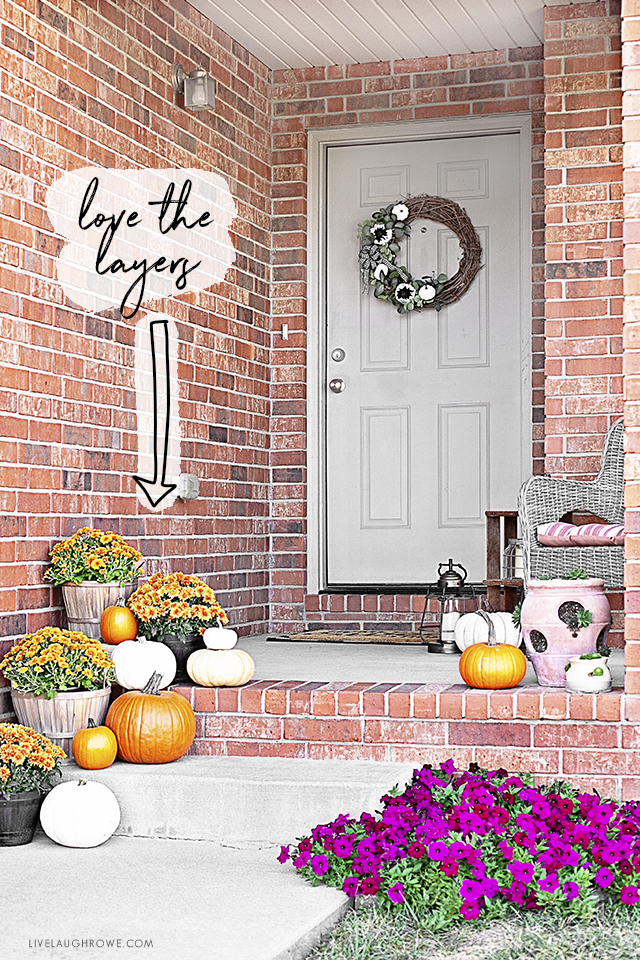 The goal for my porch was to keep it classic. Steering away from keeping it too "busy" (because we all know that's easy to do). And in the end, it really all came together better than I even imagined.
My petunias still look so good (at least till we get our first frost). They seem to add a little extra pop of color to the overall look.
My porch is my little sanctuary and I spend A LOT of time sitting out there in the evenings. Therefore, it was important that it be warm, cozy, and inviting — even if it was just for me.
The Wreath
In making the wreath, I have a buffalo check rug under my Home Sweet Home doormat and wanted to put some of the buffalo checks into the wreath. Because my door is so tucked back on the porch, it's not visible so wanted to use small white faux pumpkins and green picks.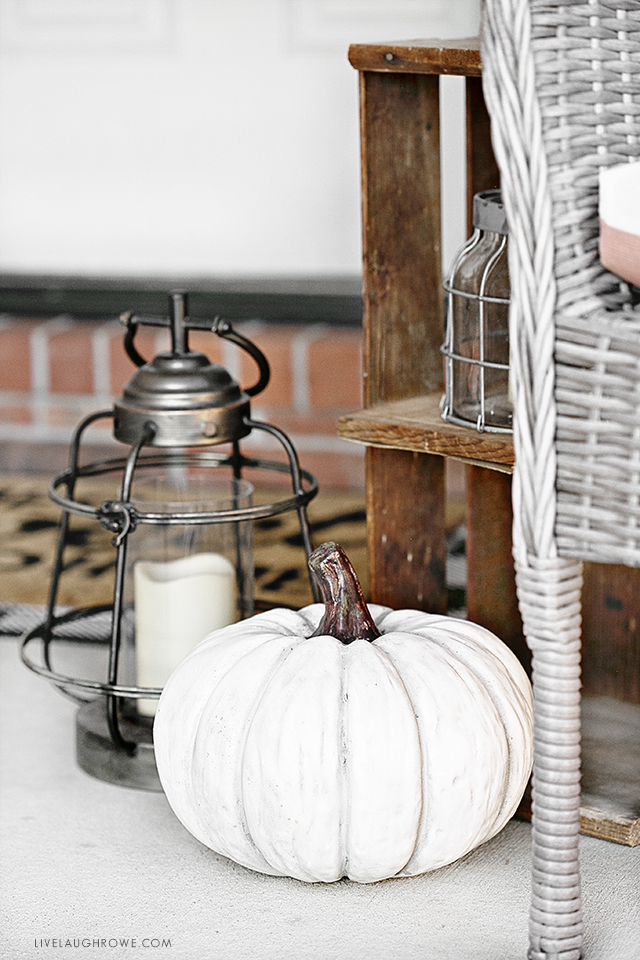 Well, what do you think? Feeling inspired? Keep in mind that you can keep things simple and still have a beautiful and fabulous outcome. Happy decorating, friends.
And a BIG thank you to Kristine for allowing me to share her work with all of you. -xo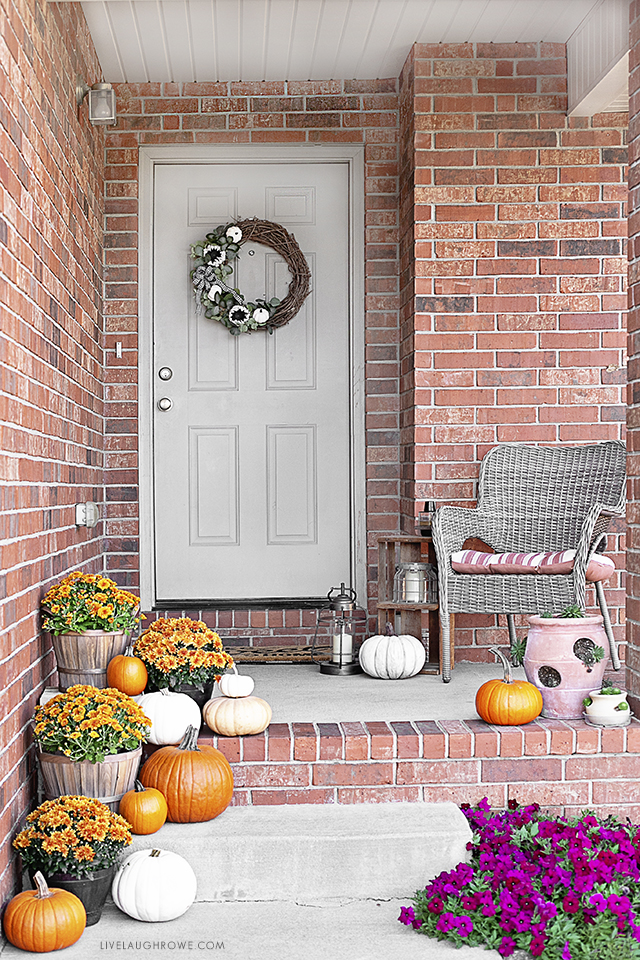 Other fall decor posts:
How to Make a Simple Fall Wreath
Fall Front Porch Decor (circa 2016)
Indian Corn Garland
Autumn Wreath with Pumpkins + Acorns
Connect with Live Laugh Rowe!
Facebook | Instagram | Pinterest | Twitter
Hugs and Blessings!