French Onion Soup with Bread Bowls
A delicious masterpiece, these French Onion Soup Bowls are a classic dish with amazing flavor. Made with sweet onions, fresh spices, and simmered in a beef broth (and wine), this is a dish that would make a greater starter. Also, you can impress your friends with an edible bread bowl too.
If you've been around the blog before, you might know that I love soups, stews, and chilis during the cooler months. That is to say, it's comfort food in a bowl. And if there's bread involved, count me in. (Ahem, yes, I love my carbs).
Be sure to sign up for my email to get new recipes
and creative ideas sent right to your inbox!
Great Appetizer: French Onion Soup Bowls
When my parents lived in New Jersey, we would frequent the 24-hour diners. On a side note, I miss those diners. I haven't been back to New Jersey for 4 or 5 years now. Sigh.
Subsequently, after years of visits and family gatherings, we all had our favorites: Hamburgers, French Onion Soup, Matzah Ball Soup, Rice Pudding, and French Fries with Gravy. My parents almost always started their meal with a bowl of soup (the French Onion or Matzah Ball). They were both so good.
Therefore, every time I eat or make French Onion Soup, I take a walk down memory lane. We laughed around that table and usually ate too much. However, those are some great memories.
Dear New Jersey Diners,
Thank you for the good food and family time.
Those memories will last me a lifetime.
-Kelly
I'm super excited to share this French Onion Soup recipe with you today. It might take a little more time to make, but don't let the ingredient list or instruction list scare you — it's really not that hard to make. I promise.
Nevertheless, you will need a little extra time for the onions to caramelize and the broth and spices to simmer. But the best part? Enjoying a bowl of this deliciousness and getting to eat the bowl too. Heehee.
Check out my short video of the process:
How do you make French Onion Soup from Scratch?
Well, let's take a look…
Ingredients:
Sweet onions, sliced
Red onions, sliced
Butter
Salt
Beef broth
Merlot (red wine)
Worcestershire Sauce
Balsamic Vinegar
Bay Leaves
Sprigs Fresh Thyme
Small bunch of fresh parsley
Gruyere cheese
Start by caramelizing the onions. The slower, the better. Consequently, be patient. It'll be worth it.
After that, add broth/wine/seasoning. It's said that you can use red or white ones. It can be a very forgiving soup, so use what you have. Adding the broth and seasoning will prepare us for the next step.
Simmering. The simmering process will blend all of the flavors. Therefore, creating that perfect french soup flavor.
For this recipe, we're ladling the soup into bread bowls and topping with Gruyere cheese. Broil on high until golden.
What is a good substitution for wine when cooking?
If you're looking for a substitution for the red wine, here are some great substitutions to consider: Cranberry Juice, Red or White Grape Juice, or Tomato Juice. Using extra broth is also recommended if these other juices are not readily available.
Well, that's it. So, what are you waiting for? I hope you enjoy this delicious French Onion Soup in a Bread Bowl.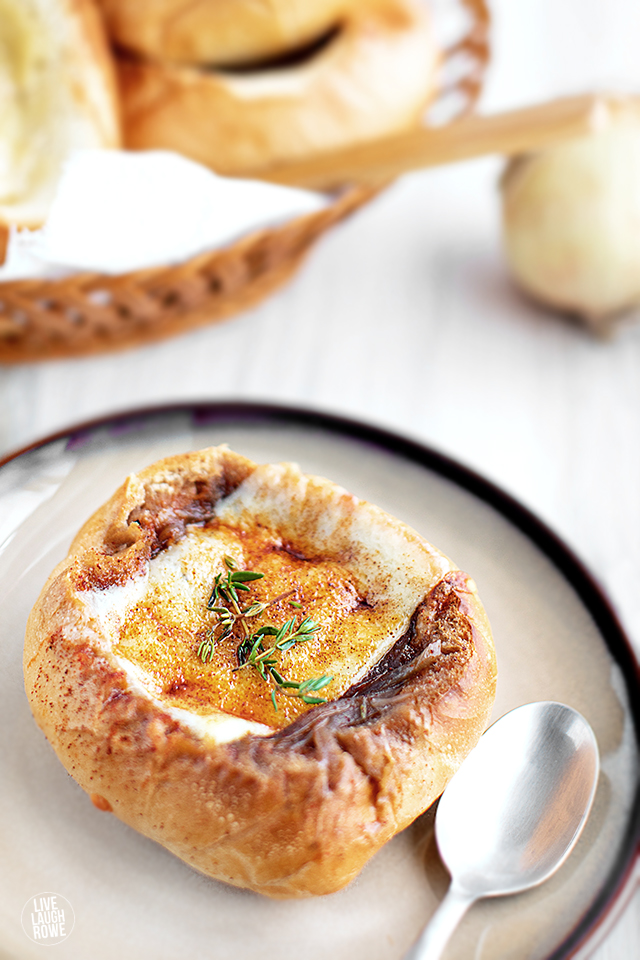 Other soup recipes to try:
Crockpot Chicken Noodle Soup
Homemade Tomato Soup
Hearty Southern Italian Soup
Lentil Soup (one of my absolute favorites)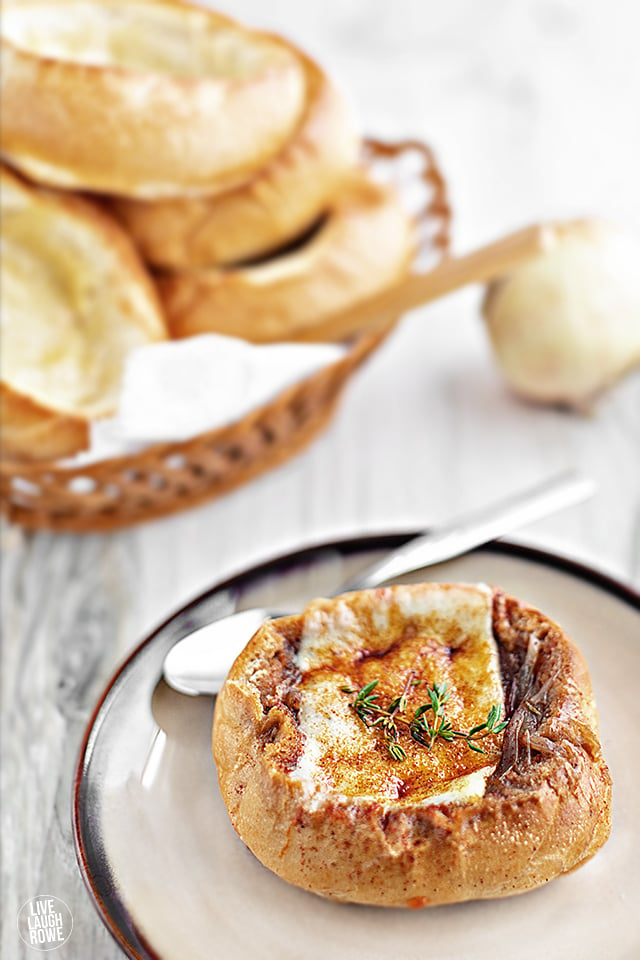 French Onion Soup Bowls
A delicious masterpiece, these French Onion Soup Bowls are a classic dish with amazing flavor.  Did I mention that you get to eat the bowl?
Ingredients
Soup
8

tbsp

butter

2

large

red onions, sliced

3

large

sweet onions, sliced

64

oz

beef broth

1/2

cup

merlot

2

tbsp

Worcestershire sauce

1

tbsp

balsamic vinegar

1.5

tsp

salt
Spices for Bundling
3

bay

leaves

8

sprigs

fresh thyme

small bunch of fresh parsley
Bread Bowls
8

large

rolls

3

cups

mozzarella, shredded

1

cup

parmesan, shredded
Topping
6

oz

package Gruyere cheese, sliced

paprika, optional
Instructions
Soup
In a large stockpot, brown the butter

Add onions and cook over medium/high heat for 30 minutes or until the onion begins to caramelize.

Add in the beef broth, merlot, Worcestershire sauce, balsamic vinegar, and salt. Stir well.

Bundle up bay leaves, thyme, and parsley. Add to soup.

Bring to a boil, turn down the heat, and allow to simmer for 30 minutes.
Bread Bowls
Cut off the tops of the rolls and remove or press down the excess bread into the bottom of the roll, making a bowl shape.

Bake bread bowls for approximately 7-10 minutes.

Mix the mozzarella and parmesan cheese and divide between the 8 bread bowls. Press the cheese into the bottom of the bowls and bake for an additional 4 minutes.

Slice gruyere cheese and set aside.

Fill the bowls with soup, top with gruyere slices and sprinkle with paprika (optional).

Place under broiler (on hight) for 2 to 3 minutes or until cheese is bubbling.
Notes
Substitutions for the red wine include, but are not limited to Cranberry Juice, Red or White Grape Juice, Tomato Juice, or extra broth.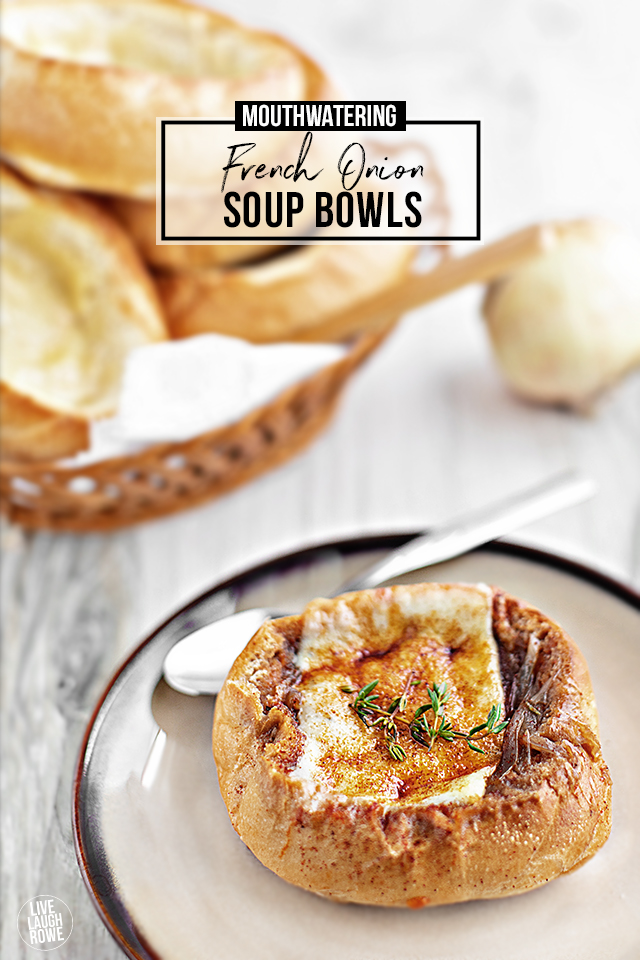 Connect with Live Laugh Rowe!
Facebook | Instagram | Pinterest | Twitter
Hugs and Blessings!