This White Chicken Chili recipe is brought to you by Lagostina. All opinions about the product are mine.
A delicious White Chicken Chili that will warm you up this winter — and, if you like a little heat, this dish will not disappoint. Did I mention cheese? Yep. We all know that everything is better with cheese!
White Chicken Chili


This past summer I teamed up with Lagostina and shared an amazing Salmon Fettuccine Alfredo recipe. Today I'm collaborating with Lagostina once again to share another fabulous recipe and introduce you to their NEW Opera Collection.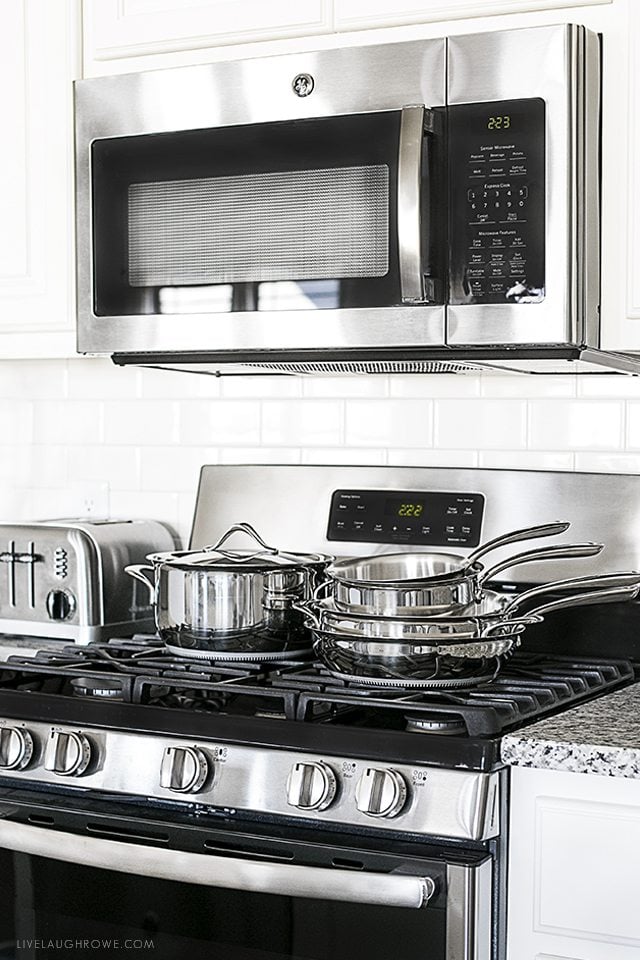 First and foremost, they're gorgeous, right?!? These pans have a 3-layer LagoFusion base with stainless steel exteriors that are sure to add beauty to your kitchen. And this collection is not only beautiful, but it's low maintenance too!
I love that they are oven and broiler safe (up to 500 degrees Farenheit), safe for all stovetops — aaaaaand dishwasher safe! Did I mention they're made in Italy?
The 5 3/4-qt. stockpot (pictured below) was the perfect size for my White Chili. We could also call it the White Christmas Chili, named after my favorite holiday movie, White Christmas. Gosh, that movie just makes me smile! I love the cast, the singing, the dancing –EVERYTHING about it.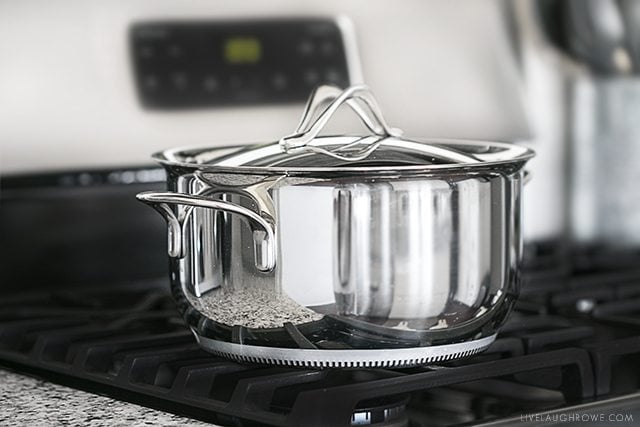 Whipping up this recipe and enjoying a bowl while enjoying your favorite holiday movie sounds like a great night in, right? Let's get started making this delicious dish.

White Chicken Chili
Ingredients
4-5

pds

boneless, skinless chicken breast

1

tbsp

extra virgin olive oil

1

medium

red onion, chopped

4

cloves

garlic, minced

2

(4 oz) cans

chopped mild green chiles, undrained

2

tsp

oregano

1/4

tsp

red cayenne pepper

2

tsp

ground cumin

3

(15-16 oz) cans

Great Northern Beans, undrained

6

cups

chicken stock (or broth)

3

cups

colby-monterey jack cheese, shredded

1/2

cup

half and half or heavy cream

salt and pepper, to taste

sour cream, for garnish

shredded colby-monterey jack cheese, for garnish
Instructions
Place chicken in a large pan and add cold water to cover. Bring to simmer.

Cook until just tender, about 15 minutes. Drain, let cool and shred chicken.

Add oil to the same pan and place over medium-high heat. When oil is hot, add onions; sauté until translucent, about 10 minutes.

Stir in garlic, chilies, cumin, oregano and cayenne; sauté for 2 minutes.

Add beans (with liquid) and chicken stock; bring to a boil. Reduce heat; add creamer, chicken and cheese. Stir until cheese melts.

Season with salt and pepper. Ladle into bowls and garnish with toppings of choice.
Notes
To thicken the chili, use cornstarch.  Add approximately 1 tablespoon of cornstarch  to a small bowl and add an equal amount of cold water. Stir until smooth paste forms.  Stir into the chili. Repeat if necessary.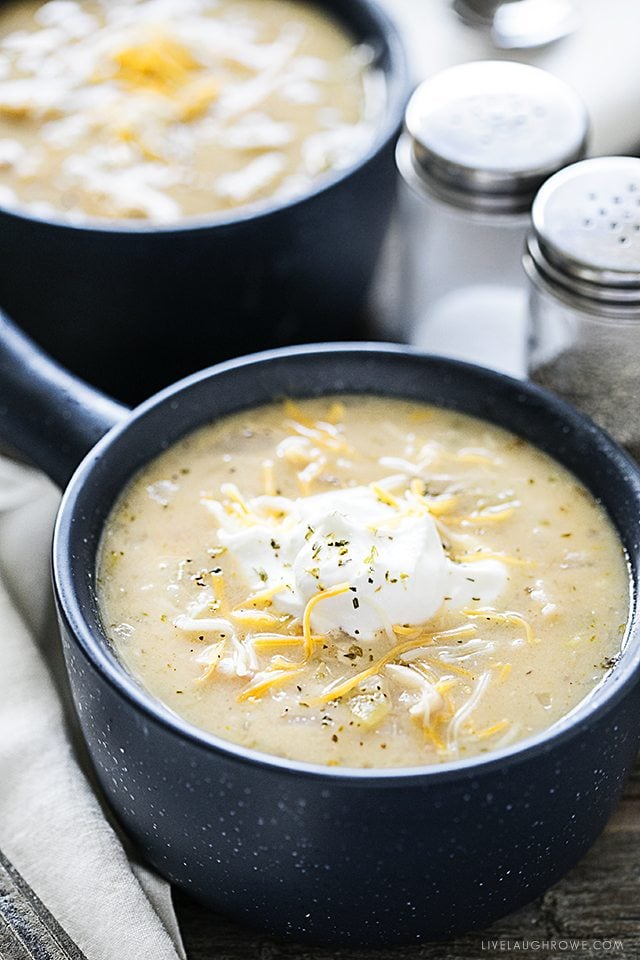 I hope you enjoy this chili as much as we did… BTW, if you have a REALLY good eye, you might have noticed that a lot more than 1/4 teaspoon of the cayenne pepper was put into this chili. GULP! I accidentally put a whole teaspoon. It had a lot more punch than I'm used to, but it was still delicious. I just added a little more sour cream to my bowl (wink).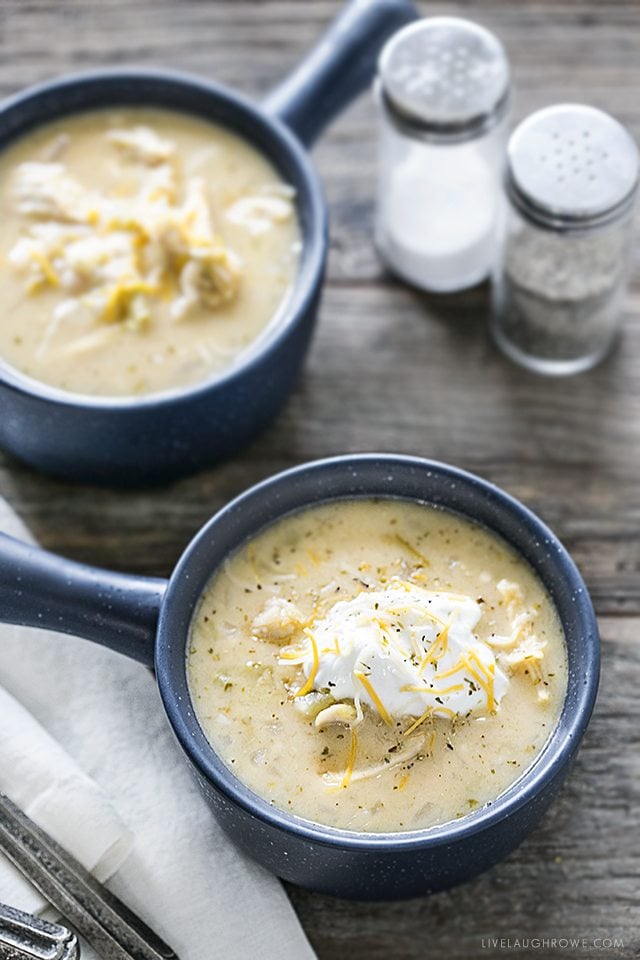 Enjoy, friends! Be sure to check out the Opera Cookware Set too. It's AMAZING! Lagostina makes some pretty stand out pans — durable and high-quality construction. And I don't say that lightly, that is my honest opinion. Salute!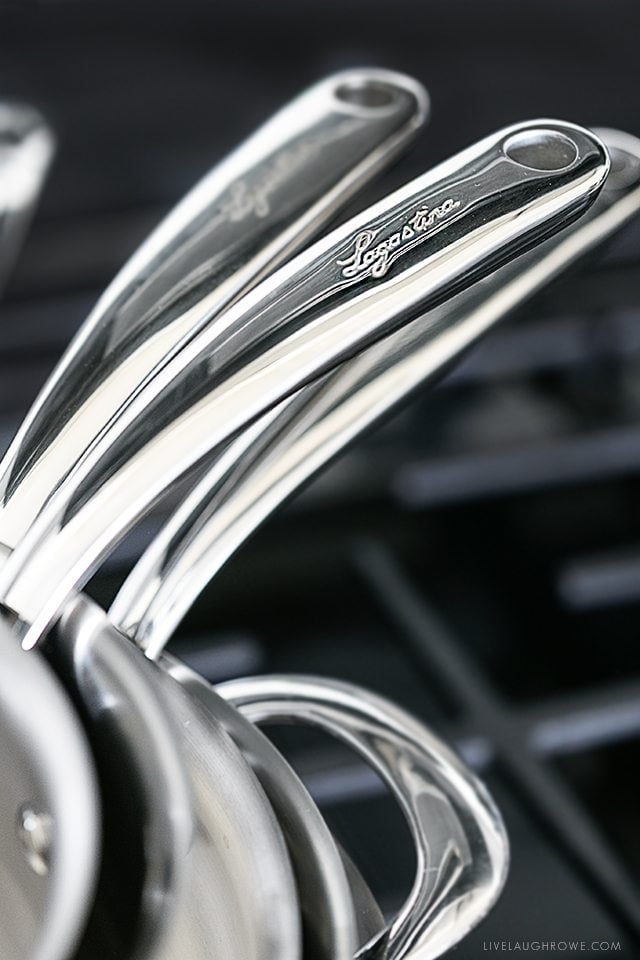 Be sure to visit with me here too:
Facebook | Instagram | Pinterest | Twitter | Google+