Three Bean Chili | Great Freezer Meal
A three-bean chili that's perfect to enjoy cuddled up under a blanket by the fire. A family favorite, this is comfort food at it's best. So, let's warm up to a bowl of chili and reminisce of years gone by.
Be sure to sign up for my email to get new recipes
and creative ideas sent right to your inbox!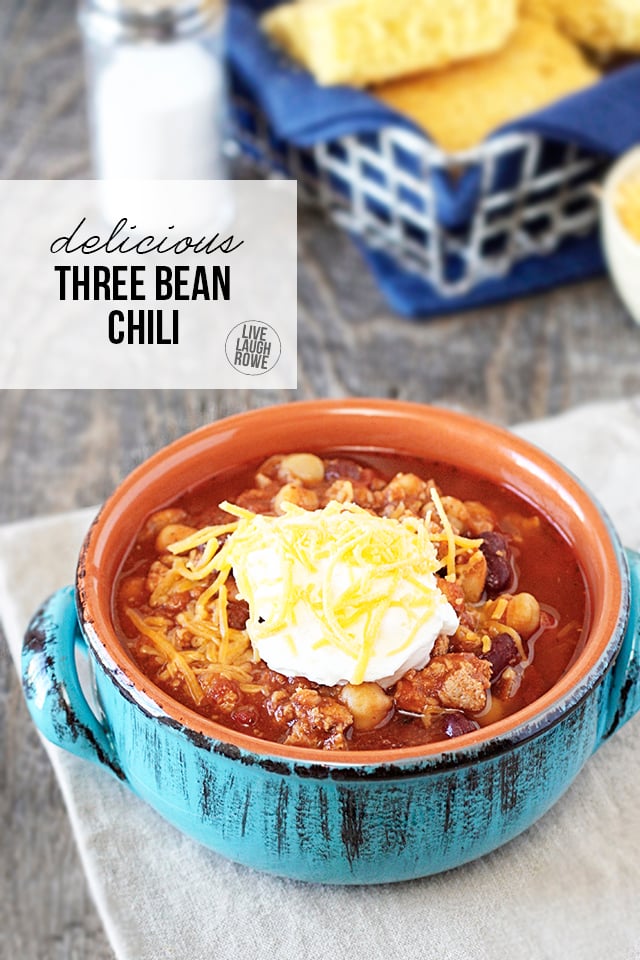 Chili is one of the fall and winter dishes that you can't go wrong with. Whether you like it with a bite or a little more on the mild side (that's me), it's pure comfort food! I love how the aroma of this three-bean chili fills the house as it simmers. And I certainly can remember many winters where we enjoyed family dinners together over a bowl (or two) or chili.
Growing up it was always served with cheddar cheese and cornbread. In addition to that, I remember some friends in college proposing that we add sour cream. I thought that was the craziest idea. However, it ended up being delicious. And now it's a staple when I'm serving this three-bean chili in my home.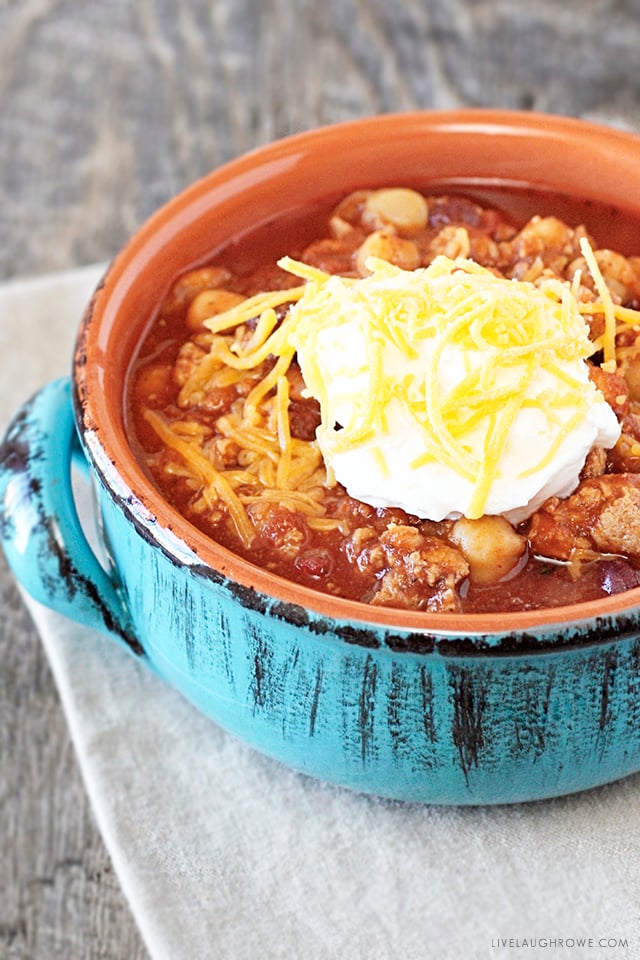 Can you freeze chili?
Yes, you can freeze chili. Be sure that the chili is placed in an airtight container or strong, heavy-duty freezer bags.
How long does cooked chili last in the freezer?
Properly stored, chili can be frozen for up to 4 to 6 months. It's best used within that time frame; however, it will remain safe to eat beyond that time.
Other chili recipes to try:
Slow Cooker Sausage and Sweet Potato Chili
Three-Bean WW Chili (Zero Points)
White Chicken Chili
So tell me, how do you like your chili? With Fritos? Cheese and sour cream? Hot or Mild?
This three-bean chili recipe is incredibly delicious and super easy to make. Consequently, I usually double the recipe and freeze leftovers. Guess what's simmering on my stove right now? (wink-wink). Enjoy.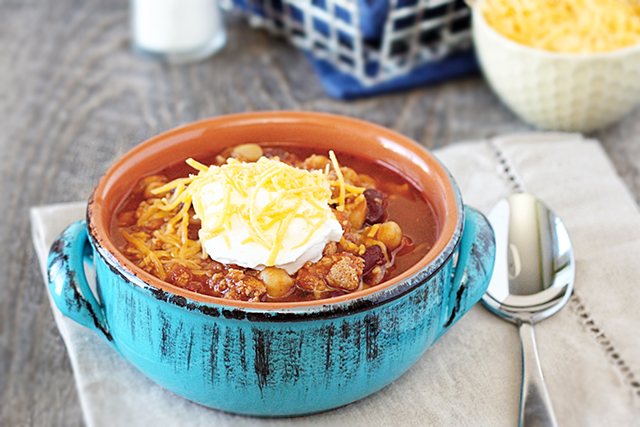 Three-Bean Chili
Ingredients
2

teaspoons

vegetable oil

1-1/2

pounds

lean ground beef or ground turkey

1

small onion

1/2

teaspoon

minced garlic

1

can

16 ounces pinto or red kidney beans, rinsed and drained

1

can

15.5 ounces fava, lime or butter beans, rinsed and drained

1

can

15.5 ounces chick-pea (garbanzo), rinsed and drained

1

can

14.5 ounces tomatoes, diced or crushed

1

can

15 ounces Spanish style tomato sauce

2

tablespoons

tomato chili sauce or ketchup

1

tablespoon

dried oregano

1

tablespoon

chili powder

or to taste

1

teaspoon

salt
Instructions
Heat oil in a large pan or Dutch oven. Add beef or turkey, onion and garlic; cook over high heat, stirring to break up large pieces, until beef loses its pink color.

Add remaining ingredients, bring to boil; reduce heat.

Cover, stirring occasionally. Simmer 1-1/2 hours until meat is tender and flavors have blended.
Connect with Live Laugh Rowe!
Facebook | Instagram | Pinterest | Twitter
Hugs and Blessings!