It's been a few years (haha) since I was in college, but I did a little digging and found that these are some college dorm room essentials… I'm sure you can add to or subtract from the list; however, it's sure to give you some great ideas and get those wheels turning.
College Dorm Essentials


College days are quickly approaching — every time I think of my college years, it seems like centuries ago. I wish there had been a checklist of how to prepare socially, mentally, emotionally, etc. Maybe this Freshman Survival Guide would help those heading off to their Freshman year.
I'll tell you what, I came to Springfield, MO from Bath, NY for college. It was a loooong ways from home and I was so homesick the first few weeks that I didn't think I was going to be able to stay. I eventually prayed hard for God to give me peace. Thankfully, I sucked it up and survived my Freshman year. I actually ended up living in Springfield for many years thereafter too.
It's funny how things stretch us and help us grow. College did that for me. One of my safe havens in college was my dorm room. I was roommates with my twin sister and we had a loft built so that we had more room to settle in. I remember making a gazillion runs to Walmart for all of our college dorm room essentials. It was exhausting.
Along with the basics of bedding, towels, sheets, etc. — here are few essential items that might come in handy today! Enjoy.
25+ College Dorm Room Essentials
1. Outlet with USB and Surge Protector
2. Laundry Bag/Basket
3. Photo Clips with String Lights
4. Space Saving Clothes Hangers
5. Mini Fridge
6. Over the Fridge Organizer (for mini fridges)
7. Keurig K-Mini Single Serve Coffee Maker
8. Compact Steamer
9. Shower Sandals
10. Ramen Noodle Cooker (confession, I have one in our camper and in our home)
11. Electric Kettle (I have this one by Hamilton Beach our camper and our home as well).
When it comes to hanging things — Command Hooks and/or Command Strips for the win!! The velcro is pure GENIUS! I use it in my own home now. Unfortunately that didn't exist when I was in college. I remember having to use ticky tack and all — such a mess and it always left grease spots on the posters. Lol!
12. Hanging Shoe Organizer
13. Bedside Caddy
14. First Aid Kit
15. Portable Shower Caddies
16. Iron
17. Ironing Blanket or Ironing Board
18. Hot Pots
19. Bed Risers
20. Under Bed Organizers and Storage
21. Twin Waterproof Mattress Cover
22. Small Microwave
23. Rolling Cart
24. LED Desk Lamp (with USB Outlet)
25. Portable Safe
26. Bean Bag Chair
27. Storage Ottoman Cubes
The next few items seem to fit the bill for the ladies more than the men… we are nesters. Decorating is in our blood, right? Wink-wink.
I searched for dorm room ideas on Pinterest — WOW! Mine didn't look quite as snazzy as some of them out there now, but if you have some time, check them out (if you have some time)! Here are a couple dorm rooms with an eclectic/boho feel that caught my eye.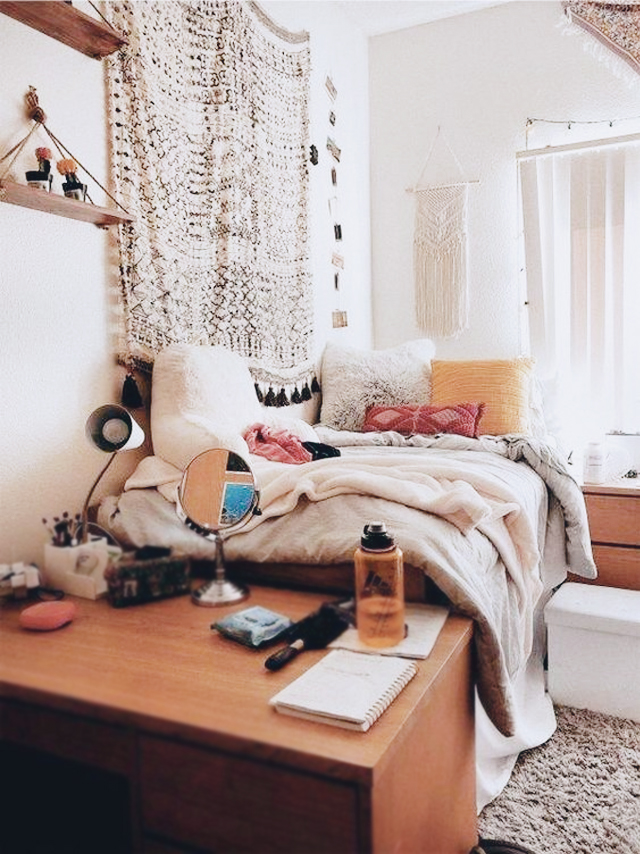 via Pinterest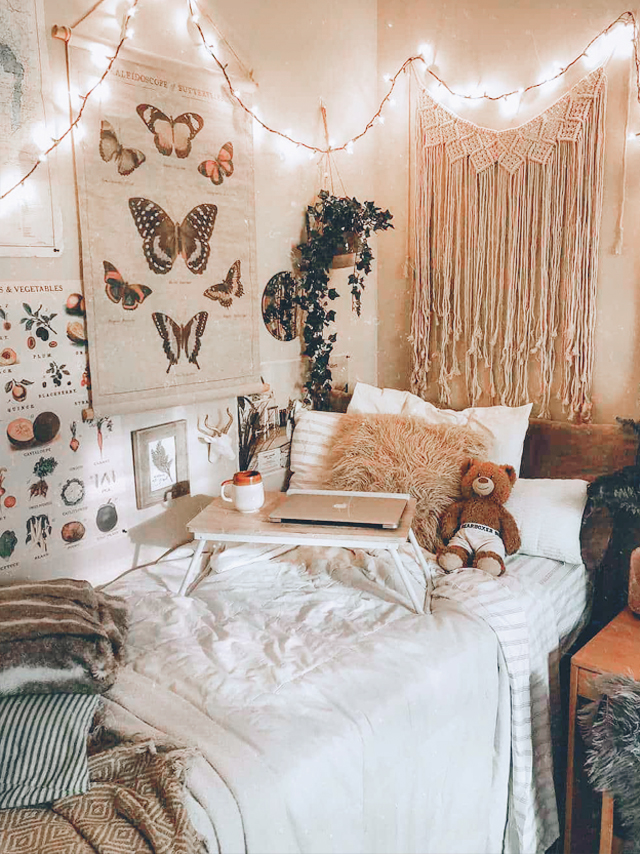 via Instagram @ooliviajane
28. String Lights
29. Reading Pillow (Husband)
30. Macramé Hanging
31. Decorative Mirrors
32. Photo Clips
33. Wall Grid Displays
34. Adjustable Desktop Shelves/Organizers
35. Inspirational Vinyl Quotes
36. Wall Tapestry
37. Posters
If you're looking for more organization ideas — check out these 45+ organization solutions too!!

Be sure to visit with me here too:
Facebook | Instagram | Pinterest | Twitter | Google+