Philippians 4:8 Printable | Words of Encouragement
A beautiful passage of scripture, with an even more beautiful reminder. Considering the madness that is happening in the world around us, Philippians 4:8 has recently tugged at my heartstrings. Uplifting Bible verses are on my radar these days.
"Whatever is true, noble, right, pure, lovely, admirable, excellent, praiseworthy — think about such things." Philippians 4:8 Speaking from experience, it's easy to let our minds wander and allow worry, discouragement, fear, self-doubt, etc. to creep in.
Be sure to sign up for my email to get new recipes
and creative ideas sent right to your inbox!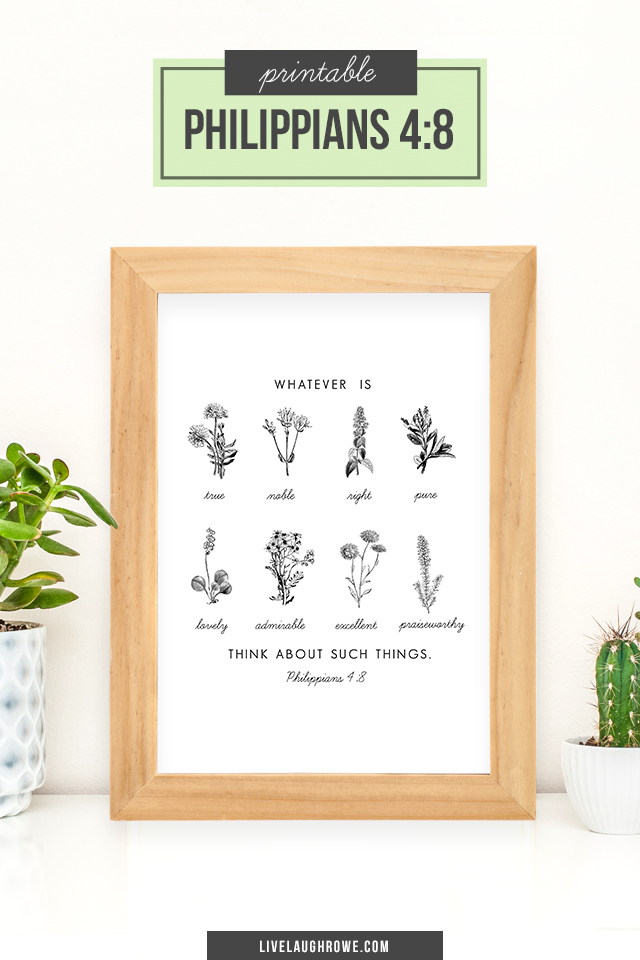 Over the past couple of weeks, I've been seeing t-shirts being sold with Philippians 4:8 printed on them. Honestly, I loved the layout and saw several different options on Etsy (and sponsored posts on Facebook). But, I didn't want a t-shirt. Womp womp womp.
So, do you know what I did? I made a printable version of that t-shirt with some clipart I had on-hand. Since this is a basic black and white print, you'll be able to print it on any color or textured paper you might have.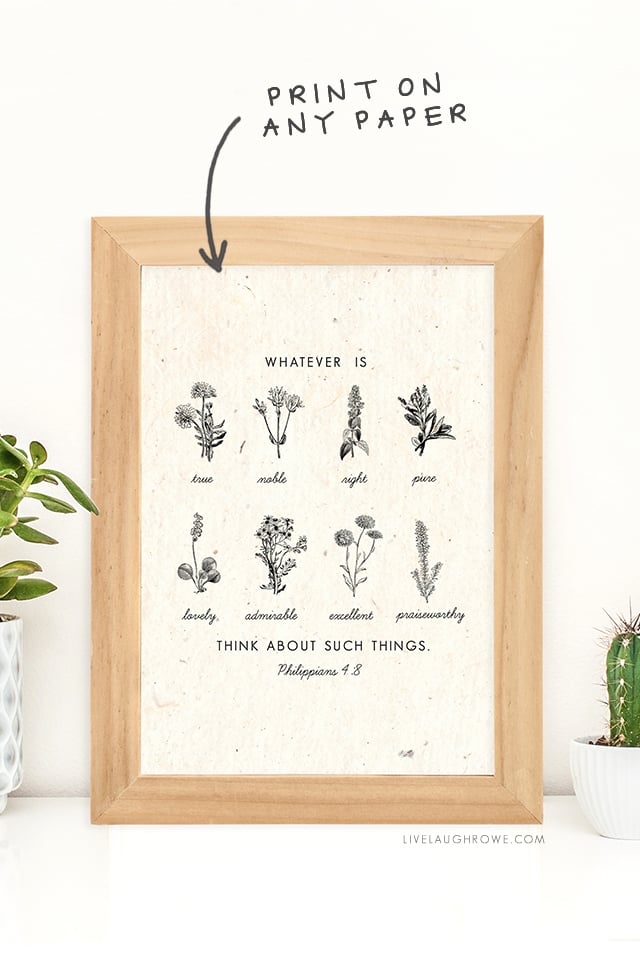 The past week or so I've been feeling down. I can't even explain why. I know that I've had to stop watching the news. There is some crazy stuff going on in our country right now. And I also had to let go of a side hustle that I was doing (selling Color Street).
Life is hard, but God is good. There is no denying that; however, sometimes we need a reminder or two of God's goodness and grace — and we need to meditate and think on uplifting and praiseworthy things (Philippians 4:8).
I saw this quote recently and thought it was powerful:
Let the mind of the Master
be the master of your mind.
-Unknown
Isn't that great? Let God have control over our minds. In other words, think about all the good things in our lives. What brings you joy and happiness? Try to incorporate more of that into your everyday life. For me, I'm going to start eliminating what doesn't bring me joy.
I've been buying a lot of plants lately and I'm enjoying the process of caring for them — it's one of those simple things that bring me joy. So, I keep adding to my plant stand that I bought to put by my window. And remember my fiddle leaf? It's almost 7 feet tall now.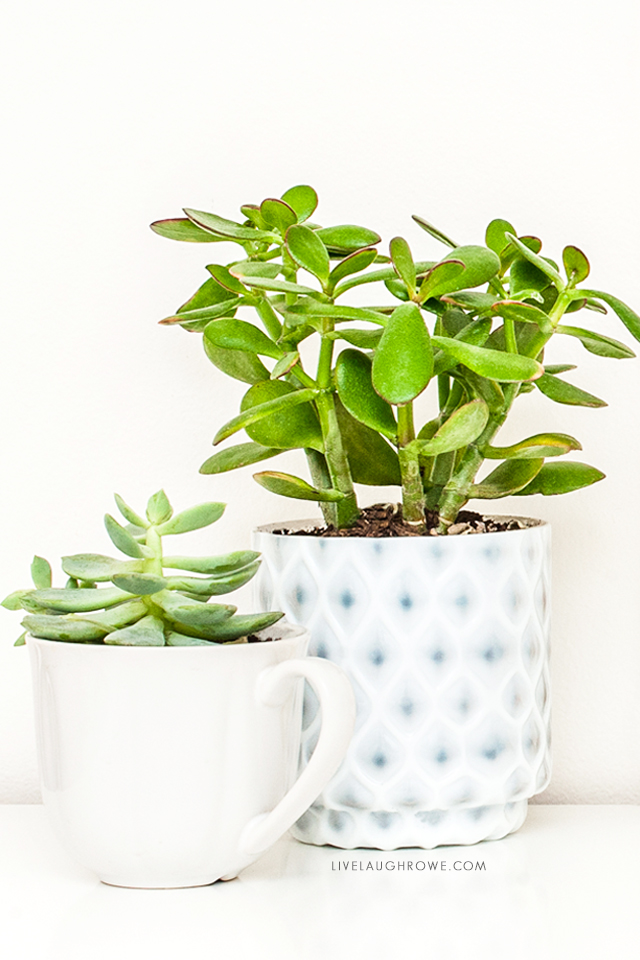 Think on these things…
Anywho, this year I've also tried to start each day in the word and prayer. Maybe I haven't been successful in doing it every single day, but when I do, I feel a peace wash over me. I'm reminded of God's unconditional love every day. Not to mention his grace and mercy.
Playing worship music when I go to bed is something I've been doing for years. It allows my mind to focus on praise and worship as I wind down the day and fall asleep. I guess you could say I'm practicing Philippians 4:8.
I remember when I was in high school, my Sunday school teacher telling us that we should open up our prayers with words of gratitude and thanksgiving. I've never forgotten that. It's important that we don't take all of the blessings (big or small) for granted.
Even if you're not a believer, this is a practical reminder to keep your thoughts positive (again, Philippians 4:8). Our mind is a powerful thing.
Other printables with uplifting bible verses to check out:
Coloring Pages with Scripture
Acts 2:46 Printable
And if not… (Daniel 3:18)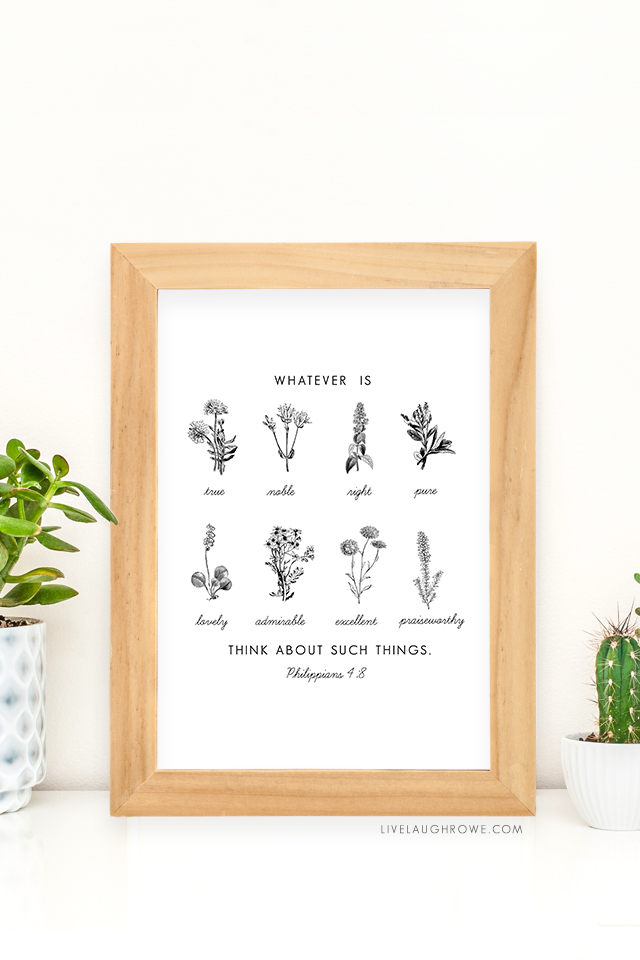 Uplifting Bible Verse Printable
When life is overwhelming and floods your mind with negativity, Philippians 4:8 reminds us to think about lovely, pure, and noble things. Meanwhile, maybe you can display this somewhere in your home. Allow it to serve as a reminder to you and your family.
This printable is sized to a full sheet of paper 8.5″ x 11″. So warm up the printer and add some paper.
Please feel free to share with a friend or family member who might also need a gentle reminder of God's goodness. And let us continue to pray for our country.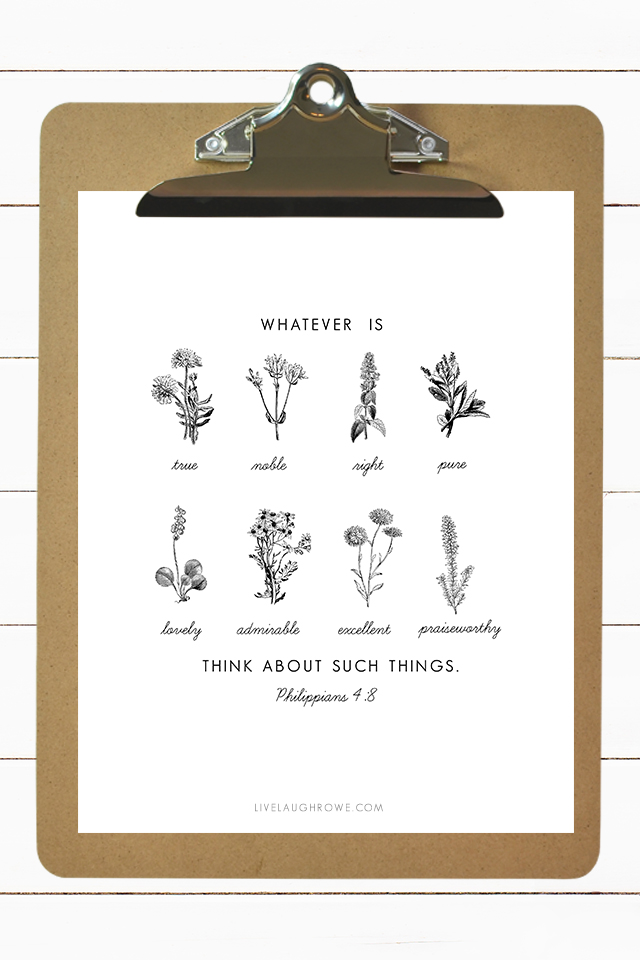 *Please Note: All printables and downloads designed by Live Laugh Rowe are for PERSONAL USE ONLY. Please do not alter the file or claim it as your own. In addition, this printable is not intended for resale, nor are the printed versions of this file.
*Some readers expressed they were having trouble printing the PDF version. I believe it's a browser issue; however, please try this WORD DOCUMENT if you are having difficulties.
Connect with Live Laugh Rowe!
Facebook | Instagram | Pinterest | Twitter
Hugs and Blessings!