Free Word Search for Valentine's Day
Add a little fun to your festivities with this free Word Search Valentine's Day Puzzle. It's great for dinners, parties or after school fun.
How often do you think about stimulating your brain? Probably not very often. However, both a crossword puzzle and/or a word search game does just that.
This Valentine's Day puzzle will not only stimulate your brain, but it will give you and your guests something to do while waiting for dinner, dessert — or just pass the time. Most importantly, I'm hoping you'll put this printable (and free) word search to good use and have some fun. Why not, right?
Be sure to sign up for my email to get new
recipes and creative ideas sent right to your inbox!

Word Search for V-day


Last week I shared these "script" love gift tags. Consequently, I thought might share another Valentine's Day themed printable. A little activity for friends and family of all ages to enjoy — a free word search.
I don't know about you, but I love word searches. For example, I have a couple of books in a basket by my nightstand and I always pack one when we travel to the beach or in our travel trailer. They're fun, usually easy and keep my brain active. It's a win-win.
Brainpower improves by brain use, just as
our bodily strength grows with exercise. (Unknown)
A couple of years ago, my sister started showing up at holiday meals with these adorable word search puzzles. In addition to bringing them, she'd place them on each of the place settings. It was genius and yet it made me sick. HA!
In short, she's so stinking creative. And, yes, sometimes I get a little annoyed that she "out creates" me every now and again. Of course, I'm kidding (sort of, kind of). However, I've loved each and every one of them…
So, you're never going to guess what I did? Squeal. Are you ready?
I asked her to make one for you! Oh my gosh… and here it is in all of its glory. Sweet, simple and FREE word search! I know what you're thinking, "duh, Kelly."
But, I tried. It was impossible to keep it a secret.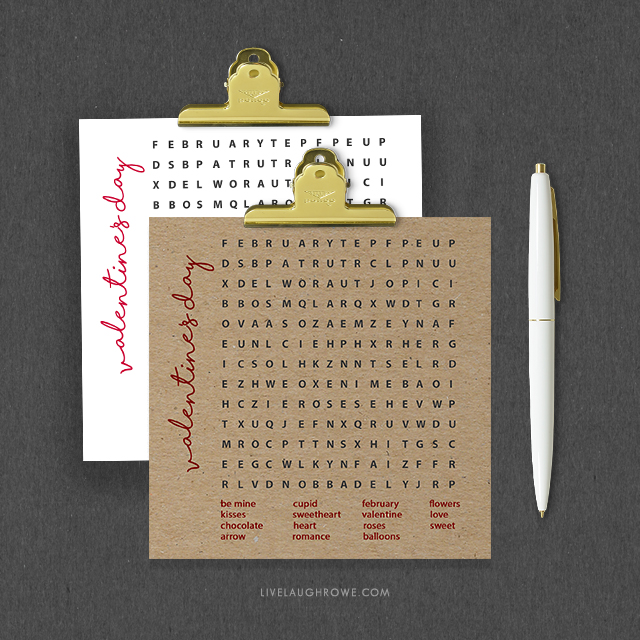 I love the versatility. It can be printed on any color paper or cardstock. My favorite? The kraft colored cardstock. It has a rustic beauty. But, using cardstock makes it a little more sturdy and less easy to wrinkle and/or tear (just my silly opinion, of course).
Supplies:
Paper or Cardstock
Printer
Paper Cutter or Scissors
This free word search printable has two Valentine's Day puzzles per sheet, each is created as a square measuring approximately 4-1/2″ x 4-1/2″. Use these for an office party, dinner party, Galentine's day party or enjoy doing one while sipping on your favorite glass of wine. Regardless of how it's put to use, I hope you enjoy it.
p.s. Quick reminder that in order to get the kraft paper look, you'll need to print that on kraft paper or cardstock.
Other Valentine's Day printables you might enjoy:
Nuts About You Printables
Coffee Gift Idea for Valentine's Day
Valentine's Day I Spy Printable
Maze Printable Valentines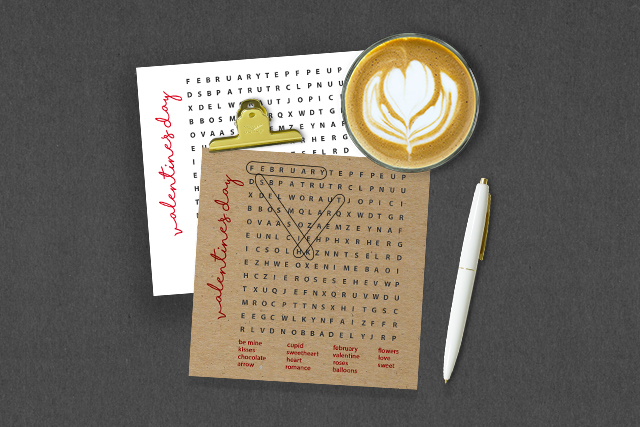 *Please Note: All printables and downloads designed by Live Laugh Rowe are for PERSONAL USE ONLY. Please do not alter the file or claim it as your own. This free word search is not intended for resale, nor are the printed versions of this file.
Connect with Live Laugh Rowe!
Facebook | Instagram | Pinterest | Twitter
Hugs and Blessings!