This Homemade Lip Scrub Recipe is hydrating and healing. I added a little peppermint essential oil to add the clean, refreshing feel too. This easy lip scrub has only two ingredients plus an essential oil, which is optional. I'm certain you're going to love it!
Simple Lip Scrub Recipe


Years ago (probably over 20 years ago to be exact) I worked at Bath and Body Works for a short period of time. All of the lotions, body scrubs, sprays, candles, etc. smelled amazing. It was easy to want one of everything when it all seemed to smell so good. At the time, the Cucumber Melon was my go-to scent — from the body wash to the lotion. Mmmm. I can smell it now…
I remember them carrying an exfoliator for your lips that was in a lip balm tube, but was made with a shea butter too. That was one of my all-time favorite products and I loved using it. It was pretty gritty, almost like it had sand in it, but the shea butter made my lips so soft. It was a big bummer when they stopped carrying it and I'm not sure I used any other exfoliator or scrub for years. However, I can't say that I looked for one either.
Then I was introduced to sugar scrubs, like this Chocolate Sugar Lip Scrub. When they're edible, that's a bonus. Oh yeah! Sugar lip scrubs are a great homemade alternative and the olive oil in this one will help with dark spots on your lips too.
This lip scrub recipe is a new favorite for sure. I love how the sugar and oil do all the hydrating and healing, while the peppermint adds that fresh, clean tingle. It's perfection and my lips felt AMAZING.
Ingredients for Lip Scrub
Supplies for DIY Lip Scrub:
1 teaspoon sugar
1/2 teaspoon extra virgin olive oil
Peppermint Essential Oil, optional
Small Jars with Screw Cap Lids for storage (or gifting)
Making the scrub.
1.) Place the sugar in a bowl and add olive oil, mix well.
2.) Add 3 drops of peppermint essential oil (optional) and mix.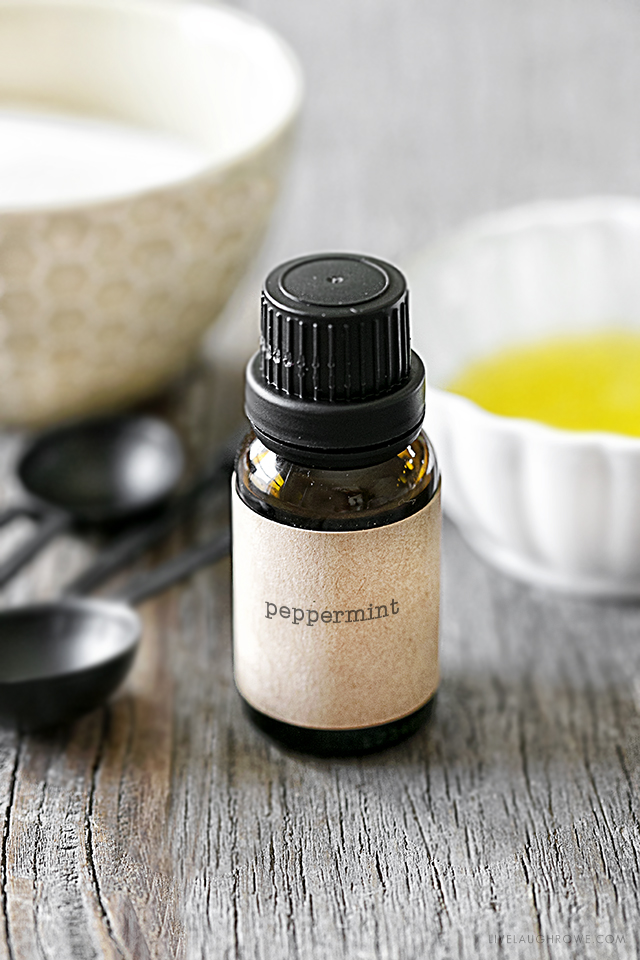 Applying the scrub.
1.) Gently rub the scrub mixture on with your finger or with a toothbrush. Scrub well, but gently.
2.) Rinse it off with water and pat dry with a towel.
3.) Apply lip balm over your lips to keep them moist and soft.
4.) Repeat once or twice a week.
NOTE: Store up to 2-3 weeks.
I doubled mine and stored it in a pill container. It works — and provides perfect short-term storage for a small batch of this sugar lip scrub. Soooo, off you go… I'm fairly certain you have the two basic ingredients in your pantry!
psssst. With St. Patrick's Day quickly approaching, why not make gift a few to your girlfriends.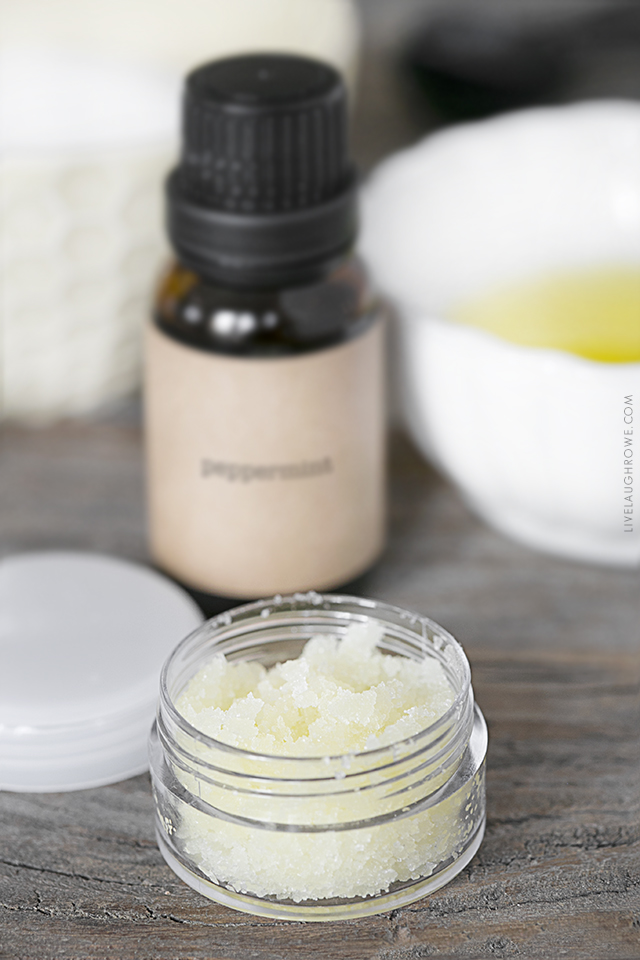 Do you have a favorite lip scrub? Be sure to share it with me in the comments. I'm always open to trying new things.
Other Scrub and Soap Recipes that might interest you:
Lavender Honey Soap
Coconut Grapefruit Sugar Scrub
How to Make Loofah Soap
Avocado Cucumber and Oats Soap
Chocolate Sugar Lip Scrub
25+ Homemade Sugar Scrub Recipes

Be sure to visit with me here too:
Facebook | Instagram | Pinterest | Twitter | Google+