Wedding Gifts for the Entertainer | Charcuterie Board Cocktail Party
A big thank you to The Home Depot for sponsoring this post wedding gifts for the entertainer, featuring a charcuterie board cocktail party.
Wedding season is going to be rolling in, friends! It usually starts in late spring and continues through early fall. And, apparently, there's a peak in June and September. So, whether you're attending a wedding or planning one, be sure to give some thought to those wedding gifts and registries!
Wedding Gifts for the Entertainer


When we got married and we were working on our wedding registries, there were soooo many options. At times, it felt overwhelming. However, some of the best gifts I got were for the kitchen and entertaining. I love to entertain, so having staple pieces to allow me to do that stress-free was a win-win.
My mom threw a shower for me in New Jersey and it was all focused on meal preparation, kitchen gadgets, and a lot of pieces that were perfect for entertaining. I think I still have 99% of it too. One of my all-time favorite gifts was a recipe box filled with recipes from friends and family. That was a real treasure.
Let's take a look at some beautiful pieces from Home Depot that are versatile and functional! Yep, you can create a wedding registry at The Home Depot. All of these items would be great for a wedding, housewarming, and/or hostess gifts too.
Happiness is a long wine
and dines with friends.
I decided to style these lovely pieces for a charcuterie board cocktail party. Prepare to be inspired and leave hungry!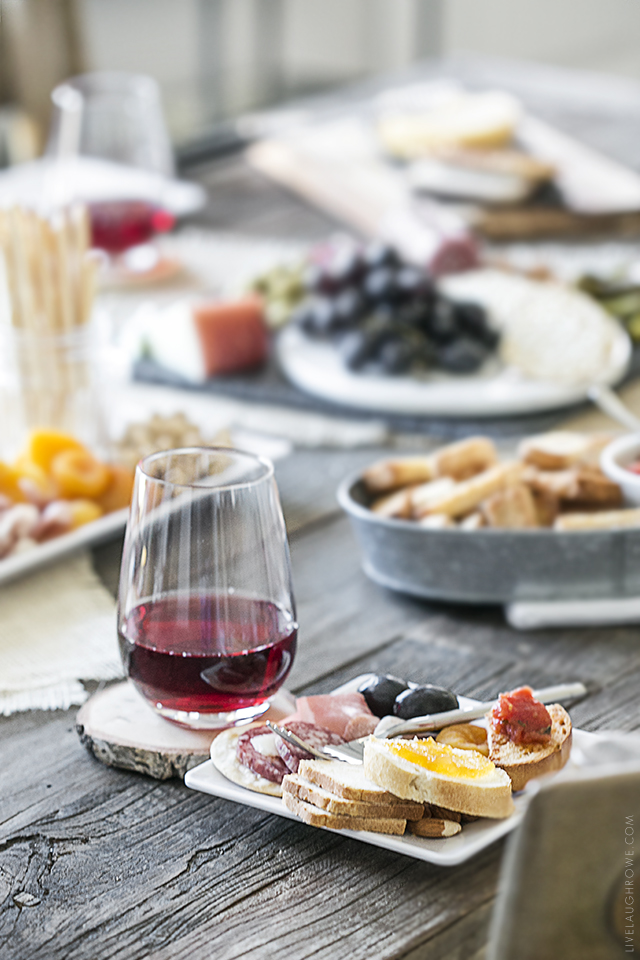 A great place to start is by doing some research on food pairings. Knowing what would work or taste well together — and head to the store. You can do many different things with a cheese and meat platter. Who knew?
Pictured: Melamine Appetizer Plates, Hampton Forget Shangri-la Stainless Steel Flatware
and Crystal Stemless Wine Glasses (similar).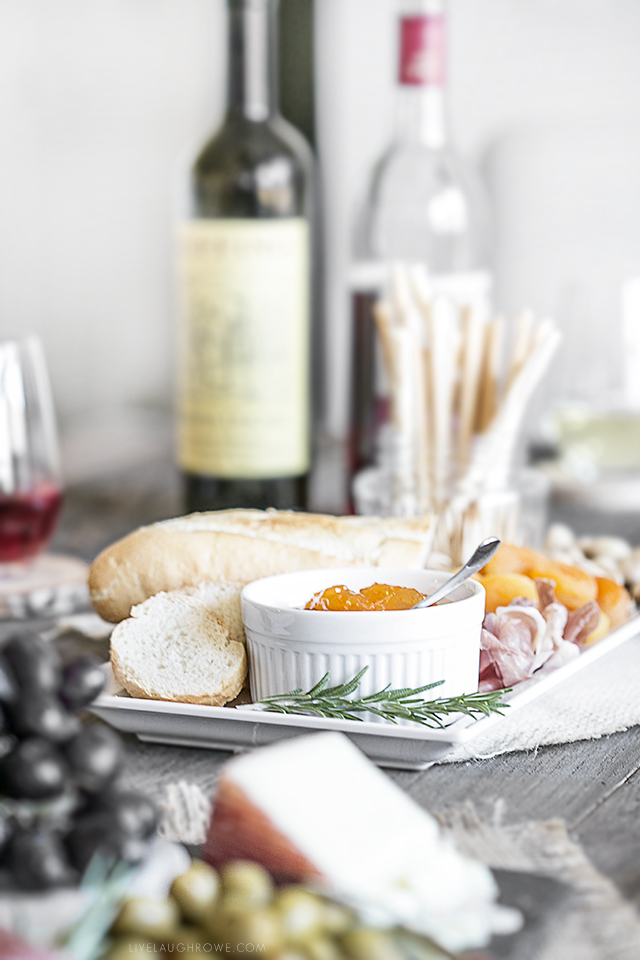 I picked up some dried apricots, crackers, prosciutto, apricot preserves (or jam), breadsticks, pistachios, and a baguette for the white rectangular serving platter. And you can add a sprig of rosemary for garnish.
Pictured: White Melamine Rectangle Serving Platter and White Ramekins.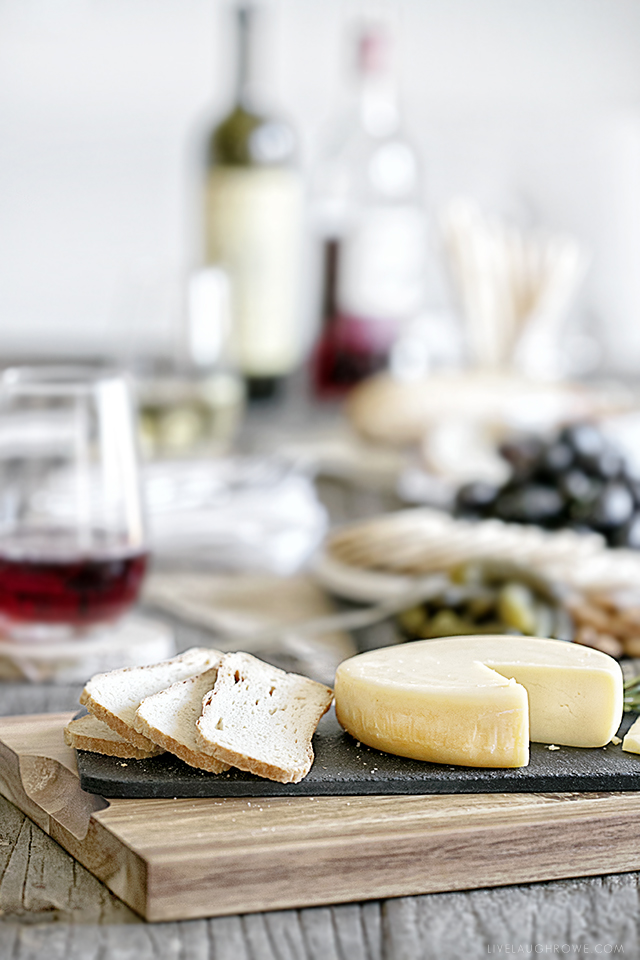 The cheese board set was a perfect spot for the harder cheese (manchego) since this set comes with a cheese knife too! The Casaware Cheese Board Set is a favorite of mine! Also pictured is the Crystal Stemless Wine Glasses (similar).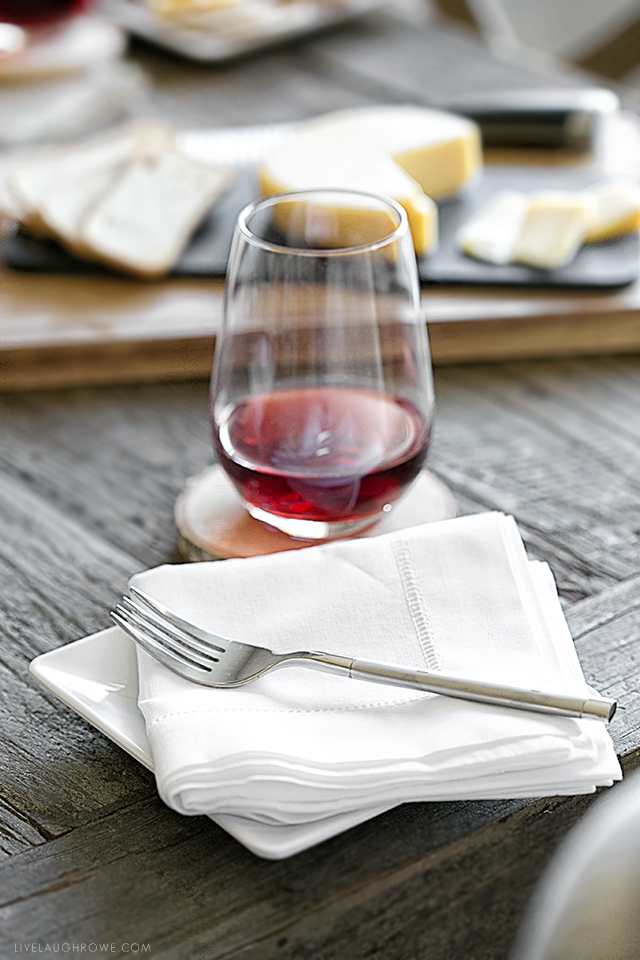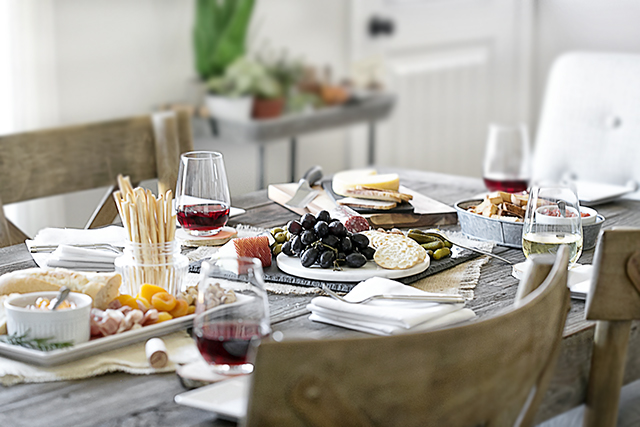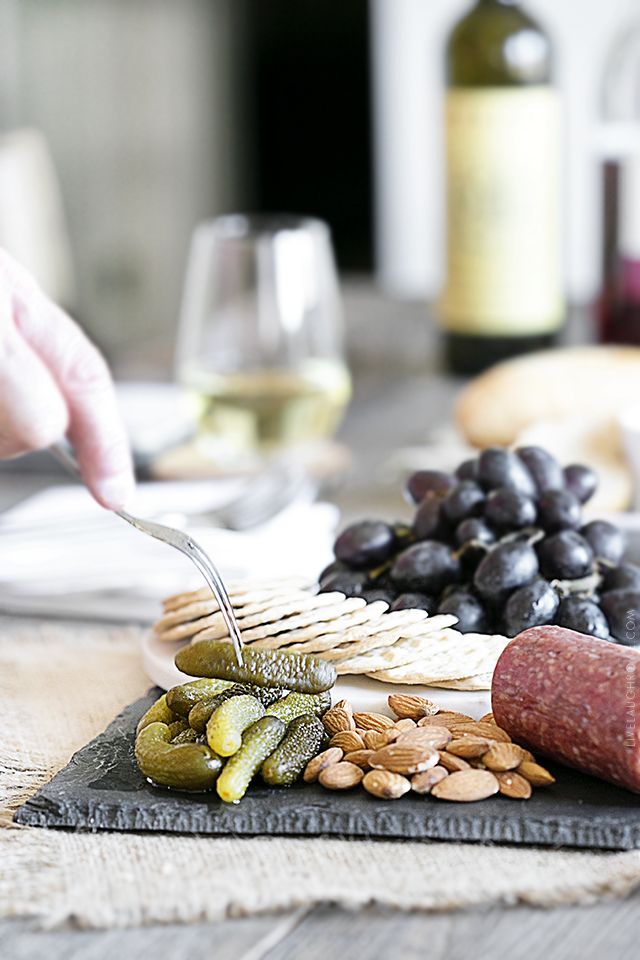 Slate and marble are both so versatile and great for showcasing all the delicious foods. On the slate, use soapstone chalk to easily identify cheeses and their lite bite pairings. From sweet pickles to salami and almonds, to grapes and crackers — all of the delectable bites are endless.
Charcuterie Board Cocktail Party
Setting the table certainly doesn't need to be complicated either. Placing appetizer plates, silverware, napkins, and glasses out is quite enough. As everyone grabs their goodies and pours a drink, they're sure to make themselves comfortable.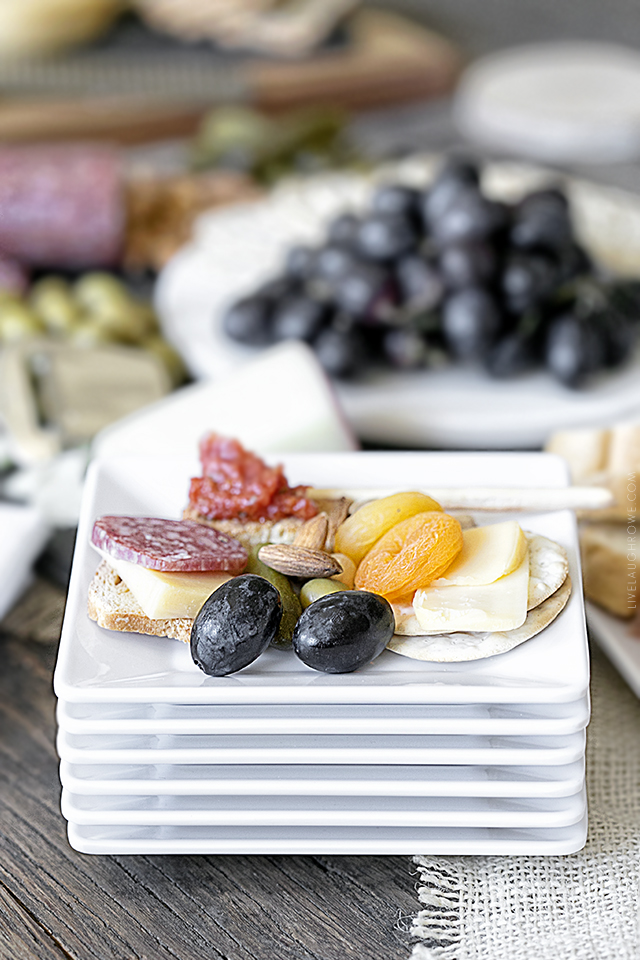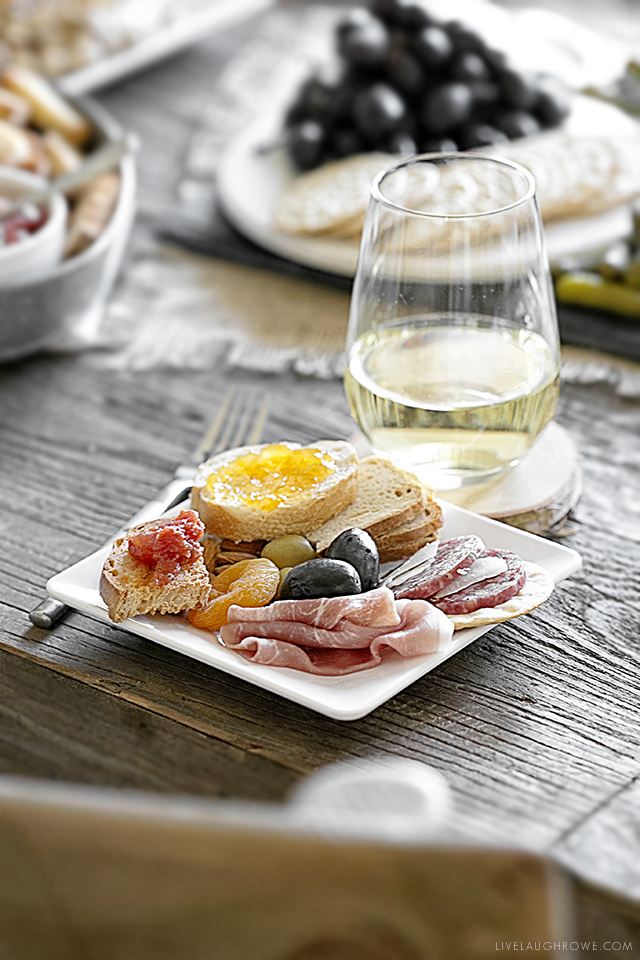 If I could, I'd offer you a plate and ask if you prefer red or white wine? Since I can't, I'm hoping you're feeling inspired to gather your friends for a Charcuterie Board Cocktail Party.
And if you should have any weddings on your radar — consider gifting some of these beautiful pieces to inspire the bride and groom to do a little entertaining!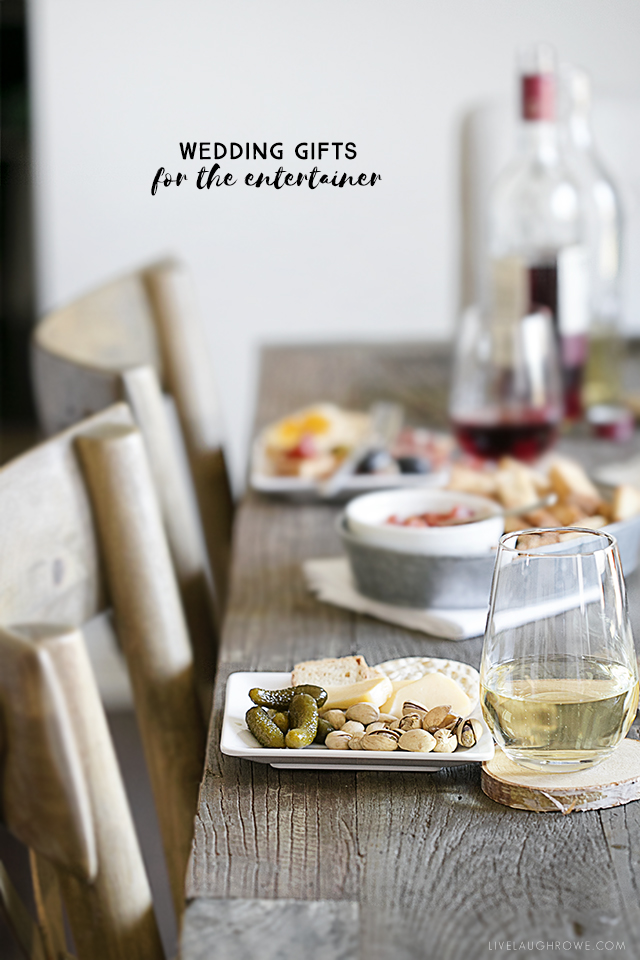 Wedding Gifts for the Entertainer featured in this post:
Casaware Cheese Board Set (3-Piece)
Diamond Square 5.5 in. Melamine Appetizer Plate in White (Set of 4)
Diamond 14 in. x 7 in. Melamine Rectangle Serving Platter in White
Classic Hemstitch 21″ x 21″Dinner Napkins (Set of 6)
Hampton Forget Shangri-la 20-piece Stainless Steel Flatware
Voice Basics 13.25 fl. oz. Crystal Stemless Wine Glasses (4-Pack), similar
What would your wedding registry picks be? Please share with me in the comments below. Already married? What was one of your favorite wedding gifts?