Super simple soaps are my friend. They're fun to make and make incredible gifts! Homemade gifts are a little more special too. Let's learn how to make loofah soap.
I remember the first time I saw some loofah soap and thought it was genius! Of course, I had to give it a whirl. And does having a little exfoliator within the soap hurt? NOPE!
Learn How to Make Loofah Soap


Did I mention simple? Yeah? I thought so, but a little reminder was in order (wink). Let's get started!
Supplies for Loofah Soap:
Cranberry Essential Oil (or oil of choice)
Serrated Knife
Natural Loofah
Microwavable Glass Batter Bowl with Spout
Spoon (for stirring)
White Melt and Pour Soap Base, 1 lb.
Soap Cutter
Silicone Soap Mold

Makes: 8 Bars of Loofah Soap
Step One: Cut Loofah
Cut the loofah into approximately 1/2″ thick rounds. Adjust the size accordingly, depending on the size of your molds.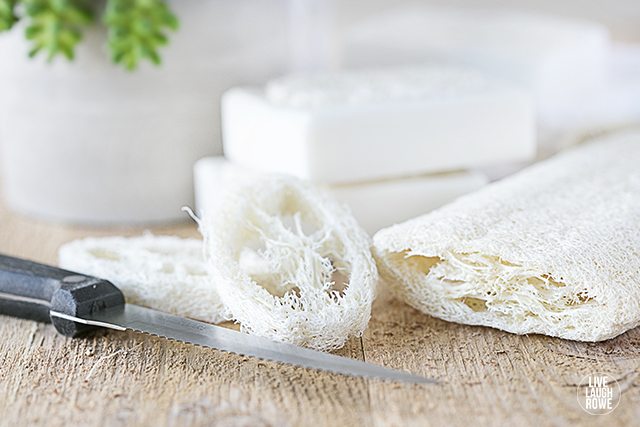 Step Two: Prepare the Soap
Using a soap cutter, cut the soap base into cubes. I like to melt 1/2 pound of soap at a time. Place the cubes into the microwavable glass bowl and heat in 30-second increments until it is melted (stirring after each increment). For reference, a 1/2 pound of soap will make 4 bars.
If using an essential oil, place a few drops of essential oil into the melted base and stir.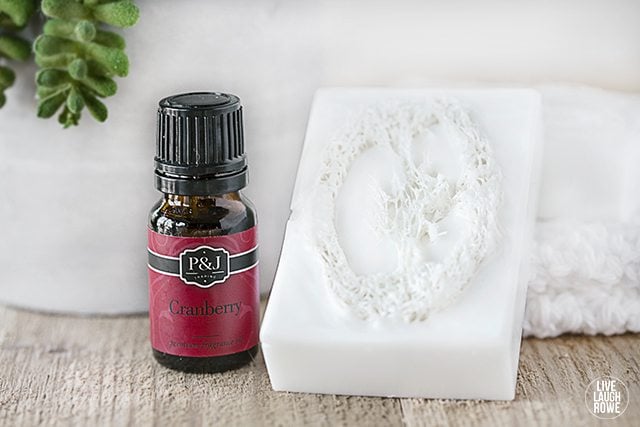 Step Three: Pour Soap
Pour soap into the silicone mold, gently place loofah into the soap and press down (lightly). Allow soap to set overnight or refrigerate it to set faster.
Note: I've seen tutorials where you pour a small amount of soap into the mold, then place the loofah and fill the rest of the way with soap. I tried this and it didn't work for me. The loofah wasn't at all visible. Womp womp womp.
These would make exceptional stocking stuffers as the holidays are quickly approaching — so if you're in a pickle, whip up a few loofah soaps!
If you're looking for another fantastic soap recipe, this Lavender Honey Soap is pretty amazing too.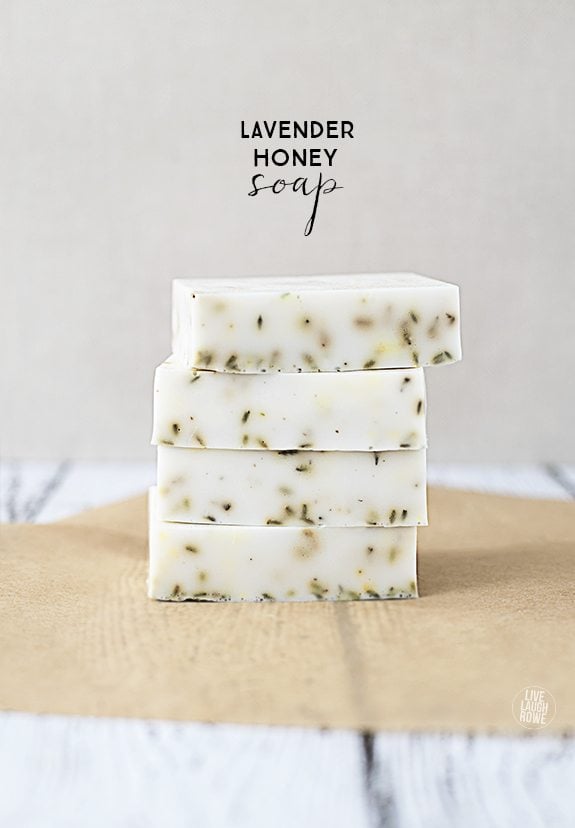 p.s. These soaps make great stocking stuffers!

Be sure to visit with me here too:
Facebook | Instagram | Pinterest | Twitter | Google+