TGIF!! I'm super excited to have Katie back with us today sharing a fabulous cucumber soap recipe! Enjoy.
Hey again Live Laugh Rowe readers! It's Katie from The Casual Craftlete blog. I hope you all enjoyed my DIY Flower Bouquet last month! Today I am sharing how to make Avocado Cucumber and Oats Soap Recipe. This is a glycerin soap that is very easy to make and leaves your skin feeling soft. With gardening season coming up this is a great soap to have on hand. Pun intended…hehe.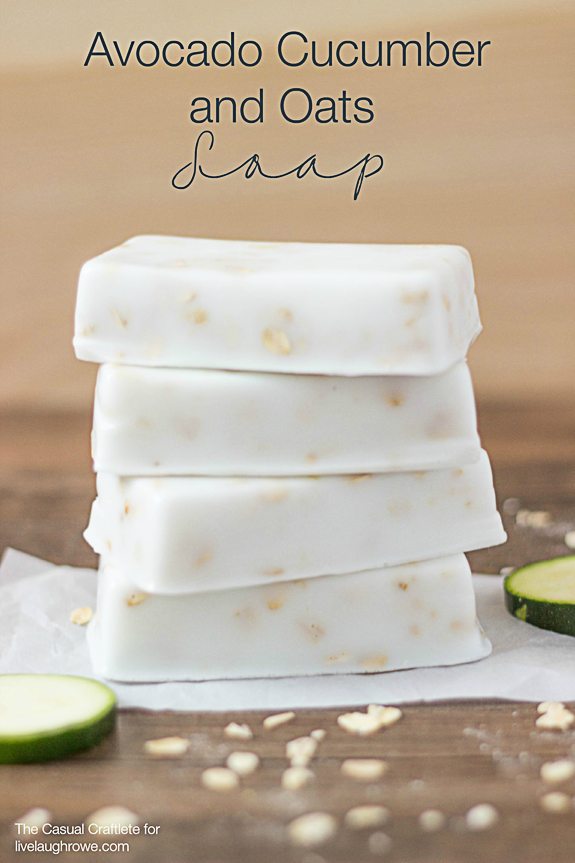 If you have never made soap before and feel a bit intimidated, don't be. This will be a great first soap recipe for you to try. You can purchase all the supplies at your local craft store. Since, this soap is lye free, there's no mixing and measuring in this recipe. I made lye soap a couple Christmas' ago with my neighbor and I was scared to death. Lye is a very powerful chemical that you have to be super careful with. Glycerin soap is much easier to handle and can be made in a mater of minutes.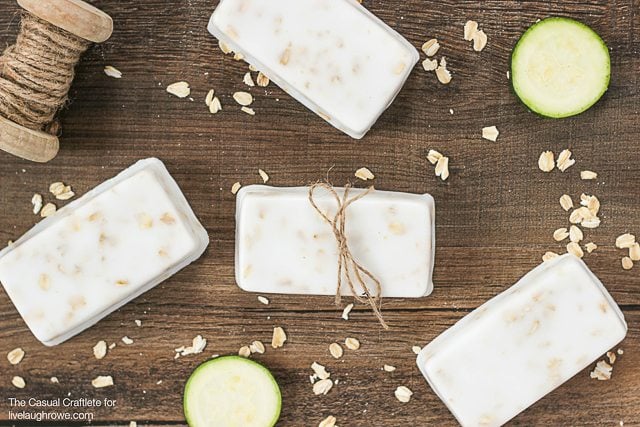 Supplies:
Avocado Cucumber Soap Base
Cucumber Melon
Fragrance
1/4 cup oats
Rectangle Soap Mold
Step 1: Following the instructions on the soap base container, heat desired amount of soap in the microwave for (40 seconds on high, then 10 second intervals until melted) or in a double boiler. *I used half of the soap base and microwaved it in a 2 cup Pyrex measuring cup, stirring with a spatula after each 10 second interval. This amount will make 4 rectangle bars.
Step 2: Add desired amount of soap scent and oatmeal to the soap base and stir until well combined.
Step 3: Pour the soap into the molds and let cool (20-40 minutes). I let mine cool overnight just to make sure the soap was completely set.
Step 4: Release the soap using your thumbs, applying, gentle constant pressure to release from the mold. Wrap soap in wax or parchment paper to keep from sticking.
The soap has a beautiful pale green tint to it from the avocado cucumber base. The cucumber melon scent is so nice and refreshing, while the oats soothe the skin, helping to reduce inflammation and heal dry, itchy skin.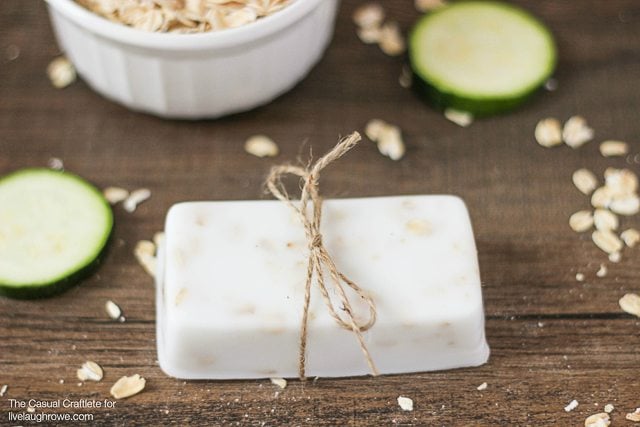 Thanks for letting me share today! This soap is so easy to make. I hope I have inspired you to make your own. Looking for more inspiration? Coming right up…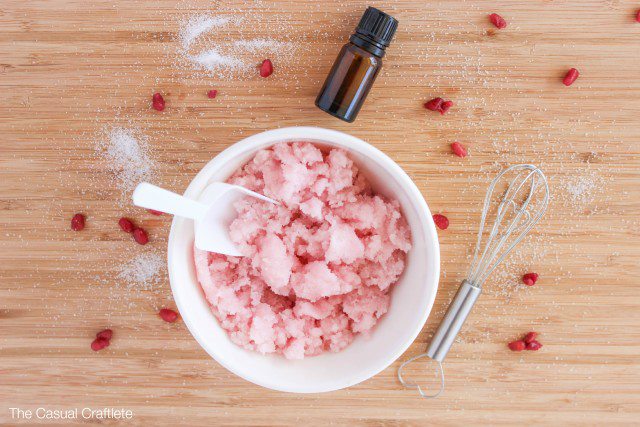 Pomegranate Sugar Scrub
You can also find me hanging out here:
Facebook | Pinterest | Twitter | Google + | Instagram