Do you love lollipops and flowers? How about a bouquet that you don't have to water? This darling Lollipop Flower Bouquet is sure to be a hit for mom on Mother's Day, your best friends Birthday or a simple Just Because.
Lollipop Flower Bouquet


My sister made this darling bouquet for a friends birthday a couple of months ago. I died at how cute it looked and asked her to work with me on a post to share this cuteness with all of you.
Her friend (Kailynn) loved hers so much, she still hasn't eaten any of tootsie pops. And it's her favorite lollipop! She loved and appreciated this thoughtful gift THAT much.
You know what else there is to love about this project? The cost! This is a gift that can come in well under $10 (depending on what supplies you have on-hand and the supplies you would have to buy). Seriously, this is a conversation piece too. Everyone is going to ooohh and awwww over this cute bouquet.
Did I mention this would make a great Mother's Day gift? Swing by the local florist and pick up a floral card pick holders to add this special touch (pictured below). You can purchase them on Amazon too!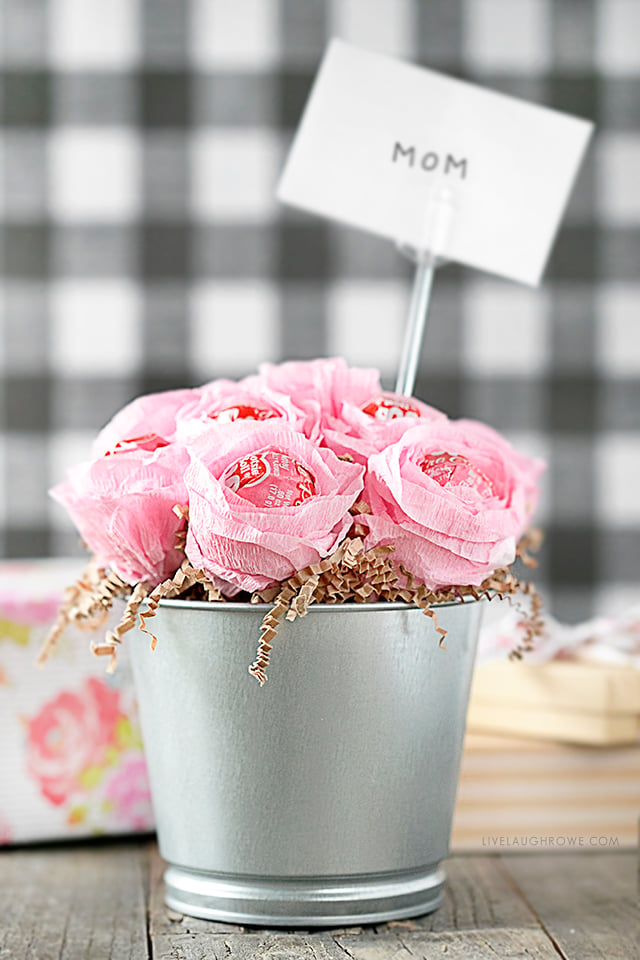 Supplies:
Bag of Tootsie Pops
Pink Crepe Paper (much cheaper at your local Dollar Store)
Scotch Transparent Tape
Styrofoam Ball
Container for Bouquet (pictured pot is from IKEA)
Kraft Crinkle Paper Shred
Floral Pick Card Holder, optional
Ready to get this par-tay started? Let's do it.
Step One.
Start by attaching the end of your crepe paper to the bottom of the tootsie pop with tape.
Step Two:
Begin by tightly wrapping the first wrap of the crepe paper around the tootsie pop. The second wrap (and so forth) will be looser). See image one and two.
Step Three:
Continue wrapping the crepe paper around the tootsie pop, approximately 5 or 6 layers will make for a full flower. However, you'll want to be sure your folding/crimping the crepe paper along the bottom of the tootsie pop as you wrap each layer. See images three and four.
Along with crimping and folding the crepe paper along the bottom of the stick, you'll want to create ruffles of the crepe paper at the top of the flower. This will allow the flower to look fuller, almost like they're in full bloom (wink wink). This is illustrated in image five.
Step Four:
Cut the crepe paper, fold (crimp) and twist at the base of the lollipop. Use a piece of tape long enough to attach the crepe paper to the stick and ensure it all stays in place. See image six.
Step Five:
Place styrofoam ball into container.
Step Six:
Add the kraft colored crinkle paper around the rim of the container.
Step Seven:
Start arranging your lollipop flower bouquet! Keep adding flowers until you are happy and add additional kraft crinkle shred to fill in any gaps or holes.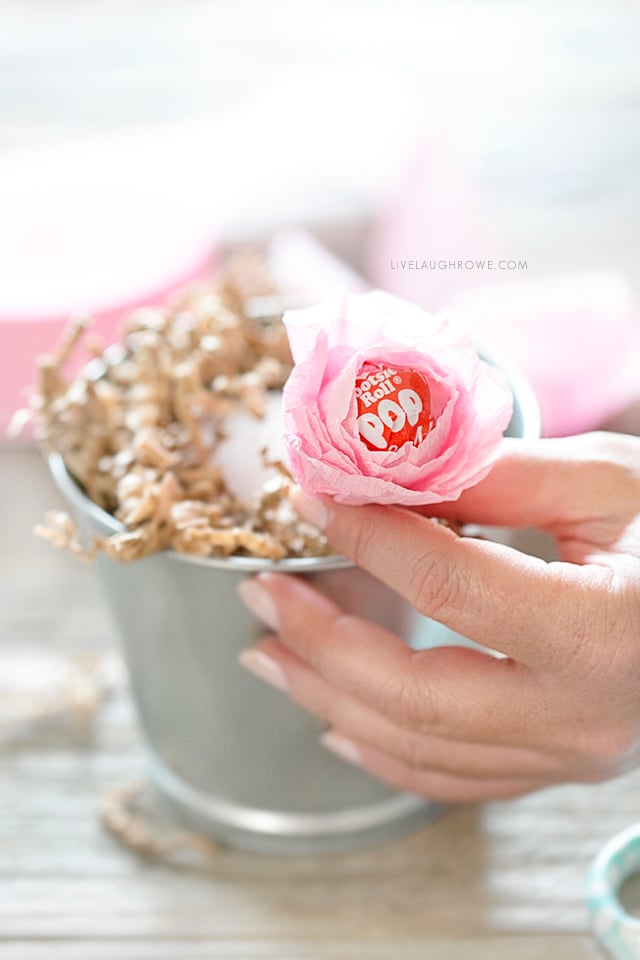 And you're done! The only question to answer now is — who will you be making these for?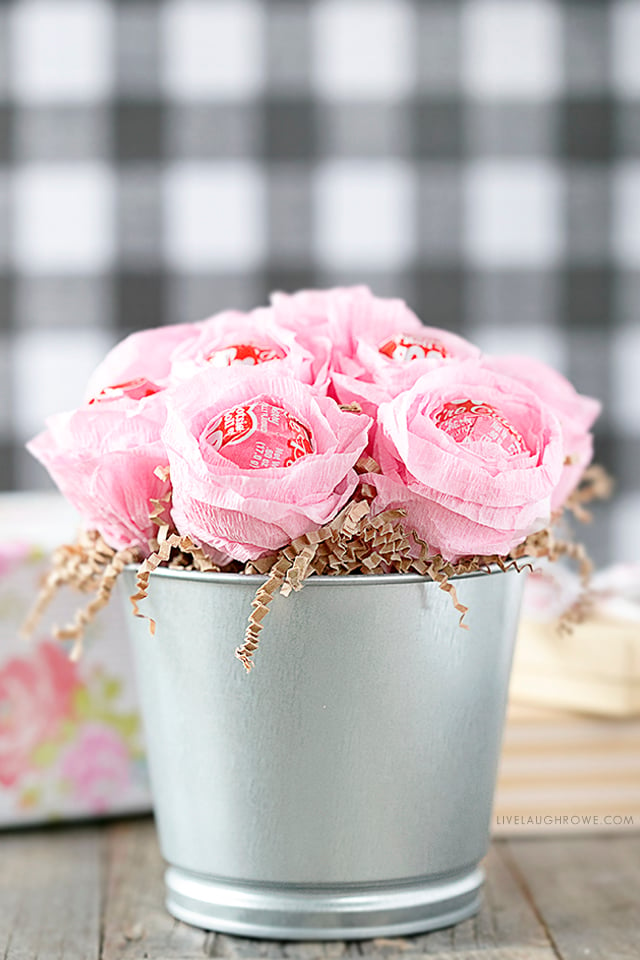 Here are a couple more faux floral bouquets to inspire you:
DIY Paper Spider Mums
DIY Fabric Flowers
Patriotic Paper Flowers

Be sure to visit with me here too:
Facebook | Instagram | Pinterest | Twitter | Google+