So with fall rolling in, how many of you will be entertaining some friends and/or family? 'Tis the season, right? Well, I love to entertain. And if I'm being honest, Fall and Winter tablescapes make me a little giddy. But don't ask me why… they just do. Haha. Nevertheless, today I'm super excited to share my harvest table decor for this year.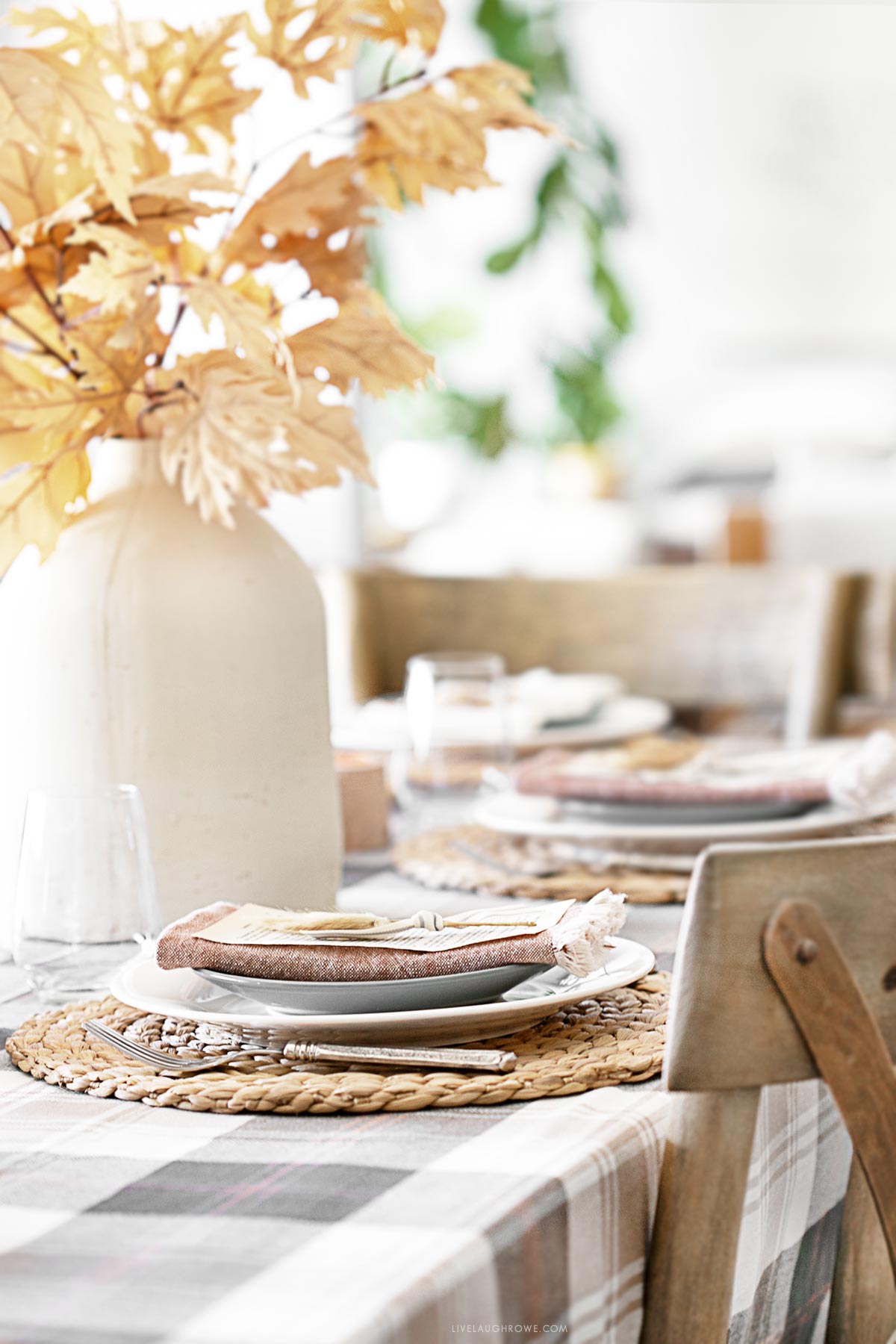 So, you might have guessed, but Fall is my absolute favorite season. From cute clothes, booties, all-things pumpkin/apple, cooler temps, scarves, and bonfires — what's not to love?
One of my favorites is entertaining. For example, maybe you'll host friends and family for drinks, dinner, or desserts. It's certainly not for everyone, but it can be so rewarding (and exhausting at times, haha).
Furthermore, what sets the perfect scene for these festivities? The tablescape, table settings, drink bar, and/or the centerpiece.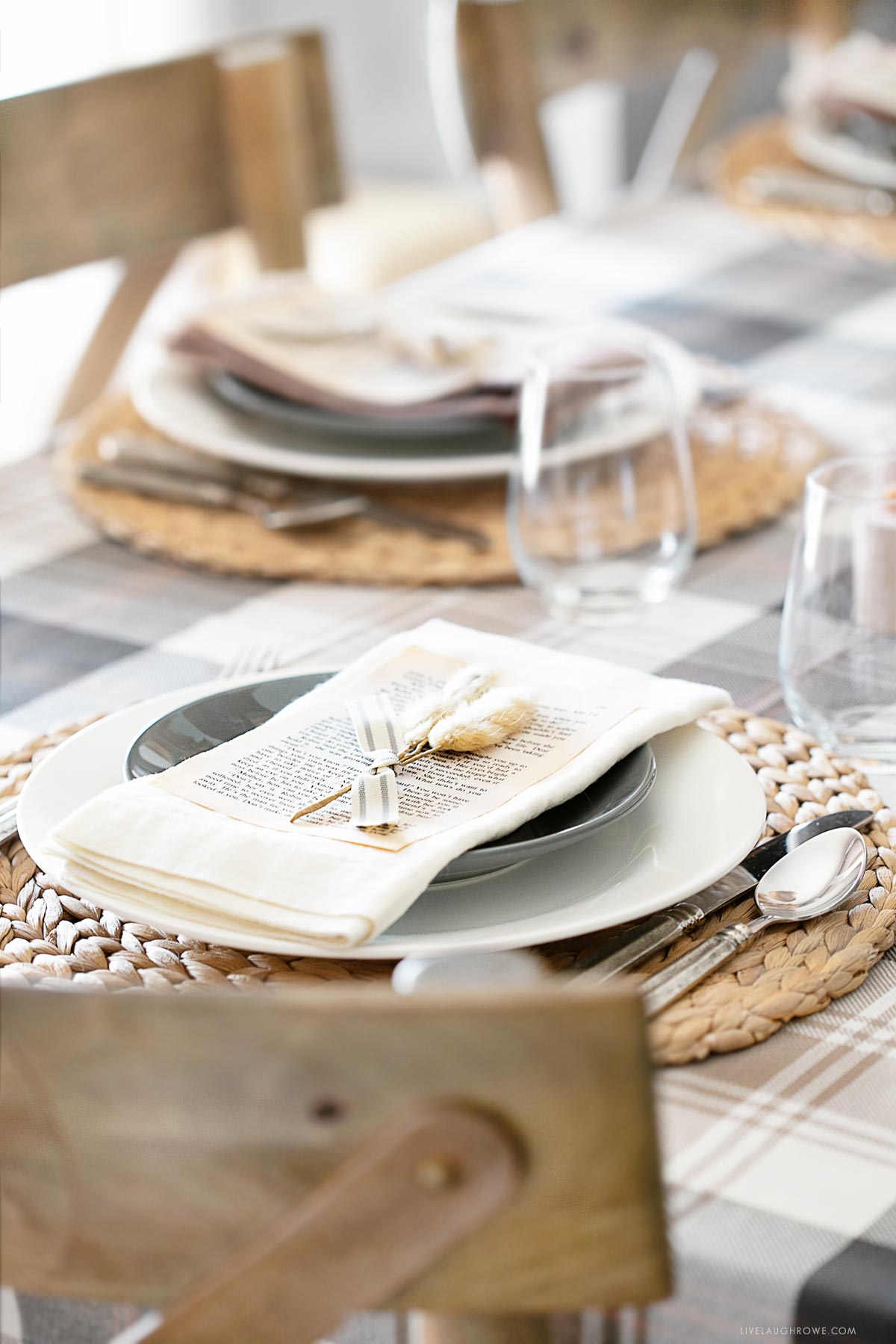 Other Thanksgiving Tablescape Ideas (and Printables):
Simple Fall Tablescape with Printable Bookmark
Autumn Tablescape | Warm and Cozy
Place Settings for Fall and Thanksgiving
Thanksgiving Tablescape for Two
Give Thanks Place Cards
Thanksgiving Word Search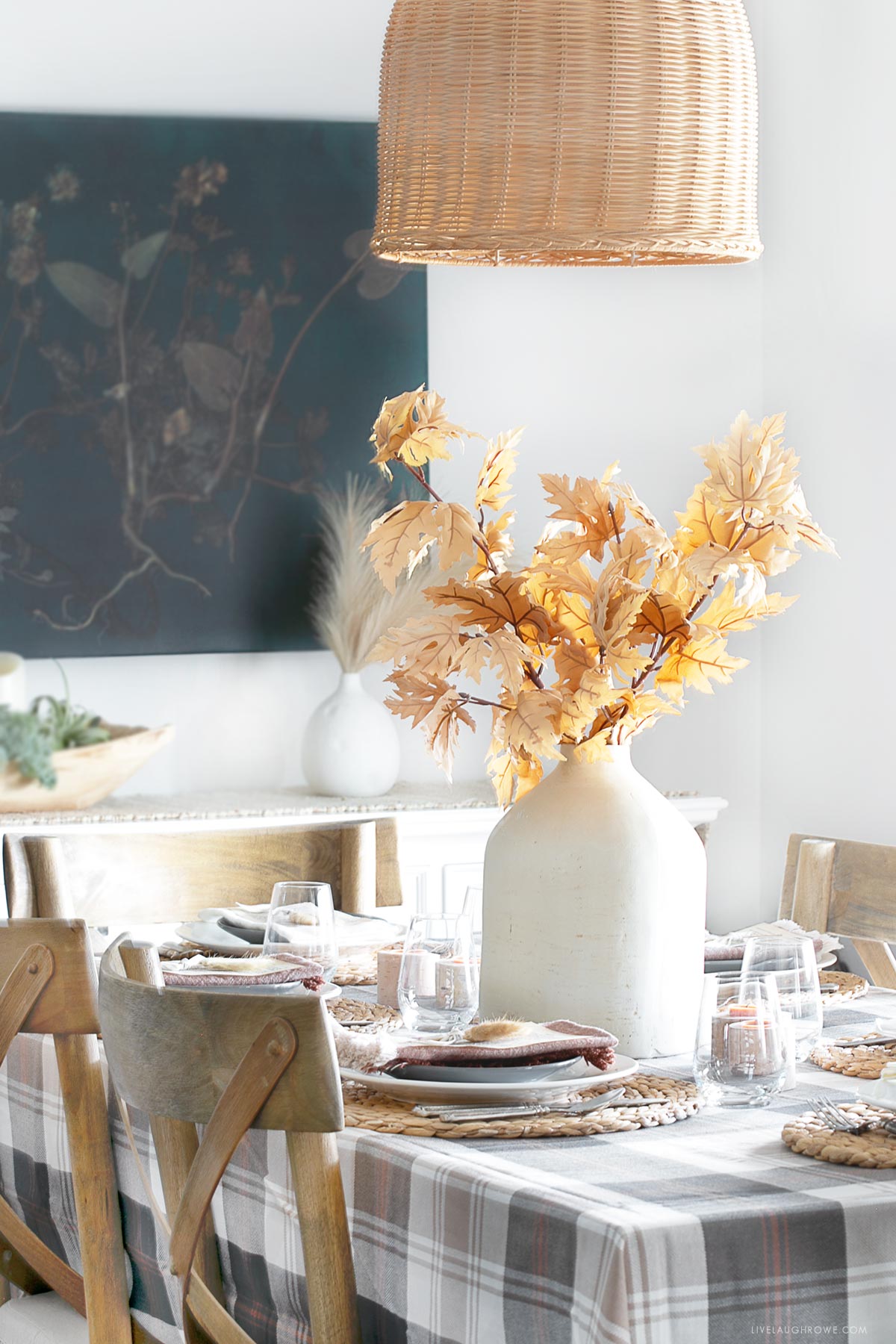 One important point I want to reiterate is that you don't have to go buy all-new pieces for your table settings. These posts are intended to inspire you.
Whether you're using what you have or treating yourself to a few new pieces, decorate with love and enjoy the process.
How the Harvest Table Decor came together:
This harvest table decor all started with the tablecloth. I fell in love with the colors. Grays, creams, and subtle hints of a deep rusty orange color.
Most importantly, the beautiful plaid pattern. It was love at first sight too.
Place Settings
After a recent visit to the Dollar Tree (yep, the dollar store) near my parent's house, I remembered seeing they had cream and gray plates. In other words, 12 plates for $12 is a win-win. To clarify, six dinner plates and six salad plates.
While camping in Branson over Labor Day, I stumbled across the beautiful fringe napkins from Hearth & Hand. I knew that I could make a set of four work if I used cream-colored napkins at the head seats of the table (which I already had).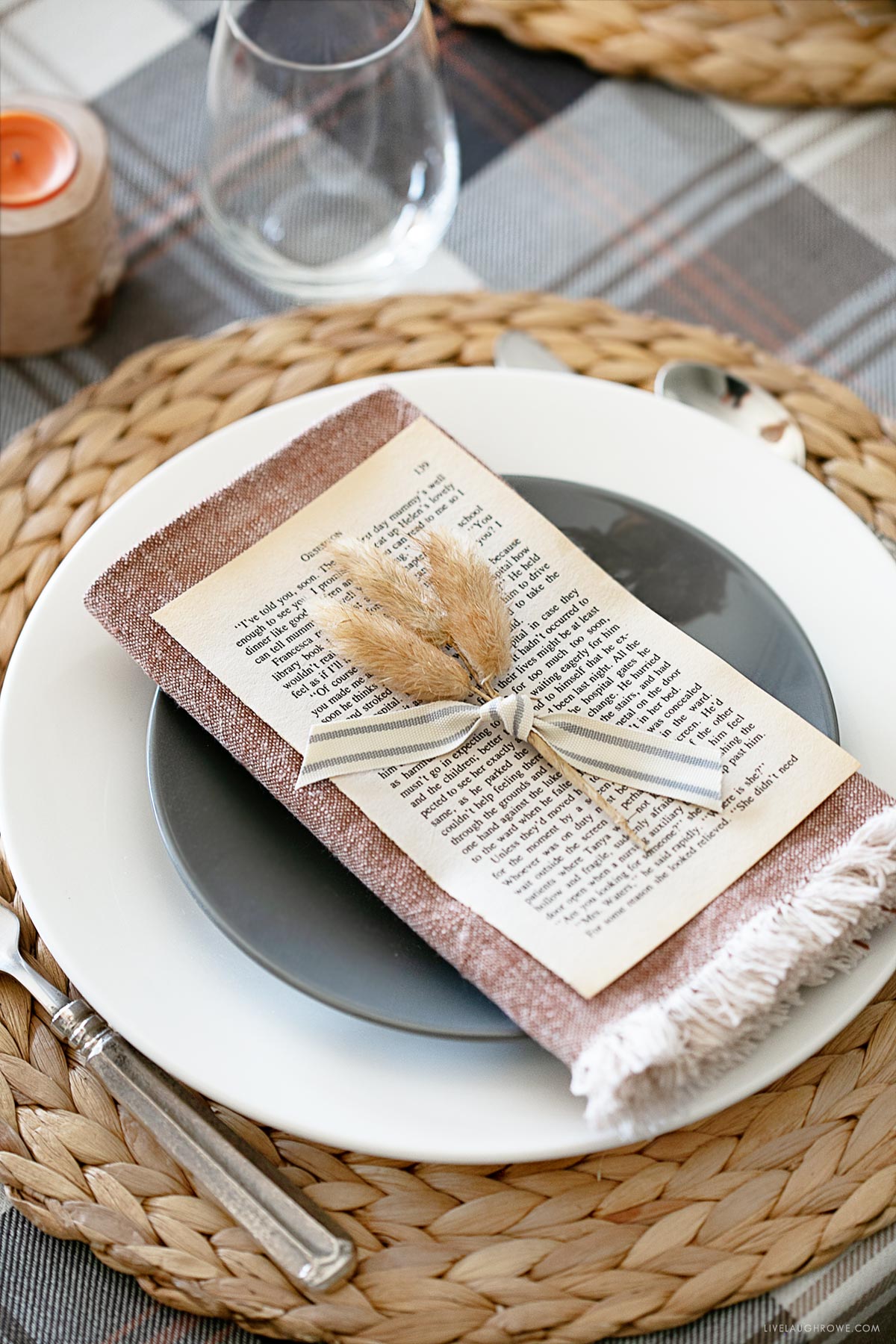 Centerpiece
When I saw the ceramic vase online from Target — I scheduled a pick-up as they seemed to be selling out quickly. I bought the vase unsure whether it would work or not; however, I had a vision and that vision came to life.
Nevertheless, I loved how the centerpiece came together. I think it's simple perfection.
The maple leaf sprigs were purchased last fall. And they have quickly become an all-time favorite fall staple.
I showed my mom all of my inspiration for this tablescape before setting it up and photographing it. Guess what? She asked if I could bring it to her house since she's hosting Thanksgiving this year. Ha. Totally doable, right?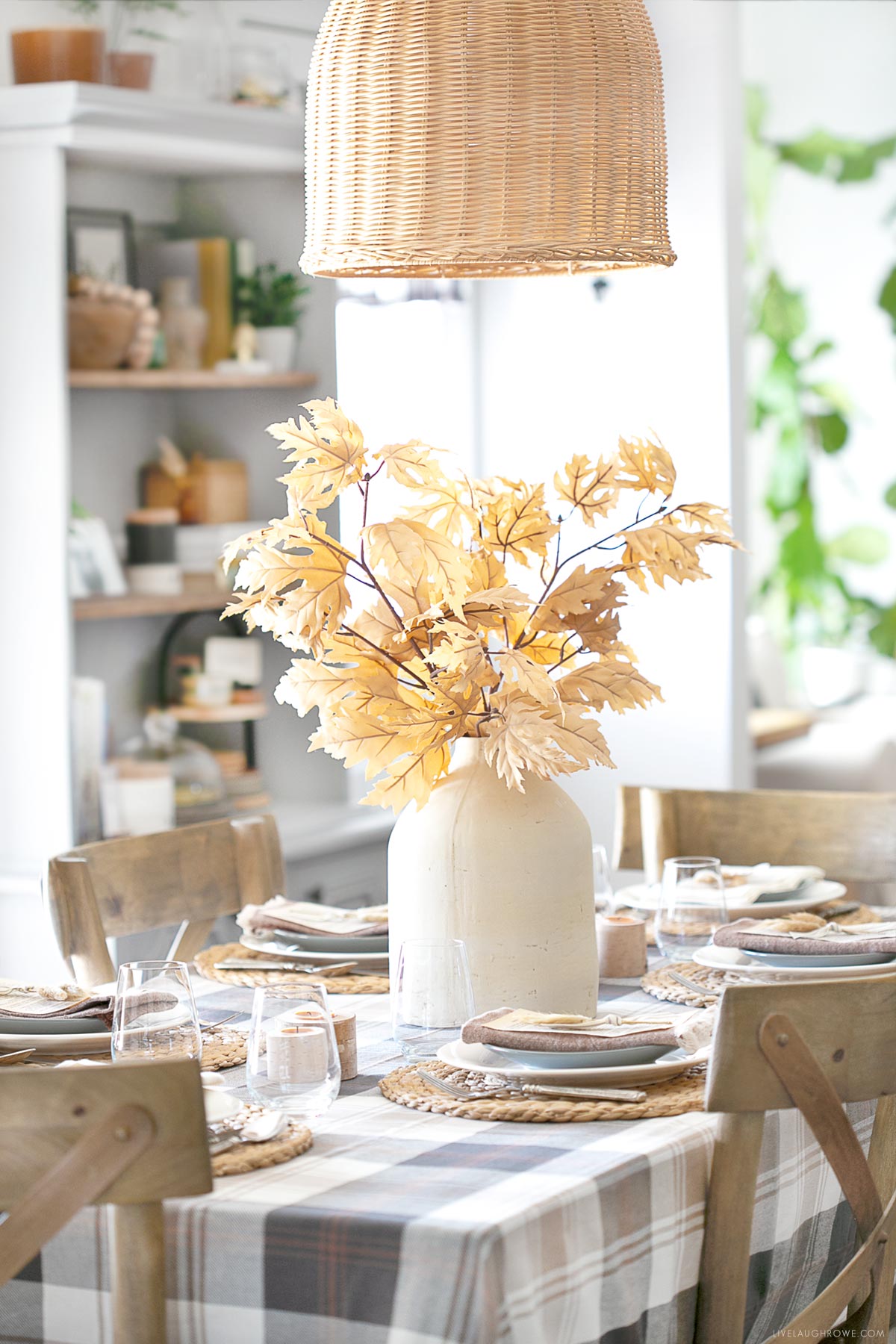 Well, I hope you were inspired. I've listed the tablescape resources below.
Fall Tartan Plaid Tablecloth – Target
Chargers – IKEA
Plates – Dollar Tree
Pumpkin Brown Fringed Napkins – Target
Cream Linen Napkins
Hare's Tail Picks – Nanticoke Lane (Etsy)
Gray/Cream Striped Ribbon – Nanticoke Lane (Etsy)
Stemless Wine Glasses (similar)
12″ Distressed Ceramic Vase – Target
Maple Leaf Sprigs – Michaels
Birch Tealight Holders – Handmade